5PL Solutions: Introduction
5PL solutions are made up with an arrangement of 3PL (Third Party Logistics) solution and 4PL (Fourth Party Logistics) solution. The companies in 3PL supports the process of outsourcing transportation resources and 4PL handles the entire supply chain and provides superior level of logistics.
5PL (Fifty Party Logistics) service providers assure the management of supply chain networks. A 5PL provider implements and develops a superior possible supply chain or network.
5PL solutions providing companies realize more opportunity to alternative models through the integration of economic logistics solutions and consumer-centered demands that helps to enhance service offering and achieve superior sustainability.
5PL solutions are used to plan, organize, and implement logistics solutions for contract- based companies that primarily focus on using cutting-edge technologies such as Internet of Things (IoT) and logistics automation.
Furthermore, 5PL solutions are based on Information Technology (IT) infrastructure that demands new management technology that accounts for the principle of group behavior and self-organization. Joint decision-making and logistical coordination mechanisms are integrated in order to establish more sustainable supply chain designs.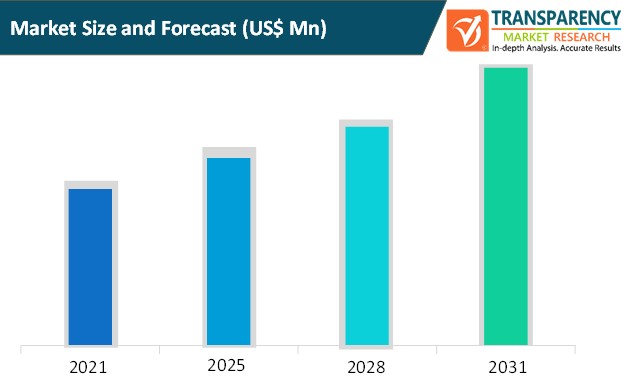 Global 5PL Solutions Market: Dynamics
Global 5PL Solutions Market: Key Drivers
Growing cross-country free trade activities are opening up avenues for manufacturers to penetrate both developed and developing economies. The business practices are expected to boost the expansion of many manufacturing industries, such as electronics, automotive, and industrial manufacturing, all of which will help to fuel the rise of 5PL solutions.
The growing demand for 5PL solutions around the world is attributed to increased national and international trade agreements. Demand for digital transformation in the logistics sector is also being driven by the introduction of important technologies such as IoT, Blockchain, Big Data, AI/ML, and Analytics.
In addition, increasing m-commerce penetration, internet penetration, and e-commerce growth are likely to boost demand for 5PL solutions in the coming years. Multimodal logistics, supporting fast and efficient shipping, and complete security and transparency are all features of 5PL solutions.
However, expansion of the 5PL solutions market is hampered by several government regulations in the logistics and transportation sector. In addition, the high initial investment necessary for acquiring 5PL solutions, as well as the high operational expenditures, would prove to be a challenge to the global 5PL solutions market in the future.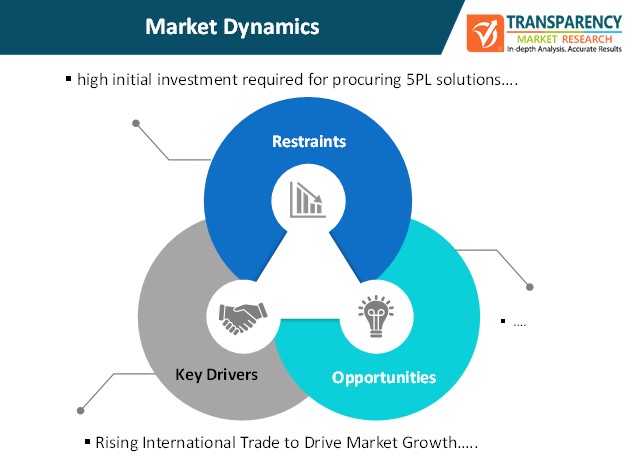 Impact of COVID-19 on the Global 5PL Solutions Market
The COVID-19 outbreak has had a significant impact on the logistics industry. Lockdowns and temporary production halts caused by the economic crisis have thrown the entire industrial supply chain in disarray in a variety of industries. The logistics market is facing increased uncertainty due to waning manufacturing confidence and reduced demand for raw materials and commodities. Furthermore, changes in consumer purchasing behavior as a result of the pandemic's uncertainties could have a significant impact on the growth of the 5PL solutions market in the near future. However, over the foreseeable term, the market is expected to return to moderate growth.
Europe to Account for Major Share of the Global 5PL Solutions Market
In terms of region, the global 5PL solutions market can be divided into North America, Europe, Asia Pacific, Middle East & Africa, and South America.
The 5PL solutions market is likely to be driven by Europe due to the increasing number of free trade agreements in the region. Europe is expected to maintain its dominance over the market during the forecast years. Increased free trade gives European firms more opportunity to sell their products in other developed and developing countries. These free trade agreements are likely to boost volume shipments in many industrial areas, including in electronics, driving up demand for 5PL solutions.
However, due to increased manufacturing productions for electronics, automotive, and semiconductor components, the 5PL solutions for Asia Pacific are seeing rapid growth, resulting in a significant demand for 5PL logistics solutions.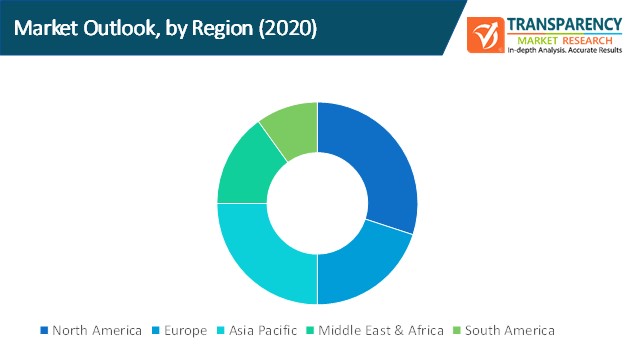 Global 5PL Solutions Market: Competition Landscape
Several 5PL solution providers are actively focused on green logistics to ensure regulatory compliance with stringent government regulations on logistics and freight activities for sustainability. Various companies are actively focused on organic growth strategies such as portfolio expansion, product approvals, certification, and product launches. Strategic growth plans witnessed in the 5PL solutions market include partnerships, collaborations, strategic agreements, and acquisitions
Key players operating in the global 5PL solutions market include:
5PL Logistics Solutions
Deutsche Post AG
DB Schenker
Kuehne + Nagel Management AG
CEVA Logistics AG
United Parcel Service Inc.
Dachser Group SE & Co. KG
A.P. Moller - Maersk
FedEx
DHL
Schultz Shipping
Nippon Express Co., Ltd.
C.H. Robinson
UPS Supply Chain Solutions Inc.
XPO Logistics
Hitachi Transport System, Ltd.
DSV
Expeditors International of Washington, Inc.
J.B. Hunt Transport Services, Inc.
Toll Holdings Limited
Global 5PL Solutions Market: Research Scope
Global 5PL Solutions Market, by Service
Transportation
Warehousing
Others
Global 5PL Solutions Market, by Application
Electronic Commerce
Traders
Logistics Companies
Others
Global 5PL Solutions Market, by Region
North America

U.S.
Canada
Rest of North America

Europe

Germany
France
U.K.
Italy
Rest of Europe

Asia Pacific

China
Japan
India
South Korea
Rest of Asia Pacific

Middle East & Africa

GCC
South Africa
Rest of Middle East & Africa

South America

Brazil
Rest of South America
Interested in this report?
Get a FREE Brochure now!