Endpoint Encryption Market - Introduction
Endpoint encryption software is used by companies to protect the stored database and for transmitting data from one endpoint system to another. All the data is stored in encrypted format and cannot be accessed without the right encryption key or authority.
Endpoint encryption software is mostly applicable in transmitting the data over portable USB, cloud storage platforms, browsers, emails, and network drives. Employees share volumes of valuable information over the internet or in internal networks, which are vulnerable to data security breaches.
Endpoint encryption software is majorly adopted by healthcare, banking and insurance sectors, and data centers to protect confidential information from unauthorized users. The information pertains to bank accounts, healthcare records, home address, social security numbers, and other confidential information.
Manufacturing, automobile, transportation & logistics, and other major industries are also increasing the adoption of endpoint encryption software for providing network security solutions for enterprise networks.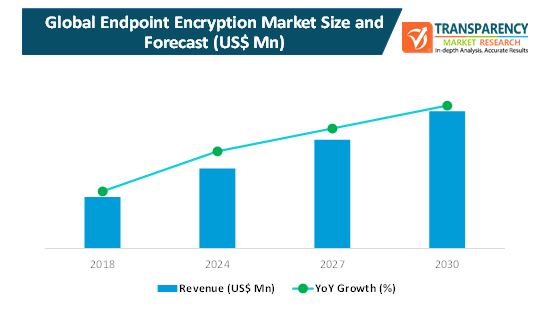 Are you a start-up willing to make it big in the business? Grab an exclusive PDF Brochure of this report
Key Drivers of the Endpoint Encryption Market
Increasing adoption of encrypted data storage to provide security while transmitting the data through any transmitting media is expected to drive the growth of the endpoint encryption market. Increasing adoption of cloud based services among enterprises is also expected to boost the growth of the endpoint encryption market.
Companies are investing in cloud storage services to protect data from cyber-attacks, which is expected to create better business opportunities for providers of endpoint encryption software.
To gauge the scope of customization in our reports, Ask for a Sample
Lack of awareness of the software and low investment on security of endpoint systems in several companies expected to hinder the market
Lack of awareness of endpoint encryption among small and medium size companies may restrain the growth of the endpoint encryption market.
Several companies are not investing in security of endpoint systems to prevent unauthorized user login and harmful cyber-attacks, which is also expected to hamper the growth of the endpoint encryption market.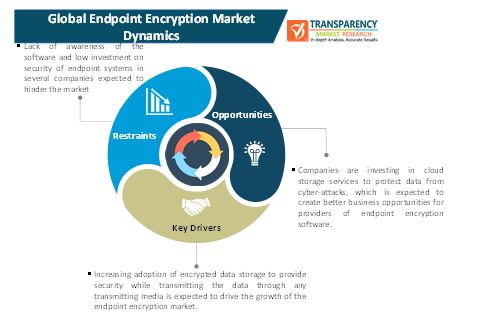 Impact of COVID-19 on the Global Endpoint Encryption Market
Companies are expanding their geographical presence to capture more market share in Asia Pacific due to increasing impact of COVID-19 on business growth. Most new start-ups and market leading companies are adopting the work from home business model to operate all business operations. In such a scenario, cloud data is an easier platform to access and store all necessary information of the company.
Companies and cloud data service providers are adopting endpoint encryption solutions or data security to provide security during data transmission. Demand for endpoint control is expected to increase during the forecast period and during lockdown conditions.
North America to Hold Major Share of the Global Endpoint Encryption Market
North America holds prominent share of the endpoint encryption market due to presence of key network security solution providers and enterprise security solution providers in the region.
The endpoint encryption market in Asia Pacific and Europe is expected to expand the fastest during the forecast period due to increasing adoption of network security solutions among healthcare and IT companies and also increasing investment by major players to provide security solutions and services in these regions.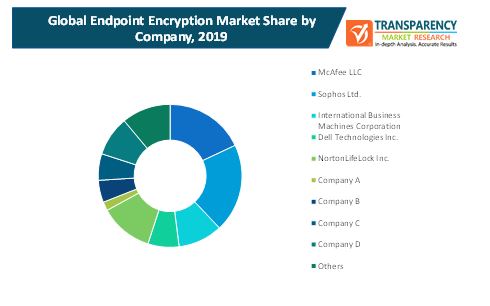 Key Players Operating in the Global Endpoint Encryption Market
McAfee LLC

McAfee LLC is a cyber-security company that develops and sells computer security solutions and software to various government agencies, home users, and businesses. It offers products for data protection & encryption, database security, network security, security management, security analytics, and web security, and has approximately 125,000 corporate customers in over 190 countries. The company's products protect consumers from identity theft, phishing scams, spyware, malicious websites, and other threats that endanger the online experience of users.

Sophos Ltd.

Sophos Ltd. operates as a subsidiary of Sophos Holdings Ltd. It offers IT security solutions and data protection. The company offers solutions in network protection, web protection, e-mail protection, user protection, cloud security, server protection, and security solutions for mobile devices. Sophos Ltd. offers solutions for applications in various verticals including education, healthcare, government, and BFSI.
Other key players operating in the global endpoint encryption market include International Business Machines Corporation, Dell Technologies Inc., NortonLifeLock Inc., Check Point Software Technologies Ltd., Trend Micro Incorporated, and Thales Group.
Global Endpoint Encryption Market: Research Scope
Global Endpoint Encryption Market, by Deployment
Global Endpoint Encryption Market, by Enterprise Size
Small & Medium Enterprises
Large Enterprises
Global Endpoint Encryption Market, by Industry
BFSI
Automobile
Manufacturing
Government
Healthcare
Transportation & Logistic
Education
Other
Global Endpoint Encryption Market Segmentation, by Region
North America
Europe

Germany
U.K.
France
Russia
Italy
Spain
Nordic
Rest of Europe

Asia Pacific

China
India
Japan
Australia
Singapore
Malaysia
South Korea
Rest of Asia Pacific

Middle East & Africa (MEA)

UAE
Saudi Arabia
South Africa
Rest of Middle East & Africa

South America

Brazil
Rest of South America
Disclaimer: This ongoing market research study is a meticulously planned activity where a broad array of factors and aspects that shape the marketing environment and industry are taken into account. However, keeping in mind the constantly changing nature of business dynamics and changing strategic intents, we are always actively making iterations and modifications in our approaches. As always, we are ready to tailor our insights and guidance to suit your requirements. Engage with us to know what more is there for your CXOs.
Endpoint Encryption Market