Cellular IoT - Introduction
Cellular IoT is an advanced wireless connectivity technology that is used to connect a large number of telecommunication devices without any physical connection across the globe. Cellular IoT is a technology designed for low power, long range application by using the existing technology to cater to the needs of low power devices.
Advancements in IoT technologies include 3G, 4G, 5G, NB-IoT, and LTE-M ‒ a low power wide area (LPWA) network ‒ to offer reliable connections to users. Cellular IoT technology is extensively employed for the development of cloud-based robotics and remote plant monitoring system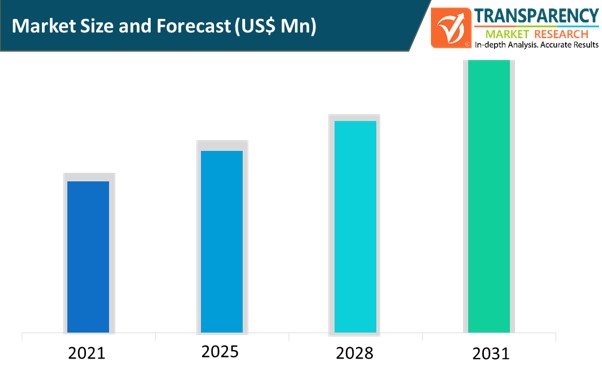 Global Cellular IoT Market: Dynamics
Global Cellular IoT Market: Key Drivers
Rise in demand for cellular IoT technology for the expansion of cellular vehicle-to-everything (C-V2X) in the automotive sector, due to increased demand for safe and reliable road transportation is a key factor boosting the cellular IoT market
Increase in digitalization and automation in various industries in order to provide end-to-end security, which helps minimize the risk of companies by providing strong device-level access, is anticipated to propel the demand for cellular IoT technology in next few years
Increase in integration of advanced IoT technologies, such as NB-IoT (Narrowband IoT) a low power wide area network (LPWAN) technology, in smart city projects is expected to fuel the cellular IoT market
Increase in number of cybercrimes due to high integration of cloud connected network is a key factor restraining the cellular IoT market
Limited technical knowledge about IoT technology is expected to hampers the cellular IoT market during the forecast period
Adoption of cellular IoT technology in vehicle telematics to collect and analyse data of off-highway vehicles is expected to offer significant opportunities for the cellular IoT market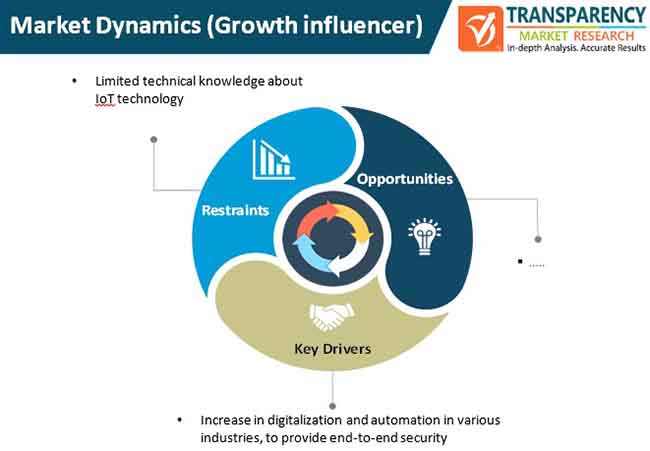 Impact of COVID-19 on the Global Cellular IoT Market
Increase in cases of COVID-19 across the globe is resulting in economic slowdown. This pandemic has created disruptions in investment of cellular IoT technology in various industries.
Rise in adoption of cellular IoT technology in the healthcare industry due to an increase in demand for medical wearable devices to monitor the health of the person during the COVID-19 pandemic is estimated to boost the cellular IoT market
Hence, it has been concluded that the COVID-19 situation has positively impacted the global cellular IoT market during the pandemic
North America to Hold Major Share of Global Cellular IoT Market
In terms of region, the global cellular IoT market can be divided into North America, Europe, Asia Pacific, Middle East & Africa, and South America
North America is anticipated to hold a prominent share of the cellular IoT market during the forecast period. Presence of a large number of key players of the cellular IoT market in the U.S and Canada and increase in investment in IoT technology in the region is estimated to fuel the demand for cellular IoT in North America.
Rapid adoption of smart city projects and adoption of new technologies in Asia Pacific boost the adoption of cellular IoT connectivity service in the region
Rapid adoption of 5G technology in Middle East & Africa is expected to enable the adoption of cellular IoT technology in the region
Increase in penetration of IoT technology for the expansion of the energy management segment in Europe is expected to drive the cellular IoT market in the region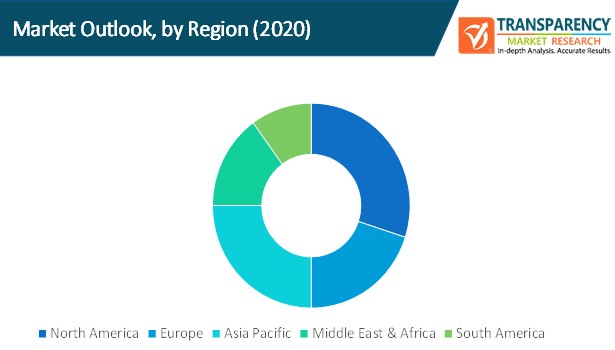 Global Cellular IoT Market: Competition Landscape
Several players have a strong presence in the cellular IoT market owing to rapid technological advancements
In April 2021, Sierra Wireless, a key player in the cellular IoT market, launched the new HL7845 Module. This module specifically provides support to the 450 MHz wireless spectrum and is used to fulfil the demand for IoT connectivity in Europe.
In February 2020, Fibocom wireless partnered with Deutsche Telekom and Redtea to provide best commercial nuSIM IoT modules to emerging IoT connectivity providers.
Key Players Operating in the Global Cellular IoT Market Include:
AT&T Inc.
Analog Devices, Inc.
Ericsson AB
HiSilicon (Shanghai) Technologies Co., Ltd.
Intel Corporation
Neoway Technology Co., LTD.
Quectel Wireless Solutions Co., Ltd.
Qorvo, Inc.
Skyworks Solutions, Inc.
Sierra Wireless
Sequans Communications
Telit IoT Platforms, LLC
Thales Group
Unisoc (Shanghai) Technologies Co., Ltd.
Vodafone Group Plc
Global Cellular IoT Market: Research Scope
Global Cellular IoT Market, by Component
Hardware
Software
Services
Global Cellular IoT Market, by Technology
2G
3G
4G
LTE-M
NB-LTE-M
NB-IoT
5G
Global Cellular IoT Market, by End-user
Agriculture
Automotive & Transportation
Building Automation
Consumer Electronics
Energy & Utilities
Healthcare
Industrial/ Manufacturing
Retail
Smart Cities
Others
Global Cellular IoT Market, by Region
North America

U.S.
Canada
Rest of North America

Europe

Germany
France
U.K.
Italy
Rest of Europe

Asia Pacific

China
Japan
India
South Korea
Rest of Asia Pacific

Middle East & Africa

GCC
South Africa
Rest of Middle East & Africa

South America

Brazil
Rest of South America
Disclaimer: This ongoing market research study is a meticulously planned activity where a broad array of factors and aspects that shape the marketing environment and industry are taken into account. However, keeping in mind the constantly changing nature of business dynamics and changing strategic intents, we are always actively making iterations and modifications in our approaches. As always, we are ready to tailor our insights and guidance to suit your requirements. Engage with us to know what more is there for your CXOs.