Global Automotive Hydraulic Pump Market– Introduction
An automotive hydraulic pump is a gear pump usually located in the cover of the transmission. It is used to draw fluid from a sump in the bottom of the transmission and feeds it to the hydraulic system. Automotive hydraulic pumps also feed the torque converter and the transmission cooler.
Automotive hydraulic pumps are mostly used to stop cars or vehicles and also to support the weight of vehicles or automobiles so as to provide a smoother ride.
Automotive hydraulic pumps are simple machines as they are less likely to break, quickly create pressure force, are easy to compress, highly efficient, and easier to repair
Automotive hydraulic pumps are used in automobiles to transfer pressure onto a braking pad, which then presses onto the axel and stops the cars from moving. In addition, automotive hydraulic pumps provide the needed pressure or force to allow brake calipers to engage the brake pads or brake disc with sufficient pressure to stop the vehicle. Therefore, automotive hydraulic pumps are an integral part of the overall brake system.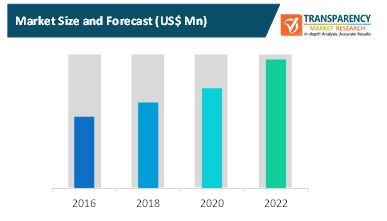 Are you a start-up willing to make it big in the business? Grab an exclusive PDF Brochure of this report
Global Automotive Hydraulic Pump Market–Dynamics
Key Drivers of the Automotive Hydraulic Pump Market
Increasing sales of passenger cars are expected to lead to the growth of the automotive hydraulic pump market during the forecast period. Passenger cars are expected to hold significant share of the automotive hydraulic pump market in terms of volume and value in 2019.
Furthermore, the rising trend of using light commercial vehicles across developed and developing countries across the globe is expected to lead to gradual growth of the automotive hydraulic pump market during the forecast period 2019-2027.
Shifting consumer preference toward energy-efficient services and solutions for automobiles with superior efficiency, minimum running costs, and affordability are expected to fuel the growth of the automotive hydraulic pump market.
Increasing adoption of automotive hydraulic pumps for electrification in vehicles is expected to fuel the growth of the market.
Europe to Hold Major Share of the Global Automotive Hydraulic Pump Market during the Forecast Period
Europe is expected to hold significant share of the global automotive hydraulic pump market during the forecast period due to well established automotive manufacturers such as Volkswagen Group, Volvo Cars and Volvo Group, Renault, Jaguar Land Rover, Ford Europe, BMW, DAF, Daimler AG, and Fiat Chrysler Automobiles across the region.
Asia Pacific is expected to be the largest market by 2027, due to a rising automotive market as the growing purchasing power of consumers has initiated the demand for vehicles across the region. This in turn is expected to drive the automotive hydraulic pump market over the next few years.
The economic situation across the world is complicated with many uncertainties expected in the coming years. Government regulations with respect to reducing air pollution and global warming is projected to increase the demand for automotive hydraulic pumps in mature markets such as Europe and North America.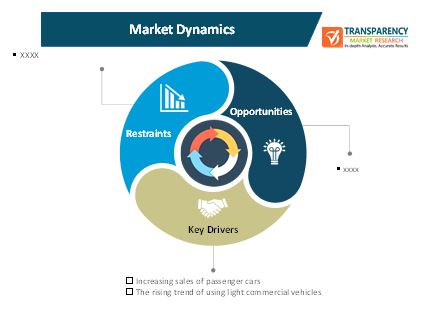 Looking for Regional Analysis or Competitive Landscape , ask for a customized report
Global Automotive Hydraulic Pump Market–Competitive Landscape
Companies operating in the automotive hydraulic pump market are increasingly investing in research and development to develop new and innovative techniques to manufacture automotive hydraulic pump. The automotive hydraulic pump market is highly fragmented due to the presence of numerous manufacturers in developed and developing regions. Furthermore, manufacturers are striving to gain a competitive edge by increased product differentiation.
Key Players Operating in the Global Market
The global automotive hydraulic pump market is highly concentrated with top manufacturers accounting for approximately 25%–30% of the market share. A few of the key players operating in the global automotive hydraulic pump market are listed below:
Actuant Corporation
Bosch Rexroth Limited
Cool Cars Engineering
Danfoss
Dynamatic Technologies Limited
Eaton
JTEKT HPI
Linde Hydraulics GmbH & Co. KG
Parker Hannifin
Peerless Engineering.
PERMCO, INC.
ANSYS, Inc.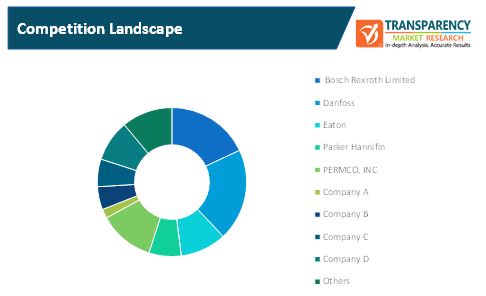 Global Automotive Hydraulic Pump Market–Research Scope
Global Automotive Hydraulic Pump Market, by Power Source
Hydraulic
Electrohydraulic
Global Automotive Hydraulic Pump Market, by Types
Hydraulic pump

Gear pumps
Gerotor pumps
Vane pumps
Piston pumps

Centrifugal Pump
Global Automotive Hydraulic Pump Market, by End-user
Buses and coaches
Trucks and boats
Vocational vehicles
Passengers cars
Commercial vehicles
Global Automotive Hydraulic Pump Market, by Distribution Channel
Direct sale (OEM)
Indirect sales
Global Automotive Hydraulic Pump Market, by Region
North America

U.S.
Canada
Rest of North America

Europe

Germany
France
U.K.
Italy
Spain
Sweden
Russia & CIS
Rest of Europe

Asia Pacific

China
Japan
India
ASEAN
Rest of Asia Pacific

South America

Brazil
Rest of South America

Middle East & Africa

GCC
South Africa
Rest of Middle East & Africa
This intelligence report by TMR is the outcome of intense study and rigorous assessment of various dynamics shaping the growth of the market. TMR nurtures a close-knit team of analysts, strategists, and industry experts who offer clients tools, methodologies, and frameworks to make smarter decisions. Our objective, insights, and actionable analytics provide CXOs and executives to advance their mission-critical priorities with confidence.
The scrutiny of the various forces impacting the dynamics of the market, and key and associated industries, guides enterprises in understanding various consumer propositions. Our clients leverage these insights and perspectives to enhance customer experience in the fast-paced business environment.
All our insights and perspectives are broadly based on 4 Pillars or Stages: ASBC-S, which offer an elaborate and customizable framework for the success of an organization. The essence and the roles of these in organizational successes are highlighted below:
Agenda for CXOs: TMR, through the study, sets the tone for agendas that are pertinent to CEOs, CFOs, CIOs, and other CXO executives of businesses operating in the market. The perspectives help our clients to bridge the gap between agenda and action plan. TMR strives to offer guidance to CXOs to undertake mission-critical activities empowered by various business analysis tools, and boost the performance of the organizations. The perspectives guide you to decide on your own marketing mix that align well with the policies, visions, and mission.
Strategic Frameworks: The study offers how organizations are setting both short-term and long-term strategic plans. Our team of experts collaborate and communicate with you to understand these to make your organizations sustainable and resilient during tough times. The insights help them decide sustainable competitive advantage for each business units.
Benchmarking for Deciding Target Markets and Brand Positioning: The assessments in the study provides a scrutiny of marketing channels and marketing mix. Our various teams work synergistically with you to help identify your actual and potential direct, indirect, and budget competition areas. Additionally, the study helps you decide most effective budgets for various processes and promotional activities. Furthermore, the study guides you to set benchmarks for integrating people and processes with the 4Ps of marketing. Eventually, this will empower you to find out unique propositioning strategies and niches.
Business Composability for Sustainability (C-S): Constant strategy planning for sustainability characterizing our C-S framework in the report has become more relevant than before in the face of disruptions caused by pandemics, recessions, boom and bust cycles, and changing geopolitical scenario. The TMR study offers a high level of customization to help you achieve business composability. Composable enterprises are increasingly gaining the attention of CXOs in order to help them combat market volatility. Our analysts and industry experts help you wade through such uncertainties and guide you to become a smart sustainable business in entirety.
The study presents scrutiny of region-specific consumer and technology trends, including the most recent industry dynamics. These broadly cover but not limited to
North America, South America, and the Americas
Asia Pacific and Japan
Europe
Latin America
Middle East and Africa
The study offers data-driven insights and guidance of several aspects. Some of the more notable questions are:
What are the major recent trends that can influence the product life cycle and the RoI?
Which regulatory trends shape corporate-level, business-level, and functional-level strategies?
Which micromarketing initiatives of leading players will bring in investments?
What can be the best framework and tools for PESTLE analysis?
Which regions will witness rise in new opportunities?
Which are the game-changing technologies being used to capture new revenue streams in the near future?
Which operational and tactical frameworks are being adopted by various players in gaining customer loyalty?
What is the current and expected intensity of competition the market in the near future?
With a robust experience in creating exceptional market reports, Transparency Market Research has emerged as one of the trusted market research companies among a large number of stakeholders and CXOs. Every report at Transparency Market Research goes through rigorous research activity in every aspect. The researchers at TMR keep a close watch on the market and extract beneficial growth-boosting points. These points help the stakeholders to strategize their business plans accordingly.
TMR researchers conduct exhaustive qualitative and quantitative research. This research involves taking inputs from the experts in the market, focused attention on recent developments, and others. This method of research makes TMR stand out from other market research firms.
Here's how Transparency Market Research helps the stakeholders and CXOs through the reports:
Inculcation and Evaluation of Strategic Collaborations: The TMR researchers analyze recent strategic activities like mergers, acquisitions, partnerships, collaborations, and joint ventures. All the information is compiled and included in the report.
Perfect Market Size Estimations: The report analyzes the demographics, growth potential, and capability of the market through the forecast period. This factor leads to the estimation of the market size and also provides an outline about how the market will retrieve growth during the assessment period.
Investment Research: The report focuses on the ongoing and upcoming investment opportunities across a particular market. These developments make the stakeholders aware of the current investment scenario across the market.
Disclaimer: This market research study is an ongoing effort and extreme care has been taken to maintain the highest levels of accuracy at all stages. However, in the light of the rapidly evolving business dynamics, some region-specific or other segment-specific changes may take time to be part of the study.
Automotive Hydraulic Pump Market