Heat Pipes Market
Heat Pipes Market (Product Type: Standard Heat Pipes & Vapor Chambers, Variable Conductance Heat Pipes [VCHP], Loop Heat Pipes, Rotating Heat Pipes, Thermosyphon Heat Pipes, and Others; Wick Type: Grooved Heat Pipes, Sintered Heat Pipes, and Others; Diameter: Below 5 mm, 5 mm – 10 mm, and Above 10 mm; Shape: Round, Flat, and Others; End User: Automotive, Aerospace & Defense, Medical, Telecommunication, Consumer Electronics, Power & Energy, Food & Beverages, and Others; and Distribution Channel: Direct Sales and Indirect Sales) - Global Industry Analysis, Size, Share, Growth, Trends, and Forecast, 2021-2031
Category :

Factory Automation

Format :
Long-term Contracts with Blue Chip Companies Ensure Revenue Opportunities during COVID-19 Crisis
The coronavirus pandemic has slowed down economic activities worldwide. Different stakeholders in the heat pipes market are undergoing various adjustments in business activities. Mark Boocock, managing director of ECONOTHERM - a company that designs and manufactures heat pipes, is relying on its long-term contracts to supply its newly designed heat pipe systems. The pandemic has made companies realize the importance of conducting business with blue chip clients.
Mass inoculation measures are anticipated to revive growth of the global heat pipes market. Stakeholders are relatively dependent on fully-operational manufacturing plants in China. Due to uncertainty of events, stakeholders are adopting contingency planning to predict possible outcomes, owing to delay in recover of the market and global economy. As such, stakeholders in the value chain are being pressured to meet emission targets, especially for high-energy consumption businesses.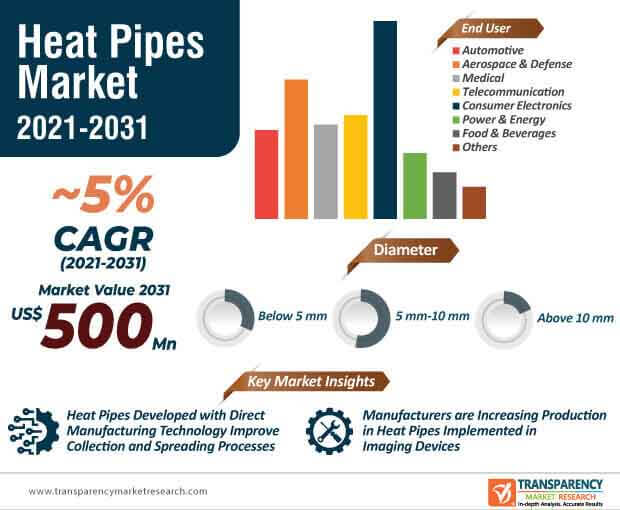 Request a sample to get extensive insights into the Heat Pipes Market
Customized Heat Pipes Help Overcome Limitations of Conventional Heat Transfer Devices
The heat pipes market is slated to clock a modest CAGR of ~5% during the forecast period. However, there is a need to overcome the limitations of conventional heat transfer devices. The Heat Pipe Thermal Management Research Group and UKAEA have taken advantage of this opportunity to successfully investigate the use of the heat pipe technology in combination with fusion energy application for thermal management of environments with extreme temperatures. Companies in the heat pipes market are taking cues from such innovations and expected to collaborate with researchers to gain a competitive edge in the market.
Manufacturers are overcoming the limitations of conventional heat transfer devices by increasing R&D in customized heat pipe systems that meet thermal requirements of extreme temperature environments. The heat pipe technology holds promising potential to extract large amounts of heat flux.
To understand how our report can bring difference to your business strategy, Ask for a brochure
Graphene Enhanced Heat Pipes Replacing Copper in Power Electronics
As per the Chalmers University of Technology, researchers have found that graphene-based heat pipes can help resolve the problems of cooling electronics. Such findings are becoming necessary for stakeholders in the heat pipes market, since consumer electronics are predicted to hold the highest revenue share among all end-use industries during the assessment period.
Graphene-based heat pipes are emerging as efficient tools for cooling electronics and power systems in avionics, data centers, and other power electronics. Graphene enhanced heat pipes are increasingly replacing copper, aluminum, and their alloys for the development of power electronics. Copper and aluminum have relatively high density and limited heat transmission capacity.
Lightweight, Reliable Thermal Management Heat Pipes Needed in Aerospace
Heat pipes are found virtually in all end-use industries, including aerospace. Boyd Corporation - a specialist in designing and manufacturing advanced engineered materials & thermal management solutions, is unlocking growth opportunities in aerospace with heat pipe assemblies that enable the heat to safely dissipate with greater access to air cooling.
Advanced aircraft electrification with liquid and air cooled systems & chassis are being preferred by engineers in the aerospace industry. Companies in the heat pipes market are increasing the availability of high reliability, lightweight, and low mass heat pipe assemblies & low profile cooling systems that enable advancements in aircraft electronics. Liquid cooled electronic chassis efficiently draw heat away from critical electronics through the chassis enclosure, thus enabling greater power and compute density in the same space without adding mass. There is a steady demand for reliable thermal management solutions in aerospace such as heat pipes, heat sinks, and graphite heat spreaders that help to cool the motor and batteries.
Companies Enhance Direct Manufacturing Technologies to Improve Standard Heat Pipe Performances
In telecommunication applications, heat pipes are used in different ways, such as to collect heat from several dissipative equipment in order to either spread the heat over large radiator panel or transport heat from hot area to cold area. In order to do this efficiently, it is a challenge to identify the main requirements and potential benefits of any new technology. Since the direct manufacturing technology for heat pipes is not foreseen to improve mass or cost at piece part level, companies in the heat pipes market are delivering optimization among heat pipe, heat transport capacity, and the heat pipe heat transfer performance.
Euro Heat Pipes - a company that develops, produces, and qualifies components for spacecraft, is boosting their research to enhance the direct manufacturing technology in order to improve the standard heat pipe performances.
Use of Heat Pipes in Medical Devices to Enhance Thermal Conductivity
Medical thermal management applications are establishing stable income sources for manufacturers in the heat pipes market. Advanced Cooling Technologies, Inc. (ACT) - a premier thermal management solutions company, is meeting increasing demands for technical innovation and performance for the medical industry. Companies are mainly focusing on integrating and prototyping solutions that involve state-of-the-art heat pipes, thermoelectric cooling, liquid cooling, and interface materials.
Established companies in the heat pipes market have entered the competition to help product designers and manufacturers solve key thermal problems, pertaining to the medical industry. Next-gen medical devices require to be smaller, faster, and more precise as compared to traditional devices. Manufacturers are increasing their production capabilities in heat pipes that are being extensively implemented in imaging devices to enhance thermal conductivity.
Alternate Methods to Improve Car Efficiency Fuels Demand for Heat Pipes
Efforts are being made to improve the efficiency of the internal combustion engine in cars. Since this is a relatively mature technology, improvements are anticipated to plateau. Such findings are grabbing the attention of companies in the heat pipes market, since there is a need for alternate methods to improve overall efficiency of cars. Companies are increasing their focus in exhaust heat recovery systems namely heat pipes and thermoelectric generators (TEGs).
Heat pipes are gaining popularity as an alternate method to transfer heat in relatively long distances with minimal thermal resistance. Companies in the heat pipes market are acquiring a strong research base in proposed designs that use heat pipes to transfer heat from the exhaust gases to the TEGs and the TEGs convert some of this heat into electricity.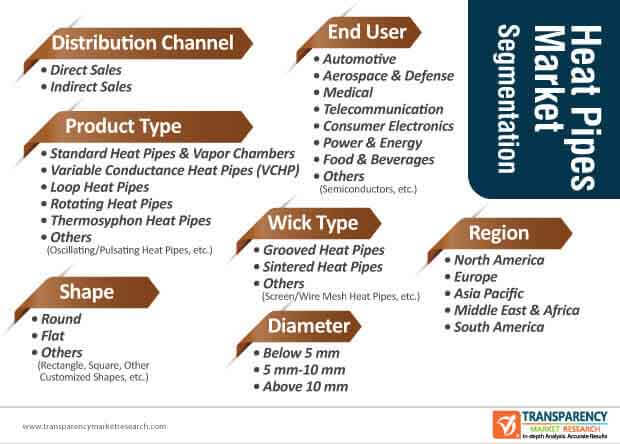 Stuck in a neck-to-neck competition with other brands? Request a custom report on Heat Pipes Market
Analysts' Viewpoint

The relaxation in deadlines and contingent planning of production & business activities are helping stakeholders in heat pipes market to stay financially afloat during the coronavirus pandemic. The heat pipes market is estimated to cross the valuation of US$ 500 Mn by 2031. However, challenges in telecommunications such as in defining the new product, with respect to additive layer manufacturing of heat pipes needs to be addressed by manufacturers. Hence, manufacturers should increase their research for enhancing the direct manufacturing technology for developing heat pipes to improve heat collection, heat transport, and heat spreading. End users are preferring proprietary designs in heat pipes that are low cost and effective in applications.
Heat Pipes Market: Overview
According to Transparency Market Research's latest research report on the global heat pipes market for the historical period of 2017–2019 and the forecast period of 2021–2031, increase in usage of heat pipes in various end-use industries such as aerospace & defense, consumer electronics, automotive, medical, telecommunication, food & beverages, and various other industries, besides spacecraft cooling and temperature stabilization are factors expected to boost the global heat pipes market during the forecast period
In terms of revenue, the global heat pipes market is projected to exceed value of US$ 500 Mn by 2031, expanding at a CAGR of ~5% during the forecast period
Rise in Usage of Heat Pipes in Various End-use Industries to Drive Global Market
There is an increase in demand for reducing spacecraft costs, while maintaining high-performance characteristics of the spacecraft bus, and at the same time, the size of satellites has to be minimized. Thus, the reduction of space cooling by increasing heat density is an important challenge. To achieve this, heat pipes are commonly used to affect heat transfer and heat redistribution functions in microsatellites.
Heat pipes are an ideal choice for cooling electronic devices. Hence, they are extensively used in the consumer electronics industry. Electronic devices have highly integrated circuits that produce a high heat flux, which leads to increase in operating temperature of devices, and this results in the shortening of life time of the electronic devices.
Advancements in Technology to Generate Opportunities for Heat Pipes Manufacturers & Distributors
Heat pipes can be considered an efficient heat transfer device among various technologies available today. Among small heat pipes, loop heat pipes are usually preferred due to high efficiency and compact size.
Nano fluids also have attracted attention due to their superior heat transfer properties in recent years. Prominent countries across regions offer international brands, which offer a wide range of heat pipes to cater to everyone's needs.
Collaborating with international brands is expected to create business opportunities across the globe. Streamlining the supply chain and high penetration in regional markets are likely to be a key factor driving business growth during the forecast period.
Manufacturers are also likely to educate & train end users, along with product sales. Streamlined supply chain and high penetration in regional markets are key factors that are anticipated to propel the heat pipes market during the forecast period.
Heat Pipes Market: Competition Landscape
Detailed profiles of manufacturers of heat pipes have been provided in the report to evaluate their financials, key product offerings, recent developments, and strategies
Key players operating in the global heat pipes market are

Advanced Cooling Technologies
ATHERM
Boyd Corporation
CELSIA INC.
Deepcool Industries Co., Ltd.
Euro Heat Pipes SA
Forcecon
Fujikura Ltd.
Furukawa Electric Co., Ltd.
Noren Thermal Inc.
Heat Pipes Market: Key Developments
Key providers of heat pipes such as Advanced Cooling Technologies, ATHERM, Boyd Corporation, CELSIA INC., Deepcool Industries Co., Ltd., and Euro Heat Pipes SA are focusing on improving the product line and creating world-class brands of heat pipes to attract more customers. Some other key developments in the global heat pipes market are highlighted below:

In 2021, Atherm is focusing on expanding its geographical presence and entering into partnerships with local suppliers or distributors in various developing countries across the globe. This will increase its presence and overall sales as well.
In January 2021, Boyd Corporation expanded high volume automated manufacturing capacity in North America with a new facility in Juarez, Mexico. The expansion provides required capacity to deliver Boyd's highly complex liquid cooling systems, market-leading liquid cold plates, and advanced rotary die cutting capabilities with industry-leading tolerance control for ramping demand in North America.
In 2021, CELSIA INC. is focusing on providing customized thermal solutions to its clients as per their exact requirements. The company also follows strict testing compliances for testing heat pipes and vapor chambers for thermal performance and structural integrity.

In the global heat pipes market report, we have discussed individual strategies, followed by company profiles of providers of heat pipes. The 'Competition Landscape' section has been included in the report to provide readers with a dashboard view and company market share analysis of key players operating in the global heat pipes market.
Heat Pipes Market – Scope of Report
A new study on the global heat pipes market has been published by Transparency Market Research (TMR). It presents a wealth of information on key market dynamics, including drivers, market trends, and challenges, as well as the structure of the global heat pipes market across the globe. TMR's study offers valuable information about the global heat pipes market to illustrate how the market would grow during the forecast period, 2021–2031.
Key indicators of market growth, which include value chain as well as supply chain analyses, and Compound Annual Growth Rate (CAGR), are elucidated in TMR's study in a comprehensive manner. This data can help readers interpret quantitative growth aspects of the global heat pipes market during the forecast period.
An extensive analysis of business strategies of leading market players is also featured in TMR's study on the global heat pipes market. This can help readers understand principal factors to foresee growth in the global heat pipes market. In this study, readers can also find specific data on the qualitative and quantitative growth avenues for the global heat pipes market, which is expected to guide market players in making apt decisions in the future.
Key Questions Answered in TMR's Heat Pipes Market Study
What are the key factors influencing the heat pipes market in each region?
What will be the CAGR of the global heat pipes market between 2021 and 2031?
What is the future scope and current trends in terms of product type and wick type of the global heat pipes market?
What is the revenue of the global heat pipes market based on respective segments?
Which are the key strategies used by top players of the global heat pipes market?
Which are the leading companies in the global heat pipes market?
Research Methodology – Heat Pipes Market
A unique research methodology has been utilized by TMR to conduct comprehensive research on the growth of the global heat pipes market and arrive at conclusions on the future growth prospects of the market. This research methodology is a combination of primary and secondary research, which helps analysts warrant the accuracy and reliability of the drawn conclusions.
Secondary sources referred to by analysts during the production of the global heat pipes market report include statistics from company annual reports, SEC filings, company websites, World Bank database, investor presentations, regulatory databases, government publications, and industry white papers. Analysts have also interviewed senior managers, product portfolio managers, CEOs, VPs, and market intelligence managers, who contributed to the production of TMR's study on the heat pipes market as a primary source.
These primary and secondary sources provided exclusive information during interviews, which serves as a validation from heat pipes industry leaders. Access to an extensive internal repository and external proprietary databases allows this report to address specific details and questions about the global heat pipes market with accuracy. The study also uses the top-down approach to assess the numbers for each segment and the bottom-up approach to counter-validate them. This has helped in making TMR's estimates on the future prospects of the global heat pipes market more reliable and accurate.
Heat Pipes Market – Segmentation
TMR's study on the global heat pipes market includes information categorized into seven sections - product type, wick type, diameter, shape, end user, distribution channel, and region. Changing industry trends and other crucial market dynamics associated with these sections of the heat pipes market are discussed in detail.
Product Type

Standard Heat Pipes & Vapor Chambers
Variable Conductance Heat Pipes (VCHP)
Loop Heat Pipes
Rotating Heat Pipes
Thermosyphon Heat Pipes
Others (Oscillating/Pulsating Heat Pipes, etc.)

Wick Type

Grooved Heat Pipes
Sintered Heat Pipes
Others (Screen/Wire Mesh Heat Pipes, etc.)

Diameter

Below 5 mm
5 mm – 10 mm
Above 10 mm

Shape

Round
Flat
Others (Rectangle, Square, Other Customized Shapes, etc.)

End User

Automotive
Aerospace & Defense
Medical
Telecommunication
Consumer Electronics
Power & Energy
Food & Beverages
Others (Semiconductors, etc.)

Distribution Channel

Direct Sales
Indirect Sales

Region

North America

U.S.
Canada
Rest of North America

Europe

U.K.
Germany
France
Rest of Europe

Asia Pacific (APAC)

China
India
Japan
Rest of Asia Pacific

Middle East & Africa (MEA)

GCC Countries
South Africa
Rest of Middle East & Africa

South America

Brazil
Rest of South America
Custom Market Research Services
TMR offers custom market research services that help clients to get information on their business scenario required where syndicated solutions are not enough.
REQUEST CUSTOMIZATION