Water Pump Market
Water Pump Market (Pump Type - Centrifugal Pump, Reciprocating Pump, and Rotary Pump; End use - Oil and Gas and Refining, Chemical, Power Generation, Water and Wastewater, and General Industry) - Global Industry Analysis, Size, Share, Growth, Trends, and Forecast 2017 - 2025
Category :

Energy & Natural Resources

Format :
Global Water Pump Market: Snapshot
By definition, water pumps are used to increase the pressure of water in order to transfer it from one point to another. Worldwide, modern water pumps find use to supply water for industrial, agricultural, municipal, and residential uses. In particular, water pumps find extensive use in agriculture to transfer water from a water source, such as a dam, river, or bore. The pumped water is transferred through pipes either to a storage facility or a point of use. Water pumps also find use to transfer wastewater in sewage treatment plants.
Functionally, a pump receives power by an electric motor to convert kinetic energy or rotational energy and turn it into hydrodynamic energy – for flow of fluid. The pumped then unites with the drive water to release into the pumping system at a high pressure.
Modern water pumps are available in few types. Broadly, water pumps are categorized into centrifugal pump, rotary pump, reciprocating pump, and others. Centrifugal pumps are widely used for domestic purposes. Centrifugal pumps function with an impeller, the fluid enters via the rotating impeller and is expelled out via centrifugal force using the impeller's tips. The process thereby increases the velocity and pressure of the fluid and steers it towards the outlet of the pump. Structurally, a positive displacement pump features an extending cavity on the suction side of the unit and diminishing cavity on the discharge side of the unit.
Water pumps are water control equipment that use pumping or evaporation to drain water from construction sites, mine shafts, riverbeds, tunnels, underground metro networks, caisson, and even residential buildings. Water pumps are critical for many of these sites during rainy season or in flood zones. This is because rain and groundwater can flood an entire site within few hours, resulting in surface erosion, structural damage, downtime, and more.
Global Water Pump Market: Snapshot
Water pumps are considered to be one of the oldest and most widespread machines, and they are available in a wide variety of applications. Water pumps are diverse products that are engineered, configured, and are standardized with essential auxiliary equipment. Newly developed state-of-the-art water pumps offer better performance reliability with efficient results. Water pumps can be classified by their method of displacement such as positive displacement pumps (reciprocating and rotary) and centrifugal pumps.
Water pumps are utilized in a vast range of end-user industries such as oil and gas, chemical, waste water treatment plants, and general industries such as pulp and paper manufacturing, mining, food and beverages, and power generation. Increase in the utilization of water pumps in the oil and gas sector can be attributed to the rising demand for energy. New technologies in water pumps enable efficient separation processes for liquids and gas. Similarly, rise in the number of wastewater treatment plants is primarily due to the increasing demand for domestic clean water, industrial water, flood control, and desalination purposes.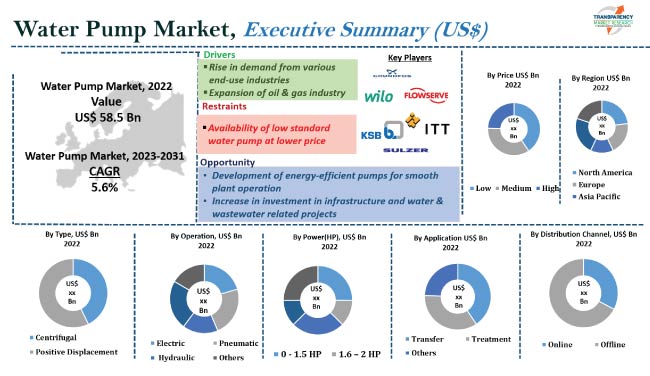 Demand from General Industry Sector to Present Lucrative Growth Avenues
In terms of pump type, the market for water pumps is segregated into centrifugal pump, reciprocating pump, rotary pump and others. Centrifugal pumps dominated the market for water pumps accounting for more than half of the market share in 2016. Centrifugal pumps are widely used across a vast set of applications and are available in different configurations such as axial and mixed flow pumps, single-stage pumps, submersible pumps, multi-stage pumps, and sealless and circular flow pumps to meet the challenges associated with flow control across various end use industries.
In terms of the key end users of water pumps, the global water pump market has been assessed in the report for industries such as oil and gas and refining, power generation, chemical, water and wastewater, and general industry. The general industry sector accounted for majority of the market in 2016. The power generation and water and wastewater sectors are projected to expand at significant CAGRs of 5.2% and 5.0%, respectively, between 2017 and 2025. The demand of water pumps from power generation sector is expected to gain traction during the forecast period particularly due to the increasing investment in power and energy sector in emerging economies. For instance, the Planning Commission of India has planned for the capacity addition of about 72,000 MW thermal power plants during the 12th FYP, augmenting the demand for water pumps.
Asia Pacific to Remain Most Promising Regional Market
In terms of regional demand, Asia Pacific was the dominant region accounting for majority of the market share in 2016. With a massive rise in infrastructure development activities, particularly in emerging economies such as China, India, and Indonesia, the demand for water pumps in the region is expected to witness significant traction during the forecast period. The Asia Pacific region is also poised to register a promising CAGR of 5.8% during the forecast period. This is attributed to the rapid pace of industrialization in emerging nations such as India and China. The market in North America is expected to witness steady growth owing to the vast rise in fracturing activities in the region in the past few years. The North America market is expected to expand at a CAGR of 4.5% during the assessment period.
Some of the leading companies operating in the largely consolidated global water pump market are Xylem Inc., Sulzer, Flowserve Corporation, KSB Inc., Danfoss A/S, Wilo SE, Weir Group PLC., Ebara Corporation, Colfax Corporation, and Alfa Laval.
Advances in Motor Technologies Key Driver for Water Pump Market
Water pumps are used in discharging water for wide range of applications. They are extensively and commonly used in residential, civil, construction, and agriculture applications. Sales in the water pump market have proliferated on the back of growing demand for wide range of pumps to meet varying commercial needs. Some of the key product types could be self-priming moonset pumps, centrifugal monoblock pumps, openwell submersible pumps, borewell water pumps, and pressure boosting pumps. Over the years, strides in the water pumps market have enabled the development of products that allow easy installation, need minimal maintenance during lifetime, and are energy efficient. Energy efficiency is perhaps the most attractive proposition and has been setting the tone of technological advancements in recent years. In this regard, motors play crucial role. Advancements in motors technologies come increasingly use of advanced electronics and the use of cutting-edge manufacturing technologies. These technologies are increasingly being adopted to unveil products with better designs and ergonomics. These features are especially useful for end users in the agriculture industry and residential applications. In recent years, manufacturers have keenly spent on strengthening their existing distribution and expanding them to new geographies.
The still-emerging pandemic and its fallouts in various parts of the world have changed the macroeconomic dynamics shaping the business prospects across almost all industries. Countries that are currently seeing new waves are hit hard and most. International trade has suffered so has the sourcing of cheap labor for various manufacturing industries. Further, a decline in consumer demand across various sectors were seen in the second half of 2020. Nonetheless, in recent months after numerous vaccines came and inoculation programs kicked off with much fervor, consumer sentiment in some industries are witnessing a positive growth. This is one of the trends that will shape the future demand and consumption patterns of various markets. The adoption of proactive strategic models will help companies, including in water pumps market, to tap into new revenue potential.
Global Water Pump Market: Overview
This report analyzes and forecasts the market for Water Pump at the global and regional level. The market has been forecast based in terms of revenue (US$ Mn) from 2017 to 2025. The study includes key market indicators, drivers, restraints and opportunities of the global Water Pump market. It also covers the impact of these drivers and restraints on demand for Water Pump during the forecast period. The report also highlights opportunities in the Water Pump market at the global and regional level.
The report comprises a detailed value chain analysis, which provides a comprehensive view of the global Water Pump market. Porter's Five Forces model for the Water Pump market has also been included to help understand the competitive landscape in the market. The study encompasses market attractiveness analysis, wherein end-user are benchmarked based on their market size, growth rate, and general attractiveness.
Global Water Pump Market: Scope of the Report
The study provides a decisive view of the global Water Pump market by segmenting it in terms pump type and end use. These segments have been analyzed based on present and future trends. Regional segmentation includes the current and forecasted demand for Water Pump in North America, Europe, Asia Pacific, Latin America, and Middle East & Africa. The report also covers demand for individual pumps across various end-users for all the regions.
The study includes profiles of major companies operating in the global Water Pump market. Key players profiled in the Water Pump market include Flowserve Corporation, Wilo SE, ITT Inc., Grundfos Holding A/S, Sulzer, KSB Inc, Ebara Corporation, Xylem Inc., Weir Group PLC., Alfa Laval, Colfax Corporation, and Danfoss A/S. Market players have been profiled in terms of attributes such as company overview, financial overview, business strategies, and recent developments.
The report provides the estimated market size of Water Pump for 2016 and forecast for the next nine years. The global market size of Water Pump has been provided in terms of revenue. Market numbers have been estimated based on pump types, and end use segment. Market size and forecast for each pump type and end use have been provided for global and regional markets.
Global Water Pump Market: Research Methodology
In order to compile the research report, we have conducted in-depth interviews and discussions with a number of key industry participants and opinion leaders. Primary research represents the bulk of research efforts, supplemented by extensive secondary research. We reviewed key players operating in the water pump and various end user industries, annual reports, press releases, and relevant documents for competitive analysis and market understanding. Secondary research also includes a search of recent trade, technical writing, internet sources, and statistical data from government websites, trade associations, and agencies. This has proven to be the most reliable, effective, and successful approach for obtaining precise market data, capturing industry participants' insights, and recognizing business opportunities.
Secondary research sources that are typically referred to include, but are not limited to company websites, annual reports, financial reports, broker reports, investor presentations, and SEC filings, internal and external proprietary databases, and relevant patent and regulatory databases, national government documents, statistical databases, and market reports, news articles, press releases, and webcasts specific to companies operating in the market, Europump , pumps.org, Hydraulic Institute (HI), International Renewable Energy Association (IRENA), International Pump Associations , Submersible Wastewater Pump Association.
Primary research involves e-mail interactions, telephonic interviews, and face-to-face interviews for each market, category, segment, and sub-segment across geographies. We conduct primary interviews on an ongoing basis with industry participants and commentators in order to validate the data and analysis. Primary interviews provide firsthand information on market size, market trends, growth trends, competitive landscape, and outlook, etc. These help validate and strengthen secondary research findings. These also help develop the analysis team's expertise and market understanding.
The report segments the global Water Pump market as:
Analysis

Centrifugal Pump
Reciprocating Pump
Rotary Pump
Others

End user

Oil & Gas and Refining
Chemical
Power Generation
Water & Wastewater
General Industry

Regional

North America
Europe

France
U.K.
Germany
Italy
Russia
Rest of Europe

Asia Pacific

China
Japan
India
ASEAN
Rest of Asia Pacific

Latin America

Brazil
Mexico
Rest of Latin America

Middle East & Africa (MEA)

GCC
South Africa
Rest of MEA
Custom Market Research Services
TMR offers custom market research services that help clients to get information on their business scenario required where syndicated solutions are not enough.
REQUEST CUSTOMIZATION