Solar Pumps Market
Solar Pumps Market (Product Type: Submersible Pumps, Surface Pumps; Operation: AC Pumps and DC Pumps; Application: Agriculture, Drinking Water, Municipal Engineering, and Others) - Global Industry Analysis, Size, Share, Growth, Trends, and Forecast, 2019 - 2027
Category :

Factory Automation

Format :
Solar Pumps: Scaling Up Solar Solutions
The concept of solar energy is no longer limited to developed regions, but is nearing ubiquity all over the globe. It has been hailed as a one-stop solution towards a sustainable future. Choked with alarming air pollution levels and unchecked industrial waste, several governments are also starting to take cognizance of an approaching calamity, and emphasizing the efficient utilization of renewable energy in wide range of applications.
Things are changing, but not fast enough. Transparency Market Research (TMR), in its new research study, brings to light the role of solar pumps in achieving the goal of a sustainable future. The study also analyzes multiple nodes and internodes of the solar pumps market to offer credible insights and assist stakeholders in data-driven and value-creation decision making.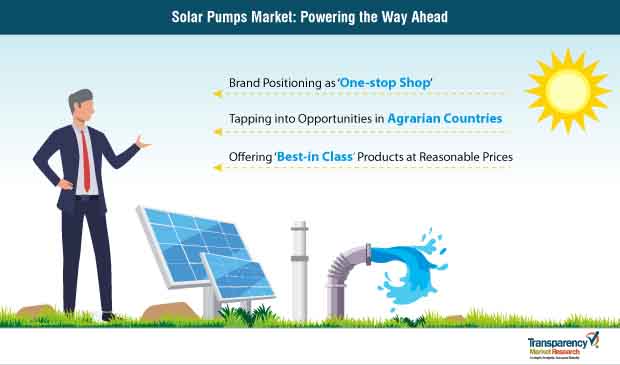 Planning to lay down future strategy? Perfect your plan with our report brochure here
Exploring the Roots and Rise of the Solar Pumps Market
Solar pumps were first introduced in the late 1970s, but took more than four decades to gain popularity and application in groundwater pumping. The teething troubles of the first generation of solar pumps brought focus on accurate wiring, and improved electronic circuitry, voltages, and terminals to provide effective electrical connections. More focus has also been placed on affordability, which remained a key growth influencer of the market. In 2018, the worldwide sales of solar pumps achieved the ~ US$ 1 billion mark, and are expected to register a robust growth over the next five years.
However, it is imperative to note that, there are also certain challenges with the uptake and use of solar pumps. TMR's study finds that, the financial condition of small-scale farmers and accessibility of high quality products and services remain among the major issues in several countries. In addition, lack of basic understanding of the set-up and functions of solar pumps has led to challenges in daily operations and maintenance.
Want to know the obstructions to your company's growth in future? Request a PDF sample here
AC Submersible Solar Pumps Gain Center Stage
Manufacturers are continuously focusing on increasing the production of AC submersible solar pumps, as this category has witnessed significant sales in recent years. With numerous advantages over their unprotected counterparts, i.e. surface solar pumps, submersible solar pumps also continue to experience higher innovations in terms of performance range and operating functions. Although DC pumps operates at higher efficiency without the need of an inverter as compared to AC pumps, the latter variant has been gaining momentum for their low maintenance and cost effectiveness. As 6 in 10 units of solar pumps sold in 2018 were based on an AC power source, manufacturers are specifically working on this category. In addition, lack of service centers in various rural and remotes areas for the repair and maintenance of DC pumps continues to challenge their sales growth.
The future of solar pumps appears to be brighter in developing countries, especially in Asia Pacific, where a large part of the economy is centered around agriculture. As the industry is rapidly entering into a realm of solar or renewable energy, manufacturers remain focused on improving the potential of solar pumps in irrigation and related agricultural tasks. Several government efforts to initiate the widespread use of solar pumps that can aid in advancing sustainable development of these nations have also led to the realignment of the strategies of manufacturers.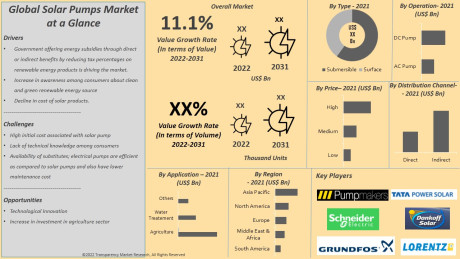 Looking for exclusive market insights from business experts? Request a Custom Report here
Powering the Bright Future of the Solar Pumps Market Players
The demand for solar pumps is currently based in regions that are on the verge of a solar revolution. As the shift from conventional to solar pumps has been heralded as a better alternative to fossil fuels, influencing the development of zero- or low-carbon irrigated agriculture, manufacturers are likely to experience a period of sustained demand.
Considering the low level of understanding regarding the potential benefits of solar pumps, manufacturers are inclining towards organizing awareness programs on solar water pumping, especially in rural and remote areas in Asia Pacific and the Middle East & Africa. As the unavailability of repair and maintenance services remains a key concern among consumers, solar pump market players are placing their bets on delivering effective and instant services. These factors played an important role in Grundfos' decision to launch a mobile application – SmArt Serv – to provide service support for all its products. Such game-changing strategies to ease the access of product portfolio as well as aftersales services are likely to provide the added advantage of gaining new customers.
In addition to offering a wide range of solar pumps for agriculture, residential, and industrial applications, a number of market vendors are entering into the manufacturing of pipes and valves to position their brand as a 'one-stop shop' for all electro-mechanical needs.
Solar Pumps Market: Competitive Landscape
The solar pumps market shows a fair level of consolidation, considering the 'capital intensive' nature of the industry, along with the prevalence of brand inclination and customer loyalty.
As initial investments are higher for solar pumps as compared to the conventional ones, adding to reluctance of farmers for their adoption, manufacturers are constantly focusing on cutting down the costs of their products. This factor will not only increase the adoption of solar pumps but also make them a viable alternative to systems dependent on fossil fuel or grid electricity.
Considering the ever-increasing installation of solar pumps in the agricultural sector through favorable government schemes and other funds from financial institutions, market consolidation in agrarian countries will remain a key focus area of manufacturers to gain a distinct competitive edge.
A number of market player are entering into collaborations, partnerships, and Memorandum of Understandings (MOUs) with other stakeholders to accelerate the implementation of solar projects across different geographies. For instance, in 2019, Bright Solar Limited, a key player in the solar pumps market, entered into an MOU with Powertrac Group for a solar project implementation and retail solar business in Bangladesh.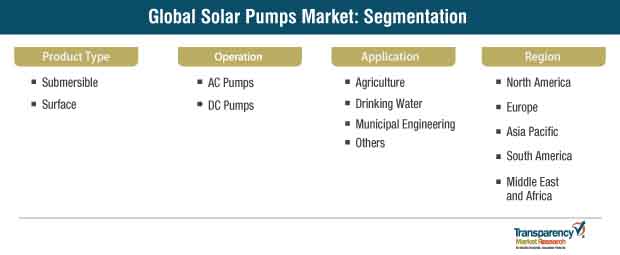 Analysts' Viewpoint

Report authors maintain an optimistic outlook of the global solar pumps market, which is estimated to record high CAGR of ~ 12% during the period between 2019 and 2027. As the knowledge about solar pumps and the potential of solar energy is still low in most countries, manufacturers will need to increase the demonstration of their products in the farming and irrigation space to find a common ground for collaboration. The implementation of new technologies within solar pump operations can also increase adoption as well as income levels.

According to report analysts, the current challenge of solar pumping is the possible over-extraction of groundwater. Therefore, manufacturers will need improve their R&D activities to ensure that the management of water resources balances the competing needs of water.
According to Transparency Market Research's latest market report on the solar pumps market for the historical period 2017-2018 and forecast period 2019-2027, the growing demand for solar pumps from the agriculture and industrial sector is expected to boost the growth of the global solar pumps market during the forecast period.
Globally, revenue generated by the solar pumps market is estimated to reach ~ US$ 1.3 Bn in 2019, The solar pumps market is expected to expand at a CAGR of ~ 12% in terms of value throughout the forecast period.
Growing Demand for Solar Water Pumps from Agriculture and Water Management Industry
Growth in the use of solar energy for agriculture and irrigation activities across the globe is a major factor driving the demand for solar water pumps. Asia Pacific is anticipated to show rapid growth in the solar water pumps market during the forecast period.
Decline in solar equipment prices and encouragement by governments for solar equipment usage, especially in the agriculture sector, are driving the Asia Pacific solar pumps market. Governments in many countries are providing subsidies to farmers and solar equipment manufacturers, which is fueling the demand for solar pumps.
Countries such as India, China, and Bangladesh, which are major agrarian economies with ample sunlight, are expected to expand their solar water pumps market.
Growing Awareness about Clean Energy Encouraging the Demand for Solar Water Pumps
The solar pumps market in the Middle East & Africa is estimated to expand at a significant rate during the forecast period, owing to extensive agricultural land and the bid to reduce the use of fossil fuel energy. Government initiatives toward pollution-free and clean energy are also expected to support the expansion of the solar pumps market in this region.
Many developed countries in North America and Europe are shifting from fossil fuel energy to renewable energy sources. The governments in these regions are promoting renewable energy to reduce the carbon footprint and to avoid climate change. E.g.: the International Solar Alliance is an India and France initiative that was jointly launched on the sidelines of the Paris Agreement and the UN Climate Conference.
Low Technical Knowledge, Lack of Awareness about Solar Equipment, and Availability of Substitute Products Hampering Market Growth
Lack of awareness and technical knowledge about solar technology is the key reason for the low demand of solar pumps amongst farmers. Also, limited knowledge about rural markets and consumer preferences result in limited customization of technology, and the inability to comprehend the full potential of the solar pumps market. These factors are causing lower adoption of solar pumps in developing countries.
Electrical pumps are more efficient than diesel pumps, and also have lower maintenance costs. They can be easily controlled through automated systems. Additionally, the capital cost of solar pumps is high, and they also require some more inputs, which makes electric pumps more attractive. With increasing electrification, the solar pumps market is expected to be hampered in the coming years.
Global Solar Pumps Market: Competition Landscape
Detailed profiles of manufacturers of solar water pumps have been provided in the report to evaluate their financials, key product offerings, recent developments, and strategies.
Key players operating in the global solar water pumps market include

​Bernt Lorentz GmbH
Bright Solar Ltd.
C.R.I. Pumps Private Limited
Dankoff Solar Pumps
Greenmax Technology
GRUNDFOS
Jain Irrigation Systems Ltd
PM Pumpmakers GmbH
Schneider Electric SE
Shakti Pumps (India) Ltd.
Tata Power Solar Systems Ltd.
​Waaree Energies Ltd.
Global Solar Pumps Market: Key Developments
Key manufacturers in the solar pumps market such as Tata Power Solar Systems Ltd. and Jain Irrigation Systems Ltd are strengthening their overseas sales structure by increasing their production capacities. Some other key developments in the solar pumps market are as follows:
In April 2017, Jain Irrigation Systems Ltd. announced the acquisition of 80% stake in two leading U.S.-based micro-irrigation companies: Agri-Valley Irrigation, Inc. and Irrigation Design and Construction, Inc. This agreement will promote JISL's business in the U.S.
In June 2017, Tata Power Renewable Energy signed a purchase agreement with Welspun Energy Pvt Ltd to acquire its green energy portfolio. Welspun Renewables is a wholly-owned subsidiary of Welspun Energy, co-owned by the listed Welspun Enterprises. With this, the company aims to increase its non-fossil fuel-based capacity.
Waaree Energies Ltd. has a 500 MW solar power plant and 100 solar power assets across Madhya Pradesh and Andhra Pradesh in India. The company also entered the retail solar products market, aiming to boost its business by expanding its business divisions.
In the global solar pumps market report, we have discussed individual strategies followed by the company profiles of manufacturers of solar pumps. The 'Competitive Landscape' section is included in the solar pumps market report to provide readers with a dashboard view and a company market share analysis of the key players operating in the global solar pumps market.
The demand for men's skincare products is rising at a stellar pace in recent times. Use of high-quality personal care products in men has emerged as a prominent trend across the global cosmetics industry. The growing inclination of men towards personal grooming has led them to use several cosmetic products.
The need for a clearer skin is not restricted to women alone, and men have become key consumers within the global men's skincare products market. Furthermore, manufactures of these products have used the right promotional hacks to captivate the attention of the end-users. Innovation has been the catchphrase of marketing campaigns aimed at promoting men's skincare products.
Sportspersons have emerged as important consumers of men's skincare products. Moreover, the market players have reciprocated to the demands of these individuals by manufacturing high-performance skincare gels and creams.
The use of moisturising creams amongst men has risen in recent times. The fashion industry has played an integral role in driving sales across the global men's skincare products market. As celebrities and influencers endorse skincare products, the end-users are expected to give in to the promised benefits of skincare products. Henceforth, it is safe to assert that the men's skincare products market would tread along a lucrative path in the times to follow.
Solar Pumps Market – Complete Analysis and Opportunity Assessment
Transparency Market Research (TMR), in its recent publication, provides thorough analysis of the global solar pumps market, wherein, historical and current trends have been assessed to determine the future prospects of the solar pumps market. The study brings to fore credible insights on multiple nodes and internodes of the solar pumps market, which can arm vendors with vital information to take critical decisions with clarity and confidence.
The report includes key indicator assessment to unfold the growth behavior of the solar pumps market for the period between 2019 and 2027. TMR analyzes a range of drivers, restraints, trends, opportunities, and challenges in the solar pumps market, and offers forecast statistics in terms of value (US$ million) and volume (thousand units).
The solar pumps market report covers a detailed taxonomy along with a comprehensive analysis of the competitive landscape. The study profiles a number of incumbent companies as well as new entrants in the solar pumps markets, wherein, the product portfolios, new launches and innovations, and business development strategies of these market players have been provided.
What are the Key Questions Answered in the Solar Pumps Market Report?
TMR's report on the solar pumps market offers a qualitative and quantitative breakdown of the market through extensive research at macroscopic and microscopic levels. Detailed information provided in the report answers several questions for solar pumps market players that can help them implement and devise well-informed decisions. Some of these questions include:
What are the underlying macroeconomic and industry-specific trends influencing the growth of the solar pumps market?
Why does the solar pumps market have high growth potential?
Which segment is likely to experience more traction in the solar pumps market in the next five years?
What are the risks associated with the sourcing of raw materials and the costs of services?
What are the current strengths and weaknesses of stakeholders in the solar pumps market?
Which new technologies are adopted by manufacturers for product innovations and developments?
Solar Pumps Market: Research Methodology
The report on the solar pumps market is a result of an extensive and thorough research methodology, involving a large number of primary and secondary resources. Using industry-validated information gathered through and verified by these resources, analysts could come up with vital information and numbers regarding the future growth of the solar pumps market.
In the primary phase, analysts conducted exclusive interviews and discussions with CEOs, VPs, heads of product management, key opinion leaders, R&D managers, sales managers, and technology specialists of companies involved in the supply chain of the solar pumps market, along with key investors and raw material suppliers. Incisive information gathered through these sources have contributed to the development of the solar pumps market report.
Secondary resources referred to by the analysts for the compilation of the solar pumps market report are company websites, annual and financial reports, industrial publications, white papers, and research publications. Other resources include National Solar Energy Federation of India, International Solar Alliance, Europump European Association of Pump Manufacturers, Renewable Energy Association, International Solar Energy Society, and Global Solar Council.
Solar Pumps Market – Segmentation
Information featured in the solar pumps market report has been categorized into four broader segments - product type, power, application, and region. The study analyzes how various dynamics and trends associated with each segment will impact the overall growth of the solar pumps market. It also offers market value share analysis, market attractiveness assessment, and year-over-year growth analysis of individual segments across different geographical regions in the solar pumps market.
Product Type

Submersible

Surface

Operation

AC Pumps

DC Pumps

Application

Agriculture

Drinking Water

Municipal Engineering

Others

Region

North America

Europe

Asia Pacific

Middle East & Africa

South America
Custom Market Research Services
TMR offers custom market research services that help clients to get information on their business scenario required where syndicated solutions are not enough.
REQUEST CUSTOMIZATION