The spray drying technology has been mainstreamed in processing of dairy industry. World over, the dairy industry has made tremendous growth. It is used in producing milk powders and as stabilizers milk constituents. As a result, new technologies that promise prolonged preservation of dairy products have been rapidly adopted to meet the consumers' changing demands. The technology has been used with the objective of preserving all-natural food elements. It makes milk products easily digestible. The prospects in the market have been increasingly fueled by the adoption of spray dried dairy powder in making bakery and confectionery. Implementation of food safety regulations is a key trend that has paved way to new avenues in the spray dried dairy powder market.
Another promising trend has been inclination toward reuse of protein fractions derived from dairy surplus. This has largely favored dairy industry. Businesses and industry players trend to benefit from the advent of new technologies for extracting and purifying various milk proteins. Subsequently, many of these products have earned a substantial customer base due to the strides made in nutritional and functional ingredients. The rise in demand for functional food products in populations worldwide is a key trend. Rapid pace of urbanization has also spurred dairy products making, bolstering the application of spray dried dairy powders with different nutritional profile.
Global Spray dried dairy powder Market Outlook
The dairy Industry is one of the most important sectors in the global trade. Dairy products are considered a necessary commodity in people's regular diet. Over the years, the industry has witnessed significant changes in its product offerings, which can be attributed to the on-going preference for fat-free and lactose-free dairy products. Lactose free dairy products are already quite popular in the North American and European markets. The spray dried dairy powder is a dairy segment that has evolved in term of its product offerings over the years. Spray dried dairy powder is obtained by rapidly drying milk with a hot gas. It is one of the preferred methods for drying a thermally-sensitive material like milk.
Global Spray dried dairy powder Market: Reasons for covering this Title
Per capita consumption of dairy products has seen tremendous growth in developing countries due to rise in buying power of consumers and a decline in dairy prices since 2013. Developing countries in Northern Africa, Middle East and Latin America have witnessed higher consumption of all processed dairy products. According to U.N. FAOSTAT, the consumption of spray dried dairy powder, like whole milk powder, declined between 2006 and 2015. However, the consumption is now expected to grow at a robust rate over the forecast period. The global production share of spray dried dairy powder, like skim milk powder and whole milk powder, is expected to account for 51% and 49% respectively according to OECD.
Global Spray dried dairy powder: Market Segmentation
On the basis of nature, the global Spray dried dairy powder market has been segmented as –
On the basis of types, the global Spray dried dairy powder market has been segmented as –
Milk Powder

Whole Milk Powder
Skim Milk Powder
Others

Whey Powder

Sweet Whey Powder
Acid Whey Powder
Others

Buttermilk Powder
Caseinates
Protein Concentrates and Isolates
Others
On the basis of application, the global Spray dried dairy powder market has been segmented as –
Food & Beverages Industry

Infant Nutrition
Bakery Products
Confectionery & Snacks
Dressings and Sauces
Beverages
Others

Healthcare Industry
Animal Feed Industry
Others
On the basis of the distribution, the global Spray dried dairy powder market has been segmented as –
Direct
Indirect

Supermarket/Hypermarket
Convenience Stores
Specialty Stores
E-Retailers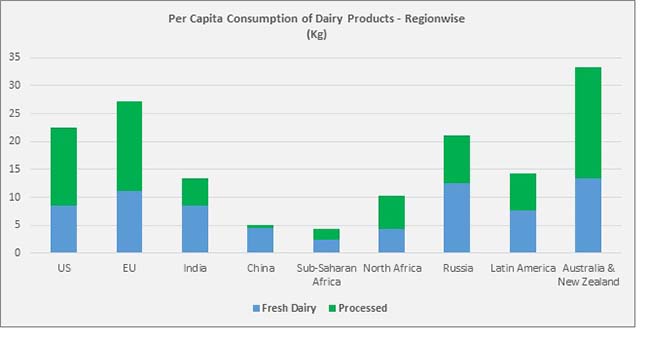 Key Takeaways - Spray dried dairy powder Market
Major production of milk occurs in the northern hemisphere, specifically in the EU, Latin America and several countries of Southeast Asia, such as India. However, the highest rate of dairy consumption, including processed products, such as spray dried dairy powders, has been observed in Australia and New Zealand. Moreover, New Zealand has developed into one of the important suppliers of spray dried dairy powder, specifically whole milk powder, to countries, such as China.
Global Spray dried dairy powder Market: Key Players:
Some of the key players operating in the global Spray dried dairy powder market are All American Foods, Inc., Kerry Inc., Nestle S.A., G&R Foods, Inc., Talmera, Commercial Creamery Company, Hoogwegt Group, Burra Foods Australia., ViPlus Dairy PTY LTD, Tatura Milk Industries Ltd. and Gold Cow Australia Pty Ltd, among others.
Spray dried dairy powder Market: Global Key Trends:
China has shown continued decline in spray dried dairy powder imports: China, which accounts for 28% of world dairy imports, experienced a significant decline in whole milk dairy powder imports by 34% between 2014 and 2015. The rise in the country's domestic milk production and continued investments for augmenting its processing capabilities are some of the reasons responsible for China being less dependent on imported goods.
Northern Africa and the Middle East are tagged as favorite destinations for the import of all dairy products: The two regions account for 25% import of global skim milk powder and 20% of the total import of global whole milk powder. A confluence of various factors, such as unfavorable climatic conditions and strongly growing demand for dairy products, has triggered the growing import volume for these regions in the past couple of years.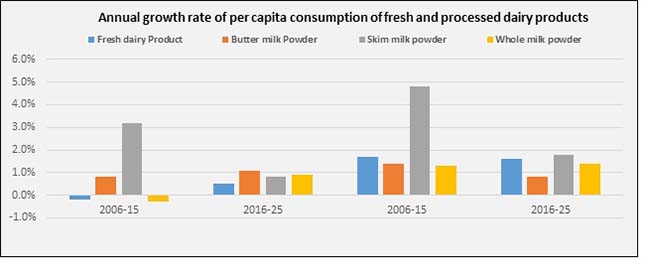 Opportunities for Spray dried dairy powder Market Participants
A rise in awareness among the consumers about health has been observed in the past two decades, which is driving consumers to hit health maintenance institutions, such as gymnastic centers, where consumers are advised to consume spray dried powders, such as whey powder, etc. In the food sector, spray dried dairy powders makes an ideal food for infant nutrition. Hence, these factors have the potential to trigger demand for spray dried dairy powder market in near future.
Disclaimer: This ongoing market research study is a meticulously planned activity where a broad array of factors and aspects that shape the marketing environment and industry are taken into account. However, keeping in mind the constantly changing nature of business dynamics and changing strategic intents, we are always actively making iterations and modifications in our approaches. As always, we are ready to tailor our insights and guidance to suit your requirements. Engage with us to know what more is there for your CXOs.
Spray Dried Dairy Powder Market