Guanabana Market
Guanabana Market (Form: Whole/Raw and Processed; End Use: Food Processing Industry, Nutraceuticals/Pharmaceuticals, Cosmetics & Personal Care, Household/Retail, and Others; and Direct Selling, Hypermarkets/Supermarkets, Independent Grocery Stores, and Others) - Global Industry Analysis, Size, Share, Growth, Trends, and Forecast, 2019 - 2027
Category :

Food & Beverages

Format :
Lemonade Gourmets and Specialty Drinks Drive Demand for Guanabana
Apart from food processing, companies in the guanabana market are tapping into opportunities in beverage processing. Moreover, vegan and gluten-free aspects are anticipated to engulf the future of beverage processing. For instance, specialty drinks manufacturer Molle Trinken revealed that the company is in the decision-making process of launching their drink SUPER FRUIT Guanabana, which is vegan and gluten free. Companies in the guanabana market are increasing efforts to introduce natural ingredients by making claims such as '20% guanabana puree' to entice customers. Growing demand for lemonade gourmets is another key driver that is triggering the demand for guanabana.
On the other hand, companies in the guanabana market should tie up with stakeholders in HoReCa to boost the uptake of guanabana. Customers these days are willing to try out traditional drinks with exotic new flavors. Growing awareness about guanabana has led restaurants and cafes to experiment with new flavors and recipes in beverages involving guanabana.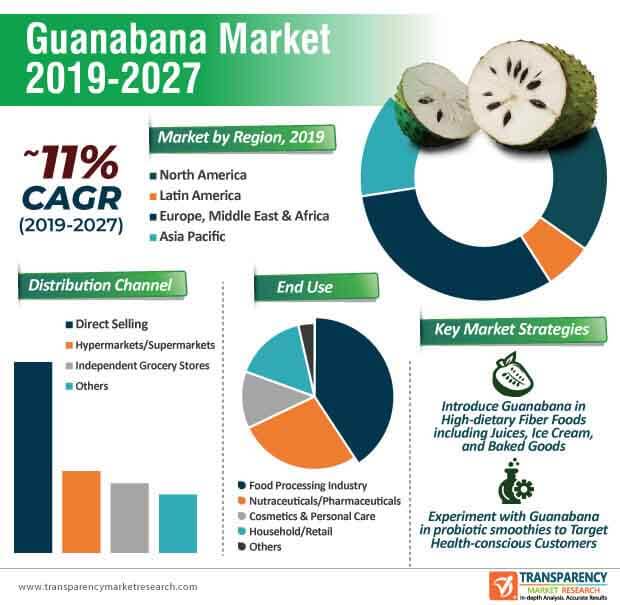 Request a sample to get extensive insights into the Guanabana Market
Functional Ice Creams with Clean Label Attract Pro-health Customers
With growing prominence of guanabana in dairy products, manufacturers are now turning toward functional ice creams to tap into incremental opportunities. As such, the food processing industry is estimated to dominate among all end users, and the global guanabana market is estimated to reach a production of ~455,600 tons by the end of 2027. Hence, manufacturers are increasing efforts to acquire clean label for functional ice cream products.
To understand how our report can bring difference to your business strategy, Ask for a brochure
High market competitiveness and growing interest in health-related products is catalyzing the demand for clean label functional ice cream products. Thus, manufacturers in the guanabana market are adopting innovative production technologies to boost the uptake of ice creams involving guanabana. The guanabana market is predicted for exponential growth during the forecast period, since there is a demand for ice creams that have a strong aroma and dense consistency.
Unique Attributes of Guanabana Draw Attention of Dairy Producers
Guanabana is gaining prominence in dairy products. For instance, Hiland Dairy- a U.S. dairy products company announced the launch of their probiotic smoothie product line involving seven fresh flavors that also included guanabana.
The guanabana market is expected to expand at a staggering CAGR of ~11% during the forecast period. This is evident since guanabana is gaining popularity for use in dairy goods. However, high prevalence of lactose-intolerant consumers is likely to slow down market growth. Thus, manufacturers in the guanabana market should personalize F&B products that cater to the requirements of lactose-intolerant consumers. For instance, lactose-intolerant consumers can opt for juices and bakery items made from guanabana.
In the dairy products market, manufacturers are pervasively using guanabana in various dairy items, such as ice creams, smoothies, and other milk products. This has helped companies to broaden their revenue streams in the highly competitive dairy products industry. Intense color, high dietary fiber, and exotic flavor of guanabana are increasingly winning the attention of dairy producers.
Sustainable Solutions Help Manufacturers Create Guanabana Juices to Boost Exports
Sustainability has gained prominence in the rapidly growing F&B industry. Several colleges and universities are introducing prize competitions to encourage students to come up with innovative and sustainable solutions catering to F&B applications. For instance, the EARTH University, Costa Rica, awarded a team at The Lab's 2020 Sustainability Prize program, who experimented on a project to prevent food wastage in the guanabana market in Cameroon. Thus, manufacturers should team up with talented researchers and students to innovate in solutions that prevent food wastage.
Companies in the guanabana market are sourcing huge volumes of the novel fruit from tropical regions of America and the Caribbean islands. This is evident since North America dominates the market for guanabana with the second-highest value. The global guanabana market is estimated to reach ~US$ 350 Mn by the end of 2027. Hence, it becomes necessary for manufacturers to find sustainable solutions that prevent degradation of guanabana in order to boost its exportation. Thus, manufacturers should collaborate with researchers and students to develop guanabana juices using sustainable solutions so that companies can easily export the products.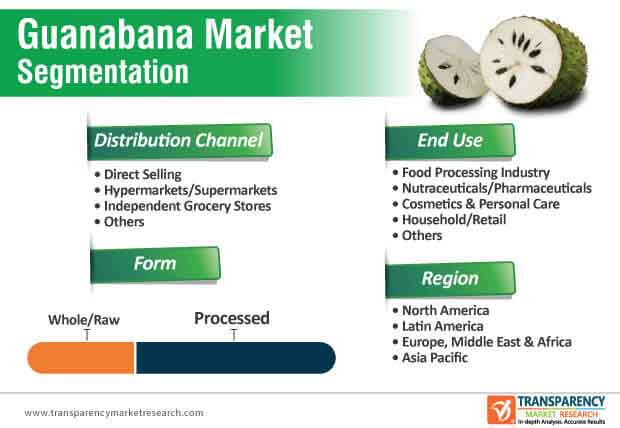 Stuck in a neck-to-neck competition with other brands? Request a custom report on Guanabana Market
Analysts' Viewpoint
Manufacturers in the guanabana market are adopting innovative production techniques to develop guanabana liquor. With the help of guanabana liquor, companies can achieve novelty in the HoReCa landscape, since guanabana can be introduced as a new flavor in specialty drinks. Growing awareness about guanabana has given rise to new recipes in households, which is evident since the household/retail end use segment is projected to attain the third-highest revenue in the guanabana market landscape.

Moreover, growing demand for lemonade gourmets and specialty beverages has opened new revenue streams for manufacturers in the guanabana market. However, guanabana plants rot quickly, which poses as a challenge for exportation. Hence, manufacturers should collaborate with talented researchers and students who excel in sustainable solutions to skillfully establish a technique for exportation of guanabana juices and other related products.
Guanabana Market: Overview
TMR has conducted a research on the guanabana market. According to the report, the market was valued at approximately ~ US$ 150 Mn in 2019 and is anticipated to reach ~US$ 350 Mn by 2027, at a CAGR of ~11% between 2019 and 2027
Increasing demand for processed food products is attributable to rising purchasing power of consumers and economic development witnessed across the world. Guanabana is in high demand as a flavor enhancer beverages, jam, jelly ready-to-eat, and others.
To capitalize on prevailing opportunity, several key players such as Now Health Group has entered the guanabana market, increasing the market competition.
Guanabana: Market Frontrunners
The rising vegetarian and vegan population across the globe are bolstering the growth of guanabana market
Processed guanabana holds a major share in the market as the cultivations of guanabana fruit is less and not known by much farmers. The whole product is also difficult to import and export as it is difficult to preserve it for long.
Guanabana is majorly used in food processing industries to enhance flavors of various products. Owing to its medicinal properties the demand for guanabana is anticipated to increase among pharmaceuticals and nutraceutical. The demand is also expected to rise in cosmetics and personal care manufacturers.
Markets in Europe and the Middle East and Africa have large number of companies. Guanabana can be further used in various food & beverage applications accompanied by novel R&D improvisation in order to help manufacturers manage flavors with on-trend plant products.
Guanabana Market: Trends
Guanabana is a tropical fruit, which is consumed as a fresh pulp or fruit extract. It is commercially used to prepare juice, candy, tea, oil, sorbet and ice cream and dessert in the food and beverage industry.
Consumption of natural and plant-based products is gaining popularity in the global market due to the health halo surrounding plant-based ingredients and products
Consumers' preference for organic guanabana products is expected to rise considerably over the next couple of years. Manufacturers and suppliers of organic guanabana products are optimizing their product offerings according to consumers' demand.
Rising awareness about health benefits associated with guanabana creates scope for its application in the pharmaceutical industry
The clean label trend in the food and beverage and cosmetics and personal care industries is rising in popularity. Besides in developed nations, the trend is gradually gaining traction in emerging economies. The increasing use of internet, blogs, and social media makes information about various chemicals and ingredients easily available, encouraging consumers to opt for products with clean label ingredients. This leads to high usage of guanabana in food and beverage, pharmaceutical and cosmetic & personal care products.
The demand for cosmetics and personal care products is on the rise worldwide aided by the increasing per-capita spending on cosmetics and personal care products in developing economies. In the last few years, research and development in the cosmetic industry has resulted in the launch of new and innovative products in the market.
In the present day everyone is highly occupied by their hectic work schedule, which has resulted in changing lifestyle and eating habits of consumers. This again has had negative impact on their health. For instance, several people are suffering from lifestyle diseases such as diabetes, cardiovascular diseases, and hypertension.
e-Commerce has become an important platform that has benefited both manufactures and consumers. Electronic technologies are increasingly deployed throughout the supply chain of guanabana.
Guanabana Market: Players
Key players operating in the guanabana market, as profiled in the study, include

Now Health Group Inc.
Jumex Group
Goya Foods, Inc.
Sunshine Naturals
Fructo AG
Amanaci Rohstoffe UG & Co.KG
Austrofood Cia Ltda.
Flavorah FLV
Amelia Organic Products
Guanabana Market - Scope of the Report
Transparency Market Research (TMR) has recently published a study on the global guanabana market. The study provides a detailed assessment of key market dynamics, including drivers, trends, opportunities & restraints, and detailed information about the guanabana market structure. The market study presents exclusive information about how the guanabana market will grow during the forecast period starting from 2019 to 2029.
Key indicators of market growth, which include year-on-year (Y-o-Y) growth of the market, value chain, supply chain analysis, and compounded annual growth rate (CAGR) are explained in the TMR's study in a comprehensive manner. This information can help readers understand the quantitative growth prospects of the guanabana market during the forecast period.
The study is relevant for stakeholders in the guanabana market, including guanabana manufacturers, suppliers, distributors, and investors, and can help them in developing appropriate strategies to grow in the market. Stakeholders in the guanabana market, investors, industry experts, researchers, and journalists, as well as business researchers can gain valuable insights from the information and data presented in TMR's study.
The study also includes statistics and facts related to the macro and microeconomic factors that are impacting developments in the market. It also offers actionable insights into the market based on the future trends in the guanabana market. Furthermore, small businesses and new entrants in the guanabana market too can make use of the information presented in this study, based on which, they can make appropriate business decisions in order to gain momentum in the market.
Key Questions Answered in TMR's Guanabana Market Report
Which regions will continue to remain the most profitable regional markets for guanabana market players?
Which factors will induce a change in the demand for guanabana during the assessment period?
How will the changing trends impact the guanabana market?
How can market players capture the low-hanging opportunities in the guanabana market in developed regions?
Which companies are leading the guanabana market?
What are the winning strategies of stakeholders in the guanabana market to upscale their position in this landscape?
Guanabana Market: Research Methodology
The study uses a unique research methodology to conduct extensive research on the growth of the guanabana market and reach conclusions on the future growth parameters. This research methodology is a combination of primary and secondary research, which helps analysts ensure the accuracy and reliability of conclusions.
Secondary resources referred to by analysts during the production of the guanabana market study include statistics from governmental organizations, trade journals, white papers, and internal and external proprietary databases. Analysts have interviewed senior managers, product portfolio managers, CEOs, VPs, marketing/product managers, and market intelligence managers, who contributed to the development of this report as a primary resource.
Comprehensive information acquired from primary resources and secondary resources acts as a validation from companies in the guanabana market, and makes TMR's projections on the growth prospects of the guanabana market more accurate and reliable.
Key Segments of the Guanabana Market
The report categorizes the guanabana in terms of various segments-form, end use, distribution channel, and region. This report offers comprehensive data and information about the important market dynamics and growth parameters associated with these categories.
Form

End Use

Food Processing Industry
Nutraceuticals/

Pharmaceuticals

Cosmetics & Personal Care
Household/Retail
Others

Distribution Channel

Direct Selling
Hypermarkets/Supermarkets
Independent Grocery Stores
Others

Region

North America
Latin America
Europe, Middle East & Africa (EMEA)
Asia Pacific
Custom Market Research Services
TMR offers custom market research services that help clients to get information on their business scenario required where syndicated solutions are not enough.
REQUEST CUSTOMIZATION