Enzymes Market
Enzymes Market (Grade: Technical Grade and Specialty Grade; Type: Carbohydrases, Proteases, Polymerases & Nucleases, Lipases, Phytases, and Others; and Application: Food & Beverages Processing, Personal & Household Care, Animal Feed, Bioenergy, Pharmaceutical & Diagnostic, Textiles, and Others) - Global Industry Analysis, Size, Share, Growth, Trends, and Forecast, 2019 - 2027
Chemicals & Materials
TMRGL481
2019-12-18
296

Pages
Increased Focus on Development of Sustainable Biofuels Using Rare Algae Enzymes
Companies in the global enzymes market are tapping into new opportunities to develop biofuels. Growing focus on lowering CO2 emissions in the transportation sector has fueled the demand for biofuels. For instance, researchers at the Aarhus University in Denmark concluded a successful experiment to convert waste oil and fat into biofuels. Thus, manufacturers in the enzymes market landscape are collaborating with researchers around the world to develop new ways of producing biofuels.
The bioenergy application segment of the enzymes market is expected to reach an output of ~173,400 tons by the end of 2022. Growing demand for emission-reducing fuels has led to increased research in using unusual enzymes found in microalgae for the development of biofuels. Companies are becoming increasingly aware about this technique, and investing in the development of systems that convert organic waste into environmental-friendly biofuels.
Increased R&D has led to the integration of natural processes for the development of biofuels in these systems. Manufacturers in the enzymes market are increasingly focusing on the selection of the best mutant of the enzyme for building the flow system using the photobiocatalysis technique.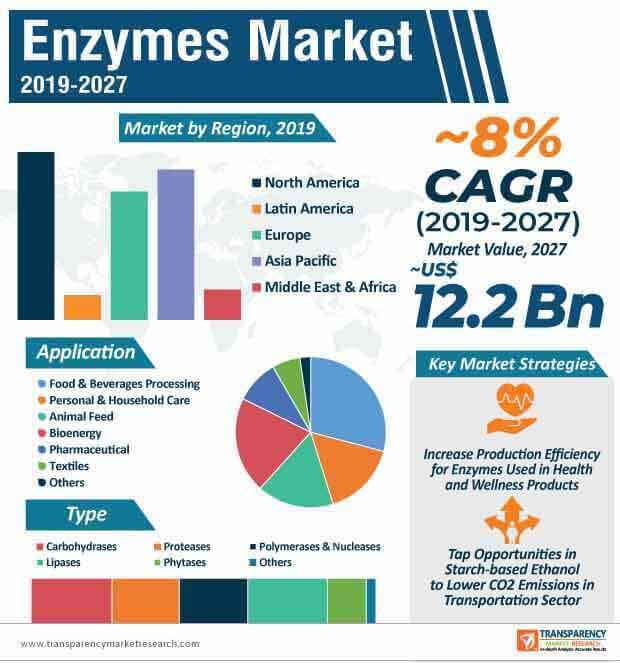 To gauge the scope of customization in our reports Ask for a Sample
Investments in Asia Pacific to Enhance Product Portfolio in Feed, Food, and Textile Sectors
Asia Pacific is attracting investments for enzyme production in feed, food, and textiles sectors. For instance, in February 2019, the global nutritional ingredient company Kemin, announced that the company is investing in China and entered into a partnership with CRVAB Bio-technology Co., Ltd. - a high-tech corporation specializing in animal nutrition and health products.
Asia Pacific is projected to emerge as a leading enzymes market, in terms of revenue by the end of 2027, reaching an estimated value of ~US$ 4.1 Bn. Therefore, companies are increasing their efforts to expand their product portfolio. They are building production capabilities to develop specialty ingredients used in nutraceuticals, pet food, textiles, food, and crop technologies.
Get an idea about the offerings of our report from Report Brochure
With the help of strategic collaborations, companies are planning to increase their resources for the production of single and blended enzymes. This growth of resources will intensify the probiotic products supply chain in the market. Investments in efficient fermentation facilities will help companies to accelerate the availability of enzyme products in the global market.
Product Lifecycle Management to Lead to Innovations in Enzymes
The enzymes market is highly competitive, with three major players accounting for a combined share of ~50% of the global market. Emerging players are finding it challenging to adapt to changing global trends. This has increased the need for innovations in the global enzymes market.
For instance, the food and beverages processing application segment is predicted for an exponential growth during the forecast period, with the highest estimated output of ~375,000 tons by 2027. However, growing concerns about food safety, food compliance, and quality act as a challenge for manufacturers in the enzymes market. Thus, manufacturers are adopting product lifecycle management to gain customer trust.
Manufacturers are required to be more efficient and creative in product development, especially in the domain of plant-based food products. Since the demand for plant-based food is on the rise, it could lead to innovations in this demanding sector. Likewise, consumers are becoming increasingly conscious about enzymes in a range of health, wellness, and natural products. Thus, manufacturers are focusing on production process optimization to deploy innovations in enzymes.
Data Analysis and Technological Expertise Accelerate Enzyme Discovery Process
Biotechnology is becoming increasingly mainstream in the global enzymes market. Though technical grade enzymes are anticipated for an aggressive growth during the forecast period, manufacturers are creating resource availability for the development of specialty enzymes. As such, technical grade enzymes dictate the enzymes market, in terms of value and volume, and this segment is estimated to reach a volume of ~730,300 tons by 2027.
Choosing the right enzyme for product innovation has become the focal point for manufacturers. Competition has compelled market players to include available technologies and newest advancements in the biotech landscape. Manufacturers are increasingly relying on data analysis and other tools to identify genes and wield them in expression systems to accelerate the process of enzyme discovery.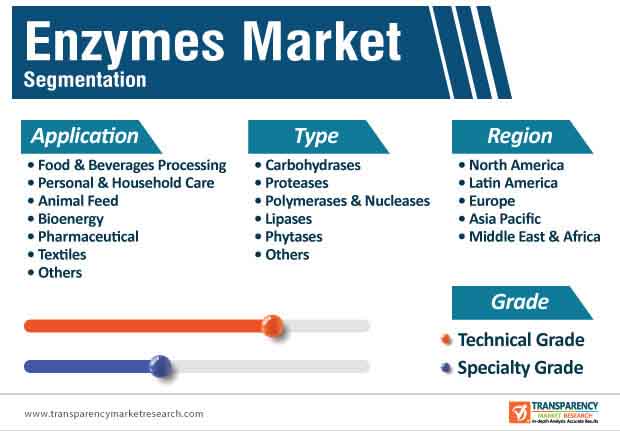 Looking for Regional Analysis or Competitive Landscape in Enzymes Market, ask for a customized report
Analysts' Viewpoint
In the enzymes market, genetic evidences and the sequencing technology will help in the development of highly nutritious crops. This trend will create competition among food manufacturers. Moreover, regulations driving the adoption of biofuels has led to several innovations and exponential growth of the bioenergy sector.

However, there is a lack of scientific innovation in the domain of animal nutrition and protein production. Hence, manufacturers should adopt nutrigenomics and in vitro digestion modeling to maximize feed usage and enhance animal nutrition. Manufacturers should also focus on incorporating local produce and cater to traditional taste and cultures to serve new customers.
Enzymes Market: Overview
Enzymes primarily catalyze specific biochemical reactions. Enzymes help in the production of environment-friendly products, which consumes less energy, water, and raw materials at the time of processing. Thus, they generate less waste.
Enzymes play a major role in increasing digestion, production of food, and several other industrial applications. Enzymes act as highly effective catalysts in biochemical reactions, thus enabling a chemical reaction to take place quickly and efficiently.
Enzymes are mainly used as catalysts to produce a wide range of products such as sugar, beer, bread, ethanol, etc. They are also used in the manufacturing of laundry detergent for the removal of stains and for low-temperature washing.
Key Growth Drivers of Global Enzymes Market
Growing demand for food & beverages, owing to significant increase in population in developing countries of Asia Pacific is expected to drive the demand for foods and ready-to-eat meals across the globe
Enzymes are increasingly being used as a sustainable tool in the food & beverages processing industry. In the food & beverages processing sector, enzymes are used for the production of baked goods, dairy products, juices, alcoholic beverages, etc. Enzymes, such as carbohydrases, are widely used in the baking industry to improve flavor and as an anti-staling agent to improve bread quality.
Enzymes are extensively used in the beverage industry for conversion of starch to glucose, manufacturing of high fructose corn syrup and prebiotics, and debittering of fruit juices. These are also used in the manufacturing of wines in order to increase the juice extraction and for obtaining fine-quality wine.
Proteases enzymes are mainly used to catalyze the hydrolysis of peptide bonds, which is present in proteins and polypeptides. Due to these properties, proteases enzymes are highly employed in detergent and pharmaceutical & diagnostic applications.
Enzymes are extensively employed in the production of feed enzymes in order to enhance digestibility of energy, protein, and phosphorus, which are present in animal feed. Enzymes, such as carbohydrases, help to break down indigestible fiber. Moreover, phosphorus, which is present in animal feed, can be broken down with the help of phytases enzymes. Phytases enzymes are extensively used in the feed industry to release phytate phosphorus, thus reducing phosphorus excretion into the environment by 30%. Growing demand for protein-rich diet, owing to increased awareness regarding health benefits of consuming eggs, meat, milk, fish, etc., is projected to drive the demand for enzymes in the near future, thus fueling the growth of the enzymes market.
Lucrative Opportunities in Enzymes Market
Players in the global enzymes market are investing significantly in research activities to develop innovative solutions for decreasing cost and enhancing the quality of their existing product line
Key players in the enzymes market are focusing on expanding their footprint globally through strategic capital allocation and increasing production capacity to serve various end-use industries, such as food & beverages, personal care, animal feed, bioenergy, pharmaceutical, and textile
North America to Dominate Global Enzymes Market
North America is a significant enzymes market, accounting for a substantial market share. The U.S. is a major consumer of enzymes due to high adoption rate of enzymes in food & beverages processing applications.
Increase in regulations on decreasing carbon footprints has compelled governments of the U.S. and Canada to find alternative fuels for petrol. This, in turn, has led to the growth of the bioenergy sector in these countries. Enzymes are extensively used in the conversion of biomass to ethanol, which is boosting the market for enzymes in North America.
Asia Pacific held the second largest share of the global enzymes market in 2018. Support from governments of various countries, such as China and India and growth in foreign direct investments in the biotechnology industry are prominent factors that are expected to drive the enzymes market in these countries. Furthermore, enzyme manufacturers in Asia Pacific are expanding their production facilities to meet the surging demand for enzymes in several end-use industries in the region.
Manufacturers, such as Novozymes A/S, Biocatalysts Ltd, Chr., Hansen Holding A/S, Koninklijke DSM N.V., and F. Hoffmann-La Roche Ltd. are the major producers of enzymes in Europe. These companies are primarily engaged in research and development activities and capital allocation to increase their footprint in the global market.
Leading Players in Global Enzymes Market
Major players operating in the global enzymes market include

BASF SE
Novozymes A/S
DowDuPont Inc.
AB Enzymes GmbH
Biocatalysts Ltd, Chr.
Hansen Holding A/S
Koninklijke DSM N.V.
F. Hoffmann-La Roche Ltd.
Advanced Enzyme Technologies Limited
Asahi Kasei Corporation
CapriEnzymes, etc.

Enzymes are mostly produced in North America and Europe. Manufacturers, such as Novozymes A/S, are focusing on continuous development of their existing product portfolio, while expanding the use of their existing technology through development of innovative strategy for new applications. This is expected to strengthen their position in the global enzymes market.
Manufacturers in the global enzymes market are focusing on research programs and product development activities to cater to the rising demand for enzymes in the food & beverages processing application. This strategy has enabled prominent players to gain market share.
Global Enzymes Market – Scope of the Report
A latest study collated and published by Transparency Market Research (TMR) analyzes the historical and present-day scenario of the global enzymes market to accurately gauge its potential future development. The study presents detailed information about important growth factors, restraints, and key trends that are creating the landscape for the future growth of the global enzymes market to identify opportunistic avenues of the business potential for stakeholders. The report also provides insightful information about how the global enzymes market will progress during the forecast period of 2019-2027.
The report offers intricate dynamics about different aspects of the global enzymes market that aid companies operating in the market in making strategic development decisions. TMR's study also elaborates on the significant changes that are highly anticipated to configure the growth of the global enzymes market during the forecast period. It also includes a key indicator assessment to highlight the growth prospects of the global enzymes market, and estimates statistics related to the market progress in terms of value (US$ Mn) and volume (Tons).
The report mentions company profiles of key players that are currently dominating the global enzymes market, wherein, various developments, expansions, and winning strategies practiced and executed by leading players have been presented in detail.
Key Questions Answered in TMR's Report on Global Enzymes Market
The report provides detailed information about the global enzymes market on the basis of a comprehensive research on various factors that are playing a key role in accelerating the growth potential of the market. Information mentioned in the report answers path-breaking questions for companies that are currently functioning in the market and are looking for innovative ways to create a unique benchmark in the global enzymes market, so as to help them make successful strategies and take target-driven decisions.
Which grade is likely to generate the highest revenue by 2027?
Which type of enzyme is expected to grow at a rapid pace during the forecast period?
Which application is a major consumer of enzymes?
How much revenue is the global enzymes market expected to generate by the end of the forecast period?
How are key market players successfully earning revenue out of the advantages of enzymes?
Which are the companies operating in the global enzymes market?
What are the indicators expected to drive the global enzymes market?
Which regions are likely to provide lucrative opportunities for enzymes market players?
Research Methodology – Global Enzymes Market
The research methodology adopted by analysts for combining the global enzymes market report is based on a detailed primary as well as secondary research. With the help of in-depth insights of industry-affiliated information that is obtained and legitimated by market-admissible resources, analysts have offered riveting observations and authentic forecasts of the global enzymes market.
During the primary research phase, analysts interviewed industry stakeholders, investors, brand managers, vice presidents, and sales and marketing managers. On the basis of data obtained through the interviews of genuine resources, analysts have emphasized the changing scenario of the global enzymes market.
For secondary research, analysts scrutinized numerous annual report publications, white papers, industry association publications, and company websites to obtain the necessary understanding of the global enzymes market.
Enzymes Market – Segmentation
TMR's research study assesses the global enzymes market on the basis of grade, type, application, and region. This report presents extensive market dynamics and progressive trends associated with different segments, and how they are influencing the growth prospects of the global enzymes market.
Grade

Technical Grade

Specialty Grade

Type

Carbohydrases

Proteases

Polymerases & Nucleases

Lipases

Phytases

Others (catalases, esterase, phospholipase etc.)

Application

Food & Beverages Processing

Personal & Household Care

Animal Feed

Bioenergy

Pharmaceutical & Diagnostic

Textiles

Others (pulp & paper, leather processing, etc.)

Region

North America

Latin America

Europe

Asia Pacific

Middle East & Africa
Custom Market Research Services
TMR offers custom market research services that help clients to get information on their business scenario required where syndicated solutions are not enough.
REQUEST CUSTOMIZATION