Bean Pasta Market
Bean Pasta Market (Nature: Organic and Conventional; Product Type: White Bean Pasta, Black Bean Pasta, Mung Bean Pasta, Adzuki Bean Pasta, Soybean Pasta, Edamame, and Green Bean; Pasta Type: Spaghetti, Fettuccine, Rotini, Penne, Elbow, Shell, and Others; Packing Type: Pouches, Cartons, and Cans; and Distribution Channel: Stored-based Retailing [Supermarkets/Hypermarkets, Convenience Stores, Specialty Stores, Food & Drink Specialty Stores, and Others] and Online Retail) - Global Industry Analysis, Size, Share, Growth, Trends, and Forecast, 2019 - 2029
Category :

Food & Beverages

Format :
Research in Structural Properties of Proteins Lead to Innovations in Bean Pasta
Protein-rich pasta is being highly publicized as a healthy innovation in the bean pasta market. Hence, companies are innovating in peas and faba beans, owing to their health promoting dietary fibers. The growing interest in locally produced high-quality protein food is casting a spotlight on legumes, peas, and faba beans. For instance, researchers at the Swedish University of Agriculture and the University of Copenhagen are increasing their efficacy in R&D activities to decipher whether proteins and fibers of peas and faba beans can be isolated for the commercialization of pasta products. Such research studies are offering important insights to companies in the bean pasta market and are generating incremental opportunities for companies in the market landscape.
Companies in the market for bean pasta should collaborate with researchers to understand how proteins and fibers of beans interact when heated at high temperatures. They are also increasing research to understand structural and mechanical properties such as chewing strength to make fresh pasta-like products with desirable and palatable characteristics.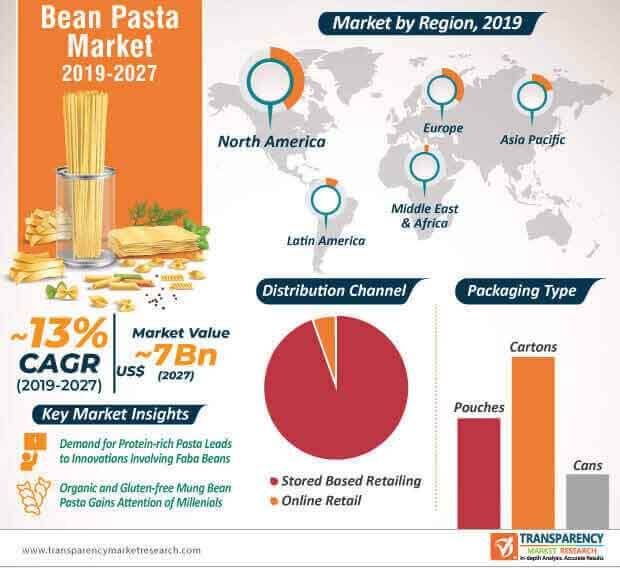 Request a sample to get extensive insights into the Bean Pasta Market
Plant-based and Gluten-free Proteins Generate Value-grab Opportunities for Manufacturers
Millennials and generation Z are sharing an increased curiosity for 'special' pasta. This drive for experimentation is being capitalized by manufacturers in the bean pasta market where the market is projected to reach a value of ~US$ 7.3 Bn by the end of 2029. Hence, manufacturers are increasing the availability of organic green mung bean pasta, since the revenue of this pasta is anticipated for exponential growth during the forecast period. Manufacturers are increasing their focus in legumes as the flour of legumes complement with the dough during the pasta-making process.
Key drivers contributing toward market growth is the awareness about gluten-free and vegan pasta. Hence, the dining department at the University of Connecticut is introducing a new line of healthy & lean bean pasta dishes that are vegetarian, gluten-free, and low on carbs. Companies in the bean pasta market are tapping value-grab opportunities with increasing trends of plant-based proteins that are replacing animal proteins in pasta dishes.
To understand how our report can bring difference to your business strategy, Ask for a brochure
Is Bean Pasta Actually Worth Making a Choice?
More number of consumers are opting for new varieties of vegetable and bean pasta. Such trends are contributing toward the continuous growth of the bean pasta market, which is expanding at the hands of local and regional players accounting for a market share of ~78%-84%. Bean and vegetable pasta are becoming increasingly commonplace, owing to their attributes of high fiber and protein properties. However, bean pastas made from a mix of refined flour are not any different from the conventional white pasta alternatives. Such production practices might hamper market growth. Hence, manufacturers are developing pastas made from 100 percent bean flour to reassure the faith of pro-health consumers.
Companies in the bean pasta market are emphasizing on reading the ingredients on label to help consumers make informed decisions. They are marketing the advantages of bean pasta as an alternative to traditional flour pasta, owing to its high protein and fiber content.
Companies Expand Product Portfolio by Introducing New White Bean Pasta
Consumers are adding more plant-based proteins to their diets. This trend is being capitalized by companies in the bean pasta market who are increasing their production capabilities to produce white bean pasta. For instance, the U.S. food company Kraft Heinz added Kraft Macaroni & Cheese Dinner White Bean pasta to expand their product portfolio. This explains why the revenue of white bean pasta is anticipated to attain the second-highest revenue among product types in the bean pasta market.
White bean pasta is gaining popularity in the bean pasta market, owing to its high protein content. Beans, peas, and other legumes are some of the unsung champions of plant-based proteins. Companies such as Modern Table and Ancient Harvest are innovating in dried pasta noodles made from a variety of protein-dense and gluten-free beans as a suitable alternative to conventional wheat pasta.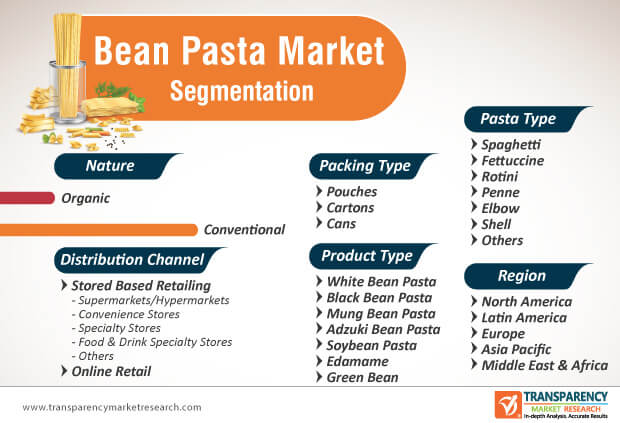 Stuck in a neck-to-neck competition with other brands? Request a custom report on Bean Pasta Market
Analysts' Viewpoint
The bean pasta market is progressing at a striking CAGR of ~12.9% during the forecast period. Pro-health consumers are benefitting with the introduction of bean pasta that replace unrefined/white-flour carbs with high protein and high fiber properties. Consumers are opting for healthier food choices by preferring to buy non-GMO pasta products.

The growing awareness about weight loss diets is encouraging consumers to prepare recipes made with half whole-wheat pasta and half vegetable or bean pasta to meet low carb requirements. However, most carbs in traditional white flour pasta is digestible starch, which serves the needs of athletes and cyclists. Hence, companies should strategically target bean pasta for consumers that take keen interest in connective tissue repair and immune system maintenance.
Bean Pasta Market: Overview
The global bean pasta market was valued at ~ US$ 2,183 Mn in 2019, finds Transparency Market Research (TMR) in a recent study. According to the report, the market is anticipated to reach ~US$ 7.3 Bn by 2029, at a CAGR of ~12.9%.
Shift in preference toward vegetarianism and "flexitarism" among consumers, especially in the west is driving change in the consumption pattern of pasta staples. Moreover, a subtle shift in consumer tastes is being observed, driven by perceived benefits of carbohydrate reduction and the rise of alternative grain options such as quinoa. This has led to a very sharp increase in the overall demand for bean pasta in developed regions.
Bean Pasta: Market Frontrunners
Conventional bean pasta is witnessing prolific demand in response to the increasing focus on good health and increasing food adulteration incidences
Presently, North America holds the largest share (over 40%) in the global bean pasta market. The high demand for organic products, as a deeply entrenched market trend aimed at promoting health and wellness is bolstering the growth of the market in this region.
APAC will exhibit the highest CAGR at over 16% in the bean pasta market during the forecast period. The rising per capita income in emerging economies, particularly India and China is expected to create substantial growth opportunities for the bean pasta market in the near future.
In terms of distribution channel, store-based retailers accounted for the largest share of about 90% in 2018. Majority of bean pasta producers prefer to channel their products through retail units.
With e-Commerce giants such as Amazon, Walmart, and Target taking keen interest on online grocery delivery, the online retail segment will showcase the highest growth rate of over 18% during the forecast period
Bean Pasta Market: Trends
Urbanization is on the rise, especially in developing countries. Rapid urbanization witnessed across the world has made consumers more aware about the products that are launched in the market and the products that are beneficial for the necessary nutrition. Moreover, urbanization has made consumers more aware about products from other countries and that the availability of such products has increased. This has enabled the bean pasta market gain immense traction in regions such as East Asia, the Middle East, Africa, and South Asia where pasta is not a staple food. Thus, manufacturers have started investing in such regions as the developed countries have reached a saturation.
Manufacturers to Launch Innovative Packaging to Lure Retail Customers and Increase Shelf Life of Bean Pasta
Marketing has become very important for increasing the sales of a particular product. This is necessary for increasing awareness among consumers about that product and also improving its appearance. These have become major factors influencing sales, along with quality and taste. As a result, several companies are investing in packaging lines and innovative packaging options. Several companies are using recyclable boxes for the packaging of bean pasta. This is to make bean pasta products attractive and increase the shelf life of products. The appearance on the shelves in the hypermarkets/supermarkets, convenience stores, and also in e-Commerce has proven to increase the probability of the consumers buying the product, along with labels and claims that are present on the product.
Bean Pasta Market: Strategies
Key players operating in the global bean pasta market are introducing new products since customers often get attracted to the new brand and their innovation in taste and quality
There was a time when the low-carb craze threatened the sales of pastas, noodles, and grains. Now data shows that while the ongoing interest in low-carbohydrate and paleo-type diets has affected overall sales due to the rising health consciousness among consumers.
Target Region for Market
In terms of value, countries in North America are likely to represent the largest share in the market by 2019 end and are expected to remain strong in coming years as well, whereas, this market in Asia Pacific and Middle East & Africa is expected to show high growth during the forecast period.
Bean Pasta Market: Players
The global bean pasta market is consolidated in nature where a few competitors hold majority of shares. Some of the key players in the bean pasta market include

Harvest Innovations
Pedon SPA
LIVIVA Foods
The Only Bean
Gold Harbor and Trader Joe's
Pedon SpA
Trader Joe's
NutriNoodle
Bellabondonza
Jinan Mintian Flour Co., Ltd.,
Ceres Organics
Kazidomi
Explore Cuisine,
Bean Pasta Market - Scope of the Report
Transparency Market Research (TMR) has recently published a market study on the bean pasta market. It provides a detailed assessment of key market dynamics, including the drivers, trends, opportunities & restraints, and detailed information about the bean pasta market structure. The market study presents exclusive information about how the bean pasta market will grow during the forecast period of 2019-2029.
Key indicators of market growth, which include year-on-year (Y-o-Y) growth of the market, value chain, supply chain analysis, and compounded annual growth rate (CAGR) are elaborated in the study in a comprehensive manner. This information is intended to help readers understand the quantitative growth prospects of the bean pasta market during the forecast period.
The study is intended to offer a holistic market overview to stakeholders in the bean pasta, including manufacturers, suppliers, distributors, and investors, and to help them develop winning growth strategies. Stakeholders in the bean pasta market, which include investors, industry experts, researchers, and journalists, and business researchers, can leverage the information and data presented in TMR's study.
The study also includes statistics and facts related to the macro as well as microeconomic factors that are impacting expansion of the market. It also offers actionable insights into the future trends in the bean pasta market. Furthermore, small businesses and new entrants in the bean pasta market can make use of the information presented in this study, based on which, they can make appropriate business decisions in order to gain momentum in the market.

Key Questions Answered in TMR's Bean pasta Market Report
Which region will continue to remain the most profitable regional market for bean pasta market players?
Which factors will induce a change in demand for bean pasta during the assessment period?
How will the changing trends impact the bean pasta market?
How can market players capitalize on the low-hanging opportunities in the bean pasta market in developed regions?
Which companies are leading the bean pasta market?
What are the winning strategies of stakeholders in the bean pasta market to catapult their position in the forefront?
Bean pasta Market: Research Methodology
In TMR's study, a unique research methodology is used to conduct extensive research on the growth of the bean pasta market and identify future growth parameters. This research methodology is a combination of primary and secondary research, to help analysts ensure the accuracy and reliability of the conclusions.
Secondary resources referred to by analysts for compiling the bean pasta market study include statistics from governmental organizations, trade journals, white papers, and internal and external proprietary databases. Analysts have interviewed senior managers, product portfolio managers, CEOs, VPs, marketing/product managers, and market intelligence managers, who contributed to the development of this report as a primary resource.
Information acquired from primary resources and secondary resources is compiled in a comprehensive manner. This also acts as a validation from companies in the bean pasta market, which makes TMR's projections more accurate and reliable.
Bean Pasta Market – Segmentation
TMR's study on the bean pasta market offers information divided into important segments — nature, product type, pasta type, packaging type, distribution channel, and region. This report offers comprehensive data and information about important market dynamics and growth parameters associated with these categories.
Nature

Product Type

White Bean Pasta
Black Bean Pasta
Mung Bean Pasta
Adzuki Bean Pasta
Soybean Pasta
Edamame
Green Bean

Pasta Type

Spaghetti
Fettuccine
Rotini
Penne
Elbow
Shell
Others

Packing Type

Distribution Channel

Stored-based Retailing

Supermarkets/Hypermarkets
Convenience Stores
Specialty Stores
Food & Drink Specialty Stores
Others

Online Retail
Custom Market Research Services
TMR offers custom market research services that help clients to get information on their business scenario required where syndicated solutions are not enough.
REQUEST CUSTOMIZATION