Heat Stable Flavor Market
Heat stable flavors will be flavors that don't decline their design and stay consistent at high temperatures. Heat stable flavors are ideal to be utilized in pastry kitchen applications and furthermore stay a favored decision for different applications, like handled food, drink dairy and confectionary, among others. As heat stable flavors can withstand the heat which is delivered during the preparing interaction, the eventual outcome makes an exceptional taste insight. Heat stable flavors likewise help to secure the end result against oxidation. Even after a significant stretch of capacity, heat stable flavors remain heat safe and heat stable. They additionally give added usefulness to flavorful items, even those tested with low sodium content, low-fat substance just as low-calorie content.
The shopper purchasing conduct has changed significantly in the new years. This can basically be ascribed to expanding discretionary cashflow and rising utilization of good food sources. Accordingly, purchaser interest across the globe for specific heated items has been filling considerably in the new past, bringing about new item contributions during this period. Likewise, interest for food items that offer extra advantages is expanding at a quick speed, particularly in Japan. This can be credited to expanding buyer mindfulness and rising purchaser spending on food and refreshments.
Market Outlook
Heat stable flavors are flavors that do not degenerate their structure and remain steady at high temperatures. Heat stable flavors are ideal to be used in bakery applications and also remain a preferred choice for other applications, such as processed food, beverage dairy and confectionary, among others. As heat stable flavors are able to withstand the heat which is released during the baking process, the final product creates an outstanding taste experience. Heat stable flavors also help to protect the final product against oxidation. Even after a long period of storage, heat stable flavors remain heat resistant and heat stable. They also provide added functionality for savory products, even those challenged with low sodium content, low-fat content as well as low-calorie content. The best thing about heat stable flavors is that these flavors can be easily whisked out with the help of other dry ingredients.
Reasons for Covering this Title
Problems associated with biotech flavors or natural flavors which are not heat stable is their lower shelf-life as well as stability and reaction issues affiliated with these flavours. However, this is not the case with heat stable flavors which are spray dried. Increased shelf-life and stability of heat stable flavors prevents the flavor from interacting with other elements in the product. On the other hand, improved heat and oxidative resistance protects the flavor from processing heat, reducing volatility/ evaporation of molecules and protects the flavor from the degradation caused by air and other contaminants.
The consumer buying behavior has transformed substantially in the recent years. This can primarily be attributed to increasing disposable income and rising consumption of healthy foods. As a result, consumer demand across the globe for specialized baked products has been growing substantially in the recent past, resulting in new product offerings during this period. Also, demand for food products that offer additional benefits is increasing at a rapid pace, especially in Japan. This can be attributed to increasing consumer awareness and rising consumer spending on food and beverages. For instance, international and local companies in their respective geographies are focusing on the development of encapsulated heat stable flavor solutions, offering increased shelf-life and long-lasting flavours to products.
Global Heat Stable Flavor: Market Segmentation
On the basis of form, the global heat stable flavor market has been segmented as –
On the basis of application, the global heat stable flavor market has been segmented as –
Bakery & Confectionary
Cereal and Oatmeal
Snack Food
Frozen Food
Dairy Products
Beverage & Instant Drinks
Pharmaceutical & Personal Care
Others
On the basis of nature, the global heat stable flavor market has been segmented as –
On the basis of flavor, the global heat stable flavor market has been segmented as –
Citric Flavors
Berry Flavors
Spice Flavors
Nut Flavors
General Fruit Flavors
Chocolate Flavors
Coffee and Tea Flavors
Vanilla Flavors
Other Flavors
Global Heat Stable Flavor Market: Key Players
Some of the key players operating in the global heat stable flavor market are Symrise AG, Archer Daniels Midland Company, International Flavours & Fragrances, Inc, Sensient Technologies Corporation, FONA International, Inc., Ingredion Incorporated, FrieslandCampina Kievit GmbH, Tate & Lyle PLC, Mane SA, Robertet SA, T.Hasegawa Co.,Ltd. and Synthite Industries Ltd., among others.
As the European market dominates the bakery industry, the usage of heat stable flavors is also expected to be highest in Europe.
Global Heat Stable Flavor Market: Key Developments
In June 2017, Symrise AG opened a creative center in Mumbai, India, to expand its presence in the country. This investment is expected to aid the company in co-developing fragrances, heat stable flavors and cosmetic ingredients
In May 2016, Givaudan SA became the first global flavor manufacturer to open a new laboratory and office facility in Pakistan so that the people of Pakistan get access to its products, locally. The company's objective is to spread its heat stable flavor application services to all the business sectors and rural regions of Asia Pacific
In March 2017, Firmenish S.A initiated the construction of its new manufacturing facility for flavors in Zhangjiagang, China. This new plant will enable the company to operate throughout Asia Pacific region and provide superior services to its customers
In July 2014, Archer Daniels Midland Company acquired Wild Flavours, which is a producer of flavors and heat stable flavors, to expand its business in heat stable flavors. Recently, Wild flavors launched SavorCrave, a heat stable flavor with an aim to enhance its product portfolio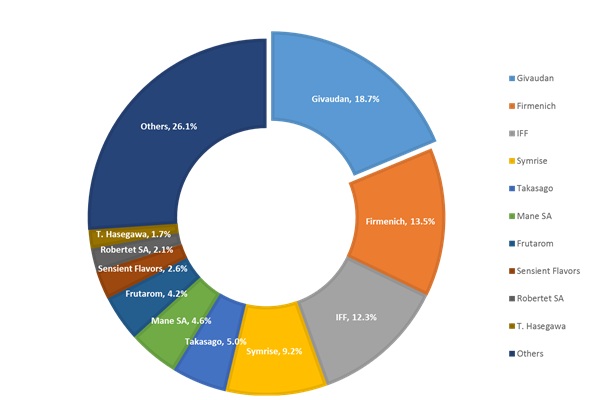 Global Heat Stable Flavor Market: Value Chain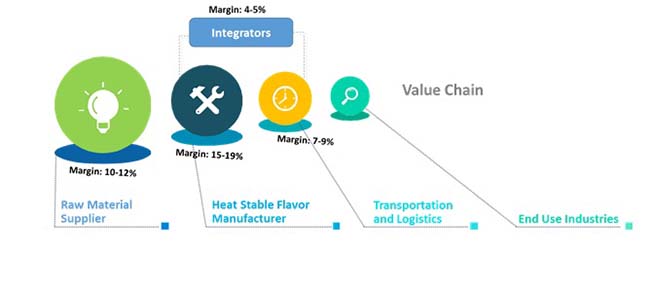 Opportunities for Market Participants
Globally, companies are investing more on bringing advancements in the spray drying flavor technology to enhance their production capacity as well as product portfolio. Therefore, technological advancements in heat stable flavor production is a key driving factor for heat stable flavor market. Big heat stable flavor manufacturing companies are implementing advanced technologies to produce high quality, good-for-health flavors that are able to cater to changing preferences of customers. These advanced technologies protect flavors against deterioration. For instance, Frutarom Switzerland Ltd., which is a flavor company, uses various innovative technologies, such as Durarome, that protect flavors from oxidation and also help in preserving freshness.
This intelligence report by TMR is the outcome of intense study and rigorous assessment of various dynamics shaping the growth of the market. TMR nurtures a close-knit team of analysts, strategists, and industry experts who offer clients tools, methodologies, and frameworks to make smarter decisions. Our objective, insights, and actionable analytics provide CXOs and executives to advance their mission-critical priorities with confidence.
The scrutiny of the various forces impacting the dynamics of the market, and key and associated industries, guides enterprises in understanding various consumer propositions. Our clients leverage these insights and perspectives to enhance customer experience in the fast-paced business environment.
All our insights and perspectives are broadly based on 4 Pillars or Stages: ASBC-S, which offer an elaborate and customizable framework for the success of an organization. The essence and the roles of these in organizational successes are highlighted below:
Agenda for CXOs: TMR, through the study, sets the tone for agendas that are pertinent to CEOs, CFOs, CIOs, and other CXO executives of businesses operating in the market. The perspectives help our clients to bridge the gap between agenda and action plan. TMR strives to offer guidance to CXOs to undertake mission-critical activities empowered by various business analysis tools, and boost the performance of the organizations. The perspectives guide you to decide on your own marketing mix that align well with the policies, visions, and mission.
Strategic Frameworks: The study offers how organizations are setting both short-term and long-term strategic plans. Our team of experts collaborate and communicate with you to understand these to make your organizations sustainable and resilient during tough times. The insights help them decide sustainable competitive advantage for each business units.
Benchmarking for Deciding Target Markets and Brand Positioning: The assessments in the study provides a scrutiny of marketing channels and marketing mix. Our various teams work synergistically with you to help identify your actual and potential direct, indirect, and budget competition areas. Additionally, the study helps you decide most effective budgets for various processes and promotional activities. Furthermore, the study guides you to set benchmarks for integrating people and processes with the 4Ps of marketing. Eventually, this will empower you to find out unique propositioning strategies and niches.
Business Composability for Sustainability (C-S): Constant strategy planning for sustainability characterizing our C-S framework in the report has become more relevant than before in the face of disruptions caused by pandemics, recessions, boom and bust cycles, and changing geopolitical scenario. The TMR study offers a high level of customization to help you achieve business composability. Composable enterprises are increasingly gaining the attention of CXOs in order to help them combat market volatility. Our analysts and industry experts help you wade through such uncertainties and guide you to become a smart sustainable business in entirety.
The study presents scrutiny of region-specific consumer and technology trends, including the most recent industry dynamics. These broadly cover but not limited to
North America, South America, and the Americas
Asia Pacific and Japan
Europe
Latin America
Middle East and Africa
The study offers data-driven insights and guidance of several aspects. Some of the more notable questions are:
What are the major recent trends that can influence the product life cycle and the RoI?
Which regulatory trends shape corporate-level, business-level, and functional-level strategies?
Which micromarketing initiatives of leading players will bring in investments?
What can be the best framework and tools for PESTLE analysis?
Which regions will witness rise in new opportunities?
Which are the game-changing technologies being used to capture new revenue streams in the near future?
Which operational and tactical frameworks are being adopted by various players in gaining customer loyalty?
What is the current and expected intensity of competition the market in the near future?
Disclaimer: This market research study is an ongoing effort and extreme care has been taken to maintain the highest levels of accuracy at all stages. However, in the light of the rapidly evolving business dynamics, some region-specific or other segment-specific changes may take time to be part of the study.
Heat Stable Flavor Market