Global Vacuum Shrink Films Market: Introduction
Vacuum shrink films are also termed vacuum shrink wraps, which are essentially plastic films. The most commonly used process for wrapping using vacuum shrink films is to hermetically seal the product. Vacuum packaging technology is rapidly gaining market share as one of the most preferred meat packaging technologies. Vacuum shrink films protect the food product from microbes, and enhance the shelf life of the product. Shrink wrapping includes the placing of small vent holes in the shrink film, which allow the film to allow air to escape the package. Hence the package is not completely sealed from external elements. Due to the exposure to oxygen, vacuum shrink packaging gains an edge over its counterpart 'vacuum skin packaging', which does not allow exposure to oxygen. Vacuum skin packaging results in a purple appearance of the meat product, due to the unavailability of Oxygen. Since more consumers have the perception of associating the reddish appearance of a food product with the term 'fresh', vacuum shrink packaging might witness an increase in preference, during the forecast period. Therefore, vacuum shrink films are anticipated to witness moderate to high growth, during the forecast period.
Global Vacuum Shrink Films Market: Market Dynamics
The global food packaging industry has undergone significant changes in the past couple of decades. Active, smart, and intelligent packaging technologies are expected to significantly gain market share, across the world. Food packaging technologies such as Vacuum Skin Packaging, Vacuum Shrink Packaging, and Modified Atmosphere Packaging are anticipated to become the ideal packaging formats for products such as fresh produce, meat, poultry, and seafood, among others. Several factors are expected to play a key role in the growth of the global vacuum shrink films market. These include, change in consumer preferences in developing countries, and an inclination towards packaged food and case-ready meals. This is a result of increasing ease of access, with growing penetration of modern retail formats. In addition, growth in modern trade, and rising disposable per capita income also contribute significantly to the increasing preference for vacuum shrink packaged food. Rising demand from end markets such as food industry is increasing the demand for multi-layer films. In May 2016, packaging firm Krehalon based in Netherlands rolled out a new line of shrink films brand known as SSL. SSL uses a material that fuses the inner layer of films through vacuum packaging and hot water shrinkage. Therefore, innovative concepts such as this, are expected to continue to shape the global vacuum shrink films market, during the forecast period.
Global Vacuum Shrink Films Market: Market Segmentation
The global vacuum shrink films market is segmented based on type, material type, end-use industry and geography
On the basis of type, the global shrink film market is segmented into
Form-shrink films

Single-Layer Film
Multi-Layer Film

Flow-pack films

Single-Layer Film
Multi-Layer Film
On the basis of material type, the global vacuum shrink films market is segmented into
Polyolefin (PA)
Polyethylene (PE)
Polypropylene (PP)
Polyvinyl chloride (PVC)
Others
On the basis of end-user industry, the global vacuum shrink films market is segmented into
Global Vacuum Shrink Films Market: Geographical Outlook
The global vacuum shrink films market has been bifurcated into seven key regions such as North America, Western Europe, Eastern Europe, Asia Pacific Excluding Japan, Middle East and Africa, Latin America and Japan.
Vacuum shrink films are mostly used in packaging of food products such as meat.
Global Vacuum Shrink Films Market: Key players
Some of the key players operating in the global vacuum shrink films market across the globe can be segmented into three tiers based on their revenue as follows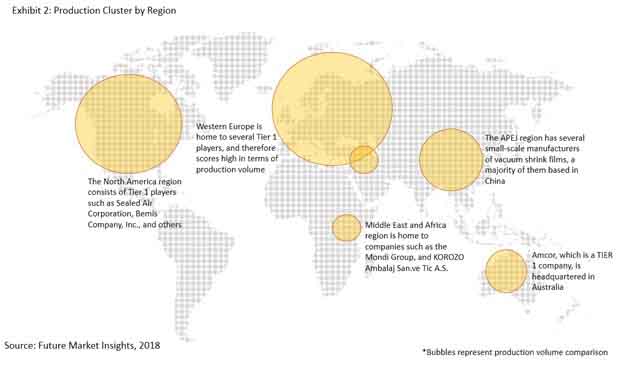 Tier 1 (Revenue generated from vacuum shrink films > US$ 100 Mn)

Flexopack S.A.
Winpak Ltd.
Sealed Air Corporation
Coveris Holdings S.A.
Kurehalon
Bemis Company, Inc.
Mondi Group
Bollore Group
Amcor Limited

Tier 2 (Revenue generated from vacuum shrink films between US$ 50 Mn and US$ 100 Mn)

Flavorseal Llc
Schur Flexibles
KOROZO Ambalaj San.ve Tic A.S.


Tier 3 (Revenue generated from vacuum shrink films < US$ 50 Mn)

Buergofol GmbH
Uflex Ltd.
Premiumpack GmbH
This intelligence report by TMR is the outcome of intense study and rigorous assessment of various dynamics shaping the growth of the market. TMR nurtures a close-knit team of analysts, strategists, and industry experts who offer clients tools, methodologies, and frameworks to make smarter decisions. Our objective, insights, and actionable analytics provide CXOs and executives to advance their mission-critical priorities with confidence.
The scrutiny of the various forces impacting the dynamics of the market, and key and associated industries, guides enterprises in understanding various consumer propositions. Our clients leverage these insights and perspectives to enhance customer experience in the fast-paced business environment.
All our insights and perspectives are broadly based on 4 Pillars or Stages: ASBC-S, which offer an elaborate and customizable framework for the success of an organization. The essence and the roles of these in organizational successes are highlighted below:
Agenda for CXOs: TMR, through the study, sets the tone for agendas that are pertinent to CEOs, CFOs, CIOs, and other CXO executives of businesses operating in the market. The perspectives help our clients to bridge the gap between agenda and action plan. TMR strives to offer guidance to CXOs to undertake mission-critical activities empowered by various business analysis tools, and boost the performance of the organizations. The perspectives guide you to decide on your own marketing mix that align well with the policies, visions, and mission.
Strategic Frameworks: The study offers how organizations are setting both short-term and long-term strategic plans. Our team of experts collaborate and communicate with you to understand these to make your organizations sustainable and resilient during tough times. The insights help them decide sustainable competitive advantage for each business units.
Benchmarking for Deciding Target Markets and Brand Positioning: The assessments in the study provides a scrutiny of marketing channels and marketing mix. Our various teams work synergistically with you to help identify your actual and potential direct, indirect, and budget competition areas. Additionally, the study helps you decide most effective budgets for various processes and promotional activities. Furthermore, the study guides you to set benchmarks for integrating people and processes with the 4Ps of marketing. Eventually, this will empower you to find out unique propositioning strategies and niches.
Business Composability for Sustainability (C-S): Constant strategy planning for sustainability characterizing our C-S framework in the report has become more relevant than before in the face of disruptions caused by pandemics, recessions, boom and bust cycles, and changing geopolitical scenario. The TMR study offers a high level of customization to help you achieve business composability. Composable enterprises are increasingly gaining the attention of CXOs in order to help them combat market volatility. Our analysts and industry experts help you wade through such uncertainties and guide you to become a smart sustainable business in entirety.
The study presents scrutiny of region-specific consumer and technology trends, including the most recent industry dynamics. These broadly cover but not limited to
North America, South America, and the Americas
Asia Pacific and Japan
Europe
Latin America
Middle East and Africa
The study offers data-driven insights and guidance of several aspects. Some of the more notable questions are:
What are the major recent trends that can influence the product life cycle and the RoI?
Which regulatory trends shape corporate-level, business-level, and functional-level strategies?
Which micromarketing initiatives of leading players will bring in investments?
What can be the best framework and tools for PESTLE analysis?
Which regions will witness rise in new opportunities?
Which are the game-changing technologies being used to capture new revenue streams in the near future?
Which operational and tactical frameworks are being adopted by various players in gaining customer loyalty?
What is the current and expected intensity of competition the market in the near future?
Disclaimer: This market research study is an ongoing effort and extreme care has been taken to maintain the highest levels of accuracy at all stages. However, in the light of the rapidly evolving business dynamics, some region-specific or other segment-specific changes may take time to be part of the study.
Vacuum Shrink Films Market