Edible Packaging Market
Edible Packaging Market (Material Type - Polysaccharides Lipid, Surfactant, Protein Films, and Composite Films; End User - F&B Manufacturing (Fresh Food, Cakes and Confectionery, Baby Food, and Dairy Products) and Pharmaceuticals) - Global Industry Analysis and Forecast 2016 - 2024
Category :

Packaging

Format :
Edible packaging is primarily food wrapped using food. It substitutes plastic or paper for packaging material and instead something edible is used. This way wastage of packaging material is also eliminated.
Main idea behind edible packaging is consumption of packaging material too, once the food inside is finished. The packaging method is likely to gain momentum in coming years.
For instance, in November 2018, researcher from University of Nottingham invented an edible and purely biodegradable food film. The film was developed using plant carbohydrates and proteins. It was derived using starch and konjac flour, proteins or cellulose. Besides biodegradable packaging, it also helps in improvement of safety, storage, and shelf life of food products.
Indeed it is a great concept, however, there are several challenges involved. The challenges may slow down growth of the global edible packaging market.
However, consistent development of new sources for edible packaging by products, advancement in packaging technologies, and initiatives undertaken by government bodies are, conjointly, contributing to growth of the global edible packaging market.
Global Edible Packaging Market: Snapshot
The global market for edible packaging derive much of its growth from the increasing consumption of processed products, rising household income, and the increasing preference of consumers for hygienic and durable products. Apart from this, the fast-paced urbanization in emerging economies, together with the high growth of the population base is also strengthening the potentials of this market.
Over the forthcoming years, the increasing usage of edible packaging materials for the packaging of food products will boost this market substantially. The growing awareness about the attributes of edible packaging, such as the ease of handling while maintaining the quality and the shelf life of products, are also projected to drive the growth of this market in the near future. However, the high cost of the packaging machines and quality films used in edible packaging may limit its uptake to some extent in the years to come. The burgeoning adoption of modified atmosphere packaging may also prove to be a challenge for this market over the next few years.
The global edible packaging market was worth US$0.77 bn in 2016. Analysts expect this market to expand at a CAGR of 6.90% between 2016 and 2024, reaching a sum of US$1.3 bn by the end of 2024.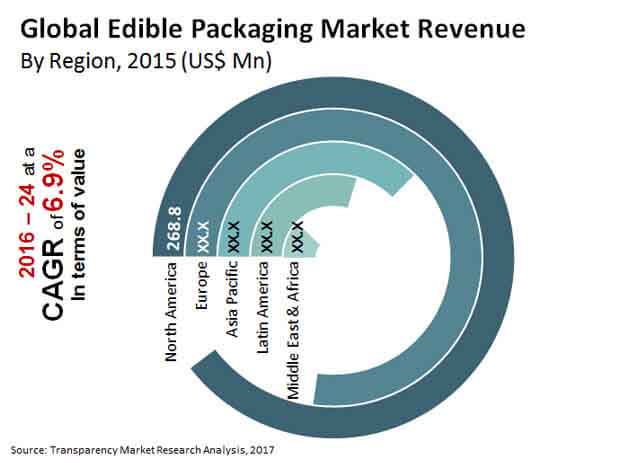 Demand for Edible Packaging to Remain High from Food and Beverage Manufacturing
Food and beverage manufacturing and pharmaceuticals are the two main end users of edible packaging across the world. Among these, the food and beverage manufacturing segment has occupied the leading position in this market.
It dominated the market with a share of more than 77% in 2016 and is anticipated to continue its leading streak over the next few years. The demand edible packaging is stronger in fresh food packaging and the scenario is likely to remain in the near future.
North America to Retain Dominance in Global Edible Packaging Market
North America, Asia Pacific, Latin America, Europe, and the Middle East and Africa are the key regional markets for edible packaging across the world. North America, among these, has been leading the global market and acquired a share of more than 36% in 2016. The U.S., being both, a prominent producer and consumer of edible packaging, has been driving the North America market for edible packaging. Analysts project a dominance of this regional market over the next few years; however at a reduced share in the overall market, as a result of the maturing state of the market for edible packaging in North America.
Among others, the Asia Pacific edible packaging market is likely to exhibit significant potential for future growth, thanks to the increasing awareness among consumers pertaining to the benefits of edible packaging. The rise in disposable income of consumers, influencing their standard of living, is also expected to reflect positively on the demand for edible packaging in this region over the forthcoming years.
MonoSol, LLC, WikiCell Designs Inc., JRF Technology LLC, and Tate and Lyle Plc. are the key players operating in the global market for edible packaging.
Global Edible Packaging Market: Overview
Today edible packaging market has become more important than ever to manufacturers. From eco-friendly biodegradable packaging to BPA-free packaging, food companies have been finding alternatives and improvements to their packaging design. Food packaging is important for many reasons; it helps advertise the product, keeps the food protected from spoilage, and prevents spillage. There are many new types of packaging like non-stick, disappearing, safety enhanced, and compressed packaging. One of the first edible packaging was the ice cream cone – a waffle or sugar-based cone that contains ice cream.
The global edible packaging market is classified based on end user, material type, and region. In terms of material, the global market is categorized into polysaccharides, surfactants, lipids, composite films, and proteins. In terms of end user, the global edible packaging market is divided into pharmaceuticals and food & beverages.
Global Edible Packaging Market: Key Trends
A company called Wikifoods has developed a fruit like casing that surrounds the food and can be broken open like the skin of a fruit. This company paired up with Stonyfield Yogurt to make yogurt filled "balls" that replaces the typical plastic yogurt containers. These balls are made from fruit filled skins that resemble a grape skin or apple and contains either yogurt or ice cream.
Growth in consumption and usage of processed/ready-to-eat food products and beverages are driving factors of the market. Also, a rise in disposable income, decrease in packaging waste, an increase in hygiene-related issues among consumers, and a rapidly enhancing shelf life of the food products are other aspects driving the market. The change in standard of living is the key factors that are boosting the global edible packaging market.
Edible packaging has witnessed increased adoption owing to factors such as high consumption of processed food products, rise in hygiene concerns among people, and an increase in packaging waste by the usage of synthetic polymers thereby affecting the environment, which boost the edible packaging market growth.
Although the regulatory requirements for edible packaging are high in various regions such as Europe and high costs of manufacturing edible polymers are expected to hamper the edible packaging market growth. However, edible packaging helps preserve environment as the user can eat the package itself with the food product thereby reducing the packaging waste. This could offset most restraints affecting the edible packaging market growth.
Global Edible Packaging Market: Segmentation
Geographically, North America is projected to attain a major market share in the coming future. The U.S. is anticipated to be consumer centric and a key producer of the global edible packaging market. This is a key reason propelling the market in North America.
In addition, the global edible packaging market in Asia Pacific is also projected to experience rapid growth in future. This is due to a growing awareness about the advantages of the edible packaging among the customers. The growth and increase in the disposable income of customers is projected to influence their everyday life to reflect the demand and popularity for the global edible packaging in this region.
Global Edible Packaging Market: Competitive Landscape
A growing number of acquisitions and mergers, increasing number of partnerships and collaborations, and product launches are the latest trends active in the global edible packaging market. Some of the leading players working in the market are MonoSol, LLC (Kuraray Co. Lyd.), WikiCell Designs Inc., JRF Technology LLC., and Tate and Lyle Plc. These firms are aware enough about the progress of numerous studies in the packaging sector, and are enthusiastic about safeguarding these technologies to convey individuality to their product offerings.
The global edible packaging market is segmented into:
By Material Type

Polysaccharides
Lipid
Surfactant
Protein Films
Composite Films

By End User

F&B Manufacturing

Fresh Food
Cakes & Confectionery
Baby Food
Dairy Products
Other Food Products

Pharmaceuticals
Others

By Region

North America
Latin America
Europe
Asia Pacific (APAC)
Middle East & Africa (MEA)
Custom Market Research Services
TMR offers custom market research services that help clients to get information on their business scenario required where syndicated solutions are not enough.
REQUEST CUSTOMIZATION