Reusable Water Bottles Market
Reusable Water Bottles Market (Material Type: Glass, Metal, Polymer, Silicone; Distribution Network: Hyper/Supermarkets, Independent Stores, Online Sales, Others; Primary Usage: Everyday, Sports, Travel, Others) - Global Industry Analysis, Size, Share, Growth, Trends, and Forecast, 2019 - 2027
Category :

Packaging

Format :
Reusable Water Bottles Market: 'Eco-sustainability' to Favor Growth
With global focus lying on the adoption of 'eco-friendly' products, manufacturing and packaging companies across the world are prepping up to launch eco-friendly alternatives for all products. Surging plastic waste, in particular, has created the need to enhance 'environmental sustainability'. Around 22 billion single-use plastic bottles are thrown out in the U.S. every year, whereas, half a billion plastic bottles are thrown out in Britain each year. These alarming numbers explain the need to reduce plastic waste and increase the adoption of reusable water bottles. Moreover, the governments of several countries are taking measures to ban the use of single-use plastic bottles. For instance, numerous national parks in the U.S. have banned the use of single-use plastic bottles to alleviate the burden of plastic waste.
It is not just the mounting plastic waste but the amount of oil used in creating disposable plastic bottles that has encouraged manufacturers to shift their focus towards the production of reusable water bottles. Consumer shift towards 'eco-sustainability' and rising preference for bottled water calls for the need to gain an in-depth understanding of the dynamics of the reusable water bottles market. Transparency Market Research (TMR), in its latest offering, divulges key details that would help companies take data-driven business decisions.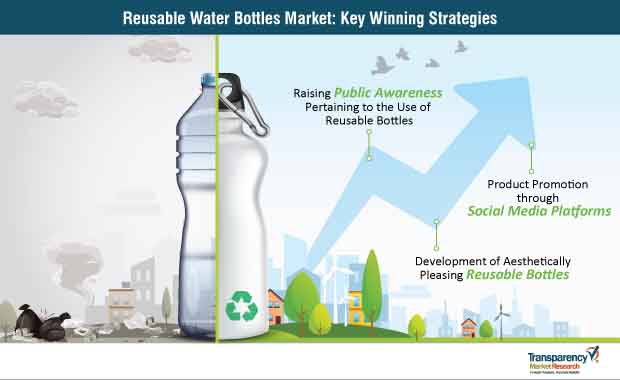 Planning to lay down future strategy? Perfect your plan with our report brochure here
Evolutionary Landscape of the Reusable Water Bottles Market
'Sustainability' is the Holy Grail for any product; however, it took decades for this concept to gain eminence across global markets. Before World War 2, stainless steel, glass, and aluminum were the key materials used to manufacture reusable water bottles. However, after the war, there was a surge in the production of plastic reusable water bottles. Although, the production of reusable water bottles began decades back, only recently has the market gained momentum. It is the addition of extra features and development of consumer-centric products that has transitioned the growth of the reusable water bottles market. Manufactures are embedding features such as purification systems, double-walled vacuum insulation, and infusers to attract consumer attention.
TMR's study points out that, it is online sales channels that are expected to fetch maximum revenue benefits for the reusable water bottles market, progressing at a CAGR of ~ 4%. This essentially means that, manufacturers will leverage the full potential of this opportunity by expanding their confines in the e-Commerce sector. While the online segment creates new opportunities for the market, it is the soaring prices of raw materials that will pose a threat to the market's expansion. Consequently, players are heavily investing in research and development activities to strategically price their products.
Want to know the obstructions to your company's growth in future? Request a PDF sample here
Compelling Trends that are Here to Stay
Shift in Consumer Preference towards Smart Water Bottles
The buying decisions of consumers are highly influenced by busy lifestyles and rapid urbanization. Consumers are gradually drifting away from conventional reusable water bottles and adopting smart bottle to satiate their hydration needs, along with convenience. The reason for this is the features in smart water bottles that remind consumers to drink water and also track their daily water intake. This is what makes smart water bottles an ideal product in today's day and age. Millennials, in particular, are keen on adopting such products, not only because of health consciousness but due to their inclination towards technologically-advanced products. Although the high prices of these bottles may suppress the demand, the proliferation of this technology will increase as the prices fall and manufacturers further enhance their product features.
High Demand for Premium and Aesthetically Pleasing Reusable Bottles
Consumer perspective towards reusable water bottles is gradually shifting from an eco-sustainable product to becoming a status symbol. Consumers are more than willing to pay a hefty price for a premium product that is aesthetically pleasing. Sensing this fact, companies such as S'well are developing fancy reusable water bottles. S'well recently collaborated with Swarovski to create a water bottle embedded with more than 6,000 crystals. Celebrities and influencers are most likely to purchase such products. This change in consumer perspective has also led the industry to foray in the direction of semi-personalization. Reusable water bottle manufacturers are customizing their products to meet specific consumer requirements.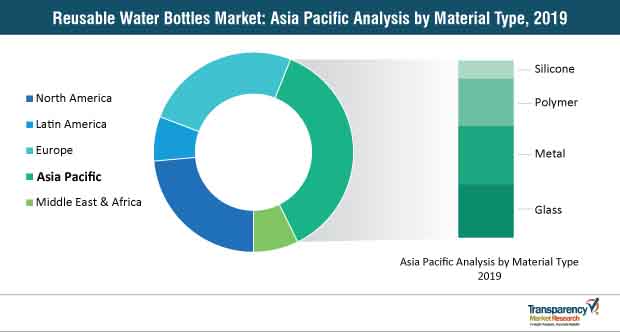 Looking for exclusive market insights from business experts? Request a Custom Report here
Reusable Water Bottles Market: Key Winning Imperatives
Bolstering the Production of Glass Reusable Water Bottles
The recent trend of using 'chemical-free' products has highly impacted the manufacturing and consumer goods industry. Consumers do not want chemicals from the packaging to leach into the product. This has prompted manufacturers to increase the production of glass reusable water bottles. Not only are manufacturers enhancing the production of glass bottles but launching glass bottles that can be used for diverse applications. For instance, S.C. Johnson launched a line of reusable containers called VersaGlass, which can be used in the freezer, microwave, and also without their lids in an oven.
Product Innovation to Garner Consumer Attention
In a bid to build a differentiated brand identity, manufacturers are launching innovative reusable water bottles that offer sustainability and are easy to carry. One classic example of an easy-to-carry reusable water bottle is the Que bottle. Not only is this bottle plastic-free and made from non-toxic food-grade silicone, but it is also collapsible, thereby saving a lot of space in the bag. Yet another innovation in the landscape of reusable water bottles is the new bottle launched by Black+Blum that features a natural charcoal filter. Manufacturers are thriving on the back of product innovation, as it helps them cater to a large pool of consumers with varied needs and preferences.
Sneak Peek into the Competitive Landscape
The reusable water bottles market features a highly competitive vendor landscape, which is essentially driven by new product launches and strategic collaborations. Leading companies in the market, including
S'Well Corporation
Nalge Nunc International Corporation
Tupperware Brands Corporation
Thermos L.L.C.
Camelbak Products, LLC
BRITA GmbH
hold ~ 8% of the total market share.
Key promotional strategies adopted by players in the reusable water bottles market include promoting public awareness pertaining to the use of reusable water bottles, offering free samples, direct sales, and product promotion through social media platforms. Apart from this, companies are laying emphasis on product portfolio expansion by launching new products and enhancing their existing products to retain customers.
Regional penetration strategies deployed by key enterprises include partnering or collaborating with retailers in lucrative regions, and opening manufacturing facilities in those regions. For instance, Klean Kanteen partnered with Target to sell its products through e-Commerce and attract new customers, in the U.S. particularly. Similarly, Tupperware is focused on enhancing its distribution network across the world by opening new manufacturing facilities in regions where penetration is low.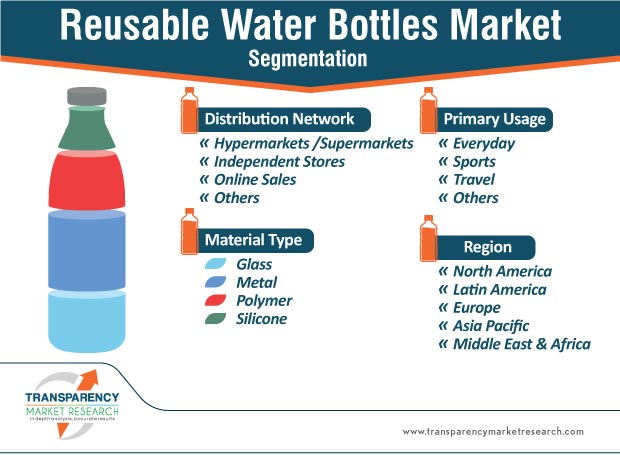 Analysts' Viewpoint on the Market

The reusable water bottles market gains its strength from rising consumer awareness regarding environmental sustainability. Efforts by governments across the world to reduce carbon footprints have further backed the market's growth. The increased penetration of social media around the world has a huge role to play in the market's expansion. Players need to enhance their online sales to gain an edge over other players in the market, while the ones sticking to conventional ways distributing products may lag behind in the race. The market may bear the brunt of rising prices in the future; however, it is an opportunity in disguise that will encourage players to develop products with competitive prices. Overall, authors of the report have an optimistic outlook on the industry's growth during the forecast period, due to the launch of new technologically-advanced products in the market.
According to Transparency Market Research's latest market report on the reusable water bottles market for the historical period of 2014-2018 and forecast period of 2019-2027, the increased demand for food, beverages, and consumer packaging is estimated to drive market growth.
Globally, revenue generated by the reusable water bottles market has been estimated to be ~ 8 Mn in 2019, and is expected to expand at a CAGR of ~ 4% in terms of value throughout the forecast period.
Increasing Preference for Reusable Water Bottles
Reusable water bottles are preferred over bottled water for hydration purposes in many regions of the world.
It is estimated that, reusable water bottles can be used an average of 80 times before their carbon footprint becomes approximately equal to that of a single-use bottle.
The main factor that drives the growth of the reusable water bottles market is the growing global demand for convenience products.
Various governments and organizations are taking initiatives to minimize hazardous waste. Most of national parks in the United States have banned the use of single-use plastic water bottles inside their premises to keep the parks free from plastic waste, and increase awareness towards eco-friendly solutions among people.
Use of Metallic Reusable Water Bottles to Eliminate Plastic Waste
Widespread global efforts to eliminate harmful plastic waste are generating high demand for metallic reusable water bottles.
Companies such as Contigo, Nalgene, Thermos, etc., are spending heavily on innovation regarding reusable water bottles. The primary concern for the adoption of reusable water bottles is their unaffordability. These companies are focusing on bringing down the cost and planning to increase awareness among people.
Metallic reusable water bottles are more durable and stronger as compared to plastic bottles. Metallic material also acts as a better shielding barrier than any other plastic material. Beverages stored in these could be kept hot or cold for an average of 24 hours. All these factors act as added advantages of metallic reusable water bottles over plastic bottles. Countries such as the U.S., Germany, and the U.K. are encouraging people to give up plastic packaging products such as bottled water, so as to create a sustainable and pollution-free environment.
One of the major trends observed in the global reusable water bottles market is the usage of TRITAN material to produce reusable water bottles with high heat resistance, toughness, and durability.
Countries such as the U.S. and China have a major share in the global reusable water bottles market, due to high consumer spending on convenient packaging solutions. The high market shares of these countries can also be attributed to growing concerns over reducing plastic waste.
Smart Water Bottles to Drive Growth in the Market
The adoption rate of smart water bottles has increased significantly in the last few years due to rising consumer interest towards convenience products. This factor has led to a rise in the sales of reusable water bottles. In the era of digitalization, people are more aware of the importance of information technology in healthcare. Changing lifestyles and increasing number of tech savvy individuals are the drivers propelling manufacturers to develop smart water bottles that track an individual's water intake during a day.
Reusable Water Bottles Market: Competition Landscape
Some of the key players in the global reusable water bottles market that are included in the report are

CamelBak Products, LLC,
BRITA GmbH
Klean Kanteen, Inc.
Tupperware Brands Corporation
Contigo
SIGG Switzerland AG
Aquasana, Inc.
Bulletin Brands, Inc.
Thermos L.L.C.
Nalge Nunc International Corp,
S-Well Corporation
O2COOL, LLC
Nathan Sports, Inc.
Cool Gear International LLC USA, Inc.
Reusable Water Bottles Market: Key Developments
Key manufacturers in the global reusable water bottles market are focusing on expansion through acquisitions and partnerships. In recent years, it has also been observed that key participants in the reusable water bottles market are increasing their popularity around the globe by participating in exhibitions.
In January 2017, Camelbak introduced new Camelbak CRUX reservoirs for its winter hydration packs.
In January 2017, Camelbak updated the design of its most iconic hydration pack - the Camelbak M.U.L.E. This pack is designed with the Camelbak low rider technology, which incorporates a lumbar reservoir.
In July 2017, the company launched Klean Coat, a chip-resistant, durable powder coat finish bottle developed with the help of the advanced chemical hazard tool –'Greenscreen for safer chemicals'.
In June 2017, Thermos LLC acquired its distribution partner Brands Home & Leisure (BHL) group, a U.K.-based distributor company.
Transparency Market Research (TMR) recently published a report on the reusable water bottles market for the forecast period of 2019 to 2027. The report encompasses actionable insights that help readers devise robust strategies for their business. It also sheds light on the macroeconomic factors that are directly or indirectly affecting the growth of the reusable water bottles market. Additionally, it talks about the key factors shaping the growth of the reusable water bottles market.
Through this report on the reusable water bottles market, readers gain a deep understanding of the current trends influencing the market's expansion. Stakeholders in the reusable water bottles market, such as researchers, journalists, business analysts, and industry experts, can benefit out of the information presented in TMR's latest offering. In addition, it will also help new entrants expand their footprints in the global reusable water bottles market.
The report elucidates the impact of the historical and current trends on the future of the global reusable water bottles market. Furthermore, it sheds light on the key companies functioning in the market and the business strategies deployed by them. Readers can find exclusive data about the demand and supply of reusable water bottles across the world.
Key Questions Answered in the Report on the Reusable Water Bottles Market
The study on the reusable water bottles market provides exclusive insights about the market in a comprehensible manner for a better understanding of the readers. Insights offered in the report answer salient questions that help stakeholders gauge the emerging opportunities in the market, and take key business-related decisions accordingly. Some of these questions are listed below:
What will be the volume of sales of metal reusable water bottles in 2027?
Which region has the highest contribution to the growth of the reusable water bottles market throughout the forecast period?
What are the factors shaping the reusable water bottles market's growth?
How have the current market dynamics impacted the business strategies deployed by key enterprises in the reusable water bottles market?
What strategies are adopted by new entrants to proliferate the global reusable water bottles market?
What valuation will the reusable water bottles market reach by the end of the forecast period?
Reusable Water Bottles Market: Research Methodology
A unique research methodology has been deployed to provide a holistic view of the reusable water bottles market. Riveting insights pertaining to the key happenings in the reusable water bottles market have been provided through exhaustive primary and secondary research. The report has further been cross-validated by in-house professionals to enhance the credibility of the data.
Exact market numbers have been obtained through sources such as reusable water bottle manufacturers, their product offerings, and sales revenue of each market segment. This information has been backed up by comprehensive secondary research. This helped TMR analysts in getting a clear picture of the reusable water bottles sales and forecast across geographies.
Reusable Water Bottles Market: Taxonomy
TMR's study on the global reusable water bottles market divides it into four broad categories, namely, material type, distribution network, primary usage, and region. Each segment has been analyzed in detail, and exclusive data pertaining to the recent trends in each segment has been divulged.
Volume and revenue comparison, Y-o-Y growth comparison, and market share comparison have been provided in the report on the reusable water bottles market. The market has been analyzed on both, regional and country levels, and information regarding key players functioning in each region has been provided.
Material Type

Glass

Metal

Polymer

Silicone

Distribution Network

Hyper/Supermarkets

Independent Stores

Online Sales

Others

Primary Usage

Everyday

Sports

Travel

Others

Region

North America

Latin America

Europe

Asia Pacific

Middle East and Africa
Custom Market Research Services
TMR offers custom market research services that help clients to get information on their business scenario required where syndicated solutions are not enough.
REQUEST CUSTOMIZATION

Reusable Water Bottles Market