Global Type-D bulk bags: Introduction & Significance
Bulk bags are industrial containers which are used to store and transport granular products in large volume. Type-D bulk bags are also known by the name of antistatic bulk bags, as it consists of antistatic fabric. Type-D bulk bags are used to transport flammable powders. Type-D bulk bags consist of conductive material along with the fabric which allows the bag to discharge the electrostatic charge to the ground and enable the safe operation even in the presence of flammable substances. One precaution needs to be followed while using type-D bulk bags is that it must not be used when the surface of the bulk bags is contaminated or coated with the conductive material such as water and grease. Type-D bulk bag does not require grounding.
Global Type-D bulk bags market: Dynamics
Type-D bulk bags are extensively used in industrial material handling or the transportation which occurs in the bulk quantities. Growing safety awareness and government regulations are the key factors driving the growth of the global typed bulk bags market. Type-D bulk bags are used to transport the flammable powders along with the flammable solvents and gases. Growing agriculture activities, which demand for higher utilization of fertilizers and chemicals, growing infrastructure development, and the mining activities are fueling the growth of the global type-D bulk bags market. As compared to the type-C bulk bags, these bags need to be grounded for discharging the charge. To overcome this challenge type-D bulk bags were introduced which has proven to be a restrain for type c bulk bags.
Global Type-D bulk bags market: Segmentation
*Pricing of this market has been captured on the basis of volume
On the basis of volume, the global Type-D bulk bags has been segmented as:
Small (below 1 cubic meter)
Medium (between 1 and 2 cubic meter)
Large (more than 2 cubic meter)
On the basis of end use industry, the global Type-D bulk bags has been segmented as:
Chemical Industry
Pharmaceutical Industry
Food Industry
Construction Industry
Agricultural Products
Others
Research Methodology
A unique methodology was adopted to calculate the market size for type-D bulk bags
Supply Side Analysis:
The collected numbers are obtained from Key Type-D bulk bags manufacturers in the world, their product offerings, sales revenue in each market verticals. Sales revenue from type-D bulk bags manufacturers was estimated after comprehensive product mapping. Various market and industry experts, which includes sales and marketing heads of type-D bulk bags manufacturers, independent consultants, and distributors, were contacted to validate the penetration type-D bulk bags market in the global bulk bags or FIBC bags market.
Demand Side Analysis:
The overall end-use and market size have been determined, and the penetration of type-D bulk bags market has been determined and the penetration of type-D bulk bags market in each of the end use. The total value and demand of type-D bulk bags market were mapped in each end-use industry, across the world.
The approach is followed by the global market, and bottom-up analysis was used to arrive at the market size of the type-D bulk bags market, regarding consumption and revenue.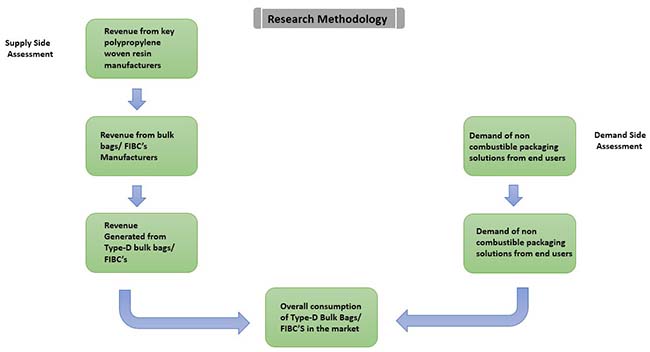 Exhibit-1
Global Type-D bulk bags market: Company and Industry Level Trends
On 31 July, 2017 Conitex Sonoco USA launched BulkSak. It was a web inventory program which provides the consumers access on demand to 70 types of ready to ship FIBC bags.
Global Type-D bulk bags market: Key players
Some of the key vendors that currently opearte in the type-D bulk bags market and partitions market across the globe can be segmented into three-tiers based on their market share as follows:
Tier-1 (Include market players with more than US$ 10 Mn)
King Bag and Manufacturing Company
Rishi FIBC Solutions PVT. Ltd.
Jumbo Bag Ltd.
Supply Pointe
Centurion
Crohmiq
Tier-2 (Include market players with revenue between US$ 5 Mn upto US$ 10 Mn)
GLOBAL-PAK, INC
Palmetto Industries
Tier-3 (Include market players with revenue less than US$ 5 Mn)
Midwestern Bag
Procon Pacific
DA Pak
Material Motion
InterBULK USA, LLC
Bag Supplies (FIBC) Limited
This intelligence report by TMR is the outcome of intense study and rigorous assessment of various dynamics shaping the growth of the market. TMR nurtures a close-knit team of analysts, strategists, and industry experts who offer clients tools, methodologies, and frameworks to make smarter decisions. Our objective, insights, and actionable analytics provide CXOs and executives to advance their mission-critical priorities with confidence.
The scrutiny of the various forces impacting the dynamics of the market, and key and associated industries, guides enterprises in understanding various consumer propositions. Our clients leverage these insights and perspectives to enhance customer experience in the fast-paced business environment.
All our insights and perspectives are broadly based on 4 Pillars or Stages: ASBC-S, which offer an elaborate and customizable framework for the success of an organization. The essence and the roles of these in organizational successes are highlighted below:
Agenda for CXOs: TMR, through the study, sets the tone for agendas that are pertinent to CEOs, CFOs, CIOs, and other CXO executives of businesses operating in the market. The perspectives help our clients to bridge the gap between agenda and action plan. TMR strives to offer guidance to CXOs to undertake mission-critical activities empowered by various business analysis tools, and boost the performance of the organizations. The perspectives guide you to decide on your own marketing mix that align well with the policies, visions, and mission.
Strategic Frameworks: The study offers how organizations are setting both short-term and long-term strategic plans. Our team of experts collaborate and communicate with you to understand these to make your organizations sustainable and resilient during tough times. The insights help them decide sustainable competitive advantage for each business units.
Benchmarking for Deciding Target Markets and Brand Positioning: The assessments in the study provides a scrutiny of marketing channels and marketing mix. Our various teams work synergistically with you to help identify your actual and potential direct, indirect, and budget competition areas. Additionally, the study helps you decide most effective budgets for various processes and promotional activities. Furthermore, the study guides you to set benchmarks for integrating people and processes with the 4Ps of marketing. Eventually, this will empower you to find out unique propositioning strategies and niches.
Business Composability for Sustainability (C-S): Constant strategy planning for sustainability characterizing our C-S framework in the report has become more relevant than before in the face of disruptions caused by pandemics, recessions, boom and bust cycles, and changing geopolitical scenario. The TMR study offers a high level of customization to help you achieve business composability. Composable enterprises are increasingly gaining the attention of CXOs in order to help them combat market volatility. Our analysts and industry experts help you wade through such uncertainties and guide you to become a smart sustainable business in entirety.
The study presents scrutiny of region-specific consumer and technology trends, including the most recent industry dynamics. These broadly cover but not limited to
North America, South America, and the Americas
Asia Pacific and Japan
Europe
Latin America
Middle East and Africa
The study offers data-driven insights and guidance of several aspects. Some of the more notable questions are:
What are the major recent trends that can influence the product life cycle and the RoI?
Which regulatory trends shape corporate-level, business-level, and functional-level strategies?
Which micromarketing initiatives of leading players will bring in investments?
What can be the best framework and tools for PESTLE analysis?
Which regions will witness rise in new opportunities?
Which are the game-changing technologies being used to capture new revenue streams in the near future?
Which operational and tactical frameworks are being adopted by various players in gaining customer loyalty?
What is the current and expected intensity of competition the market in the near future?
Disclaimer: This market research study is an ongoing effort and extreme care has been taken to maintain the highest levels of accuracy at all stages. However, in the light of the rapidly evolving business dynamics, some region-specific or other segment-specific changes may take time to be part of the study.