Ultrasound Devices Market: Snapshot
Providers of ultrasound devices are rapidly moving towards developing compact/portable devices, as a predictive measure to secure market supply chains in the near future. For now, consumer are still showing a high preference towards the cart/trolley based ultrasound devices, making it the largest product segment till 2023. They are, however, cumbersome to carry around, which is driving consumers steadily towards compact ultrasound devices.
3D and 4D ultrasound devices have already topped the revenue charts since 2014. Their technological superiority over 2D ultrasound devices is expected to allow them to replace the latter steadily over time. The 3D and 4D ultrasound devices, showing the fastest growth rate in technologies, is showing the most promise for all ultrasound devices manufacturers to invest in.
The application type that manufacturers need to look at is radiology. It held a revenue share of over 32% in 2014 and is progressing at the fastest CAGR among all application segments. The global ultrasound devices market owes its overall growth rate to these factors, and is expected to reach US$11 bn by 2023. It was recorded at US$6.7 bn in 2014 and was strongly dominated by players such as GE Healthcare and FUJIFILM Holdings Corporation.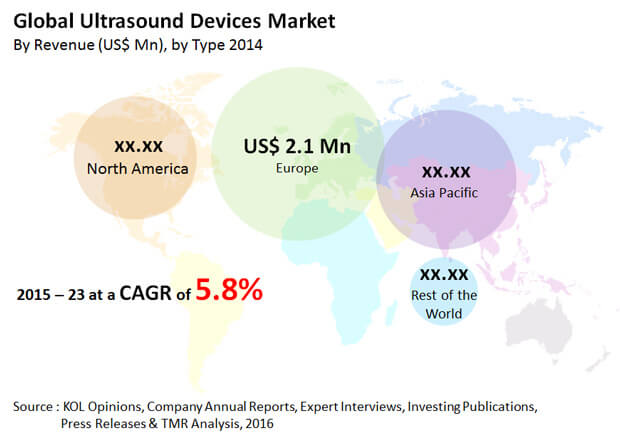 Asia Pacific Expected to Supersede Europe in Ultrasound Devices Demand by 2023
The largest revenue share of ultrasound devices in 2014 was held by Europe, with Asia Pacific in second place with 33.8% and 31.5% respectively. By the end of 2023, Asia Pacific is expected to lead the ultrasound devices revenue charts owing to the major investments made by China. In 2014, nearly 51% of the total ultrasound devices consumption was done by China. This was fueled by heavy investments as well as the favorable healthcare reforms implemented by the Government of China.
Simultaneously, the ultrasound devices sales in Europe are expected to be hampered by the advent of advanced imaging equipment. Healthcare organizations in Europe as well as North America are shifting towards PET/MRI, PET/CT, and upright MRI machines. Further complications in these regions emanate from regulatory structure.
For instance, the implementation of MDET is creating an increasingly negative perspective for ultrasound devices in terms of purchasing. Additionally, Obamacare does not include refurbished equipment in the 2.3% MDET, further decelerating the ultrasound devices sales in North America.
Doppler Devices Expected to be the Future of Ultrasound
The high rate of technological advancements occurring currently are expected to carve the road for the future of ultrasound devices. One of the key product innovations is the Doppler ultrasound device, and it is expected to gain user favor and market revenue share at a rapid rate in the near future. Doppler ultrasound devices are extremely valuable for imaging of blood flow and blood diseases. The diagnostic sharpness that Doppler ultrasound devices can add allows medical personnel to quickly target the issue and provide effective treatment.
The demand for ultrasound devices is becoming increasingly convergent with the rate of technological development, especially in the field of portable ultrasound devices. The emergence of new players with highly innovative efforts is bridging the gap between need and provision of appropriate medical solutions for the ill. Concepts such as the Doppler ultrasound devices and pocket ultrasound devices are thus expected to guide the way for future sales. Major ultrasound devices players include Analogic Corporation, Philips Healthcare, Siemens Healthcare, GE Healthcare, and Fujifilm Holdings Corporation.
Ultrasound devices are used as both diagnostic imaging and therapeutic modality, and has wide range of applications in the medical field. This report on the global ultrasound device market analyses the current and future prospects of the market. The report comprises an elaborate executive summary, including a market snapshot that provides overall information of various segments and sub-segments. This section also provides the overall information and data analysis of the global ultrasound device market with respect to the leading market segments based on type of product, technology, and geography.
The market overview section of the report includes qualitative analysis of the overall ultrasound device market, including the factors determining the market dynamics such as drivers, restraints and opportunities, along with Porter's Five Forces Analysis. Additionally, various analyses such as market attractiveness analysis by geography and competitive landscape by key players has been provided. The market attractiveness analysis explains the intensity of competition in the market in different geographies. The competitive scenario between different market players is evaluated through market share analysis. These factors would help the market players to take strategic decisions in order to strengthen their positions and expand their share in the global market.
The global ultrasound device market has been segmented based on product type, technology, and geography. Based on product type, the ultrasound devices market has been categorized into two major segments: cart/trolley based and compact ultrasound devices. Based on technology, the global ultrasound device market has been segmented into five types: 2-D ultrasound imaging, 3-D and 4-D ultrasound imaging, Doppler ultrasound imaging, high intensity focused ultrasound (HIFU), and lithotripsy ultrasound imaging. Based on application, the market has been segmented into radiology, obstetrics and gynecology, cardiovascular, gastroenterology, and other applications. Market revenue in terms of US$ Mn and installed base in terms of Units for the period between 2013 and 2023 along with the compound annual growth rate (CAGR %) from 2015 to 2023 are provided for all the segments, considering 2014 as the base year.
Geographically, the ultrasound devices market has been categorized into four regions: North America, Europe, Asia Pacific, and Rest of the World (RoW). North America comprises the U.S. and Canada. Europe constitutes Germany, the U.K., and Rest of Europe. Asia Pacific comprises China, Japan, and Rest of Asia Pacific. Rest of the World constitutes Latin America and Middle East & Africa. The recommendations section included in the report would assist existing players to expand their market share and new companies to establish their presence in the ultrasound devices market. The report also profiles major players in the ultrasound devices market based on various attributes such as company overview, financial overview, business strategies, product portfolio, and recent developments. Major players profiled in this report include GE Healthcare, FUJIFILM Holdings Corporation, Koninklijke Philips N.V., Mindray Medical Corporation, Esaote SpA, and Analogic Corporation.
The global ultrasound device market is segmented as follows:
Global Ultrasound Devices Market, by Product Type
Cart/Trolley based Ultrasound devices
Compact Ultrasound devices
Global Ultrasound Devices Market, by Technology
2-D Ultrasound Imaging
3-D and 4-D Ultrasound Imaging
Doppler Ultrasound Imaging
High Intensity Focused Ultrasound (HIFU)
Lithotripsy Ultrasound Imaging)
Global Ultrasound Devices Market, by Application
Radiology
Obstetrics and Gynecology
Cardiovascular
Gastroenterology
Other Applications
Global Ultrasound Devices Market, by Geography
North America
Europe

U.K.
Germany
Rest of Europe

Asia Pacific

China
India
Rest of Asia Pacific

Rest of the World (RoW)

Latin America
Middle East & Africa