Set-Top Boxes Market
Set-Top Boxes Market - Global Industry Analysis, Size, Share, Growth, Trends and Forecast 2015 - 2022
Category :

Consumer Goods & Services

Format :
Set-top box is a device, which converts television set as user interface to the internet. Also, it allows TV to receive and decode digital television (DTV) broadcasts. At present, STB is becoming an integral part of TV across the globe.
Over the top (OTT) services enables consumers to view content of their choice without paying extra charge. This is one of the key factors likely to fuel growth of set-top boxes market in the foreseeable future.
Introduction of smart TVs, HD and ultra HD channels, and technological innovations are, conjointly, proliferating the adoption rate of set-top boxes. Digital video recording is one of the key features steering growth of the market. The feature allows to record the show and watch it later, as per the convenience of the consumers.
Availability of TVs integrated with Set-top boxes is one of the major trends creating momentum in the market growth. These TVs provide provision of accessing online video streaming platforms and social media. In addition, it provides option of better storage with capacity up to 2TB.
Further, government bodies in some regions are regulating digitization of cable networks. The trend is particularly observed in emerging economies such as India and China.
Global Set-top Boxes Market: Snapshot
The two biggest advantages that set-top box manufacturers possess against conventional cable services is the ability to provide a greater variety of channels and to broadcast HD and ultra-HD channels. In the near future, increasingly digitized set-top box services coupled with highly interactive features are expected to be added, increasing the appeal of set-top boxes to consumers. This will serve as a primary driver for all set-top box manufacturers across the globe.
Another concept currently in high demand is the hybrid set-top box, which is a combination of internet-based TV services and satellite-based HD services. The hybrid set-top boxes are expected to help TV channel providers assume a better competitive role against internet-based OTT providers.
Combining all the above drivers, along with other influential factors such as the restraint due to OTT service providers and the opportunities that HEVC decoders can provide to set-top boxes, its global market is expected to progress at a CAGR of 6.4% from 2015 to 2022. This market is expected to be valued at US$16.6 bn in 2016 and US$24 bn by 2022.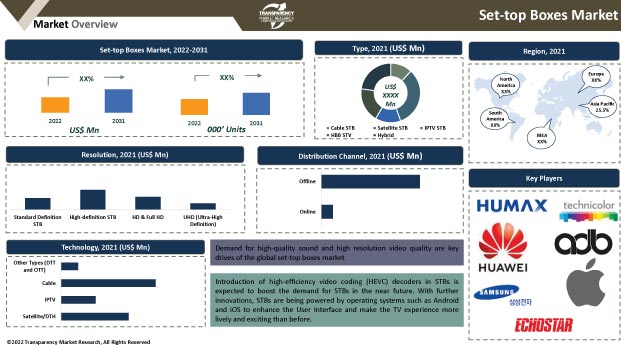 IT and Industrial Growth in APAC Allows Better Scope for Set-top Box Companies
The rapid rates of industrialization in most Asia Pacific countries is allowing users to possess stronger purchasing capabilities, providing a wide array of regional opportunities for set-top box companies to grow. Additionally, the growth of the IT industry is helping create a better internet services infrastructure which can allow users to stream videos on demand at affordable prices. Coupled with the high population density, Asia Pacific can be a highly lucrative avenues for set-top box players in the near future.
Australia, China, and India already hold a massive base of internet users. The growing use of improved internet services along with the proliferation of smart TVs and IPTVs in this region will allow Asia Pacific to show the fastest growth rate in set-top box demand in the near future.
Users Continue to Prefer HD Set-top Boxes, Demand 4K Channels
The proliferation of HD services has been highly successful in developed economies so far, with the release of a wide choice of HD TVs and HD channels. This makes it easier for a lot of set-top box providers to access these regions. As for the emerging economies from Asia Pacific, Latin America, and the Middle East and Africa, the demand for HD viewing services is rapidly on the rise. The resultant spread of HD services across these regions and the standardization of broadcasting services has created much more favorable grounds for set-top box providers to focus on.
Additionally, the imminent commercialization of the HEVC standard for set-top boxes is expected to negate the biggest issues that services providers have with 4K video data transmission: data decoding. The HEVC-enables set-top boxes are expected to enhance the speed at which 4K video can get decoded, thereby enabling a smoother 4K experience for users in a market where the demand for it is very high.
The key players in the global set-top boxes market include Pace PLC, Cisco Systems. Inc., ARRIS Group, Inc., Samsung Electronics Co. Ltd., Technicolor SA, and Echostar Corporation.
A set-top box (STB) is a device that is used to convert the video content transmitted from a pay TV operator to a format compatible with an end-user or subscriber TV. STBs may receive the video content from satellite, terrestrial, cable or Internet-based transmission. STBs offer a greater number of channels compared to conventional broadcasting services and further improve the quality of the video content considerably. The introduction of high definition (HD) channels, digitization of TV broadcasting and demand for higher picture quality are resulting in the growth of STB market. With advancements in technology, STB is increasingly being used to stream digital TV content through the Internet, further enabling a user to surf the Web, stream videos, access various applications, play games, and use allied features, such as OTT services. With advanced coding and compression techniques it has become much easier to decode high-quality videos using comparatively less bandwidth. The introduction of high-efficiency video coding (HEVC) decoders in STBs is expected to boost the demand for the latter in coming years. With the inclusion of further innovations, STBs are being powered by operating systems such as Android and iOS to enhance the user interface and make the TV experience more lively and exciting than before.
This research report provides in-depth analysis of the global STB market based on types, video quality, and geography. In terms of geographical regions, the report segments the global STB market into North America, Europe, Asia Pacific, the Middle East and Africa (MEA), and Latin America, which are analyzed in terms of revenue generation. North America is further segmented into the U.S. and Rest of North America, while Europe is divided into EU7, Commonwealth of Independent States (CIS), and Rest of Europe. Moreover, Asia Pacific is subdivided into Japan, China, South Asia, Australasia, and Rest of Asia Pacific. Also, MEA is further segmented into Gulf Cooperation Council (GCC) countries, North Africa, South Africa, and Rest of MEA, while Latin America is subdivided into Brazil and Rest of Latin America.
The report also segments the STB market based on product type into cable STBs, satellite STBs, IPTV STBs, and Hybrid Broadcast Broadband (HBB) or hybrid STBs. Segmentation based on video quality is into standard definition (SD) and high definition (HD). Furthermore, the report analyzes the factors that drive and restrain the growth of the STB market. The report also discusses the prevailing market trends, prospective growth opportunities, and major strategies increasing the popularity of STB. It also provides the market estimates and forecasts for all the segments in terms of revenue. Also provided is the market share of key players in the global STB market.
Additionally, the report includes competitive profiling of the major players engaged in offering set-top boxes. Major business strategies adopted by them, their market positioning, and various recent developments have also been identified in the research report. The major manufacturers providing set-top boxes profiled in the report include HUMAX Electronics Co., Ltd., Huawei Technologies Co., Ltd., Technicolor SA, ADB (Advanced Digital Broadcast)SA, Apple Inc., Samsung Electronics Co. Ltd., ARRIS Group, Inc., EchoStar Corporation, Kaonmedia Co. Ltd., and Sagemcom SAS.
The global set-top boxes market is segmented as below:
Set-Top Boxes Market

By Type
Cable Set-Top Boxes
Satellite Set-Top Boxes
IPTV SET-Top Boxes
HBB Set-Top Boxes
By Video Quality
Standard Definition Set-Top Boxes
High Definition Set-Top Boxes
By Geography
North America
Europe
Asia Pacific
Latin America
Middle East and Africa
Custom Market Research Services
TMR offers custom market research services that help clients to get information on their business scenario required where syndicated solutions are not enough.
REQUEST CUSTOMIZATION