C-arms Market
C-arms Market (Product: Fixed C-arms and Mobile C-arms [Full-size Mobile C-arms and Mini C-arms]; Technology: 2D Imaging Technology and 3D Imaging Technology; Detector: Image Intensifier and Flat Panel Detector; End User: Hospitals & Clinics, Ambulatory Surgical Centers, and Others; and Application: Ortho/trauma/spine Surgeries, Vascular Surgeries, Cardiac Surgeries, Urologic Procedures, Gastroenterology, and Other Surgeries) - Global Industry Analysis, Size, Share, Growth, Trends, and Forecast, 2019 - 2027
Category :

Healthcare

Format :
Mobile C-arm Platforms Maximize OR Performance and Enhance User Experience
Innovations in C-arms have led to optimization of operating room (OR) performance and workflow efficiency. Companies in the C-arms market are increasing efforts to develop adaptable platforms that fulfill the needs of healthcare providers for various surgical specialties. For instance, in February 2019, leading health technology company Royal Philips announced the launch of Zenition mobile C-arm platform that contributes toward innovations in image capture and image processing. As such, mobile C-arm product segment of the C-arms market is projected for exponential growth market. Moreover, the C-arms market is expected to reach a value of ~US$ 2.4 Bn by the end of 2027.
Mobile C-arms are being increasingly used by healthcare professionals to provide live image guidance in orthopedic, trauma, and vascular procedures. Companies are increasing R&D to increase ease-of-use and versatility in C-arms in order to gain improved outcomes. Mobile C-arms are in high demand at hospitals that are aiming at maximizing OR performance and enhance user experience.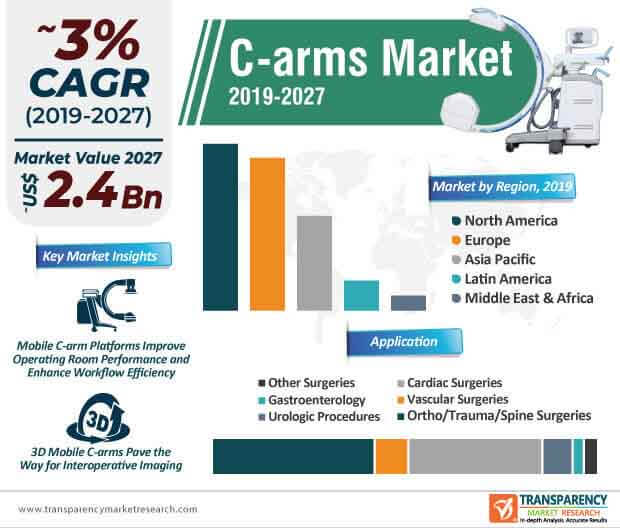 To know the scope of our report Get a Sample on C-arms Market

IVUS and Intuitive Interface Hold Potential in Image-guided Minimally Invasive Surgery
Companies in the C-arms market are introducing innovative C-arm series that are suited for surgical needs. As such, ortho/trauma/spine surgeries and cardiac surgeries application segments of the C-arms market are anticipated for exponential growth, and the global market is estimated to grow at a CAGR of ~3% during the forecast period. Companies are tapping opportunities in urology, critical care, and pain management. Improved C-arms are being introduced with reliable flat panel detectors and high-resolution image intensifiers to create outstanding image clarity.
Get a glimpse of the in-depth analysis through our Report Brochure
Manufacturers are increasing R&D in table side user interface so that clinicians can operate C-arms inside sterile fields. Thus, clinicians are increasingly benefitting from this new interface, which has reduced communication burden on the operator, hence making C-arms more intuitive. Novel C-arm platforms are being integrated with intravascular ultrasound (IVUS) useful in peripheral vascular procedures. Such innovations are helping healthcare companies to bolster their credibility credentials on a global level. Complexity of surgical interventions in the ever-evolving area of image-guided minimally invasive surgery is one of the key drivers for market growth.
Next-gen Mini C-arms with Orbital Rotation to Enable Users to View Critical Anatomy
The mini C-arm technology is being increasing adopted by clinicians for the treatment of pediatric patients. For instance, global leader in mini C-arm imaging, Orthoscan, announced the launch of first-of-its-kind Orthoscan TAU family of innovative mini C-arms. Companies in the C-arms market are increasing efforts to gain approval from health commissions so that clinicians can enhance quality-of-life in pediatric patients.
Next-gen mini C-arms are equipped with novel dose-saving features and advanced touch interface. Companies are increasing R&D to develop C-arms that provide efficient articulation. They are tapping revenue opportunities with the introduction of flat bottom C-arm design, which is lightweight and designed to meet specific budgets of healthcare providers. Larger detector and live imaging is helping users to freely analyze critical anatomy. Moreover, flat panel detector is estimated for exponential growth in the C-arms market. Intelligent dose reduction is another key driver contributing toward market growth. Enhanced orbital rotation helps users to reduce stress in viewing the anatomy.

3D Geometries Help Companies to Overcome Limitations of Dead Spots and Artifacts
The C-arms market is largely consolidated with major players accounting for ~20%-40% of the total market stake. Thus, emerging players are left with only a small opportunity to gain market dominance. However, major and emerging players alike need to overcome the limitations of cone-beam artifacts. Hence, companies are integrating robotics in C-arms to overcome barriers of cone-beam artifacts. For instance, Siemens Healthineers-a leading medical technology company has introduced robotics in C-arms to capture complicated paths around the patient.
Companies in the C-arms market are offering fund grants to research labs in order to explore different trajectories in complicated paths around patients. They are increasing focus on 3D imaging to alleviate the problem of dead spots and artifacts. Thus, research labs are combining the concepts of trigonometry, geometry, and advanced calculus to offer enhanced imaging of patients.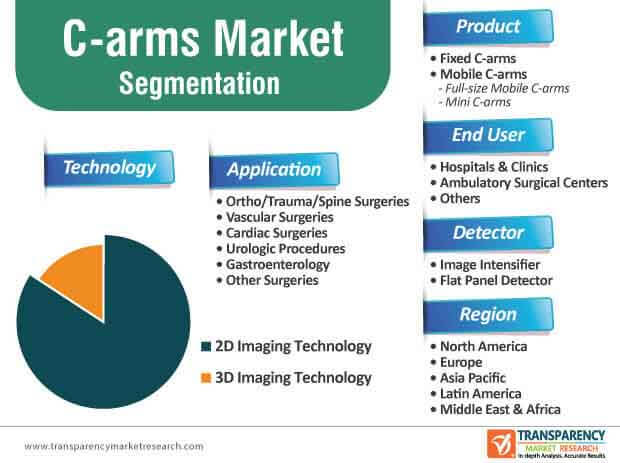 Expanding operations in future? To get the perfect launch ask for a custom report
Analysts' Viewpoint
IVUS is gaining prominence as a catheter-based imaging technology that enable clinicians to visualize blood vessels from inside out, thus aiding in the treatment of peripheral vascular and coronary patients. Large detectors and high-resolution diagnostic touchscreen monitors are setting the standard for C-arm platforms.

Moreover, companies are leveraging opportunities in North America and Asia Pacific, since the C-arms market in both regions is projected for exponential growth. However, barriers such as higher doses of radiation in large detectors pose as a challenge for companies. Hence, companies should collaborate with research labs to increase R&D in robotic and ideal acquisition geometry to overcome issues of high doses of radiation in large detectors.
C-arms Market: Overview
According to Transparency Market Research's latest market report on the global C-arms market for the historical period 2017–2018 and forecast period 2019–2027, high prevalence and increase in incidence of acute and chronic disorders across the world are anticipated to drive the global C-arms market
According to the report, the global C-arms market was valued at ~US$ 1.8 Bn in 2018 and is projected to expand at a CAGR of ~3% from 2019 to 2027
High Prevalence and Increase in Incidence of Acute and Chronic Disorders to Propel Market: A Key Driver
A large number of individuals suffer from infectious as well as chronic diseases. Cardiovascular and respiratory diseases have affected a large number of individuals globally and are the leading cause of death. Cardiovascular diseases cause majority of the deaths across the world.
According to the World Health Organization (WHO), cardiovascular diseases (CVD) account for an estimated 17.9 deaths each year. This has increased the number of minimally-invasive interventional procedures such as angiography, angioplasty, and electrical cardioversion. These procedures require the use of a medical C-arm that can help clinicians in tracking the procedure in real time.
X-ray has been the most preferred technique among healthcare professionals as well as hospitals for effective diagnosis and treatment of a disease. Most modern X-ray machines provide essential and accurate diagnostic results in majority of diseases.
Hence, high prevalence and increase in incidence of several diseases/disorders across the world are projected to boost the growth of the global C-arms market during the forecast period
Technological Advancements
The global X-ray sector is responding positively to the new and improved C-arm systems or machines, with increase in uptake of technologically advanced C-arms. Moreover, digital C-arm systems are comparatively newer than analog C-arm systems, and have been able to make inroads into the C-arms market to become a market leader.
Presently, various new and technologically advanced C-arm systems have been introduced in the global market by major manufacturers. These include Ziehm's Vision RFD, Siemens' ARCADIS Orbic 3D developed for advanced spine and neuro work, and Phillips' second-generation Veradius Neo which features a new C-arc geometry with maneuverability specially designed to accommodate even obese patients.
High Cost of Advanced Systems to Hamper C-arms Market
The global C-arms market generates most of the revenue from developed countries such as the U.S., Japan, and major countries in Western Europe such as Germany, the U.K., and France. This is due to the high cost of various newly developed advanced portable digital C-arm machines that are currently available in the global market and the corresponding affordability by the mentioned regional markets. Less developed markets in Asia Pacific, Latin America, and Africa still largely depend on various traditional stationary systems and refurbished C-arms due to high cost of newer C-arms. This is likely to restrain the global C-arms market.
C-arms Market: Competitive Landscape
This report profiles major players in the global C-arms market based on various attributes such as company overview, financial overview, product portfolio, business strategies, and recent developments
The global C-arms market is consolidated, with the presence of small number of large players in the international markets and few small players in regional markets. The top four to five players hold majority share of the global C-arms market.
Prominent players operating in the global C-arms market include

ATON GmbH (Ziehm Imaging, Inc. and OrthoScan, Inc.)
Canon Medical Systems Corporation
Eurocolumbus s.r.l.
Shimadzu Corporation
Koninklijke Philips N.V.
Siemens Healthineers AG
GE Healthcare
Hologic, Inc.
DMS Imaging
C-arms Market: Key Developments
Developments in the medical devices industry have enabled the reconstruction of different equipment such as Koninklijke Philips N.V.'s next-generation image-guided therapy, Azurion. The product is easily run in low resource settings and provides quality image during surgery.
Siemens Healthineers AG's Cios Spin C-arm has been available in the market since November 2018. It has new 3D imaging technique based on flat panel detector and is the first commercially available mobile C-arm with an antimicrobial coating for infection control. Utilization of this equipment in the health care industry to perform different surgeries is also increasing.
The report on the global C-arms market discusses individual strategies, followed by company profiles of C-arms providers. The competitive landscape section has been included in the global C-arms market report to provide readers with a dashboard view and a market share analysis of key players operating in the global C-arms market.
C-arms Market - Scope of the Report
TMR's report on the global C-arms market studies past as well as current growth trends and opportunities to gain valuable insights of the indicators for the market during the forecast period from 2019 to 2027. The report provides the overall revenue of the global C-arms market for the period 2017–2027, considering 2018 as the base year and 2027 as the forecast year. The report also provides the compound annual growth rate (CAGR) of the global C-arms market during the forecast period.
The report has been prepared after an extensive primary and secondary research. Primary research involves bulk of research efforts, wherein analysts carry out interviews with industry leaders and opinion makers. Extensive secondary research involves referring to key players' product literature, annual reports, press releases, and relevant documents to understand the global C-arms market.
Secondary research also includes Internet sources, statistical data from government agencies, websites, and trade associations. Analysts have employed a combination of top-down and bottom-up approaches to study various phenomenon in the global C-arms market.
The report includes an elaborate executive summary, along with a snapshot of the growth behavior of various segments included in the scope of the study. Furthermore, the report sheds light on changing competitive dynamics in the global C-arms market. These indices serve as valuable tools for existing market players as well as for entities interested in entering the global C-arms market.
The report delves into the competitive landscape of the global C-arms market. Key players operating in the global C-arms market have been identified, and each one of these has been profiled for distinguishing business attributes. Company overview, financial standings, recent developments, and SWOT are some of the attributes of players in the global C-arms market that have been profiled in this report.
Key Questions Answered in Global C-arms Market Report
What is the scope of growth of companies in the global C-arms market?
What will be the Y-o-Y growth of the global C-arms market between 2019 and 2027?
What is the influence of changing trends in technologies on the global C-arms market?
Will North America continue to be the most profitable market for C-arms providers?
Which factors will hamper the growth of the global C-arms market during the forecast period?
Which are the leading companies in the global C-arms market?
Research Methodology
A unique research methodology has been utilized by TMR to conduct a comprehensive study on the growth of the global C-arms market and arrive at conclusions on its future prospects. This research methodology is a combination of primary and secondary research, which helps analysts warrant the accuracy and reliability of the drawn conclusions.
Secondary sources referred to by analysts during the production of the global C-arms market report include statistics from company annual reports, SEC filings, company websites, World Bank database, investor presentations, regulatory databases, government publications, and industry white papers. Analysts have also interviewed senior managers, product portfolio managers, CEOs, VPs, and market intelligence managers, who have contributed to the production of TMR's study on the global C-arms market as primary sources.
These primary and secondary sources have provided exclusive information during interviews, which serves as a validation from the C-arms market leaders. Access to extensive internal repository and external proprietary databases allows this report to address specific details and questions about the global C-arms market with accuracy. The study also uses the top-down approach to assess the numbers for each segment and the bottom-up approach to counter-validate them. This has helped in reaching TMR's estimates on future prospects of the global C-arms market more reliably and accurately.
Global C-arms Market - Segmentation
Product

Fixed C-arms

Mobile C-arms

Full-size Mobile C-arms
Mini C-arms

Technology

2D Imaging

Technology

3D Imaging Technology

Detector

Image Intensifier

Flat Panel Detector

End User

Hospitals & Clinics

Ambulatory Surgical Centers

Others

Application

Ortho/trauma/spine Surgeries

Vascular Surgeries

Cardiac Surgeries

Urologic Procedures

Gastroenterology

Other Surgeries

Region

North America

Europe

Asia Pacific

Latin America

Middle East & Africa
Custom Market Research Services
TMR offers custom market research services that help clients to get information on their business scenario required where syndicated solutions are not enough.
REQUEST CUSTOMIZATION