Hygiene Packaging Market
Hygiene Packaging Market (Product: Paper [At Home and Away from Home] and Films [Microporous and Non-porous]; and End Use Application: Hygiene Paper [Toilet Roll, Kitchen Roll, Folded Tissues, and Napkins] and Hygiene Films [Diapers, Sanitary Napkins, Surgical Clothing, and Tapes & Laminates]) - Global Industry Analysis, Size, Share, Growth, Trends, and Forecast, 2020-2028
Packaging
TMRGL52890
2021-01-20
200

Pages
Essential Products Open Up Avenues for Hygiene Packaging during COVID-19 Crisis
The packaging industry has witnessed a high volume growth during the coronavirus crisis. Better earning with the beginning of 2021 is anticipated to create value grab opportunities for companies in the hygiene packaging market, due to rising consumption of packed products. Companies such as Essel Propack, Cosmo Films, and Uflex are capitalizing on this opportunity to introduce hygiene packaging for liquid hand washes, sanitizers, and foods.
Manufacturers in the hygiene packaging market are increasing the availability of flexible packaging solutions, due to hazards associated with non-packaged products. A multifold increase in demand for personal hygiene products is anticipated to create stable and long-term revenue streams for manufacturers. Essential items such as edible oils, flour, and rice have opened up avenues for hygiene packaging. As such, single use food packaging is also on the rise.
Moreover, people are demanding antibacterial hygiene packaging products for fulfilling greater life expectancy. As per TMR findings, the global tissue paper and hygiene films consumption is expected to increase rapidly by 20-25% post pandemic situation. This can be attributed to changing hygienic understanding among consumers and reducing risk of infection during pandemic. However, every industry, including packaging, has witnessed the impact of the pandemic. From raw material supply delay to lockdown across various geographic locations, the industry is facing several challenges of elevated costs, pressure on prices, labor issues, and operational challenges.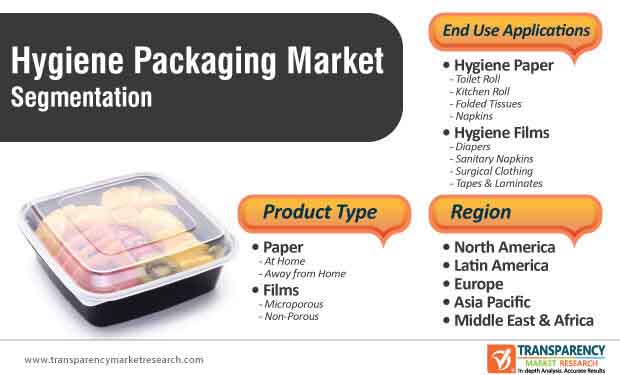 Request a sample to get extensive insights into the Hygiene Packaging Market
Can Plastic be Entirely Omitted from Hygiene Food Packaging?
Plastic packaging delivers economic benefits companies in the hygiene packaging market. Plastic is associated with resource efficiency, since it increases the shelf life of food products, decreases food wastage, and its low weight attributes significantly cut down on fuel consumption during goods transportation. However, plastic is infamous for causing long-term environmental damages and leads to issues of decomposition. Hence, manufacturers in the hygiene packaging market are investigating composite materials such as paperboard combined with a small amount of plastic to minimize climate impact as compared to conventional all-plastic packaging.
In the area of food packaging, companies are replacing plastic trays with renewable paperboard as an easy alternative to plastic. As such, plastic is being linked to high hygiene requirements. Hence, companies are designing packaging trays with paperboard made from wood fibers and plastic barrier layer to meet hygiene packaging requirements.
To understand how our report can bring difference to your business strategy, Ask for a brochure
Brands Adopting Anti-microbial Packaging Drive Enormous Progress in Purchase of Products
The onset of the COVID-19 pandemic has drawn increased emphasis on hygiene packaging. Manufacturers are increasing their production capabilities in anti-microbial materials, tamper evident packaging, and use of ultraviolet light to comply with new packaging standards. Anti-microbial materials consisting of anti-microbial coating on plastic is gaining popularity as a cutting-edge development to kill bacteria by making the surface inhospitable. Companies in the hygiene packaging market are incorporating anti-microbial additives in a variety of material forms to meet requirements of consumers.
Manufacturers in the hygiene packaging market are entering into strategic agreements with material suppliers to increase the availability of anti-microbial coating solutions. These coating solutions are being made compatible with various paints, textiles, and plastics to make hygiene packaging easy and hassle-free. Brands adopting anti-microbial packaging solutions are sure to witness enormous progress in the purchasing of food and other products.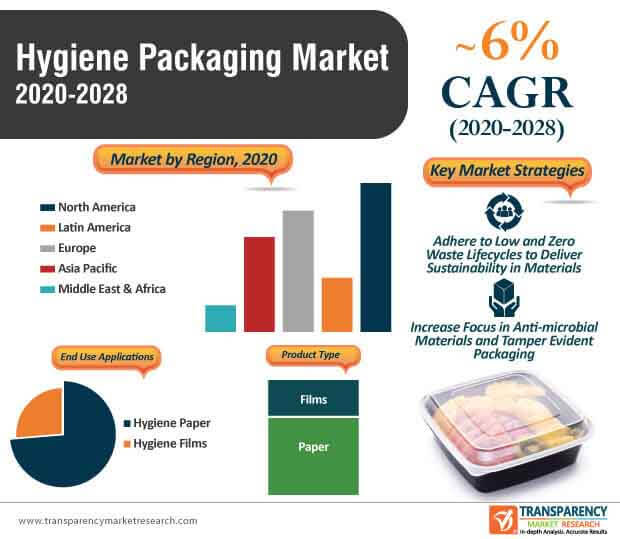 Stuck in a neck-to-neck competition with other brands? Request a custom report on Hygiene Packaging Market
Mobile Apps Educate Consumers about Recyclable, Hygienic Beauty Products Packaging
Apart from food and pharmaceutical products, companies in the hygiene packaging market are tapping value grab opportunities in cosmetic product applications. Manufacturers are taking giant strides in the area of sustainability, hygiene, and visual aesthetics for cosmetic products packaging in order to increase brand visibility and boost its credibility credentials. Innovative packaging in the beauty industry is considered as the Holy Grail for successfully marketing products. Brands are focusing on improving the Instagram-able appeal for their products to boost sales.
Sustainable and hygienic packaging is found to top the list of innovative packaging for beauty products. Low and zero waste lifecycles have become a fast-growing phenomena in the hygiene packaging market. Manufacturers are investigating eco-friendly alternatives in hygiene packaging to meet sustainability demands of consumers. Beauty brands such as Roberts Beauty and Knoll Printing and Packaging are gaining market recognition for their inclination toward sustainable packaging solutions, while abiding with hygiene requirements. Brands are innovating in mobile apps and other digital information outlets to educate customers about recycling of product packaging.
Analysts' Viewpoint
The coronavirus pandemic has drawn increased emphasis on tamper evident packaging to help consumers overcome the fear of infection spread. Plastic is associated with resource efficiency, owing to its lightweight attributes during transportation and reduction in food wastage. However, sustainability requirements continue to evolve, due to new legal regulations on plastics. Hence, companies in the hygiene packaging market should offer smart packaging solutions to replace or minimize the use of plastic in packaging applications. This involves the use of renewable materials and new material developments involving paperboard and wood fibers to comply with sustainability regulations. Thus, sustainable, recyclable, and hygienic packaging solutions are creating a momentum for the better future in terms of climate change.
Hygiene Packaging Market: Overview
According to Transparency Market Research's latest report on the global hygiene packaging market for the forecast period of 2020-2028, the market is estimated to grow, owing to the demand from food & beverages, pharmaceutical, and personal care industries
The global hygiene packaging market is expected to clock a high growth rate during the forecast period. Practice of personal hygiene is likely to increase the sales of hygiene packaging in the years to come.
Increase in Percentage of Older Population Propelling Demand for Tissue Papers
The growing population results in significant demand for hygiene and healthcare products thus, creating new driving the demand for tissue papers. An aging population is increasing the demand for incontinence and healthcare products, both in mature and emerging markets. For instance, the occurrence of incontinence among people over the age of 65 is estimated to be 15% to 20%. The population growth is directly linked to tissue consumption. Tissue consumption increases by the same percentage as that of population. With the growing population, the total hygiene paper and films consumption in North America has grown from 9 million tons in 2018 to 10 million tons in 2020, with the prominent growth rate.
It is also witnessed that consumers in North America are consuming tissue papers almost three times than that of European people. America has more demand for toilet tissue papers than any other population in the world, with tissue sector valuing ~US$ 31 Bn every year. The sales of toilet tissue papers continue to grow in terms of value and volume by 2% to 3% per year.
Due to the growing population in Asia, Latin America, and Africa, many key players such as Essity, Sofidel, etc. are planning to expand its business in these regions
Initiatives Taken by Governments to Increase Awareness about Health and Hygiene Fueling Demand for Hygiene Products
Rapidly increasing population and rising awareness regarding health and personal hygiene are creating opportunities for manufacturers operating in the global tissue and hygiene products sector, which manufactures napkins, towels, wipes, kitchen towels, bath and toilet tissues, baby diapers, adult incontinence products, feminine care products, etc. These are directly driving the market for elastic laminates. The demand for hygiene products in developing economies is continuously rising. There are tremendous opportunities for companies to conquer the Asian market, in view of the fact that the purchasing power of the people is increasing, along with rising awareness regarding personal hygiene. Aggressive promotions, rising education levels, and various initiatives taken by governments and NGO entities have led to rise in the demand for diapers and feminine care products, resulting in the growth of global hygiene packaging market.
Adoption of Hygiene Packaging Rules across Packaging Industry to Avoid Infection Spread is Drive Hygiene Packaging Market
Nowadays, most manufacturers are being aware of the negative impact of various faulty packaging in their businesses. Malfunctioning processes of packaging and numerous mistakes in the supply chain affect chemical and physical integrity and quality of their manufactured products. Hence, they are driven to provide safe products to consumers and the society. Various stringent industry rules & regulations and changing end user demands are pushing manufacturers to rectify their production processes.
Key players in the packaging industry are expected to innovate in development of hygienic packets. Most manufacturers are primarily focusing on inventing cost-effective and high-quality components for hygiene packaging to increase sales of products, which is anticipated to drive the hygiene packaging market during the forecast period.
Antibacterial Packaging Materials to Boost Production of Hygiene Packaging
Packaging development that may spearhead coronavirus is antibacterial material. This kind of packaging may allow customers to pick up products fearlessly that others may have touched. For retailers, it would eliminate the need to disinfect or wipe down stuffs repeatedly. Antibacterial materials are already being used on various objects (such as payment cards) and scientists are exploring more in plastic packaging. Thus, these components will bring a change to the packaging industry for healthy, safe, and secure sales process.
Hygiene Packaging Market: Key Findings
The global hygiene packaging market is estimated to increase with the growth rate of 4% during the forecast period. This growth can be attributed to the increase in demand for hygiene-based products such as tissue papers, diapers, and feminine products, especially required during travelling.
Hygiene papers are expected to hold nearly 4/5th value share of the global market. Amid the COVID-19 pandemic situation, consumer inclination toward healthy habits and maintaining hygienic lifestyle are contributing to amplify sales of hygiene papers.
Based on product type, the films segment is anticipated to increase by 1.7 times of current market value in the upcoming eight years. Increasing demand for breathable films is expected to create exponential growth opportunities for this segment during the forecast period.
Due to the presence of advanced technology-based hygiene packaging industries, North America is anticipated to remain at the leading position during the forecast period of 2020-2028. However, this market is expected to witness a loss of 210 bps of current market share, by the end of 2028.
Due to increasing awareness about hygiene maintenance amid COVID-19, the Asia Pacific hygiene packaging market is projected to create lucrative opportunities of US$ 8 Bn during 2020-2028 for key players. Therefore, multifold investments by international players in this region was witnessed in the past year.
Hygiene Packaging Market: Competition Landscape
TMR analyzed that the global hygiene packaging market is highly competitive, owing to a large number of local players in the market. This competition among key players is carefully studied based on developments, strategies, and segmental revenue of companies.
TMR Group outlines key players in the latest hygiene packaging market study, which includes

Amcor Limited
Essity Aktiebolag (publ)
SOFIDEL Group
Georgia-Pacific LLC
Kimberly-Clark Corporation
Amerplast Ltd.
Kris Flexipacks Pvt Ltd
Wepa Hygieneprodukte GmbH
Procter & Gamble Company
Krugar Products L.P.

TMR distinguished these hygiene packaging market players as per their segmental earnings into different tier slabs. These key players are estimated to hold nearly 20-25% share of the global market.
Hygiene Packaging Market – Scope of the Report
Transparency Market Research (TMR) started a new study on the global hygiene packaging market providing forecast for the period of 2020-2028. In the study, growth opportunity for the hygiene packaging market is witnessed. The report provides valuable insights, which enable readers to make winning business decisions for future growth of their businesses. The report highlights significant factors that are constantly determining the expansion of the hygiene packaging market, untapped opportunities for manufacturers, trends and developments, and other insights across various key segments. Macroeconomic factors that are directly or indirectly affecting market growth are also incorporated in the report.
Key Questions Answered in TMR's Hygiene Packaging Market Report
What will be the impact of COVID-19 on hygiene packaging market?
Which end use will be the most lucrative for hygiene packaging?
What will be market size for hygiene packaging by the end of 2028?
Which is the most preferred thickness for hygiene packaging in the global market?
Which region will remain most lucrative for market growth?
Which are the top five countries of hygiene packaging market?
Which material holds maximum share of the global hygiene packaging market?
Who are major key players in the hygiene packaging market?
Key indicators associated with the hygiene packaging market have been calculated thoroughly in the report. The study enumerates vital market dynamics such as key drivers, challenges, and trends, along with opportunities in the global hygiene packaging market. A comprehensive study on the value chain, which includes component suppliers, manufacturers, distributors, and end users have been incorporated in the global market report. Other key aspects laid down in the market include pricing strategy of leading market players and comparative analysis of hygiene packaging. Furthermore, forecast factors and forecast scenarios of the hygiene packaging market have been covered in the report to understand future prospects of the market.
A comprehensive evaluation and forecast on the hygiene packaging market are provided on the basis of product type, end use application, and region.
Y-o-Y growth comparison, volume and revenue comparison, and market share comparison of various market segments are provided in the report. The hygiene packaging market is analyzed at both regional and country levels.
The report delivers an exhaustive assessment on the structure of the hygiene packaging market in tandem with a dashboard view of all leading company profiles in the report. Every company's share analysis has also been presented in the report, apart from the footprint matrix of profiled market players. The report depicts the presence of hygiene packaging manufacturers by leveraging an intensity map. It also highlights key end users for hygiene packaging.
The report includes company overview of key players. Some of the key companies profiled in the hygiene packaging market report include Amcor Limited, Essity Aktiebolag (publ), SOFIDEL Group, Georgia-Pacific LLC, Kimberly-Clark Corporation, Amerplast Ltd., Kris Flexipacks Pvt Ltd, Wepa Hygieneprodukte GmbH, Procter & Gamble Company, and Krugar Products L.P.
Research Methodology
A realistic methodology, along with a holistic approach makes the base for sharp insights, which are provided in the hygiene packaging market for the study evaluation period. The TMR report comprises of detailed information on growth prospects, along with riveting insights into the forecast assessment of the market.
Extensive primary and secondary researches have been employed to garner keen insights into the forecast study of the hygiene packaging market. The report has further undergone a cross-validation by in-house professionals to make the hygiene packaging market report one-of-its-kind with the highest credibility.
Hygiene Packaging Market – Segmentation
The global hygiene packaging market has been bifurcated on the basis of product type, end use application, and region. Each of these segments are analyzed to provide readers with holistic view of the market.
Product Type

End Use Application

Hygiene Paper

Toilet Roll
Kitchen Roll
Folded Tissues
Napkins

Hygiene Films

Diapers
Sanitary Napkins
Surgical Clothing
Tapes & Laminates

Region

North America
Latin America
Europe
Asia Pacific (APAC)
Middle East & Africa (MEA)
Custom Market Research Services
TMR offers custom market research services that help clients to get information on their business scenario required where syndicated solutions are not enough.
REQUEST CUSTOMIZATION