Atipamezole Market
Atipamezole Market (Application: Anti-sedative and Antitoxic [Off-label Use]; Route of Administration: Intramuscular, Intravenous, and Others; Animal Type: Dogs, Cats, and Others; and Distribution Channel: Veterinary Hospitals, Retail Pharmacies, and Online Pharmacies) - Industry Analysis, Size, Share, Growth, Trends, and Forecast, 2020 - 2030
Pharmaceutical
TMRGL77542
2020-06-10
190

Pages
High Preference for Injection Solutions to Minimize Sedative Effects of Medetomidine
Products that reduce sedative effects of medetomidine and dexmedetomidine are gauging high demand in the atipamezole market. Hence, companies are increasing their production capabilities to produce atipamezole products. For instance, Vetpharma-a part of the pharmaceutical ingredients company, Insud Pharma, is increasing its product portfolio in animal healthcare solutions by increasing the availability of Nosedorm, an effective atipamezole hydrochloride medicine. Such product innovations are bolstering the revenue of the atipamezole market, which is expected to reach ~US$ 70 Mn by the end of 2030.
There is a growing demand for atipamezole drugs that facilitate swift reversal of sedatives. Apart from veterinary hospitals, pharmaceutical companies in the atipamezole market are tapping into incremental opportunities by strengthening their distribution networks with online pharmacies. Atipamezole solutions for injection are being highly preferred in dogs and cats. However, pet owners and veterinarians need to follow special precautions while using atipamezole medicines in animals.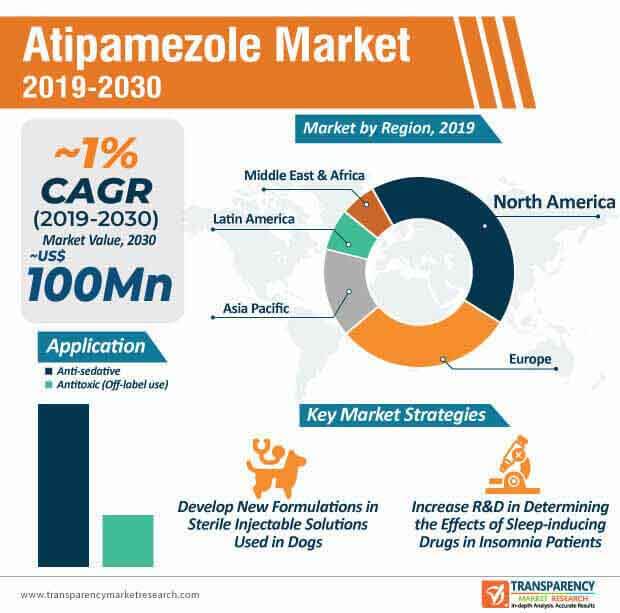 To know the scope of our report Get a Sample on Atipamezole Market
Reduced Hospitalization Costs and In-clinic Stays Fueling Demand for Atipamezole Solutions
Increasing customer spending toward the ownership and adoption of pets is one of the key drivers that is catalyzing growth of the atipamezole market. Atipamezole hydrochloride sterile injectable solutions are creating revenue streams for pharmaceutical companies. The growing demand for dexmedetomidine and medetomidine reversing agents has fueled innovations in atipamezole drugs. Companies in the atipamezole market are increasing their R&D muscle for the production of anti-sedation agents. They are increasing awareness about safety data sheets to establish appropriate usage of atipamezole medicines in veterinary settings. For instance, Zoetis Services LLC- a global leader in animal healthcare solutions, is educating veterinary doctors about recommended uses and restrictions of ANTISEDAN®, a atipamezole hydrochloride injectable solution meant for only animal use.
Advantageous benefits of atipamezole such as shortening of in-clinic stays and reduced hospitalization costs are generating value-grab opportunities for companies in the atipamezole market. Safe and reliable reverse of dexmedetomidine hydrochloride has become increasingly important in veterinary systems. Hence, manufacturers are increasing their research efforts to develop improved formulations of atipamezole solutions.
Atipamezole Being Used to Study Effects of Sleep-inducing Substances in Humans
Apart from animal applications, atipamezole is being used to study the effects of sleep-inducing drugs in humans, due to the high prevalence of insomnia in adults. It has been found that atipamezole offsets the effectiveness of chlorpromazine and brotizolam. Hence, pharmaceutical companies in the atipamezole market are increasing their clinical trials in mice to validate the efficacy of atipamezole in humans.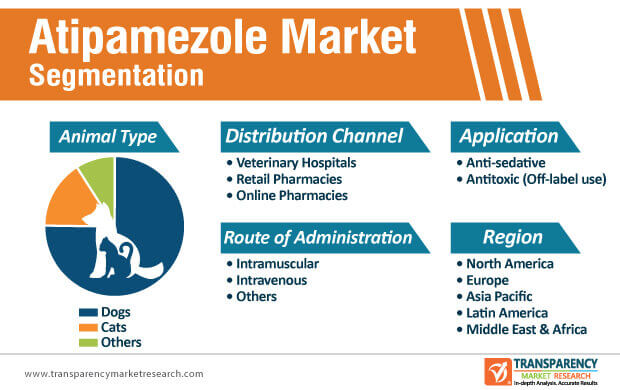 Get a glimpse of the in-depth analysis through our Report Brochure
Since chlorpromazine and brotizolam result in delayed recovery from different types of anesthesia, atipamezole medicines hold promising potentials in rapid recovery from anesthesia. As such, adults are susceptible of developing at least one symptom of insomnia during various stages of their lifetime.
Awareness about Special Precautions Help Enhance Clinical Outcomes in Animals
Though atipamezole is considered as a reliable anti-sedation agent, complications such as hypersensitivity toward atipamezole in cats and dogs is a major concern for pharmaceutical companies. This explains the CAGR of ~1% of the atipamezole market. Moreover, atipamezole has been prohibited for use in breeding animals. Hence, companies in the atipamezole market are educating pet owners and veterinarians about special precautions and potential adverse effects of atipamezole in order to enhance clinical outcomes.
Pharmaceutical companies are focusing on increasing the application of atipamezole in animals that are given injectable anesthetics. Though inhalational anesthetics are an alternative to injectable anesthetics, the latter is useful when a large number of animals need to be anesthetized. In such cases, atipamezole is found to have a high efficacy in rapidly reversing the effects of anesthetics. This trend is peculiar in the combination of medetomidine, midazolam, and butorphanol (MMB) anesthetics for animals.
High Tolerance of Atipamezole in Healthy Dogs Boosts Product Uptake
Atipamezole hydrochloride is being highly publicized as a sterile injectable solution for intramuscular use in dogs. This is evident since the revenue of intramuscular route of administration is projected for exponential growth in the atipamezole market. As such, veterinarian doctors are taking extra precautions to determine the appropriate injection volume to reduce the incidence of adverse effects in animals. Companies in the atipamezole market are increasing awareness about contraindications in order to enhance clinical numbers in veterinary hospitals. As such, the revenue of veterinary hospitals is predicted for aggressive growth in the atipamezole market.
The demand for atipamezole medications is anticipated to gain steady growth, since the efficacious drug is well tolerated in healthy dogs. Quick reversal of sedatives after atipamezole dosage frees up veterinarian and staff, resulting in increased productivity levels in clinical settings. Thus, effective animal care is restoring the faith of pet owners. Efficacious atipamezole medications help to avoid the hassles associated with return trips to veterinary clinics.
Growing Need for Animal Care amidst COVID-19 Pandemic Fuels Demand for Atipamezole
The novel coronavirus (COVID-19) has caused a global economic slowdown. COVID-19 has exposed the vulnerability of healthcare systems and veterinary hospitals. Scarcity in resources for human treatment has caused a negative impact in the animal healthcare domain. Hence, companies in the atipamezole market are increasing their efforts to maximize their production capabilities to manufacture anti-sedative drugs for animals. However, logistics and transportation regulations pertaining to raw material supply due to lockdown scenarios pose a challenge for companies in the atipamezole market. As such, partial and complete lifting of lockdown in various countries of Asia Pacific has helped pharmaceutical companies to resume production activities.
Expanding operations in future? To get the perfect launch ask for a custom report
Analysts' Viewpoint
Since pet owners are finding it difficult to receive quality animal healthcare services amidst the COVID-19 pandemic, companies are increasing efforts to stabilize the situation by producing atipamezole medications to avoid supply shocks in veterinary clinics. The demand for sterile injectable solutions is gauging a steady growth in the atipamezole market.

Atipamezole is acquiring prominence in undergraduate pharmacology training programs to assess its effectiveness against MMB in insomnia patients. However, there is a need for further studies to classify the potentials of atipamezole in sleep-inducing drugs for insomnia patients. Hence, companies should increase their focus in isoflurane inhalation to innovate in new atipamezole medications.
Atipamezole Market: Overview
According to Transparency Market Research's latest report on the global atipamezole market for the historical period 2018–2019 and forecast period 2020–20230, increase in healthcare expenditure on animals boosts the global atipamezole market
Atipamezole is a veterinary medicine primarily utilized to reverse the sedative and analgesic effects. Additionally, it is used as an antidote for various toxicities in dogs. Atipamezole received license in the U.S. for intramuscular use in dogs. However, it is used off-label in cats and other animals such as horses and cows, rabbit, etc.
Increase in Awareness about Veterinary Care to Drive Atipamezole Market
Awareness about animal disease, their symptoms, and medication is most important for pet or livestock owners. Several animal health awareness programs have been conducted to increase awareness among people. For instance, the Agriculture and Animal Health Awareness Programme was organized at Panchot GP, Gujarat, India, to raise awareness among people regarding animal healthcare and generate employment, and to take care of animal health. Government and private sector organizations are engaged in spreading awareness about the importance of animal care. For instance, The American Animal Hospital Association is a non-profit organization for companion animal veterinary hospitals. It is an accrediting body for small animal hospitals in the U.S. and Canada. Increase in awareness about veterinary health is anticipated to drive the atipamezole market.
Increase in Pet Ownership and Pet Adoption to Propel Atipamezole Market
Since ancient times, pets, particularly dogs, have found favor as a companion across the world. Pets have evolved from being a strange and wonderful distraction to an integral part of families all over the world. For instance, according to a survey conducted by American Pet Products Association (APPA), in 2018, the U.S. had approximately 90 million pet dogs.
Per owners are increasingly treating their cats, dogs, and small mammals like family members. Thus, the number of pet owners and pet adoption is increasing. This, in turn, is estimated to boost the atipamezole market.
Stringent Government Regulations to Hamper Atipamezole Market
New animal drugs are approved on the basis of safety and efficacy regulations; however, stringent regulations enacted by governments may hamper industry players. Furthermore, new and more stringent regulations indirectly or directly impact the usage of products. The animal health business is affected by several factors including regulatory and legislative issues.
Hence, stringent government regulations associated with safety and efficacy are likely to hamper the atipamezole market
Atipamezole Market: Competition Landscape
This report profiles major players operating in the global atipamezole market based on various attributes and recent developments
The global atipamezole market is highly fragmented, with the presence of numerous international as well as regional players
Leading players operating in the global atipamezole market include

Zoetis Services LLC
Merck & Co., Inc. (Merck Sharp & Dohme Corp)
Modern Veterinary Therapeutics
Orion Corporation
Jurox Pty Limited
Vetoquinol UK Limited
Chanelle Pharma Group
Forte Healthcare Ltd
Troy Laboratories Pty Ltd
Atipamezole Market: Key Developments
Key players in the global atipamezole market are engaged in regulatory approvals, technologically advanced products, launch of new products, and acquisition & collaborative agreements with other companies. These strategies are aimed at addressing unmet needs in the atipamezole market, strengthening the product portfolio, and investing in research & development. A few expansion strategies adopted by players operating in the global atipamezole market are:

In October 2019, Zoetis Services LLC entered into agreement with Texas A&M University's Health Science Center for Innovation in Advanced Development and Manufacturing (CIADM) to establish research facilities
In February 2019, the U.S. Food and drug Administration approved Modern Veterinary Therapeutics' product REVERTIDINE
In March 2017, Merck & Co., Inc. acquired Vallée S.A. This strengthened the comprehensive portfolio of animal health products for the market in Brazil.

The report on the global atipamezole market discussed individual strategies, followed by company profiles of manufacturers of atipamezole. The competition landscape section has been included in the report to provide readers with a dashboard view and a company market share analysis of key players operating in the global atipamezole market.
Atipamezole Market – Scope of the Report
TMR's report on the global atipamezole market studies past as well as current growth trends and opportunities to gain valuable insights of these indicators of the market during the forecast period from 2020 to 2030. The report provides revenue of the global atipamezole market for the period 2018-2030, considering 2019 as the base year and 2030 as the forecast year. The report also provides the compound annual growth rate (CAGR) for the global atipamezole market during the forecast period.
The report has been prepared after primary and secondary researches. Primary research involved bulk of research efforts, wherein analysts carried out interviews with industry leaders and opinion makers. Extensive secondary research involved referring to key players' product literature, annual reports, press releases, and relevant documents to understand the global atipamezole market.
Secondary research also included Internet sources, statistical data from government agencies, websites, company presentations, sales data, and trade associations. Analysts employed a combination of top-down and bottom-up approaches to study various phenomenon in the global atipamezole market.
The report includes an elaborate executive summary, along with a snapshot of the growth behavior of various segments included in the scope of the study. Furthermore, the report sheds light on the changing competitive dynamics in the global atipamezole market. These indices serve as valuable tools for existing market players as well as for entities interested in entering the global atipamezole market.
The report delves into the competition landscape of the global atipamezole market. Key players operating in the global atipamezole market have been identified, and each one of these has been profiled for distinguishing business attributes. Company overview, financial standings, recent developments, and SWOT are some of the attributes of players in the global atipamezole market that have been profiled in this report.
Key Questions Answered in Atipamezole Market Report
What is the scope of growth for product companies in the global atipamezole market?
What will be the Y-o-Y growth of the global atipamezole market between 2020 and 2030?
What is the influence of changing trends in technologies on the global atipamezole market?
Will North America continue to be the most profitable market for atipamezole?
Which factors are anticipated to hamper the growth of the global atipamezole market during the forecast period?
Which are the leading companies in the global atipamezole market?
Research Methodology
A unique methodology has been utilized by TMR to conduct comprehensive research on the growth of the global atipamezole market and arrive at conclusions on its growth prospects. This research methodology is a combination of primary and secondary research, which helps analysts warrant the accuracy and reliability of the drawn conclusions.
Secondary research sources referred to by analysts during the production of the global atipamezole market report include statistics from company annual reports, SEC filings, company websites, investor presentations, regulatory databases, government publications, and industry white papers. Analysts have also interviewed senior managers, product portfolio managers, CEOs, VPs, and market intelligence managers, who contributed to the production of TMR's study on the atipamezole market as primary methods.
These primary research respondents have provided exclusive information during interviews, which serves as a validation from the atipamezole market leaders. Access to an extensive internal repository and external proprietary databases enabled this report to address specific details and questions about the global atipamezole market with accuracy. The study also uses the top-down approach to assess the revenues of each segment and the bottom-up approach to counter-validate them. This has helped in reaching TMR's estimates on future prospects of the global atipamezole more reliably and accurately.
Atipamezole Market – Segmentation
Application

Anti-sedative
Antitoxic (Off-label Use)

Route of Administration

Intramuscular
Intravenous
Others

Animal Type

Distribution Channel

Veterinary Hospitals
Retail Pharmacies
Online Pharmacies

Region

North America
Europe
Asia Pacific
Latin America
Middle East & Africa
Custom Market Research Services
TMR offers custom market research services that help clients to get information on their business scenario required where syndicated solutions are not enough.
REQUEST CUSTOMIZATION