Allulose Market
Allulose Market (Form: Liquid, Powder, and Crystals; and End Use: Food [Bakery Products, Confectionery, Dairy Products, Sweet Spreads, and Ice Creams and Desserts], Beverages [Carbonated Beverages, Fruit Drinks & Juice, and Powdered Drinks and Mixes], Pharmaceuticals, Food Service Providers, and Retail/Households [Store-based Retailing and Online Retailing]) - Global Industry Analysis, Size, Share, Growth, Trends, and Forecast, 2020 - 2030
Category :

Food & Beverages

Format :
Soaring Demand for Allulose Products from Health Conscious Consumers to Propel Allulose Market
At present, consumers are increasingly more conscious about health and wellness worldwide. The significant rise in the number of health-conscious consumers has played an imperative role in increasing the demand for low-calorie and low-sugar food ingredients and products. At the back of growing interest in low-calorie products, consumers are increasingly swaying toward the use of allulose. The demand for allulose is on the rise, as it has emerged as a promising alternative for natural sugar. In addition, several studies have also revealed that apart from containing around one-tenth of the total calories of that in sugar, consumers are leaning toward the use of allulose, as it does not cause dental decay and is relatively safer than sugar.
Although a broad range of artificial sweeteners has hit the market in the past couple of decades, consumer demand for allulose is on the rise, thus driving the allulose market. Consumer trends suggest a growing interest in science-based data and transparency from food and beverages manufacturers. The labeling guidance released by the Food and Drug Administration (FDA) has shown the green signal to the use of allulose as a substitute for specific sugars– a factor that is expected to propel the demand for allulose during the forecast period. At the back of these factors, the global allulose market is expected to attain a market value of ~US$ 450 Mn by the end of 2030.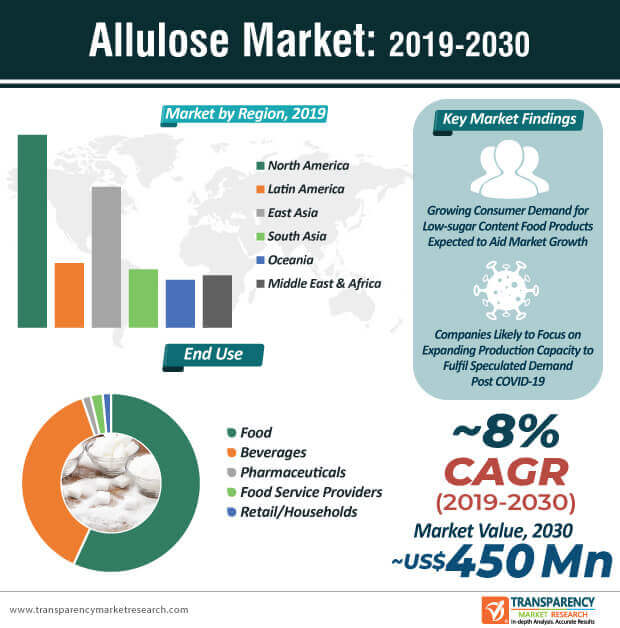 Request a sample to get extensive insights into the Allulose Market
Consumers Shy Away from Processed and Refined Food Products, Minimize Sugar Intake
Due to the growing awareness regarding drawbacks of high uptake of natural sugar, a range of sugar alternatives have gained popularity. Despite the higher price range compared to other sugar alternatives, allulose continues to gain popularity among health-conscious consumers. Current observable consumer trends suggest a major shift away from refined and processed food products. In addition, the high prevalence of diabetes across the world is another factor that has accelerated the pursuit of effective sugar alternatives due to which, the demand for allulose is anticipated to grow at a healthy pace in the forthcoming years. Over the next few years, research and activities within the allulose market are projected to gain momentum as dieticians and experts continue to advocate the potential of including allulose in health and weight management programs. Manufacturers operating in the current allulose market landscape are expected to comply with the labeling guidance released by the FDA.
To understand how our report can bring difference to your business strategy, Ask for a brochure
Companies Aim to Maximize Production, Gain FDA Approval
Companies operating in the allulose market are expected to rely on both, organic as well as inorganic growth strategies to gain a competitive edge. Product launches, FDA approval, research and development, and maximizing production capacity and efficiency are likely to remain a priority for market players. For instance, in November 2019, Ingredion announced the opening of a new allulose facility– a move that will enable the company to cater to the markets in Asia Pacific and the Americas. As companies continue to push for the Generally Recognized as Safe (GRAS) certification, particularly in the U.S., the production of allulose is likely to grow at a healthy pace over the next few years. Companies are also expected to focus on the commercialization of allulose sweetener. For instance, in September 2019, Blue California, announced that the company would scale up production of allulose and aims to attain the GRAS status for its allulose products.
Companies Turn to Contingency Strategies amidst COVID-19 Pandemic
The onset of the novel COVID-19 pandemic is expected to affect the growth of the global allulose market, particularly in 2020 and the first half of 2021. As governments across the world continue to combat the pandemic by imposing lockdowns, trade restrictions and disruption in the supply chain within the allulose market are expected to impact the expansion of the market in the next few months. Market players are likely to adopt to contingency strategies in the first half of 2020 to mitigate the impact of the COVID-19 pandemic. Moreover, in the current scenario, as consumers are highly in favor of purchasing only 'essential goods & services', the demand for allulose is expected to dip.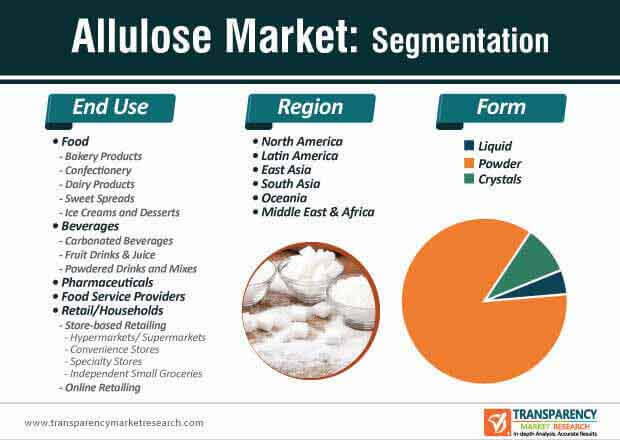 Stuck in a neck-to-neck competition with other brands? Request a custom report on Allulose Market
Analysts' Viewpoint
The global allulose market is expected to grow at an impressive CAGR of ~8% during the forecast period. Some of the leading factors that are likely to influence the market growth include high demand for low-calorie and low-carbohydrate food products, a rise in the number of health-conscious consumers, increase in the number of companies receiving the GRAS status for their allulose products, and research and development activities. Market players should focus on maximizing their production capacity in the upcoming years to cater to the growing demand for allulose worldwide. As more number of consumers are leaning toward the use of allulose, the allulose market is expected to grow at a healthy rate during the forecast period.
Allulose Market: Overview
The global allulose market value is estimated to reach ~US$ 210 Mn by the end of 2020, finds Transparency Market Research (TMR) in a recent study. According to the report, the allulose market is anticipated to reach ~US$ 450 Mn by 2030, at a CAGR of ~8%.
Increasing incidence of obesity, diabetes, and heart diseases has led to health awareness among consumers, who are now purchasing healthy food products with reduced amount of sugar, salt, fats, and calories. Scientific research addressing similar findings have assisted vegans for ethical grounds. Many studies indicate that excessive meat intake, especially red meat, can increase the risk of cardiovascular diseases. This, in turn, has encouraged the adoption of plant-based ingredients. Consumers who are health conscious are looking for plant-based ingredients that offer additional health benefits over synthetic ingredients. As the demand for plant-derived products increases, the allulose market is likely to gain traction.
The spread of COVID-19 has created concerns for allulose global and regional players. This is expected to result in economic slowdown for the next three to four years. In the convenience product segment, allulose does not have a large share due to which, the sale of allulose is expected to get impacted in the upcoming years.
Allulose: Market Frontrunners
Based on form, powder allulose is the leading segment in 2020 and accounts for approximately 87% of the market. Furthermore, the crystals allulose segment accounts for ~10% of the market in terms of value.
In terms of end use, the food segment is leading the allulose market with a share of ~55% and beverage segment accounts for a market share of ~37% in terms of value
North America leads the global allulose market followed by East Asia and Latin America. The North America market is expected to continue leading the global allulose market. By the end of 2030, it is expected to hold nearly ~53% of the overall market.
Allulose Market: Trends
Reducing the use of sugar is a rising trend in the food industry and allulose provides a convenient way to meet this demand. Most urban customers are reducing the consumption of refined sugar and processed foods, and businesses are realizing this. Natural-everything food trend is tapping into the sugar avoidance phenomenon, as customers want less sugar for healthier solutions. This trend is boosting ingredient industry innovations, and supporting growth of the allulose market.
The growing demand for functional food and convenience food is leading to the rise in demand for functional ingredients, such as allulose, which provides health benefits without compromising in the taste or sensory quality of food products. Growing urbanization, rising living standards, and increasing number of working professionals with hectic lifestyles have made consumers opt for healthy and convenient food options. The need for functional food is increasing as a meal replacement that tends to fulfil energy and dietary requirements of consumers.
Manufacturers should invest in new product development to offer innovative flavors. They should invest in research and development to come up with new flavors, ingredients, and texture, which can provide a new taste experience for consumers. In addition, they need to invest funds in identifying the emerging brands, products, and new market strategies. Besides this, manufacturers should acquire brands that have strong potential and opportunity to propel growth in the future. Hence, product development can create greater growth prospects for allulose manufacturers.
Increasing Consumer Preference for Natural Ingredients
Allulose is categorized as a 'rare sugar,' as it is naturally present in few foods, including figs, raisins, molasses, and maple syrup in limited quantities. Due to rising health issues faced by consumers, the demand for natural ingredients is growing. Furthermore, adverse health effects of consuming products containing artificial ingredients will spur shift in favor of allulose.
Allulose Market: Strategies
Key players operating in the global allulose market are focusing on acquisition, mergers, and joint ventures to increase business footprints globally as well as to strengthen the distribution channel
Multinational companies in the allulose market are focusing on acquiring small-scale companies to increase their product portfolio and production capacity
Most key players in the global allulose market are multinational players that are investing highly in the research and development
Target Region for Market
In terms of value, countries in North America are likely to represent the largest share in the market, and are expected to remain strong through the forecast period. The number of health-conscious consumers is increasing rapidly in the North America, due to which major players in North America are investing in research and development to produce innovative products in allulose. North America is expected to grow with CAGR 9.1% in the forecast period.
Allulose Market: Players
Key players operating in the allulose market, as profiled in the study, include

Matsutani Chemical Industry Co. Ltd
Tate & Lyle PLC
CJ Cheil Jedang
Bonumose LLC
Cargill Inc
Ingredion Incorporated
Samyang Corporation
Anderson Global Group
Allulose Market - Scope of the Report
Transparency Market Research (TMR) has recently published a market study on the allulose market. It provides a detailed assessment of key market dynamics, including drivers, trends, opportunities, and restraints, and detailed information about the allulose market structure. The market study presents exclusive information about how the allulose market will grow during the forecast period of 2020-2030.
Key indicators of market growth, which include year-on-year (Y-o-Y) growth of the market, value chain, supply chain analysis, and compounded annual growth rate (CAGR) are elaborated in the study in a comprehensive manner. This information is intended to help readers understand the quantitative growth prospects of the allulose market during the forecast period.
The study is intended to offer a holistic market overview to stakeholders in the allulose manufacturers, suppliers, distributors, and investors, and to help them develop winning growth strategies. Stakeholders in the allulose market, which include investors, industry experts, researchers, and journalists, and business researchers, can leverage the information and data presented in TMR's study.
The study also includes statistics and facts related to the macro as well as microeconomic factors that are impacting expansion of the market. It also offers actionable insights into the future trends in the allulose market. Furthermore, small businesses and new entrants in the allulose market can make use of the information presented in this study based on which, they can make appropriate business decisions in order to gain momentum in the market.
Key Questions Answered in TMR's Allulose Market Report
Which region will continue to remain the most profitable regional market for allulose market players?
Which factors will induce a change in the demand for allulose during the assessment period?
How will the changing trends impact the allulose market?
How can market players capitalize on the low-hanging opportunities in the allulose market in developed regions?
Which companies are leading the allulose market?
What are the winning strategies of stakeholders in the allulose market to catapult their position in the forefront?
Allulose Market: Research Methodology
In TMR's study, a unique research methodology is used to conduct extensive research on the growth of the allulose market and identify future growth parameters. This research methodology is a combination of primary and secondary research, to help analysts ensure the accuracy and reliability of the conclusions.
Secondary resources referred to by analysts for compiling the allulose market study include statistics from governmental organizations, trade journals, white papers, and internal and external proprietary databases. Analysts have interviewed senior managers, product portfolio managers, CEOs, VPs, marketing/product managers, and market intelligence managers, who contributed to the development of this report as a primary resource.
Information acquired from primary resources and secondary resources is compiled in a comprehensive manner. This also acts as a validation from companies in the allulose market, which makes TMR's projections more accurate and reliable.
Allulose Market – Segmentation
TMR studies the allulose market in terms of a few important segments. These are form, end use, and region. This report offers comprehensive data and information about the important market dynamics and growth parameters associated with these categories.
Form

End Use

Food

Bakery Products
Confectionery
Dairy Products
Sweet Spreads
Ice Creams and Desserts

Beverages

Carbonated Beverages
Fruit Drinks & Juice
Powdered Drinks and Mixes

Pharmaceuticals
Food Service Providers
Retail/Households
Store-based Retailing

Region

North America
Latin America
East Asia
South Asia
Oceania
MEA
Custom Market Research Services
TMR offers custom market research services that help clients to get information on their business scenario required where syndicated solutions are not enough.
REQUEST CUSTOMIZATION