Sweeteners Market
Sweeteners Market (Nature: Organic and Conventional; Product Type: Sucrose, Natural Sweeteners, Artificial Sweeteners, Novel Sweeteners, and Sugar Alcohol; Application: Food, Beverage, Pharmaceuticals, Personal Care, and Other Applications; Distribution Channel: Direct, Indirect, Hypermarkets/Supermarkets, Convenience Stores, Specialty Retail Stores, Traditional Grocery Retailers, Online Retailers, and Other Channels; Form: Powder, Liquid, and Crystals; and Category: High Intensity Sweetener and Low Intensity Sweetener) - Global Industry Analysis, Size, Share, Growth, Trends, and Forecast, 2020 - 2030
Category :

Food & Beverages

Format :
Demand for Natural and Healthier Food Alternatives to Augment Market
Consumer preferences continue to evolve at a rapid pace. At present, a tectonic shift toward healthier food products and alternatives can be observed within the food sector. As more number of consumers continue to walk down the wellness and health-conscious road, innovations within the food sector have accelerated over the past few years. Amidst the growing consumer affinity toward healthier food products and alternatives, the production of novel food products, including sweeteners is on the rise. Players operating in the global sweeteners market are projected to launch innovative artificial and natural sweeteners during the forecast period, as the adoption of sweeteners continue to grow across the world.
The paradigm shift toward a healthier lifestyle, along with continual research is some of the major factors that are likely to propel the growth of the sweeteners market during the assessment period. As consumer awareness pertaining to the functional properties of different ingredients, quality of food products, sourcing of ingredients and other key parameters continues to grow, the adoption of sweeteners is moving in the upward trajectory worldwide. In Europe and North America, the rising demand for natural food products has led to the production of plant-based sweeteners, which in turn is projected to boost the expansion of the global sweeteners market. At the back of these factors, the global sweeteners market is expected to attain a market value of ~US$ 731 Bn by the end of 2027.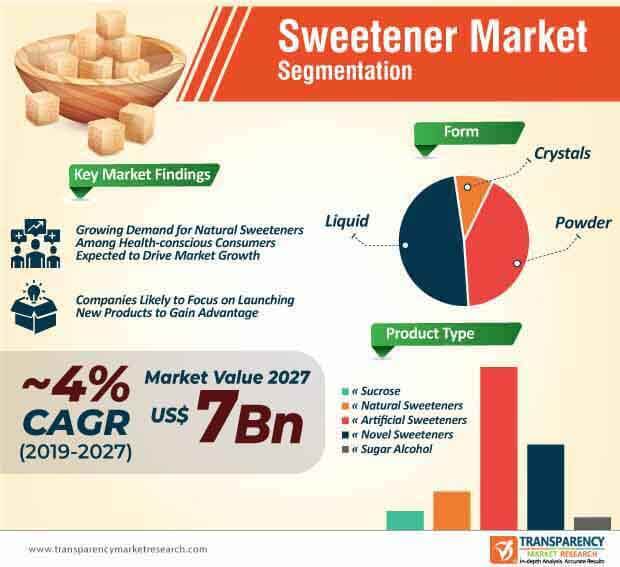 Request a sample to get extensive insights into the Sweeteners Market
Health-conscious Consumers to Influence Growth of Sweeteners Market
In the current day and age, consumer trends play an important role within the food & beverages sector. Technological advancements, innovations in food production, and access to information pertaining to multiple food products are some of the leading factors that have led to a steady rise in demand for novel food ingredients, including sweeteners. The health-conscious trend is set to continue during the forecast period, which in turn is likely to boost the demand for natural sweeteners. Within the sweeteners market, the demand for natural sweeteners is significantly higher than that of artificial sweeteners– predominantly driven by the growing affinity toward natural food products. Consumer demand for zero-added sugar, free-form sugar, and low-sugar products has played an important role in driving the sales of sweeteners across the world. Several companies operating in the current sweeteners market landscape are increasingly investing resources toward the development of innovative sweeteners that comply with regulations and guidelines laid down by the Food and Drug Administration (FDA).
Companies to Focus on Product Launches, Innovations to Fulfil Consumer Demand
In the past few years, consumer demand for natural food products has witnessed exponential growth due to which, the production of natural and plant-based sweeteners has gained momentum. Several brands are leveraging the advancements in the enzyme technology to launch innovative sweetener alternatives. Several companies are also anticipated to rely on enzyme engineering to enhance improve the production of sweeteners. For instance, biotech company e-LEcta announced that the company is set to enhance the production of zero-calorie plant-based sweetener by collaborating with sweetener manufacturers in the region. The company aims to leverage its enzyme engineering expertise to and produce large volumes of plant-based sweeteners to fulfill the mounting demand from beverage manufacturers.
To understand how our report can bring difference to your business strategy, Ask for a brochure
While expanding the production capacity of plant-based sweeteners is expected to gain traction in the upcoming years, several companies in the current market landscape are also projected to launch new sweetener products to gain an advantage. While formulating effective and impactful marketing strategies is estimated to remain an important parameter, several manufacturers are expected to expand their product portfolio to attract health-conscious consumers at a larger scale. For instance, in December 2019, PureCircle launched a new stevia leaf sweetener is increasingly making progress in the commercialization of stevia-based protein and fiber ingredients. The launch of the new product is primarily driven by the increasing demand for zero-added sugar and reduced-sugar products.
Companies to Address Supply Chain Challenges amidst Global Pandemic
As the novel COVID-19 pandemic situation continues to evolve at an alarming rate worldwide, the food & beverage sector is likely to face supply-chain challenges in upcoming months. Leading beverage brands, including Coca Cola has reported a delay in the supply of artificial sweeteners from China due to the onset of the novel COVID-19 pandemic. The supply of essential raw materials, including sucralose that is largely sourced from China and the U.S. has largely been affected due to the pandemic. However, major beverage companies are focusing on initiating contingency supply plans to mitigate short-term supply chain challenges. Although short-term supply chain challenges are expected to delay the production of sweeteners, market players are expected to formulate essential business continuity strategies to gain ground.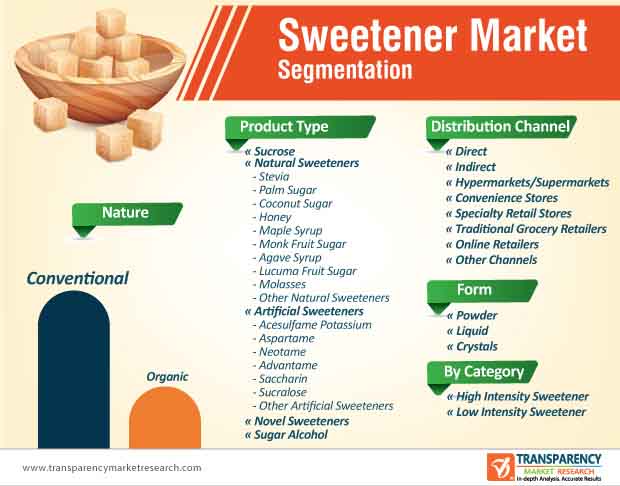 Stuck in a neck-to-neck competition with other brands? Request a custom report on Sweeteners Market
Analysts' Viewpoint
The global sweeteners market is expected to grow at a steady CAGR of 4% during the forecast period. The market growth is predominantly influenced by evolving consumer trends, shift toward healthier food alternatives, rise in demand for natural food products, and consumer affinity toward plant-based products. Market players should focus on expanding their product portfolio, formulate impactful marketing strategies, and becoming more transparent with consumers to boost sales. While supply chain challenges are projected to remain the primary area of focus amidst the COVID-19 pandemic, companies in the current market landscape should focus on product diversification and aim to sell their products on e-Commerce platforms.
Sweeteners Market: Overview
The global sweeteners market was valued at ~US$ 489 Bn in 2020, finds Transparency Market Research (TMR) in a recent study. According to the report, the market is anticipated to reach ~US$ 731 Bn by 2030, at a CAGR of 4%.
Research initiatives among manufacturers of developing regions such as Asia Pacific and the Middle East aimed at the development of new products are generating opportunities in the global sweeteners market. This is mainly due to the rising number of obese population coupled with awareness regarding obesity. In addition to this, focus on developing low calorie food products among manufacturers is creating growth prospects for the sweeteners market.
Sweeteners: Market Frontrunners
Organic sweeteners are witnessing high-volume demand in response to the increasing focus on good health and increasing incidents of food adulteration
Presently, Asia Pacific holds the largest share (over 30%) in the global sweeteners market. The increasing demand for organic products as a deeply fixed market trend meant at endorsing health and wellness is boosting the market in this region.
Asia Pacific will exhibit the highest CAGR at over 5.3% in the sweeteners market during the forecast period. The rising per capita income in emerging economies, particularly India and China is expected to create substantial growth opportunities for the sweeteners market in the near future. On the flip side, incidence of pandemic spreading across the region may restrain the market growth.
In terms of distribution channel, direct sales channel is likely to account for the largest share of about 70% in the market in 2020. Majority of sweetener producers' sales their products through B2B channel.
With e-Commerce giants such as Amazon, Walmart, and Target taking keen interest on online grocery delivery, the online retail segment will showcase the highest growth rate during the forecast period, in indirect sales channel
The spread of pandemic and infectious diseases can have a negative impact on food companies, including distribution networks, sourcing strategies, and pricing of commodity. This is likely despite the fact that sweeteners play an important role in the food & beverages industry and hold the largest market share in the overall food market.
Sweeteners Market: Trends
Manufacturers Focus on Innovation to Gain Competitive Advantage: Consumer preferences are never constant. They change over time. Inability to obtaining products as per their desire often makes consumers switch to other brands. Thus, manufacturers are feeling the urge to innovate their products according to the demands of the consumers. As a result of this, leading manufacturers are focusing on establishing R&D facilities that could cater to the changing demand of consumers. Research initiatives by leading manufacturers, sweeteners are now derived from various sources such as lucama fruit, novel sweeteners, monk fruit sugar, agave syrup, and several other are in research process.
Reduction of Sugar in All Processed Food & Beverages: Powerful market trends have continued to gather pace, such as the global fight to combat obesity and diabetes through sugar taxes and increased regulation. As per data released by the WHO, in 2016, the population of obese people reached 650 million which are increasing over the period of time. In addition, the number of diabetic patients is expected to reach 642 million by 2040. This factor led to generate more demand for sugar substitute at the global food & beverages industry. Hence, led to more trend of natural and organic sweeteners.
Rising Demand for Clean Label Products to Enable Growth: Nowadays consumers are demanding more transparency from food and beverage manufacturers about how ingredient are sourced and products are manufactured. Keeping this in mind, the manufacture are launching different products with clean label and natural ingredients. Ingredion, a top manufacturer of food and beverage products and ingredients, has launched clean label sweetener with the brand name ENLITEN derived from stevia. Thus, other key sweetener manufacturers are aiming to market their products as clean label and good for health.
Sweeteners Market: Strategies
Key players operating in the global sweeteners market are discovering new sources of sweeteners since customers often get attracted to new brands and their innovation in taste and quality
Sweeteners' manufactures are also investing in the development of their supply chain to increase the global footprint.

Tate and Lyle has launched a sustainability project that will examine the supply chain of one of its biggest brands. It will be conducting a research project with Sweet Green Fields and Earthwatch, who is its stevia partner, to assess the sustainability of its stevia sweetener supply chain. The project help to identify socio-economic benefits and sustainable growing practices are maximized as the stevia market remains to grow.
Target Region for Sweeteners Market
In terms of value, countries in Asia Pacific are likely to represent the largest share in the market by 2020 end and are expected to remain strong in the coming years as well. Whereas, it also expected to show the high growth over the forecast period compare to other regions. Latin America and Middle East & Africa is also expected show lucrative growth in sweeteners market.
Impact of COVID-19
As COVID-19 has been declared a global pandemic, its effect on societies, businesses, transportation, and living of the people. It resulted in change in people, which is an unmatched jump ever had in the past. Manufactures are taking several measures to proactively manage the effects of COVID-19. The impact on sweeteners manufacturing mainly lies in supply chain disruptions and struggle in recovering production due to lack of personnel mobility, the late return of labor force, and number of transportation restrictions.
Sweeteners Market: Players
The global sweeteners market is consolidated in nature where a few competitors hold majority of the shares. Some of the key players in the sweeteners market include GNC holdings inc., Tate & Lyle PLC, Associated British Foods Plc, Ingredion Incorporated,

Roquette Frères
Impala Imperial Sugar Company
Eden foods inc.
Health Connection Wholefoods
Futaste Co., Ltd.
Sigma Aldrich Pte. Ltd.
DuPont
Nestlé S.A.
JK Sucralose Inc
Cumberland Packing Corp.
Hermes Sweeteners Ltd.
Ajinomoto co. inc.
Merisant Worldwide Inc
Tereos SA
Cargill
Incorporated
Archer Daniels Midland Company
Sweeteners Market - Scope of the Report
Transparency Market Research (TMR) has recently published a market study on the sweeteners market. It provides a detailed assessment of key market dynamics, including the drivers, trends, opportunities & restraints, and detailed information about the sweeteners market structure. The market study presents exclusive information about how the sweeteners market will grow during the forecast period of 2020-2030
Key indicators of market growth, which include year-on-year (Y-o-Y) growth of the market, value chain, supply chain analysis, and compounded annual growth rate (CAGR) are elaborated in the study in a comprehensive manner. This information is intended to help readers understand the quantitative growth prospects of the sweeteners market during the forecast period.
The study is intended to offer a holistic market overview to stakeholders in the sweeteners, including manufacturers, suppliers, distributors, and investors, and to help them develop winning growth strategies. Stakeholders in the sweeteners market, which include investors, industry experts, researchers, and journalists, and business researchers, can leverage the information and data presented in TMR's study.
The study also includes statistics and facts related to the macro as well as microeconomic factors that are impacting expansion of the market. It also offers actionable insights into the future trends in the sweeteners market. Furthermore, small businesses and new entrants in the sweeteners market can make use of the information presented in this study, based on which, they can make appropriate business decisions in order to gain momentum in the market.
Key Questions Answered in TMR's Sweeteners Market Report
Which region will continue to remain the most profitable regional for sweeteners market players?
Which factors will induce a change in the demand for sweeteners during the assessment period?
How will the changing trends impact the sweeteners market?
How can market players capitalize on low-hanging opportunities in the sweeteners market in developed regions?
Which companies are leading the sweeteners market?
What are the winning strategies of stakeholders in the sweeteners market to catapult their position in the forefront?
Sweeteners Market: Research Methodology
In TMR's study, a unique research methodology is used to conduct extensive research on the growth of the sweeteners market and identify future growth parameters. This research methodology is a combination of primary and secondary research, to help analysts ensure the accuracy and reliability of the conclusions.
Secondary resources referred to by analysts for compiling the sweeteners market study include statistics from governmental organizations, trade journals, white papers, and internal and external proprietary databases. Analysts have interviewed senior managers, product portfolio managers, CEOs, VPs, marketing/product managers, and market intelligence managers, who contributed to the development of this report as a primary resource.
Information acquired from primary resources and secondary resources is compiled in a comprehensive manner. This also acts as a validation from companies in the sweeteners market, which makes TMR's projections more accurate and reliable.
Sweeteners Market – Segmentation
TMR's study on the sweeteners market offers information divided into important segments — nature, product type, application, sales channel, category, form, and region. This report offers comprehensive data and information about the important market dynamics and growth parameters associated with these categories.
Nature

Product Type

Sucrose
Natural Sweeteners

Stevia
Palm Sugar
Coconut Sugar
Honey
Maple Syrup
Monk Fruit Sugar
Agave Syrup
Lucuma Fruit Sugar
Molasses
Other Natural Sweeteners

Artificial Sweeteners

Acesulfame Potassium
Aspartame
Neotame
Advantame
Saccharin
Sucralose
Other Artificial Sweeteners

Distribution Channel

Direct
Indirect
Hypermarkets/Supermarkets
Convenience Stores
Specialty Retail Stores
Traditional Grocery Retailers
Online Retailers
Other Channels

Form

Category

High Intensity Sweetener
Low Intensity Sweetener

Region

North America
Latin America
Europe
APAC
MEA
Custom Market Research Services
TMR offers custom market research services that help clients to get information on their business scenario required where syndicated solutions are not enough.
REQUEST CUSTOMIZATION