Wood Pellets Market
Wood Pellets Market (Residential Heating: Commercial Heating, CHP [Combined Heat & Power], and Power Generation) - Global Industry Analysis, Size, Share, Growth, Trends, and Forecast, 2020-2030
Category :

Energy & Natural Resources

Format :
Canadian Companies Ensure Supply for Rail Networks amid COVID-19
Modifying shift schedules to reduce employee contact and suspension on international trade are among the many strategies adopted by companies in the global wood pellets market amid COVID-19 pandemic. This has affected business in Japan, since Canada accounts for more than 50% of the country's supply for wood pellets. As such, alternate revenue streams such as critical industries, including forest products, utilities, and energy are keeping economies running during the pandemic.
Canada is under great scrutiny during the pandemic, as it is responsible for exports to Europe and Asia to generate clean, renewable, and low-carbon electricity in power plants. Companies in the Canada wood pellets market are gaining recognition for maintaining robust supply chains for home heating applications in rural areas that lack accessibility for natural gas grid. They are working at breakneck speeds to keep Canada's national rail network and ports busy in times of reduced economic activity.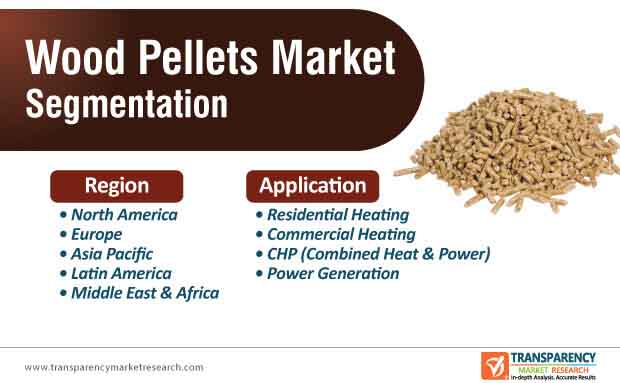 Request a sample to get extensive insights into the Wood Pellets Market
Long Term Supply Agreements Compel Stakeholders to Diversify Feedstock Sources
The wood pellets market is expected to advance at a robust CAGR of ~11% during the assessment period. The increasing number of pellet plants is heavily dependent on the use of sawmill residues as feedstock. However, lack of adequate residues for saw dust and shavings is posing as a challenge for manufacturers and suppliers. Hence, stakeholders are sourcing additional and alternative sorts of woody feedstock involving forest industrial round wood, bark, and wood chips from saw mills, among others, to boost the production of residential and industrial-grade pellets.
It has become imperative for stakeholders to diversify their feedstock sources, since an increasing number of pellet consumers in Europe and North America is procuring long-term supply agreements from suppliers.
To understand how our report can bring difference to your business strategy, Ask for a brochure
Biomass Boiler Grants Support Investment in Systems
Innovations in wood pellet boilers are acting as key drivers for stakeholders in the wood pellets market. The market is projected to reach the valuation of US$ 31 Bn by the end of 2030. Manufacturers are increasing the availability of self-cleaning systems in wood pellet boilers that require minimal user input. However, in many cases, these boilers require frequent maintenance, and the heat exchanger must be often brushed in order to have the highest working proficiency. Hence, companies in the wood pellets market are increasing awareness about its environment-friendly advantages and cost effectiveness of wood pellets to boost boiler sales.
Since the upfront cost of boiler systems can be relatively high than traditional gas boilers, companies in the wood pellets market are increasing awareness about biomass boiler grants to help support the customers investment.
Engineered Pellets Grow Popular in Residential Heating for Cold Regions
People in cold regions are gravitating toward wood pellet stoves, as the cost of natural gas is relatively higher than wood pellets. Wood pellets are growing increasingly popular as a cost efficient way for residential heating. Companies in the wood pellets market are capitalizing on this opportunity to source waste wood materials and sawdust to boost production volumes. These feedstock sources are being bound into pellets using high temperature pelletization processes sans the need for glue or additives.
In order to boost credibility credentials, manufacturers in the wood pellets market are refraining from cutting down trees and focusing on trees killed by the mountain pine beetle. They are increasing the availability of engineered pellets that have uniform size and moisture content that can be cleanly burned in specially designed automatic pellet furnaces.
Indian Stakeholders Maintain Optimum Quality in Pellets for Consistent Commercial Heating
Manufacturers in the wood pellets market are boosting their output capacities in pellets made from 100% sawdust for burner applications. NDMI Renewable Energy Private Limited - a gas logs supplier in Uttar Pradesh, India, is unlocking revenue opportunities in commercial heating and industrial heating applications by producing 100% sawdust fine wood pellets that are economical and easy to use.
In cold areas where room heating and water heating is a constant requirement, manufacturers in the India wood pellets market are taking advantage of such opportunities to increase their production capacities. Indian manufacturers and suppliers are taking efforts to deliver a year-round supply of wood pellets, irrespective of seasonal changes. Industrial stakeholders are preferring consistent quality in pellets to ensure consistent heating in burner applications. Wood pellets are increasingly replacing LPG (Liquid Petroleum Gas) for heating.
Fire Damaged Trees Emerge as Alternate Source for Boosting Pellet Production
Apart from sawmill residues and shavings, manufacturers in the wood pellets market are diversifying their feedstock via fire-damaged trees. Stakeholders in Europe and Asia are gaining popularity for adopting these strategies to boost their production volumes. They are tapping incremental opportunities in the ever-increasing energy industry, which is fueling the demand for wood pellets. These wood pellets are increasingly replacing fossil fuels in energy industries.
In a study conducted at a power station in the U.K., it was found that even after accounting for fossil fuel emissions, along the supply chain during harvesting, wood pellets helped to significantly lower GHG (Greenhouse Gas) emissions as compared to coal. Companies in the wood pellets market are taking cues from such findings and utilizing sustainably sourced forests to increase their production capacities.
Brazilian Eucalyptus Wood Pellets Help Expand Business in International Markets
Harvard startup BiomassTrust is being highly publicized for its aim to increase the global use of sustainable bioenergy involving Brazilian eucalyptus wood pellets. Companies in the wood pellets market are taking insights from such innovations to capitalize on the demand for sustainable bioenergy. Since burning of pellets generated from tropical eucalyptus forests can lead to hazardous emissions, manufacturers and startups are increasing R&D to remove chlorine from this plant & commercialize the process.
Brazil is holding lucrative opportunities for commercialization of Brazilian eucalyptus wood pellets, owing to its advantage of abundant sustainable biomass. Manufactures are increasing research to develop patented processes that separate the chlorine from Brazilian eucalyptus leaves and trees. They are increasingly focusing on industrial-scale procedures that involve mincing and grinding the biomass to smaller size to make the wood pellets safe for international markets.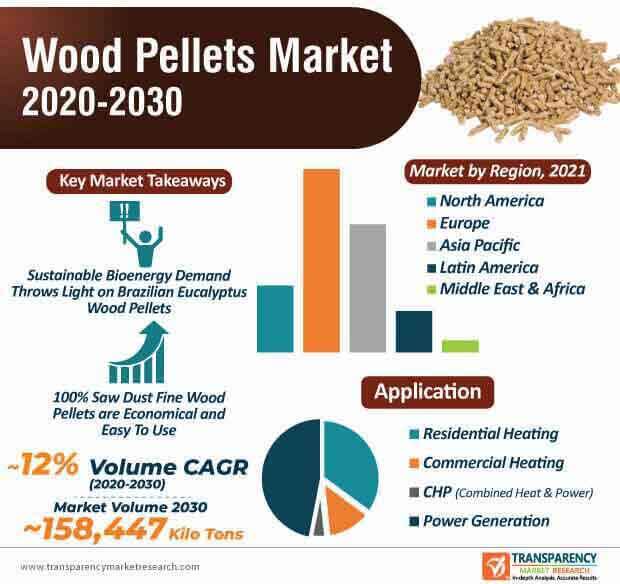 Stuck in a neck-to-neck competition with other brands? Request a custom report on Wood Pellets Market
Analysts' Viewpoint

Companies in the wood pellets market are focusing on residential heating and utilities applications to ensure revenue flow amid reduced economic activity during the coronavirus outbreak. Wood pellet boilers are gaining popularity as a renewable energy source in cold regions. However, there is a need to stabilize feedstock in both price and volume to avoid interruptions in volatile supply situations. Hence, companies should source alternate woody feedstock such as fire-damaged trees and wood produced from short rotation forestry plantations to boost output capacities. As such, manufacturers are exploiting the basin of agricultural feedstock as alternate source for feedstock. Eucalyptus trees are catching the attention of startups in Brazil to increase the utilization of bioenergy.
Wood Pellets Market: Overview
According to Transparency Market Research's latest research report on the global wood pellets market for the historical period of 2019 and forecast period 2020–2030, usage of wood pellets in residential heating, commercial heating, CHP (cogeneration/combined heating and power), and power generation applications are expected to boost the global wood pellets market during the forecast period
In terms of revenue, the global wood pellets market is expected to exceed the value of US$ 31 Bn by 2030, expanding at a CAGR of ~11% during the forecast period. Based on application, the power generation segment dominated the global wood pellet market in 2019. Rising awareness about renewable energy sources and reduction in GHG (greenhouse gas) emission in power generation are anticipated to propel the power generation segment of the global wood pellet market in the near future.
Increase in Demand for Renewable Energy across Globe: Key Driver of Wood Pellets Market
According to the International Energy Agency, in December 2020, global carbon emissions were 2%, or 60 million tons higher than they were in the same month a year earlier. More carbon emission leads to negative effects such as heat trapping, rise in maximum temperature, rise in minimum temperature, etc., which are responsible for global warming.
Carbon emission rate should be on the lower side in order to curb the harmful effects of global warming, and this can be achieved by introducing energy sources that are carbon-free. Thus, renewable energy sources come into the picture, and clean energy can be produced by using renewable energy sources.
Renewable energy is a prominent alternative to conventional energy (which is generated from fossil fuel), and several nations have imposed stringent rules to lower the use of fossil fuels and reduce the carbon footprint. Thus, a surge in the demand for renewable energy sources fueled renewable power generation by an approximately 7.4% in 2019, which was the highest over the past five years. Production of renewable electricity stood at 2537 GW in 2019.
Wood pellets are made from compacted sawdust and related industrial wastes from the milling of lumber, manufacture of wood products, and furniture. After the combustion of wood pellets, the emission of harmful gases is very low as compared to other fossil fuels. Demand for wood pellets is considerably high from thermal industries to generate clean energy; power can even be generated by co-firing wood pellets with coal. Thus, huge capital investment is not needed to generate power using wood pellets. These reasons create lucrative opportunity for the global wood pellets market.
Change in Policies Related to Coal Fired Plant
The number of countries accepting the "Paris Climate Change Agreement" has been increasing significantly across the globe. The agreement enforces countries to decrease their carbon footprint and greenhouse gases by reducing the dependence on fossil fuels.
Wood pellets produced from sawdust and wood shavings offer environmental benefits over fossil fuels such as natural gas and heating oils. Wood pellets produce low volumes of hydrocarbons such as carbon dioxide (CO2) and methane. Additionally, wood pellets are carbon neutral, and switching from coal or natural gas to wood pellets reduces greenhouse gas (GHG) emissions.
In December 2018, Canada announced regulations to phase out coal fired as well as natural gas fired electricity by 2030 to reduce greenhouse gas (GHG) emission in order to tackle climate change and to fulfill its commitment to the Paris Agreement. The decision made by the Government of Canada related to greenhouse gas (GHG) emission is expected to boost investment in the wood pellets industry, as wood pellets are considered as an efficient alternative required for green power generation.
In Rotterdam, the Netherlands, the coal fired power plant that converted to pellet use generates about 5.5 TWh per year, which is over 40% more electricity than that generated by wind farms in Norway. This clearly represents the efficiency of wood pellets in generating energy, as compared to that by other renewable sources. The conversion of coal fired power plants to pellets to generate electricity is driving the global wood pellets market in numerous countries.
Wood Pellets Market: Competition Landscape
Detailed profiles of providers of wood pellets have been provided in the report to evaluate their financials, key product offerings, recent developments, and strategies
Key players operating in the global wood pellet market are

Enviva LP
TANAC SA
Energex
Grannul Invest
AN VIET PHAT ENERGY CO., LTD
Pinnacle Renewable Energy Inc.
German Pellets
F.E. Wood & Sons
Drax Group plc
Wood Pellets Market: Key Developments
Key providers of wood pellets, such as Pinnacle Renewable Holdings, Enviva Partners LP, Westervelt Company and An Viet Phat Energy Co., LTD are focusing on more production of quality wood pellets to attract more customers. Major developments in the global wood pellet market are highlighted below:

In November 2019, Pinnacle Renewable Holdings signed an agreement with Tolko Industries Ltd. to construct a wood pallets manufacturing facility in Alberta, Canada. The wood pellet facility is anticipated to commence operation in the fourth quarter of 2020. The new facility is expected to diversify the company's fiber supply using high-quality wood fiber sourced primarily from Tolko's existing sawmill in Canada.
In October 2019, Pinnacle Renewable Energy signed a contract with Mitsui and Co., which utilizes wood pellets to fire a new biomass energy project in Japan. Under the terms of the contract, Pinnacle Renewable Energy would supply 100,000 metric ton per year of industrial wood pellets beginning in 2023. The contract would enable the company to expand its operations across Asia Pacific.
In October 2019, Enviva Partners LP, a prominent manufacturer of wood pellets, announced an investment worth US$ 175 Mn in a new wood pellet manufacturing facility at the Port of Epes Industrial Park in Epes, Alabama, U.S. The inauguration of new manufacturing facility is anticipated to expand the company's presence in the U.S.
In April 2018, The Westervelt Company announced plans to expand its lumber manufacturing capacity in South Alabama, the U.S. The new mill is expected to produce 250 million board feet of lumber annually. Expansion of the existing facility is estimated enable the company to expand its regional presence in North America.
In February 2020, An Viet Phat Energy Co., LTD announced to build US$ 51.6 million timber processing factory in the Vung Ang economic zone in the Ky Anh Township of the central province of Ha Tinh in the north central coast of Vietnam. The annual production capacity of this plant is expected to be 187,200 tons.

In the global wood pellets market report, we have discussed individual strategies, followed by company profiles of providers of wood pellets. The 'Competition Landscape' section has been included in the global wood pellet market report to provide readers with a dashboard view and company market share analysis of key players operating in the wood pellet market.
Wood Pellets Market – Scope of the Report
The latest study collated and published by Transparency Market Research (TMR) analyzes the historical and present-day scenario of the wood pellets market to accurately gauge its growth potential. The study presents detailed information about important growth factors, restraints, and key trends that are creating the landscape for growth of the wood pellets market in order to identify opportunities for stakeholders. The report also provides insightful information about how the wood pellets market would expand during the forecast period of 2020 to 2030.
The report offers intricate dynamics about different aspects of the wood pellets market, which aids companies operating in the market in making strategic decisions. TMR's study also elaborates on the significant changes that are anticipated to configure growth of the wood pellets market during the forecast period. It also includes key indicator assessment that highlights growth prospects for the wood pellets market and estimates statistics related to the market in terms of volume (Kilo Tons) and Value (US$ Mn).
This study covers detailed segmentation of the wood pellets market, along with key information and a competition outlook. The report mentions company profiles of players that are currently dominating the wood pellets market, wherein various development, expansion, and winning strategies practiced by these players have been presented in detail.
Key Questions Answered in TMR's Report on Wood Pellets Market
The report provides detailed information about the wood pellets market on the basis of a comprehensive research on various factors that are playing a key role in accelerating the growth of the market. Information mentioned in the report answers path-breaking questions for companies that are currently operating in the global market and are looking for innovative methods to create a unique benchmark in the global market so as to help them design successful strategies and make target-driven decisions.
Which application segment of the wood pellets market would emerge as a major revenue generator during the forecast period?
How are key market players successfully earning revenues in the wood pellets market?
What would be the Y-o-Y growth trend of the wood pellets market between 2019 and 2030?
What are the winning imperatives of leading players operating in the wood pellets market?
Research Methodology – Wood Pellets Market
The research methodology adopted by analysts for compiling the report on the wood pellets market is based on detailed primary as well as secondary research. With the help of in-depth insights of the market-affiliated information obtained and legitimated by market-admissible sources, analysts have offered riveting observations and authentic forecasts of the wood pellets market.
During the primary research phase, analysts have interviewed market stakeholders, investors, brand managers, vice presidents, and sales and marketing managers. Based on data obtained through interviews of genuine sources, analysts have emphasized the changing scenario of the wood pellets market.
For secondary research, analysts have scrutinized numerous annual report publications, white papers, market association publications, and company websites to obtain the necessary understanding of the wood pellets market.
Wood Pellets Market – Segmentation
TMR's research study assesses the wood pellets market based on application and region. The report presents extensive market dynamics and progressive trends associated with different segments and how they are influencing growth prospects of the wood pellets market.
Application

Residential Heating
Commercial Heating
CHP (Combined Heat & Power)
Power Generation

Region

North America
Europe
Asia Pacific
Latin America
Middle East & Africa
Custom Market Research Services
TMR offers custom market research services that help clients to get information on their business scenario required where syndicated solutions are not enough.
REQUEST CUSTOMIZATION