Wood Pellets Market
Wood Pellets Market (Application: Power Plants and Heating) - Global Industry Analysis, Size, Share, Growth, Trends, and Forecast, 2019 - 2027
Category :

Energy & Natural Resources

Format :
Wood Pellets Market: Overview
Wood pellets have emerged as a viable and promising renewable energy source replacing coal in various advanced regions such as North America and Europe. The market for these biomass gained traction since they are considered to have low carbon footprints. The use of wood pellets as fuels has gained adoption for heating homes and power boilers, especially in various countries of Europe. The easy availability of raw materials such as timber and compacted sawdust and the low cost of production are key factors offering robust impetus to the wood pellets market. The mounting environmental concern about greenhouse gas emissions (GHGs) in countries such as the U.S., Canada, and Russia has made biomass fuels popular. In recent years, considerable progress made in logistics and advancement in combustion technology have boosted the wood pellets market.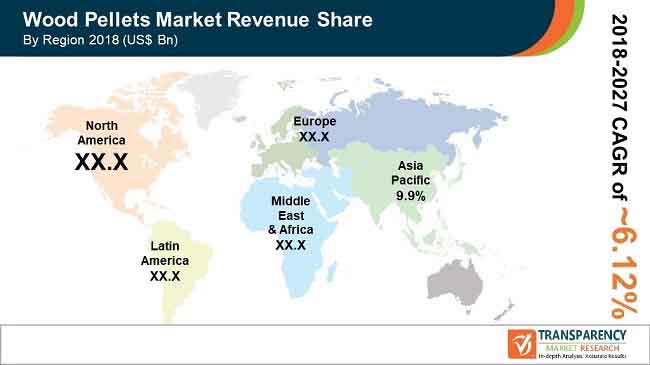 Request a sample to get extensive insights into the Wood Pellets Market
Increase in demand for renewable energy to Drive Wood Pellets Market
Pellet fuel is cost effective and cost stable home heating alternative and is utilized all over world at present. It is a clean burning and renewable source of fuel. As such, the global wood pellets market is anticipated to experience growth with the rising demand for renewable source of energy across the globe. Some of the benefits offered by wood pellets are

Renewable
Domestic economy
Sustainable
Comfortable
Cost-effective
Eco-friendly

In the U.S., wood pellets find use in furnaces, fireplace inserts, freestanding stoves, and boilers. Pellet fuel is also used in large setups like prisons and schools. Such extensive use propel the global wood pellets market toward growth over the assessment period.
Wood pellets in North America are made in various manufacturing facilities in the United States and Canada. These wood pellets are available for purchase from various building supply stores, nurseries, fireplace dealers, garden supply stores, and from a few discount merchandisers. These pellet fuel is a means to divert tonnes of waste from landfills and then converting them into a source of energy generation.
To understand how our report can bring difference to your business strategy, Ask for a brochure
Recent Developments, Expansions, Acquisitions, and New Contracts
In November 2019, Pinnacle Renewable Holdings signed an agreement with Tolko Industries Ltd., to construct a wood pallets manufacturing facility in Alberta, Canada. The wood pellet facility is anticipated to commence operation in the fourth quarter of 2020. The new facility is expected to diversify the company's fibre supply using high-quality wood fibre sourced primarily from Tolko's existing sawmill in Canada.
In October 2019, Pinnacle Renewable Energy signed a contract with Mitsui and Co. which utilizes the wood pellets to fire a new biomass energy project in Japan. Under the terms of the contract, Pinnacle Renewable Energy will supply 100,000 metric ton per year of industrial wood pellets beginning in 2023. The contract would allow the company to expand its operations across the Asia Pacific.
In October 2019, Enviva Partners LP, a largest wood pellet producer is announced to invest worth US$175 million in a new wood pellet manufacturing facility at the Port of Epes Industrial Park in Epes, Alabama, U.S. The inauguration of new manufacturing facility is anticipated to expand the company's presence in the U.S.
In April 2018, The Westervelt Company announced plans to expand its lumber manufacturing capacity in South Alabama, the U.S. The new mill is expected to produce 250 million board feet of lumber annually. Expansion of the existing facility is estimated allow the company to expand its regional presence in North America.
Europe to Dominate Global Wood Pellets Market
Europe is a major market for wood pellets and led the market in 2018. The substantial demand for wood pellets from the U.K. has fueled this regional market. The regional market is propelled by numerous government initiatives such as significant fiscal subsidies to boost the generation of renewable sources of energy. This has incentivized the use of wood pellets to produce electrical energy in this region.
North America is another prominent region for wood pellets. Several stiff regulations related to emission norms have fueled this regional market. The recent formulation of federal policies that seek to establish the carbon-neutrality of biomass is another crucial factor boosting the wood pellets market in countries such as the U.S. Furthermore, the continued expansion of wood pellet plants by several manufacturers in various cities of the U.S. is expected to boost the production of wood pellets, thereby catalyzing the regional market.
Stuck in a neck-to-neck competition with other brands? Request a custom report on Wood Pellets Market
Global Wood Pellets Market Highly Competitive
The global wood pellets market is dominated by large multinational players. Key players operating in the global wood pelelts market are

Wood Pellet Energy (UK) LTD
Energex
Rentech, Inc.
Pinnacle Renewable Energy Group
The Westervelt Company
Allance Pellet Machinery
Georgia Biomass, LLC
German Pellets GmbH
F.E. Wood & Sons
Enviva LP
Enito Singpellet Pte Ltd
Drax Group plc
Andritz AG .
Global Wood Pallets Market – Scope of Report
The latest study collated and published by Transparency Market Research (TMR) analyzes the historical and present-day scenario of the global wood pallets market to accurately gauge its future growth. The study presents detailed information about important growth factors, restraints, and key trends that are creating a landscape for growth of the global wood pallets market in order to identify growth avenues for market stakeholders. The report also provides insightful information about how the global wood pallets market would expand during the forecast period of 2019–2027.
The report offers intricate dynamics about different aspects of the global wood pallets market, which helps companies operating in the market in making strategic business decisions. TMR's study also elaborates on significant changes that are anticipated to configure growth of the global wood pallets market during the forecast period. It also includes assessment of key indicators that highlights growth prospects for the global wood pallets market and estimates statistics related to the market growth in terms of value (US$ Mn) & volume (million tons).
This study covers detailed segmentation of the global wood pallets market along with key information and a competition outlook. The report mentions company profiles of players that are currently dominating the global wood pallets market, wherein various developments, expansions, and winning strategies practiced and executed by these players have been presented in detail.
Key Questions Answered in TMR's Report on Global Wood Pallets Market
The report provides detailed information about the global wood pallets market based on comprehensive research on various factors that are playing a key role in promoting growth of the market. Information mentioned in the report answers path-breaking questions for companies that are currently operating in the market and are looking for innovative methods to create a unique benchmark in the global wood pallets market so as to help them design successful strategies and make target-driven decisions.
How are key market players successfully earning revenue in the competitive global wood pallets market?
What would be the Y-o-Y growth rate of the global wood pallets market between 2019 and 2027?
What are the winning imperatives of leading players operating in the global wood pallets market?
Which application segment of the global wood pallets market is expected to offer the maximum growth potential during the forecast period?
Research Methodology – Global Wood Pallets Market
The research methodology adopted by analysts for compiling the global wood pallets market report is based on detailed primary as well as secondary research. With the help of in-depth insights of the market-affiliated information obtained and legitimated by market-admissible resources, analysts have offered riveting observations and authentic forecasts of the global wood pallets market.
During the primary research phase, analysts have interviewed market stakeholders, investors, brand managers, vice presidents, and sales & marketing managers. Based on the data obtained through interviews with genuine resources, analysts have emphasized the changing scenario of the global wood pallets market.
For secondary research, analysts have scrutinized numerous annual report publications, white papers, market association publications, and company websites to obtain the necessary understanding of the global wood pallets market.
Global Wood Pallets Market – Segmentation
TMR's research study segments the global wood pallets market in terms of application and region. This report presents extensive market dynamics and growth trends associated with different segments and explains how they are influencing the growth of the global wood pallets market.
Application

Power Plants

Heating

Region

North America

Latin America

Europe

Asia Pacific

Middle East & Africa
Custom Market Research Services
TMR offers custom market research services that help clients to get information on their business scenario required where syndicated solutions are not enough.
REQUEST CUSTOMIZATION