Surgical Sutures Market
Surgical Sutures Market (Product Type - Absorbable Sutures (Natural Sutures and Synthetic Sutures) and Non-absorbable Sutures (Nylon Sutures, Polypropylene Sutures, and Stainless Steel Sutures); Application - General Surgery, Gynecological Surgeries, Cardiovascular Surgeries, Orthopedic Surgeries, Other Surgeries; End-users - Hospitals, Specialty Clinics, and Ambulatory Surgery Centers) - Global Industry Analysis, Size, Share, Growth, Trends, and Forecast 2017 - 2025
Category :

Healthcare

Format :
Surgical sutures refer to a medical device that is used for the purpose of closure of most of the wound types. A suture should ideally enable the healing tissue to recover enough to hold the wound closures together once they are absorbed or removed.
The time that a healing tissue takes to do away with the use of sutures depends on the type of tissue. The global surgical sutures market is expected to be driven by increased effectiveness and safety of various surgeries owing to technological advancements. Various strategic decisions by market players such as partnerships and acquisitions for expanded network for distribution and product development are likely to boost the global surgical sutures market.
The global surgical sutures market is likely to register a growth rate of 3.9 % CAGR over the period of forecast, from 2017 to 2025.
Some of the key players in the global surgical sutures market comprise Internacional Farmaceutica S.A. De C.V, Internacional Farmaceutica S.A. De C.V., Medtronic Plc., B. Braun Melsungen AG, Hollister Incorporated, and Endoevolution LLC.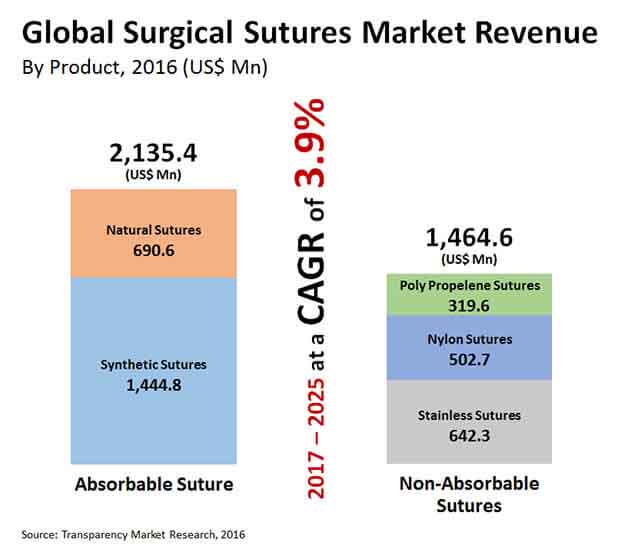 Relentless Research and Development Holds Key to the Market Growth
Over a period of time, significant developments in the field of surgical sutures such as development of advanced capabilities and materials, which exert considerable influence on the global surgical sutures market. A case in point is high biocompatibility enabled non-resorbable sutures like polytetrafluoroethylene (PTFE) sutures are used in the prevention of bacterial colonization and microdamage in the deep layers of any wound. These are smooth and soft in nature. Surgical knots that are produced utilizing polytetrafluoroethylene sutures do not get loose easily and last very long. Technological advancements are likely to work in favor of the global surgical sutures market over projection period.
In addition, development of surgical sutures equipped with advanced features such as elastic and electronic sutures, knotless barbed sutures, antimicrobial sutures, bioactive sutures, and antibacterial sutures. Bioactive sutures comprise stem cell-seeded and drug-eluting sutures. Availability of such feature rich surgical sutures is likely to boost the global surgical sutures market in near future.
The rising inclination toward minimally invasive surgeries is mainly owing to the advantages associated with this type of surgeries. The advantages of minimally invasive surgeries comprise less pain and bleeding, rapid recovery, and shorter stay at hospitals. The increasing preference for minimally invasive procedures over the regular procedures has reduced the utilization of surgical sutures, which is likely to pose challenge to the global surgical sutures market.
North America Likely to Lead the Market, Asia Pacific to Clock High Growth Rate
In a bid to offer a better understanding of the market, TMR analysts have divided the global surgical sutures market on the regional parameter. North America, Latin America, Asia Pacific, Middle East and Africa, and Europe are the major territories of the global surgical sutures market.
In terms of region, North America is expected to account for a leading share of the global surgical sutures market over the timeframe of projection, from 2017 to 2025. Territorial dominance of North America lies in the quick and high adoption of technologically advanced surgical sutures. In addition, increased prevalence of chronic diseases together with need for surgeries is estimated to drive the surgical sutures market in North America.
Asia Pacific is estimated to offer avenues of rapid expansion for the surgical sutures market in the region. The market is likely to be driven by countries like China, South Korea, and India due to increased investment in the healthcare infrastructure, rise in the disposable income of people, and the booming medical tourism in the region.
Surgical Sutures Market to Gain Impetus from Increasing Cases of Minimally Invasive Surgeries
The increasing number of surgical cases stands as a key factor boosting the global surgical sutures market. Surgical stitch or suture is a clinical gadget used to hold body tissues together after a physical issue or medical procedure. Application by and large includes utilizing a needle with a connected length of string. A stitch should in a perfect world empower the recuperating tissue to recuperate enough to hold the injury terminations together whenever they are consumed or eliminated.
The development of the worldwide surgical sutures market is significantly determined by flood in occurrence of mishaps, increment in consumption on medical care, coupled with the ascending popularity of corrective medical procedures, and improvement of cutting edge sutures, for example, film covered sutures. Nonetheless, ascent in inclination for negligibly intrusive surgical strategies and presence of elective injury care items go about as the major the market requirements. On the other hand, increment in mindfulness about novel medical procedures, flood in geriatric populace, and ascend popular for better medical care offices are relied upon to give rewarding freedoms to the surgical sutures market development during the conjecture time frame.
The rising tendency toward negligibly intrusive medical procedures is basically inferable from the benefits related with this kind of medical procedures. The upsides of negligibly intrusive medical procedures involve less torment and dying, fast recuperation, and more limited stay at emergency clinics. The expanding inclination for negligibly intrusive methods over the normal techniques has decreased the usage of surgical sutures, which is probably going to present test to the worldwide surgical sutures market.
The worldwide surgical sutures market is required to be driven by expanded viability and security of different medical procedures attributable to innovative headways. Different vital choices by market players, for example, organizations and acquisitions for extended organization for circulation and item improvement are probably going to support the worldwide surgical sutures market.
Global Surgical Sutures Market: Overview
A surgical suture is primarily a medical tool or equipment used to close cutaneous wounds in the course of a surgical procedure. It is also utilized to stitch internal organs post-surgery, such as blood vessels, body tissues and skin. The tool is, even at present, used widely in orthopedic, cardio, plastic, neuro, gynecological, and other general surgeries, despite the emergence of advanced technology such as fiber dressing, hydrogel dressings and skin substitutes.
Sutures are either absorbable or non-absorbable, and are used depending on the type of surgery and need. Sutures tend to have differing properties as well, such as knot security and tensile strength. Sutures are an indispensable part of surgical procedures, and are expected to continue remaining prevalent over the coming years. The growing geriatric population with several disorders related to soft tissue, skin, breast, trauma, hernia and musculoskelatal diseases will fuel the global surgical sutures market.
The report offers a distinctive evaluation of the global surgical sutures market, taking into account its growth factors, restraints, and potential business prospects.
Global Surgical Sutures Market: Trends and Opportunities
The population explosion across the world is leading to an immense rise in the number of aged individuals. Medical advances, easier access to medical technology, along with the incrementing disposable incomes have led to a percolation of surgical procedures to a large pool of patients. Improving healthcare facilities across the world, especially in emerging economies is expected to provide and impetus to the growth of the global surgical sutures market over the forecast period.
Innovations and technological advances enabling the betterment of suture materials, which are manufactured to be apt for enhanced wound tissue estimation and conclusion time, resulting in improved after-effect of the surgeries, are additionally providing a fillip to the uptake of surgical sutures worldwide. Furthermore, the vast upgrades pertaining to the social insurance facilities are also bolstering the demand for surgical sutures. Improving healthcare schemes, and favorable reimbursement policies are key trends that are anticipated to positively impact the global surgical sutures market in the coming years.
Global Surgical Sutures Market: Geographical Analysis
The global surgical sutures market is researched geographically with reference to the regions of North America, South America, Europe, Asia Pacific, the Middle East and Africa. Among these, North America is predicted to play a key role in the global market, and emerge as a leading region. The region held nearly 35% of the overall market share in 2016, and this trend is expected to hold over the forecast period. The key factors attributed to the rise of North America in the global surgical sutures market are the surge in number of surgeries, high incidence of cardiovascular ailments, and extensive adoption of advanced medical procedures.
Asia Pacific is expected to emerge as lucrative region in the global surgical sutures market, and is predicted to exhibit a substantial growth. This is ascribed to the rising sedentary lifestyles of the people, increasing awareness of advanced surgical procedures, and booming medical tourism.
Global Surgical Sutures Market: Companies Mentioned
Currently, the global surgical sutures market's competitive landscape features a combination of being consolidated, and open to new, domestic players, offering services at lower prices. This has led to presence of an intense competition among existing and new market entrants.
Prominent players operating in the global surgical sutures market are Integra LifeSciences Corporation, Smith & Nephew plc, Boston Scientific Corporation, Cardinal Health, Teleflex Incorporated, ConMed Corporation, Johnson & Johnson, Medtronic plc, Zimmer Biomet Holdings, Inc., and Braun Melsungen AG, among others.
This report gives access to decisive data, such as:
Market growth drivers
Factors limiting market growth
Current market trends
Market structure
Market projections for the coming years
Key highlights of this report include:
Overview of key market forces propelling and restraining market growth
Up-to-date analyses of market trends and technological improvements
Pin-point analyses of market competition dynamics to offer you a competitive edge
An analysis of strategies of major competitors
An array of graphics and SWOT analysis of major industry segments
Detailed analyses of industry trends
A well-defined technological growth map with an impact-analysis
Offers a clear understanding of the competitive landscape and key product segments
Global Surgical Sutures Market Segmentation
By Product

Absorbable Sutures

Synthetic Sutures
Natural Sutures

Non-Absorbable Sutures

Nylon Sutures
Poly Propelene Sutures
Stainless Steel Sutures

By Application

General Surgeries
Gynecological Surgeries
Cardiovascular Surgeries
Orthopedic Surgeries
Other Surgeries

By End-user

Hospitals
Specialty Clinics
Ambulatory Surgery Centers

By Region

North America
Europe

UK
Germany
France
Italy
Spain
Rest of Europe

Asia Pacific

China
Japan
India
Australia
Rest of Asia Pacific

Latin America

Brazil
Mexico
Rest of Latin America

Middle East & Africa

GCC countries
South Africa
Rest of Middle East & Africa
Custom Market Research Services
TMR offers custom market research services that help clients to get information on their business scenario required where syndicated solutions are not enough.
REQUEST CUSTOMIZATION