Global Surgical Sutures Market: Snapshot
The global surgical sutures market is envisaged to gather pace in terms of growth as the incidence of hernia, trauma, and soft tissues, skin, and breast-related conditions continues to see a rise. In addition, increasing prevalence of musculoskeletal disorders and constant rise in geriatric population could create profit-making opportunities in the global surgical sutures market. On the other hand, increasing number of peripheral vascular surgeries is expected to raise demand in the global surgical sutures market.
Anticipated to register a 3.9% CAGR between 2017 and 2025, the global surgical sutures market could present an incremental opportunity worth a US$5.0 bn during the said forecast period.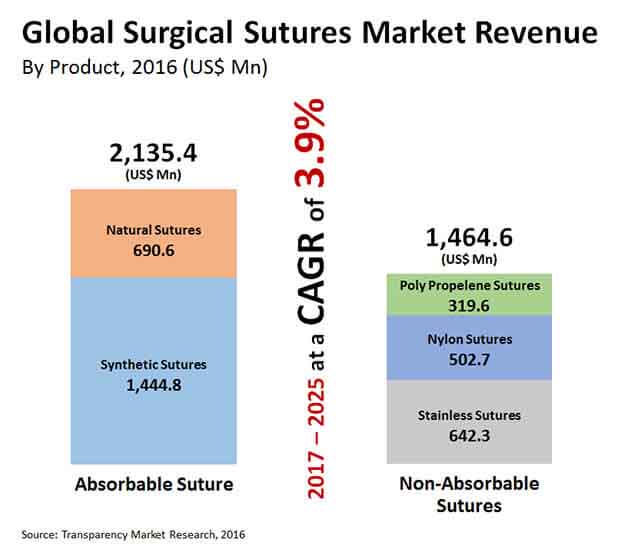 Lower Risk of Wound Infection to Stoke Demand for Absorbable Surgical Sutures
On the basis of end user, the global surgical sutures market is classified into ambulatory surgical centers, specialty clinics, and hospitals. Among these, hospitals are foreseen to become a prominent segment of the global surgical sutures market. Developing countries witnessing an increase in the number of new hospitals, promising reimbursement policies, and rising count of complicated surgeries performed in hospitals could support the growth of this segment for the next few years.
By application, the global surgical sutures market sees a classification into orthopedic, cardiovascular, gynecological, general, and other surgeries. Among these, cardiovascular surgeries are prophesied to account for an impressive share of the global surgical sutures market. High incidence of cardiovascular diseases and increase in the number of cardiovascular surgeries performed could set the tone for significant growth of this segment in the global surgical sutures market.
By product, the global surgical sutures market is divided into non-absorbable and absorbable sutures. Among the two, absorbable sutures are predicted to collect a lion's share of the global surgical sutures market. In 2016, the segment accounted for a 60.0% share of the global surgical sutures market. Absorbable sutures are largely popular among end users as they lower the risk of wound infection. On the other hand, non-absorbable sutures are used in applications that require long-term support. However, their uptake is limited due to the high risk of side effects. Nevertheless, they could be used in specialized applications such as cardiovascular surgeries.
North America to Take Lead as Demand for Advanced Treatments Increases
From a geographical perspective, the surgical sutures market is prognosticated to find North America ranking higher in relation to revenue growth. The region bagged a 35.0% share of the global surgical sutures market in 2016. Rising demand for advanced treatments, increasing number of surgeries, and high incidence of cardiovascular diseases could prove beneficial for the surgical sutures market in the region.
Asia Pacific could also show promising growth in the global surgical sutures market as it rises at a steady CAGR during the aforementioned forecast period. Factors such as increasing incidence of lifestyle-related diseases, low cost of treatment, growing medical tourism, and rising awareness among end users are expected to create lucrative prospects in the Asia Pacific surgical sutures market.
The global surgical sutures market marks the presence of leading players such as Medtronic Plc., Integra LifeSciences Corp., and Teleflex Inc.
Global LED Display Market: Overview
Light emitting diode (LED) is essentially a semiconductor chip that emits light of different wavelength in the visible spectrum along with emission of UV and infrared light. LED displays are used to display multimedia graphics, such as advertisements, company promotions, scoreboards, and traffic signs, and can be mounted on buildings, highways, stadiums, and entertainment shows to extend their reach to a large population.
In recent years, the application of LEDs was limited to certain specific lighting needs and had not entered the mainstream lighting applications. The introduction of LED in applications such as lighting and displays has given a strong thrust to the market. A variety of technologies are implemented in manufacturing of LED products. Chips and components are the basic materials assembled to manufacture the final display product.
The report offers a distinctive evaluation of the global LED display market, taking into account its growth factors, restraints, and potential business prospects.
Global LED Display Market: Trends and Opportunities
The global LED market is currently in its nascent phase. The surge in the usage of LEDs in different industrial applications such as automobiles, mobile phones, and backlighting applications is predicted to heavily influence the trajectory of the global LED display market. In the prevailing business scenario, environmental awareness is growing amongst the people. Increasing green construction is one of the key factors resulting in the growth of the LED display market across the globe.
The increasing demand for LED displays in outdoor advertisements is a primary factor driving the market growth. Enhanced features such as energy efficiency, being environment friendly, low in operational cost, and durability have encouraged marketers and advertisers to use LED displays for outdoor promotional campaigns and advertisement. Furthermore, the incrementing number of live events such as concerts, sport competitions, and corporate exhibitions are further fueling the LED display market at present.
Global LED Display Market: Geographical Analysis
The global LED display market is segmented into four major regions, namely North America, Europe, Asia Pacific, and Rest of the World (Latin America, Middle East, and Africa) for geographical analysis. China and Japan are the key and emerging LED display markets in Asia Pacific, on account of the rising number of sports activities along with infrastructural development across nations such as India and China.
Global LED Display Market: Companies Mentioned
Owing to the presence of international and regional vendors, this market appears to be highly fragmented and is competitive. Vendors operating in the industry are likely to offer end-to-end solutions, from manufacturing to installation at the site along with after-sales services. Industry participants are expected to focus on investing in research and development activities in order to increase efficiency and reduce emissions in order to gain strategic advantage over their competitors.
Some of the key players in the LED display market include Barco N.V. (Belgium, Sony Corporation (Japan), Panasonic Corporation (Japan), LG Electronics, Inc. (South Korea), Daktronics, Inc. (U.S.) Toshiba Corporation (Japan), Samsung LED Co. Ltd. (South Korea) others.
Global LED Display Market Segmentation
By Type

Conventional LED Displays
Surface-Mounted LED Displays

By Application

Backlighting

Television
Laptops
Mobiles and Smartphones
PC Monitors

Digital Signage

Outdoor Signage
Indoor Signage

By Color Display Technology

Monochrome LED Displays
Tri-color LED Displays
Full Color LED Displays

By Region

North America
Europe

UK
Germany
France
Italy
Spain
Rest of Europe

Asia Pacific

China
Japan
India
Australia
Rest of Asia Pacific

Latin America

Brazil
Mexico
Rest of Latin America

Middle East & Africa

GCC countries
South Africa
Rest of Middle East & Africa