Global Supercapacitor Market: Snapshot
The global supercapacitor market is poised for outstanding growth in the upcoming years. Rising demand for alternative power supply for several application sectors such as automobiles and industrial due to depleting conventional fuels is stoking demand for supercapacitors for storing electrical energy. Door-lock systems, regenerative braking, and auto start-stop are some of the applications of supercapacitors for automotive.
Apart from this, advantages of longer lifecycle and low replacement cost are leading to increasing adoption of supercapacitors over batteries. Moreover, declining price of supercapacitor which has dropped to one-tenth in the last one decade is boosting their uptake over conventional batteries. Several governments such as in North America are supporting construction of supercapacitor plants thereby aiding the supercapacitor market.
However, high initial price of supercapacitor is limiting their adoption especially for low-value applications. Owing to the myriad factors driving demand for supercapacitor, the global supercapacitor market is likely to rise at an exceptional 22.4% CAGR from 2017 to 2023.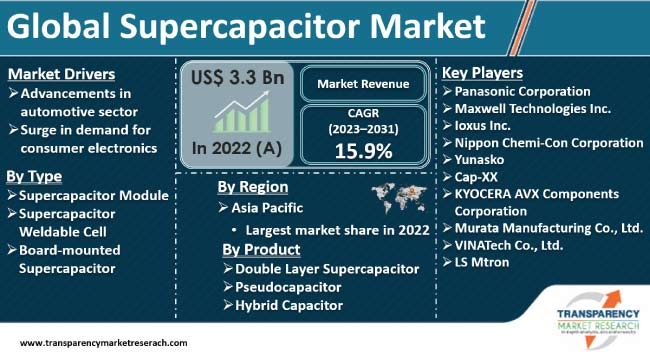 Ceaseless Adoption of Consumer Electronics makes it Top Ranking Application Segment
The global supercapacitor market is classified in terms of application, type, product, and geography. In terms of application, automotive and transportation, industrial, energy, consumer electronics, and others are the segments into which the supercapacitor market is divided. Among the various application segments, consumer electronics is currently the leading one; the segment is anticipated to retain its position through 2023. Declining prices of consumer electronics coupled with increasing demand for feature rich consumer electronics accounts for the leading share of consumer electronics application segment of the market. Thus, supercapacitor are predicted to display exponential demand from consumer electronics segment in the years ahead. The consumer electronics segment is predicted to display the leading CAGR between 2017 and 2023.
Energy is emerging as a prominent application segment due to vast demand for energy storage solutions in power generation plants. Vis-à-vis revenue, the energy segment is predicted to be worth US$0.81 bn by 2023.
By product, double layer, pseudocapacitors, and hybrid capacitors are the segments into which the global supercapacitor market is divided. The double layer segment held dominance in recent years; however, the segment is predicted to lose its dominance to account 37.9% of the market by 2023. Double layer supercapacitor has a voltage of 2.7V which is unsuitable for most applications.
On the other hand, pseudocapacitors hold prominence as they overcome shortcomings of double layer capacitors. As pseudocapacitors display capacity to hold as much charge as conventional battery, this makes them suitable for applications that require storing and discharging of energy at a faster rate.
In terms of type, supercapacitor module, weldable cell, and board mounted cell are the segments into which the supercapacitor market is segmented. Among them, board mounted supercapacitor segment is predicted to dominate the supercapacitor market owing to its extensive application in an array of consumer electronics, automotive, and medical devices. Board mounted cell display high performance along with supporting a wide temperature range from –40 ?C to +65 ?C. Board mounted cell segment is likely to hold the leading 42% of the overall market by 2023.
Pioneer in Adoption of Supercapacitor Makes North America Leader
The global supercapacitor market by geography has been segmented into North America, Europe, Asia Pacific, and Rest of the World. North America holds supremacy in the worldwide supercapacitor market as it is the pioneer in the adoption of supercapacitor for numerous applications.
Key companies operating in the global supercapacitor market include Maxwell, Panasonic, Nesscap, Nippon, Ioxus, and LS Mitron among others.
Global Supercapacitor Market: Overview
The market study analyzes the supercapacitor market on a global level, and provides estimates in terms of revenue (US$ bn) for the six-year forecast period from 2017 to 2023. The in-depath analysis of the supercapacitor market presented in this report can be leveraged by market stockholders to formulate business strategies.
The objective of this study is to present all-important information of developments in the supercapacitor market between 2017 and 2023. This involved examining vital market indicators, growth trends, technological advancements, and competitive structure. Market indicators such as drivers and restraints that impact the growth of the industry over the 2017-2023 forecast period have been analyzed. Moreover, it examines growth opportunities in the supercapacitor market in the upcoming years.
Global Supercapacitor Market: Report Highlights
The report presents answers to some vital questions for better understanding of supercapacitor market. The research report provides a detailed analysis of the supercapacitor market based on product, type, application, and geography. Key segments within each criteria have been examined and insights into their growth behavior through 2023 provided as well. Revenue and market size estimates of key segments within each category for the period between 2017 and 2023 provided as well.
In addition, the report provides insights on market attractiveness, which includes examining key segments within each category based on their growth rate and market share. Included in the study is an analysis of macroeconomic factors influencing and inhibiting the growth of supercapacitor market. Moreover, Porter's five forces analysis have been provided in the report for better insights on market competition. The report will help manufacturers, suppliers, and distributors to understand future trends based on past and current trends.
Global Supercapacitor Market: Research Methodology
The research report is an excellent example of elaborate primary and secondary research phase. Top-down and bottom-up approach have been employed to examine the growth behavior of key segment under each category. Economic downturns, political disturbances, and environmental uncertainties have not been considered in the making of the report. Strategic alliances, partnerships, and collaborations between industry players have been duly considered in the making of the report.
The primary research phase accounts for the bulk of research effort. Primary research phase involved reaching out to industry experts and opinion leaders through e-mail, face to face interviews, and telephonic interviews. Analysts conducted interviews and carried out e-mail communication on an ongoing basis to endorse data and analysis. Industry stakeholders typically reached out in the primary research phase include CEOs, VPs, market intelligence managers, marketing/product managers, and national sales managers. Purchasing managers, distributors, technical personnel, and resellers are some other industry stockholders reached out in the primary research phase. Key opinion leaders specializing in different areas corresponding to different industry verticals were also reached out in the primary research phase.
In the concluding section, the report analyzes the supercapacitor market from a competitive stance. Key players operating in the supercapacitor market are identified and are profiled for business attributes. An analysis of strengths, weakness, threat, and opportunities of key players through 2023 is provided as well.