The recent advancements in power- and energy-densities, extended lifetimes, and increased efficiencies in the field of supercapacitors are extending their usage across a wide range of energy storage and harvesting systems. As compared to conventional rechargeable batteries, which require frequent replacements and present significant threat to the environment owing to their non-biodegradable constituent elements, supercapacitors are economical and environment-friendly on a broader perspective.
Witnessing rapid adoption as an ideal and efficient power alternative to conventional batteries, the global market for supercapacitors is expected to present stiff competition to many popular varieties of batteries in the near future. Transparency Market Research points that the global supercapacitors market will exhibit an impressive 22.3% CAGR over the period between 2015 and 2023. The market, which held an opportunity of US$1.21 bn in 2014, is expected to rise to US$7.37 bn by 2023 with such excellent growth prospects.
Hand-held Electronic Devices Hold Immense Growth Potential
Of the key applications of supercapacitors across sectors such as industrial, solar and wind power, electronic devices, and transportation, supercapacitors are expected to amass majority share in overall revenues from their usage in electronic devices in the next few years. The segment of electronic devices or consumer electronics is expected to expand at a CAGR of 22.8% over the period between 2015 and 2023, surpassing other key application areas.
Supercapacitors are being increasingly used in hand-held electronic devices such as mobile phones, cameras, laptops, and tablets. Practical usage of supercapacitors over the years have demonstrated their usefulness for any kind of electronic device that requires a burst of power. Thus, an increased number of hand-held electronic devices in the consumer as well as industrial sector will be run with supercapacitors in the next few years.
Revenue-wise, the segment of hand-held electronic appliances is expected to rise to a valuation of US$2.67 bn by 2023 from a valuation of nearly half a billion in 2014. With the rising demand for a variety of electronic devices, especially across the economically stabilizing and rapidly industrializing developing regions such as Asia Pacific, the demand for supercapacitors will also gain substantial momentum.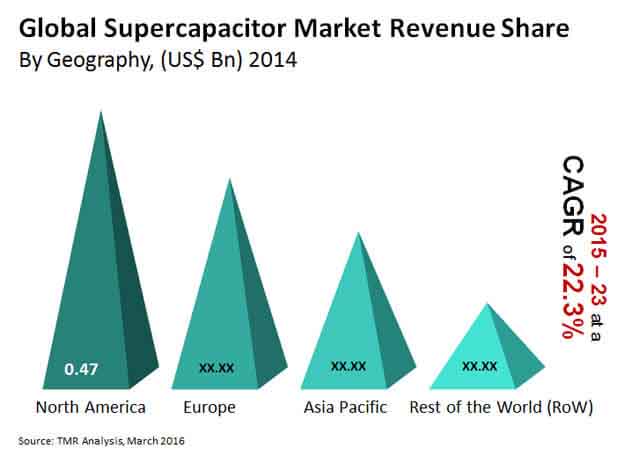 Asia Pacific to be Key Stimulator of Growth
Geographically, the mature market for supercapacitors in North America is expected to witness growth at a sluggish pace through 2023. North America accounted for a share of over 38% in the global supercapacitor market in 2014. However, Asia Pacific, which accounted for a 21.3% share in the global supercapacitor market in 2014, is expected to witness growth at the fastest pace of 23.2% CAGR among key regional markets.
The market in Asia Pacific will benefit from the vast demand for supercapacitors in the consumer electronics industry. The high concentration of some of leading supercapacitor companies in countries such as China, Japan, and South Korea also place Asia Pacific at a highly commanding position in the global supercapacitors market.
The market is presently dominated by Maxwell Technologies Inc., which accounted for a share of over 25% in the global market in 2014. However, the number of companies in the market has more than doubled in the past few years and the competitive rivalry has significantly intensified. Other major companies in the global supercapacitors market are Nesscap CO. LTD., Ioxus, Inc,Supreme Power Solutions Co., Ltd., LS Mtron, and Nippon Chemi-Con Corporation.
The global supercapacitor market is expected to experience stable growth during the forecast period of 2015 to 2023. Supercapacitor, also known as ultracapacitor, is an electrical component having greater capacitance and power density than conventional capacitors. Currently, supercapacitor are increasingly adopted across various applications such as automotive, elevators, cranes and consumer electronics among others that require frequent energy charge and discharge cycle rather than long term energy storage. For the purpose of our research, the global supercapacitor market is segmented on the basis of application, product, type and geography. By application the various category of supercapacitor market includes automotive and transportation, industrial, energy, consumer electronics and others. The other segment includes application of supercapacitor in aerospace, military and sensors technologies. Based on products, the global supercapacitor market is segmented into double layer supercapacitor, pseudocapacitors and hybrid capacitors. By type, supercapacitor market is segmented into supercapacitor module, weldable cells and board mounted supercapacitor. Moreover, the report also provides cross sectional analysis of all the above segments across different countries within North America, Asia Pacific, Europe and Rest of the World.
The global supercapacitor market is primarily driven by increasing demand for supercapacitor across different consumer electronics and automotive applications in order to provide backup power. Supercapacitor provides the necessary power backup required for smooth functioning of the various applications such as video calling, cameras, wireless communications and GPS navigation used in consumer electronic devices. Similarly, the other industrial hand-held devices such as GSM/GPRS and RFID (Radio-frequency identification) communications, LED flash, thermal printers, bar code scanners and GPS (Global Positioning System) chips among others can also be operated more conveniently with the help of supercapacitor for providing the required power boost. Using supercapacitor in line with batteries in these electronic devices increases the lifecycle of conventional batteries by reducing the load of voltage drops. Thus, battery run-time and operational life can be improved extensively by using supercapacitor in these electronic devices. Thus, enormous demand of the highly advanced consumer electronic appliances, in turn is predicted to drive the market for supercapacitor at exponential rate in the coming years. In addition, different initiatives by the government in different parts of the world such as the U.S., Canada, U.K., Australia, China and Japan to reduce the power consumption and heat generation is also anticipated to increase the deployment and usage of supercapacitor globally. Moreover, the ongoing practice to upgrade the power generation system from renewable sources across the globe in order to reduce rapid depletion of natural resources is also anticipated to drive the market of supercapacitor in the coming years.
However, competition from well-established battery market and lack of awareness about the huge benefits associated with supercapacitor are the most important factors that deters the growth of supercapacitor market and restrict users from adapting supercapacitor technology. In addition, high initial purchasing cost of supercapacitor coupled with low adoption is also inhibiting the market growth of supercapacitor. Currently supercapacitor are facing immense competition from lithium batteries due to its high price. Despite of these restrictive factors, the supercapacitor market is forecast to witness substantial growth during the forecast period of 2015 to 2023.
This report provides the future predictive market growth of the global supercapacitor market from 2015 to 2023 along with current market analysis. Detailed study of the global supercapacitor market across different countries with respect to product, type and application segment is also highlighted in this report. In addition, the various micro economic and macro-economic factors that are anticipated to affect the growth of global supercapacitor market is also provided in this report.
In 2014, among the different product categories of supercapacitor, the double layer supercapacitor occupied the largest market share and accounted for 42.8% market share. However, the hybrid capacitors segment is anticipated to witness the fastest growing segment. Rapid growth of the Hybrid Electric Vehicle (HEV) market globally, in order to reduce carbon emission is one of the major factors responsible for the exponential growth of hybrid supercapacitor in the coming years. The market of hybrid supercapacitor is forecast to witness the fastest growth with a CAGR of 23.5% during the forecast period.
Among the different types of supercapacitor, the board mounted supercapacitor held the largest market share in 2014 and is also predicted to be the fastest growing market with a CAGR of 22.7% from 2015 to 2023. Increasing usage of board mounted supercapacitor by different automotive manufacturers for various applications such as regenerative breaking and start stop system in order to reduce fuel consumption is responsible for the robust growth of board mounted supercapacitor market.
Geographically, Asia Pacific supercapacitor market is predicted to experience the fastest growth rate with a CAGR of 23.2% from 2015 to 2023. Rapid expansion of production facility in this region owing to huge capital investment by different companies in this emerging technology results in sharp fall of price of the supercapacitor. This reduction in price of supercapacitor coupled with low maintenance cost is predicted to increase the usage of supercapacitor across different application segments. This in turn, is expected to boost the demand for supercapacitor in the coming years.
After considering the various macroeconomic and micro economic factors, the predicted future growth of the global supercapacitor market is provided in this report. In addition, detailed analysis of various factors that are anticipated to affect the demand of supercapacitor globally, is highlighted in this report.
The global supercapacitor market can be segmented as follows:
Global Supercapacitor Market, By Application
Automotive and Transportation
Industrial
Energy
Consumer Electronics
Others
Global Supercapacitor Market, By Product
Double Layer Supercapacitor
Pseudocapacitor
Hybrid Capacitor
Global Supercapacitor Market, By Type
Supercapacitor Module
Supercapacitor Cell
Board Mounted Supercapacitor
Global Supercapacitor Market, By Geography
North America
Europe

U.K.
Germany
Italy
France
Rest of Europe

Asia-Pacific

India
China
Japan
Rest of Asia Pacific

Rest of the World (RoW)

Middle East
Latin America
Africa