Squash Drinks Market
Squash Drinks Market (Nature: Regular and Blended; Product Type: No Added Sugar and Added Sugar; Base Type: Citrus Fruit, Berry, Tropical & Exotic Fruit, and Mixed Fruit; and Distribution Channel: Online Retailing and Store-based Retailing) - Global Industry Analysis, Size, Share, Growth, Trends, and Forecast, 2019 - 2029
Category :

Food & Beverages

Format :
Health Promoting Nutrients Boost Sales of Berry-based Squash Drinks
Blending is one of the most important procedures in the F&B processing industry. As such, blended products are anticipated to dominate the squash drinks market in terms of value and volume. This product type segment is projected to reach a volume of ~263,200 metric tons by the end of 2029. Hence, manufacturers in the squash drinks market are increasing their production capabilities to produce blended grape squashes.
Moreover, South Asia is estimated to reach the third-highest volume among all regions in the squash drinks market. It is estimated to reach a production of ~89,600 metric tons by 2029. India being one of the rapidly growing economies in South Asia, is also one of the largest producers of fruits worldwide. Hence, manufacturers in the squash drinks market are penetrating in other developing countries of South Asia to boost sales. They are also tying up with farmers to source good quality grapes to fulfill consumer demands for premium-quality products. Manufacturers are also boosting developing marketing strategies around health promoting phytonutrients, vitamins, and antioxidants in products.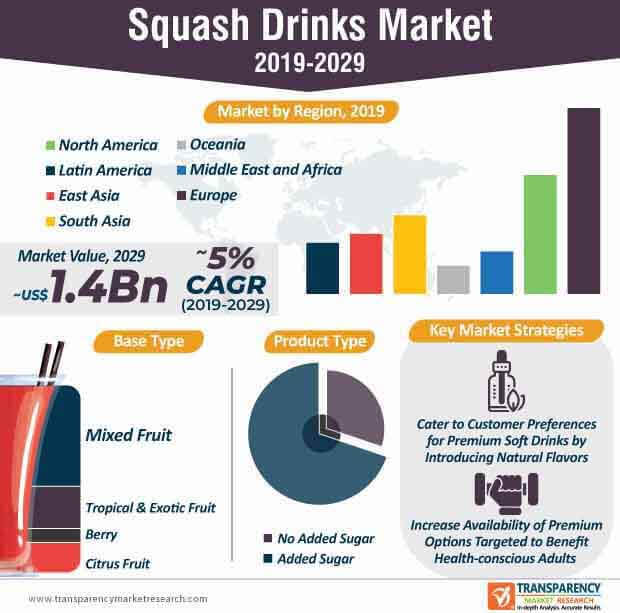 Request a sample to get extensive insights into the Squash Drinks Market
Rebranding and Simple Innovations Reverse Downturn of Underperforming Squash Drinks
Manufacturers in the squash drinks market are adopting various tactics to increase the sales of underperforming squash drinks. For instance, soft drinks firm Britvic partnered with Sainbury's - a supermarket company, to rebrand and reformulate Robinsons squash into a new range products in their existing product line.
Companies in the squash drinks market landscape are adopting marketing tactics to increase consumer uptake. They are strategically staging their products with labels such as 'Fruit Cordial' range or 'Fruit Creations' squash collection. As such, the mixed fruit base type segment is estimated to reach a volume of ~293,200 metric tons by 2029. Hence, manufacturers are increasing the availability of squash drinks in mixed fruit base type.
Moreover, manufacturers are increasing awareness about adding squash in tap water to enhance taste. This trend is helping companies to increase consumption in the U.K. and maximizing incremental opportunities for both manufacturers as well as retailers.
To understand how our report can bring difference to your business strategy, Ask for a brochure
Aggressive Investments and Adoption of Sustainable Production Practices in Squash Drinks Market
Companies are focusing on leveraging incremental opportunities in Europe, since the region dictates the squash drinks market in terms of value and volume. The squash drinks market in Europe is estimated to reach a value of ~US$ 400 Mn by 2029. For instance, Princes - U.K.'s food and drinks company, announced its £17 Mn (~US$ 22 Mn) investment in installing a new squash bottling plant in Bradford.
Stakeholders in the squash drinks market are increasingly investing in new technologies that boost production capabilities of companies on an hourly basis. They are upgrading their credibility credentials by adopting sustainable production practices. Companies are using recycled PET bottles to significantly reduce the excess weight of conventional plastic bottles. They are growing increasingly aware about their shared responsibility towards reduction of plastic pollution. Companies are investing in cutting-edge equipment to increase production and enhance production efficiency at sites.
Manufacturers Increase Use of Natural Flavors to Meet Demand for Premium Soft Drinks
The squash drinks market is undergoing a shift in consumer preferences from alcoholic drinks to increased inclination toward premium soft drinks. Health-conscious customers are aiming to moderate their alcohol intake. Thus, manufacturers in the squash drinks market are capitalizing on this trend, and introducing fresh and natural flavors.
Manufacturers in the squash drinks market are tapping into opportunities in HoReCa to offer great tasting drinks to customers. Though added sugar products are projected to hold a higher value and volume as compared to no-added sugar products, more and more customers are demanding unconventional drinks sans sugar.
However, stakeholders in HoReCa are pushing sales of cordials to maximize their profit potential. They are investing in on premise dispensing systems to meet the growing demand for non-alcoholic drinks. Hence, manufacturers in the squash drinks ecosystem are aiming to increase their offerings in natural credentials with no added sugar. They are, thus, likely to tie up with stakeholders in HoReCa and strengthen supply chain of branded glassware and bar equipment to boost brand identity.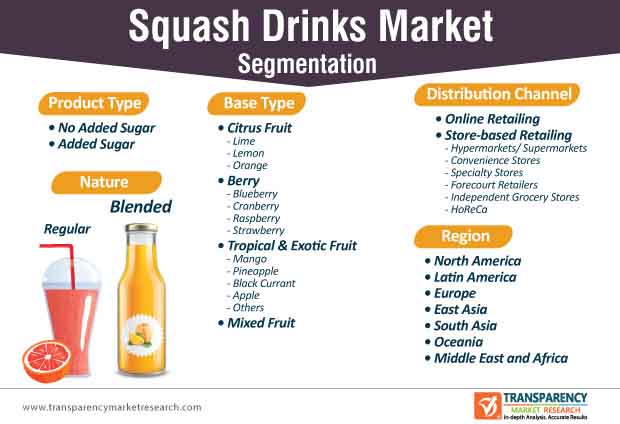 Stuck in a neck-to-neck competition with other brands? Request a custom report on "Squash Drinks Market"?
Analysts' Viewpoint

Apart from store-based retailing, manufacturers in the squash drinks market are exploring opportunities in online retailing to further sales. For instance, PepsiCo partnered with different manufacturers for the launch of its e-Commerce-only squash drink, Drinkfinity. Thus, manufacturers are introducing products rapidly into the squash drinks market.

However, several companies are experiencing a downturn in sales of products. Hence, manufacturers should adopt marketing strategies, such as rebranding to increase consumer base. Manufacturers should also direct investments toward Europe, North America, and South Asia to maximize profits. Moreover, they should increase product offerings in premium options of squash drinks to meet the needs of health-conscious adults.
Squash Drinks Market: Overview
TMR has conducted a research on the squash drinks market. According to the report, the squash drinks market is likely to be valued at ~ US$ 900 Mn in 2019, and is anticipated to reach a value of ~US$ 1.4 Bn by 2029, expanding at a CAGR of ~5% between 2019 and 2029
The squash drinks market will gain momentum on account of the rising application in the food and beverages industry. The growing demand for ready-to-serve drinks and changing preference of consumers from carbonated and alcoholic beverages to healthy drinks are anticipated to strengthen the growth of the squash drinks market.
Squash Drinks Market: Segmentation
Sugar added product type segment is anticipated to hold a significant share of the squash drinks market during the forecast period. No added sugar squash drinks are gaining traction among the health conscious consumers. This segment is expected to expand at a CAGR of ~5% during the forecast period.
Demand for no-added sugar is increasing due to increase in health related awareness among consumers. Based on nature, blended squash drinks are in more demand compared to regular squash drinks. Blended squash drinks are available in a variety of mixed fruit flavors, which include sweet, sour, and tangy tastes, whereas regular drinks have single fruit flavor.
Europe is expected to account for a significant share of the global squash drinks market, in terms of value, by 2029. This can be attributed to the ever-rising consumption rate of healthy beverages in the region. EU-4 has been a dominant region in the squash drinks market, in terms of consumption and production. Consumers in Europe are more aware about squash drinks compared to people in the U.S. and Asia. Therefore, there are high number of manufacturers in Europe.
Squash Drinks Market: Trends
Beverage manufacturers are adapting influential health movements, as they are witnessing increasing demand for healthier beverages
Health has become a key purchase motivator for several consumers, followed by continuous declining of sugary beverages with artificial ingredients
Consumers are more willing to experiment with natural ingredients compromising on flavor
There are opportunities for manufacturers to encourage consumers to opt for drinks that are natural and gut-friendly and have low sugar and fruit-flower based ingredients, such as botanicals, herbs, exotic fruits, elderflower, etc.
Globally, a majority of consumers view plant extracts and botanicals as beneficial ingredients in drinks they consume, as they have a positive impact on health
The experimental trend opens new opportunities for brands to keep pace with changing consumer preferences by introducing innovative flavor profiles, including salty, savory, spicy, floral, fruity, and others
In order to offer innovative flavors, manufacturers are investing in the research and development of new techniques to discover and add new flavors in their product portfolio. Some of these techniques are high-pressure processing, cold pressed, hyper-targeted waters, fermentation, aroma releasing, etc.
Squash Drinks Market: Strategies
Major players and manufacturers operating in the global squash drinks market are investing and capitalizing on packaging trends and innovations. These companies are trying to improve and innovate packaging solutions to differentiate their products for consumers. They are offering convenient and easy-to-use packaging for their squash rinks to provide convenience to consumers.
Manufacturers are using wide packaging formats, which include bottles, spout tubes, squeezy pouches, and others for easy, versatile, and flexible packaging solutions. Moreover, manufacturers are adopting packaging solutions, which will help in extending the shelf life of squash drinks even when kept at extreme temperatures and transported over long distances.
Additionally, manufactures are using well-designed packaging to offer solutions to reduce food wastage in order to promote sustainability. They are also using attractive packaging, popping bright colors, and catchy taglines to attract consumer attention toward squash products.
Squash Drinks Market: Key Players
Key players operating in the squash drinks market, as profiled in the study, include -
Britvic PLC. (Robinsons)
Tovali Limited (Tovali)
J Sainsbury plc (Sainsbury's)
Nichols plc (Vimto)
Dr Pepper Snapple Group (Schweppes)
Unilever plc (Kissan)
Prigat
PepsiCo Inc (Tropicana)
Suntory group (Lucozade Ribena Suntory Ltd.)
Carlsberg Breweries A/S
Harboe's Brewery (Harboe Squash Light)
The Coca-Cola Company
Belvoir Fruit Farms Ltd.
Squash Drinks Market - Scope of the Report
Transparency Market Research (TMR) has recently published a market study on squash drinks. The study provides a detailed assessment of key market dynamics, including drivers, trends, opportunities & restraints, and detailed information about the squash drinks market structure. The market study presents exclusive information about how the squash drinks market will grow during the forecast period of 2019-2029.
Key indicators of market growth, which include year-on-year (Y-o-Y) growth of the market, value chain, supply chain analysis, and compounded annual growth rate (CAGR) are explained in the TMR's study in a comprehensive manner. This information can help readers understand the quantitative growth prospects of the squash drinks market during the forecast period.
The study is relevant for stakeholders in the squash drinks market, including squash drinks manufacturers, suppliers, distributors, and investors, and can help them in developing appropriate strategies to grow in the market. Stakeholders in the squash drinks market, investors, industry experts, researchers, and journalists, as well as business researchers can gain valuable insights from the information and data presented in TMR's study.
The study also includes statistics and facts related to the macro as well as microeconomic factors that are impacting developments in the market. It also offers actionable insights into the market based on the future trends in the squash drinks market. Furthermore, small businesses and new entrants in the squash drinks market too can make use of the information presented in this study based on which, they can make appropriate business decisions in order to gain momentum in the market.
Key Questions Answered in TMR's Squash Drinks Market Report
Which regions will be most profitable for squash drinks market players?
Which factors will induce a change in demand for squash drinks during the forecast period?
How will changing trends impact the squash drinks market?
How can market players capture the low-hanging opportunities in the squash drinks market in developed regions?
Which are the major companies in the squash drinks market?
What are the winning strategies of stakeholders in the squash drinks market to improve their market position?
Squash Drinks Market: Research Methodology
The study uses a unique research methodology to conduct extensive research on the growth of the squash drinks market and reach conclusions on the future growth parameters. This research methodology is a combination of primary and secondary research, which helps analysts ensure the accuracy and reliability of conclusions.
Secondary resources referred to by analysts during the production of the squash drinks market study include statistics from governmental organizations, trade journals, white papers, and internal and external proprietary databases. Analysts have interviewed senior managers, product portfolio managers, CEOs, VPs, marketing/product managers, and market intelligence managers who contributed to the development of this report as a primary source.
Comprehensive information acquired from primary sources and secondary sources acts as a validation from companies in the squash drinks market, and makes TMR's projections on the growth prospects of the squash drinks market more accurate and reliable.
Key Segments of Squash Drinks Market
The report divides the squash drinks market into various segments - nature, product type, base type, distribution channel, and region. This report offers comprehensive data and information about the important market dynamics and growth parameters associated with these categories.
Nature

Product Type

No Added Sugar
Added Sugar

Base Type

Citrus Fruit
Berry

Blueberry
Cranberry
Raspberry
Strawberry

Tropical & Exotic Fruit

Mango
Pineapple
Black Currant
Apple
Others

Mixed Fruit

Distribution Channel

Online Retailing
Store-based Retailing

Hypermarkets/ Supermarkets
Convenience Stores
Specialty Stores
Forecourt Retailers
Independent Grocery Stores
HoReCa

Region

North America
Latin America
Europe
East Asia
South Asia
Oceania
Middle East and Africa
Custom Market Research Services
TMR offers custom market research services that help clients to get information on their business scenario required where syndicated solutions are not enough.
REQUEST CUSTOMIZATION