RF-Microwave for 5G Market
RF-Microwave for 5G Market (Component: Antennas, Cable Assemblies, Connectors, and Others; and Application: Test Measurement, Telecommunication Services, and Others) - Global Industry Analysis, Size, Share, Growth, Trends, and Forecast, 2019 - 2027
Category :

IT & Telecom

Format :
Advancements in Integrated Circuit Technology and Widening Applications of 5G to Drive Global Market
Over the past few months, significant innovations and developments have occurred within the RF microwave for the 5G market. The soaring adoption of RF-microwave for 5G from a myriad of end-use industries, including aerospace & defense is expected to play an important role in boosting the growth of the RF-microwave for 5G market during the forecast period. Significant advancements in integrated circuit technology have played a critical role in enhancing the performance of radio frequency while minimizing costs with lower physical footprint. In recent times, phased arrays are increasingly being introduced in tandem with progress in antenna development. Moreover, widening applications of RF-microwave for 5G, including digital beam forming. The expanding applications coupled with significant advancements in technology are likely to drive new architecture implementations in the RF-microwave for the 5G market in the coming years.
For multiple decades, technological advancements in the electronic space were predominantly driven by focusing on transistor level integration– the trend is set to continue during the assessment period within the RF-microwave for 5G market, particularly for applications in the defense and aerospace industry. Furthermore, strides taken by the GaN technology have played an important role in improving radiofrequency power and low noise amplifiers in radio frequency analog. At the back of these factors, the global RF-microwave for 5G market.is likely to attain a market value of ~US$ 5 Bn by the end of 2027.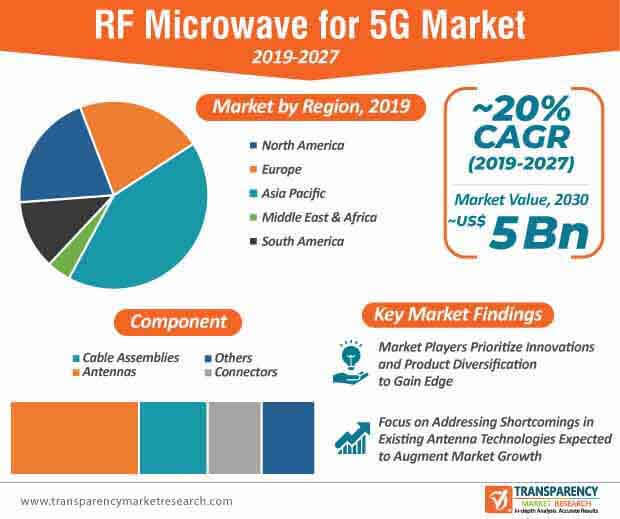 Request a sample to get extensive insights into the RF-Microwave for 5G Market
Efforts to Address Antenna Challenges Coupled with R&D to Fuel Market Growth
Within the RF-microwave for 5G market, emphasis on improving technologies, which enable parallel MIMO implementation while attaining the desired data capacity has gained sig
Sinificant momentum, which, in turn, is expected to increase the adoption of beam former technology to prevent spectral congestion. While market players in the current RF-microwave for 5G market landscape are likely to focus on introducing innovative solutions, overcoming the challenges pertaining to radio frequency antenna is projected to remain a major area of interest. Market players are anticipated to focus on analog beam forming particularly for applications wherein achieving lower beam count while minimizing costs is imperative– a solution that is likely to gain significant traction in the coming years.
To understand how our report can bring difference to your business strategy, Ask for a brochure
Companies are also expected to focus on adaptive beam patterns and achieve programmable flexibility, which is likely to assist in obtaining the desired performance. Challenges pertaining to the size, required DC power, and processing of high volume data is projected to drive innovations and pave the way for hybrid beam forming during the assessment period. However, participants of the RF-microwave for 5G market are focusing on developing digital beam forming and provide the same economically. While wireless 5G is set to become mainstream in the coming years, companies are expected to improve the quality of radio frequency technologies while assessing the availability of high-, mid-, low-band that are predominantly controlled by government bodies worldwide. The growth of the RF-microwave for 5G market will largely be driven by the promise 5G technology offers in enhancing wireless data capacity.
Companies Catering to Defense Sector Focus on Innovations to Gain Edge
Companies operating in the current RF-microwave for 5G market that primarily caters to the defense sector are expected to focus on the development of an array of technologies, which will fulfill the evolving requirements of the industry. Minimizing large phased arrays with beam former chips in Ka, X-band and Ku-bands is expected to gain significant momentum in the upcoming years. At present, innovations around radio frequency architecture and microwave transceivers are aimed at reducing power consumption, enhancing flexibility via software-defined features, and strengthening functional density. The new generation of integrated transceivers, digitizers, and beam former chips are expected to pave the way for a phased array for RADAR, electronic war, and communications.
COVID-19 to Delay 5G Rollout in Europe
Amidst a major health crisis across the world due to the outbreak of the novel coronavirus pandemic, the rollout of the 5G mobile technology in different parts of Europe is expected to be delayed. Although the EU aimed to implement the novel 5G technology by the end of June in member states, due to the COVID-19 pandemic, a delay can be expected. While the RF-microwave for 5G market in Europe is likely to experience sluggish growth in the coming years, the market in China is witnessing an impressive growth, as the government continues to focus on the deployment of cutting-edge telecommunications infrastructure within the country. While operations across China's core industries were shut down for several weeks, the top three telecom companies in China recently revealed their plans to accelerate the deployment of 5G infrastructure.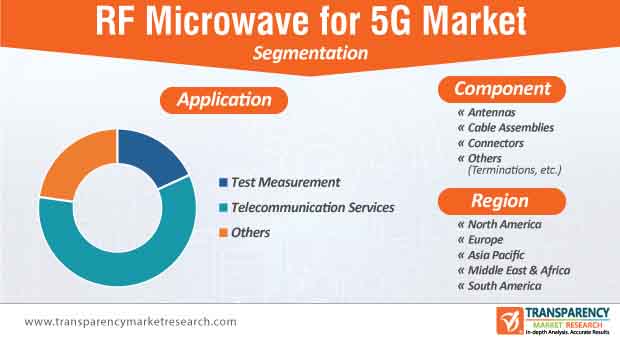 Stuck in a neck-to-neck competition with other brands? Request a custom report on RF-Microwave for 5G Market
Analysts' Viewpoint
The global RF-microwave for 5G market is expected to grow at an impressive CAGR of ~20% during the forecast period. The market growth is largely driven by significant advancements in technology, advent of new and improved innovations, soaring demand from different end-use industries, etc. Companies should assess their market position in the current scenario and evaluate their growth opportunities amidst the COVID-19 crisis, particularly in Europe and the U.S. Companies should tap into opportunities in China by eyeing mergers and collaborations with Chinese companies.
RF-Microwave for 5G Market: Overview
The global RF-microwave for 5G market is expected to expand at a CAGR of 20% during the forecast period, primarily driven by increase in investments for 5G, and growing requirement to boost communication signals
The RF-microwave for 5G market was valued at ~US$ 1.5 Bn in 2019 and is expected to reach ~US$ 5 Bn by 2027
In terms of component, the antenna segment is anticipated to account for notable share as compared to the other components of the RF-microwave for 5G market
In the application segment, telecommunication services is set to dominate the market during the forecast period. Additionally, telecommunication services are likely to remain the fastest growing application during the forecast period.
Asia Pacific remains a prominent market for RF-microwave for 5Gs globally, and the market in the region was valued at US$ 436 Mn by the end of 2019
RF-Microwave for 5G Market: Definition
The RF-microwave for 5G market report provides analysis of the market for the period 2017 – 2027, wherein 2018 is the base year and 2019 to 2027 is the forecast period. Data for 2017 has been included as historical information
In this report, we analyze the growth drivers that enhance the value of the RF-microwave for 5G market and various opportunities prevailing in the market
Providers of RF-microwave for 5Gs are focused on developing innovative solutions to serve specific requirements of end users, which is expected to drive the market demand in the upcoming years
Asia Pacific RF-Microwave for 5G Market: Snapshot
Wireless penetration is crushing carrier network capacity around the world; hence, to successfully cater to various end-use industries, network providers are opting for RF-microwave components such as antennas and connectors. This trend is showing exponential growth in adoption of RF-microwave components. Therefore, surging wireless traffic is a significant driver of the RF-microwave for 5G market, specifically in Asia Pacific.
Key Drivers of RF-Microwave for 5G Market
Increase in investments for 5G: Wireless networking is gaining importance across all industries to overcome the networking challenges of the future. Faster networking data rates, lower latencies, and higher bandwidth are the major requirements across industries to enhance business operations. 5G networking supports these requirements. Similarly, research, planning, and investments are key strategies emphasized by governments and major vendors across regions to incorporate these networks. Governments across major countries such as the U.S, Japan, Germany, China, and India are introducing 5G spectrum to ensure efficient networking solutions. Meanwhile, private LTE network is already in practice among enterprises across the U.S and Japan. Furthermore, North America, Asia, and Western Europe are moving toward investing in new networking technology and IT hardware spending to build network infrastructure, new edge hardware computing etc.
Growing requirement to boost communication signals: Multiple technologies are being developed in order to provide better networking solutions around the globe. At present, growing adoption of BYOD (bring your own device) such as smartphones, laptops, and tablets across the world is boosting the demand for better communication signals. This is primarily due to the growing consumer need for continuous online connectivity for audio-visual communication. Among end-use industries, demand for RF/ Microwave components is unceasingly growing in the healthcare industry, as visitors, patients, and doctors expect portable devices to work throughout the hospital premises and depend on the Cellular/PCS WAN network for data services.
Key Restraints of RF-Microwave for 5G Market
Security and cost issues of 5G infrastructure: Telecom providers are majorly investing to develop 5G infrastructure, but are failing to look after security challenges that are not implemented in the new 5G standards. Earlier, wireless communication faced major security vulnerabilities. 1G, 2G, 3G, and 4G security issues such as illegal cloning, masquerading, and message spamming were prevalent across enterprises. Security issue is the major concern for telecom providers and equipment providers with the revolution of Fifth Generation (5G) wireless networks. Moreover, security threats such as Man-in-the-Middle attacks, and denial of service (DDoS) attacks can increase with the rise in usage of IoT devices and data generated at a faster speed. Faster speed data transmission can create more opportunities for the attacker to misuse the sensitive data of any organization.
Likewise, cost is also a concern for 5G deployment. The deployment of 5G infrastructure requires huge investment for its hardware and other networking services which is considered a difficult task for mid-sized equipment providers
RF-Microwave for 5G Market: Competition Landscape
In February 2020, CommScope Inc. introduced various solutions such as antennas, connectors, and power options to make it quicker and simpler for wireless operators to build their networks more efficiently
In August 2019, HUBER+SUHNER partnered with Telekom to develop 'SENCITY' 5G-capable small-cell urban antennas to enhance performance of the mobile communication network
RF-Microwave for 5G Market: Company Profile
CommScope, Inc.: CommScope, Inc. is a U.S.-based provider of network infrastructure solutions with more than 130 customers worldwide. The company designs, manufactures, and manages wired and wireless networks. The company operates primarily through the following business segments: mobility solutions and connectivity solutions. Under its mobility solutions business segment, the company provides indoor solutions; distributed antenna wireless systems; and small cell and cellular base station products and services.
HUBER+SUHNER AG: Huber+Suhner AG is a Switzerland-based company, which manufactures electric and optical connectivity components and systems for transportation, communication, and other industries. The company operates through three business segments: radio frequency, low frequency, and fiber optics. Under its radio frequency segment, the company offers various solutions such as antennas, connectors, lightning protectors, and coaxial cables for use in transportation, communication, and industrial applications.
Radiall SA: Radiall is a key player that designs, develops, and manufactures RF connectors, antennas, and associated components, specifically for use in electronic applications. The company offers various components such as radio frequency (RF) cable assemblies, coaxial connectors, antennas, microwave components, fiber optic connectors, microwave switches, cable assemblies, and multi-pin connectors. The company has strong presence across Asia Pacific, Europe, and North America.
Rosenberger Hochfrequenztechnik GmbH & Co. KG: Rosenberger Hochfrequenztechnik Gmbh & Co. Kg is a Germany-based key manufacturer & supplier of connectivity solutions worldwide. The company provides various components and systems that include antennas, connectors, cable assemblies, and printed circuit boards across information & communication, aerospace, and defense.
RF-Microwave for 5G Market - Scope of the Report
A latest study collated and published by Transparency Market Research (TMR) analyzes the historical and present-day scenario of the global RF-microwave for 5G market, to accurately gauge its potential future development. The study presents detailed information about the important growth factors, restraints, and key trends that are creating the landscape for the future growth of the RF-microwave for 5G market, to identify the opportunistic avenues of the business potential for stakeholders. The report also provides insightful information about how the RF-microwave for 5G market will progress during the forecast period 2019-2027.
The report offers intricate dynamics about the different aspects of the RF-microwave for 5G market that aids companies operating in the market in making strategic development decisions. TMR's study also elaborates on the significant changes that are highly anticipated to configure the growth of the RF-microwave for 5G market during the forecast period. It also includes a key indicator assessment to highlight the growth prospects of the RF-microwave for 5G market, and estimate statistics related to the market progress in terms of value (US$ Mn) & volume ('000 Units).

The study covers a detailed segmentation of the RF-microwave for 5G market, along with key information and a competitive outlook. The report mentions the company profiles of key players that are currently dominating the RF-microwave for 5G market, wherein various developments, expansion, and winning strategies practiced and executed by leading players have been presented in detail.
Key Questions Answered in TMR's Report on RF-Microwave for 5G Market
The report provides detailed information about the RF-microwave for 5G market on the basis of comprehensive research on various factors that play a key role in accelerating the growth potential of the market. Information mentioned in the report answers path-breaking questions for companies that are currently functioning in the market and are looking for innovative ways to create a unique benchmark in the RF-microwave for 5G industry, so as to help them make successful strategies and take target-driven decisions.
How are key market players successfully earning revenue out of the advantages of RF-microwave for 5Gs?
What will be the Y-o-Y growth of the RF-microwave for 5G market between 2019 and 2027?
What are the winning imperatives of market frontrunners in the RF-microwave for 5G market?
Which component is expected to develop maximum application for RF-microwave for 5Gs during the forecast period?
Research Methodology – RF-Microwave for 5G Market
The research methodology adopted by analysts to combine the RF-microwave for 5G market report is based on detailed primary as well as secondary research. With the help of in-depth insights of the industry-affiliated information that is obtained and legitimated by market-admissible resources, analysts have offered riveting observations and authentic forecasts of the RF-microwave for 5G market.
During the primary research phase, analysts interviewed industry stakeholders, investors, brand managers, vice presidents, and sales and marketing managers. On the basis of data obtained through the interviews of genuine resources, analysts have emphasized the changing scenario of the RF-microwave for 5G market.

For secondary research, analysts scrutinized numerous annual report publications, white papers, industry association publications, and company websites to obtain the necessary understanding of the RF-microwave for 5G market.
RF-Microwave for 5G Market – Segmentation
TMR's research study assesses the RF-microwave for 5G market on the basis of component, application, and region. The report presents the extensive market dynamics and progressive trends associated with different segments, and how they are influencing the growth prospects of the RF-microwave for 5G market.
Component

Antennas
Cable Assemblies
Connectors
Others (Terminations, etc.)

Application

Test Measurement
Telecommunication Services
Others

Region

North America

U.S.
Canada
Rest of North America

Europe

Germany
U.K.
France
Rest of Europe

Asia Pacific
China

India
Japan
Australia
Rest of Asia Pacific

Middle East & Africa

UAE
South Africa
Rest of Middle East & Africa

South America

Brazil
Rest of South America
Custom Market Research Services
TMR offers custom market research services that help clients to get information on their business scenario required where syndicated solutions are not enough.
REQUEST CUSTOMIZATION

Rf Microwave For 5g Market