Lithography Equipment Market
Lithography Equipment Market (Technology- Mask Aligner, Projection, Laser Direct Imaging, and Laser Ablation; Packaging Platform - 3D IC, 2.5D Interposer, FO WLP Wafer, WL CSP, Flip Chip Bumping, 3D WLP, Embedded Die, FO WKP Panel, Glass Panel Imposer; Application - Advanced Packaging, MEMS Devices, and LED Devices) - Global Industry Analysis, Size, Share, Growth, Trends, and Forecast 2017 - 2026
Category :

Electronics & Semiconductors

Format :
Lithographic equipment are widely employed for printing complex circuit patterns on silicon wafers that are mainly raw materials for integrated circuits (ICs). Printing process is considered to be one of the most expensive and critical steps in wafer fabrication. The IC industry is therefore focused toward using lithographic equipment as cost-efficient enhancements in the production technology.
Movement toward New Innovations in Lithography Entails New Challenges & Opportunities
Following expansion of electronic device industry, demand for semiconductor IC for application in different areas such as sensor devices, memory devices, communication, and consumer electronic devices has witnessed a tremendous surge. This has further created the need for cost-efficient and effective printing equipment of IC production such as lithographic equipment. In addition, proliferated adoption of compact electronics and large panel displays has further led toward demand for KrF and ArF lithographic equipment. The movement toward new innovations in Lithography, which include 450mm wafers and EUV technology, has entailed new challenges as well as opportunities. With the evolution of the semiconductor and electronics industry, companies are seeking improvements that would have the potential to realize future technology. Manufacturers of lithographic equipment are focusing on gaining more experience and expertise for effective fabrication of the new innovative chips.
However, digital printing has been consistently gaining ground on the lithographic equipment market since the recent past, and has closed in at a point wherein it is on the brim of dominating the IC production. On the other hand, higher cost per sheet of digital printing compared to that of lithography equipment will remain a major factor hindering adoption of digital printing technology for semiconductor IC fabrication.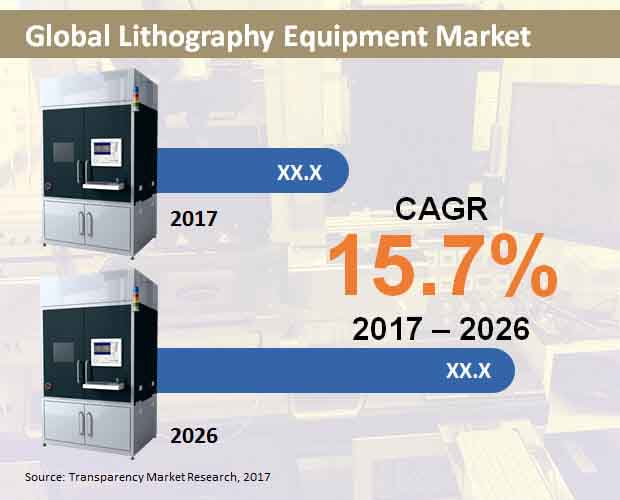 According to Transparency Market Research, a splendid expansion at over 15% CAGR will be reflected by the global lithography equipment market during the period 2017 to 2026. Approximately US$ 640 Mn revenues are forecast to be gained from sales of lithographic equipment across the globe by 2026-end.
APEJ to be Most Lucrative Market for Lithography Equipment
With the presence of a large number of leading lithographic equipment manufacturers, along with rapid rise of the semiconductor industry in Asia-Pacific excluding Japan (APEJ) have made the region to be most lucrative for the lithographic equipment market. In addition, revenues from lithographic equipment sales in APEJ will increase at the highest CAGR through 2026, followed by those in Japan. Proliferation in adoption of smartphones, in parallel with a constant rise in demand for compact electronic devices are further likely to contribute the market growth in these two regions.
North America will also contribute significantly to the market growth, in terms of revenues. This can be highly attributed to surging demand for advanced ICs in the region for making innovations in products. Robust expansion of consumer electronics sector in North America will also underpin expansion of the lithography equipment in the region.
Key Research Findings from TMR's Report
Mask aligner and laser direct imaging will prevail as dominant technologies in the global lithography equipment market
3D WLP will continue to be the most lucrative packaging platform for lithography equipment
Lithography equipment will find the largest application in advanced packaging during 2017 to 2026
Competition Tracking
The global market for lithographic equipment has been densely marked with the occupancy of prominent vendors, who hold majority share of the market. These vendors are continuously working on developing innovations in the equipment for reducing the cost per function and improving the profit margins of IC manufacturers. Key players actively underpinning expansion of the lithographic equipment market include Ultratech, SUSS, Cannon, Nikon, SMEE, Rudolph, EVG, ASML, ORC, USHIO, Orbotech, and Screen.
Latest Innovations in Printing Technologies to Propel Lithography Equipment Market Growth
The rapid advancement in gadgets business in both emerging and well established nations worldwide has prompted multiplying interest for ICs in regions like memory gadgets, correspondence, and sensor gadgets. The stunning ascent in take-up of shopper electronic gadgets is arising economies is likewise supporting the interest for semiconductor ICs. Besides, the take-up of lithography equipment will profit to a great extent from the rising interest for miniature electromechanical frameworks and gadgets.
Growing developments in lithography equipment with improve their energy-proficiency and cost-viability is helping in the quick extension of the market. Upgrades underway innovation is driven by ongoing progressions in lithography equipment, which have assisted makers with making ICs with surprisingly high current thickness and expanded execution. For example, the appearance of 450mm wafers and extraordinary bright lithography looks good for the market.
Despite the fact that the attention on creating cutting edge advancements for high-volume creation of wafers is acquiring foothold, different test are surfacing to the front. A few worries about predictable throughput of these innovations will keep on influencing their commercialization for quite a while to come. In any case, the steady endeavors to get upgrades lithography equipment and innovation will help makes address these worries after some time.
Acquainting developments in lithography equipment with improve their energy-productivity and cost-viability is helping in the fast extension of the market. Upgrades underway innovation is driven by late headways in lithography equipment, which have assisted makers with making ICs with strikingly high current thickness and expanded execution.
Geologically, North America will likewise contribute fundamentally to the market development, regarding incomes. This can be exceptionally ascribed to flooding interest for cutting edge ICs in the locale for making advancements in items. Strong development of purchaser gadgets area in North America will likewise support extension of the lithography equipment in the locale.
Manufacturing of chips is all about shrinking or making alterations in the designs of chip sizes. Historically, the semiconductor and electronics industry has witnessed a notable growth, underpinned by the continuous reduction in the cost per function of the integrated circuits (ICs). Manufacturing ICs with relatively higher circuit densities and improvements in their design has meant that more compact and affordable ICs are capable of performing wider array of functions with low power consumption at comparatively higher speeds. These long-term trends are deemed to prevail in the near future, accompanies by a constant demand for production equipment such as lithography equipment, which are capable of producing advanced ICs accurately and effectively in high volumes at low costs.
A new insightful report developed by Transparency Market Research (TMR) imparts forecasts on the global lithography equipment market. The report delivers important dynamics that affect the market expansion, coupled with the intelligence about latest market trends, influencing factors and curbing factors for growth of the global lithography equipment market. The report also encompasses an in-depth analysis on the data associated with multiple market parameters.
Structure of Report
The report starts with a chapter on "executive summary", propounding a précis of global lithography equipment market, in accordance with knowledge about crucial market numbers that include historical CAGR (2012-2016) and forecast CAGR (2017-2026). The market numbers offered are related to the market segments comprised in the report. Following the executive summary is a chapter titled "overview", which incorporates the definition of "lithography equipment" that succeeds a concise market introduction. The overview chapter clearly showcases the wide scope of global lithography equipment market. Trailing chapters in the report provide intelligence with regard to the pricing analysis and the cost structure pertaining to the current scenario of the global lithography equipment market.
Competition Landscape
An attentive study of the global lithography equipment market's competition landscape has been issued in the concluding chapter of the report, which incorporates knowledge about prominent industries contributing to the market growth significantly. The occupancy of key players in the market has been traced and profiled through an intensity map in this chapter. The report identifies leading market participants scrupulously, offering insights on the basis of key financials, SWOT analysis, company overview, key developments, and product overview.
Research Methodology
A robust, tested & proven, research methodology is leveraged by analysts at TMR for developing the report on global lithography equipment market. This research methodology helped the analysts in giving accurate insights pertaining to the global lithography equipment market. This research methodology depends completely on the secondary & primary researches, for gleaning critical information related to the market's future prospects. The intelligence offered is validated thoroughly by TMR's analysts, so as to ensure its authenticity, and make the report to be an authoritative and a reliable reference for its readers.
Market Taxonomy
Moving ahead, the report imparts insights on global market for lithography equipment based on segmentation-wise analysis. Characterizing the global market for lithography equipment into application, technology, packaging platform, and region, this chapter provides market numbers associated with the Y-o-Y growth comparison, market share comparison, and the revenue comparison. The global lithography equipment market is characterized geographically into North America, Middle East & Africa (MEA), Latin America, Asia-Pacific excluding Japan (APEJ), Japan, and Europe.
Region

North America
Latin America
Europe
Japan
APEJ
MEA

Technology

Mask Aligner
Projection
Laser Direct Imaging
Laser Ablation

Packaging Platform

3D IC
2.5D interposer
FO WLP Wafer
WL CSP
Flip Chip Bumping
3D WLP
Embedded Die
FO WKP Panel
Glass Panel Imposer

Application

Advanced Packaging
MEMS Devices
LED Devices
Custom Market Research Services
TMR offers custom market research services that help clients to get information on their business scenario required where syndicated solutions are not enough.
REQUEST CUSTOMIZATION

Lithography Equipment Market