Global Ion Exchange Membrane Market- Inorganic Membrane to Witness Highest Growth during 2017-2024
Ion exchange membrane is being used in a diverse application and plays an important role in addressing environmental and energy issues. In the process of purification and separation, membrane technology is playing an important role due to various advantages such as low maintenance cost, eco-friendliness, and high energy efficiency. New projects to provide clean and pure water worldwide is boosting the use of ion exchange membrane. However, ion exchange membrane can also be the source of non-ionized organic contamination. Such contamination may restrict the use of ion exchange in various application. Also, sometimes membrane bed do not filter out micro-organism or bacteria.
Hence, companies are working to develop ion exchange membrane material that can be used across applications without any concerns. Although the target to develop membrane differ with applications, the most important thing is the selection of the material with low energy consumption. Companies are developing ion exchange membrane using various methods, especially to develop ion exchange membrane that can showcase better electrochemical properties.
According to the report by Transparency Market Research, the global ion exchange membrane market is anticipated to witness sluggish growth between 2017 and 2024. The market is expected to increase at a CAGR of 3.5%.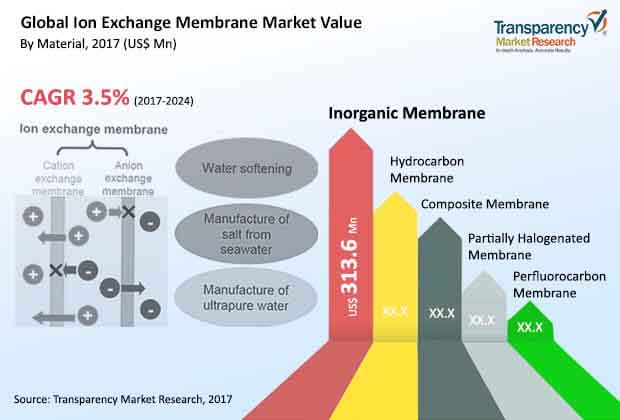 Inorganic Membrane Material to Gain Maximum Traction in the Global Ion Exchange Market
Inorganic ion exchange membrane has a very small quantity of organic polymers as binders. Materials including silica, various oxides, carbon, and ceramic are being used to make inorganic membranes. By material, the inorganic membrane is expected to witness the highest growth, exceeding US$ 400 Million revenue by 2024 end. Moreover, the inorganic structure is more stable as compared to an organic structure in terms of iodizing agents and radiations. Inorganic ion exchange membrane is also known as hybrid inorganic membranes. Most of the inorganic membranes are not commercially available. Hence, companies are working towards providing an inorganic membrane for various applications.
Increasing use of Ion Exchange Membrane in Waste Water Treatment
Growing demand for clean drinking water globally is driving the government of various countries to take certain measure to ensure the supply of clean water. This is driving the demand for ion exchange membrane for water treatment. With increasing scarcity of water globally, reuse of water produced from oil and gas industry and other industries is becoming a highly preferred option to provide water across regions. The acrylic polymer ion exchange resins are also being made to be used in water as it provides good chemical stability and organic fouling resistance. Moreover, the quantity of wastewater produced and the pollution load is continuously rising. According to the UN World Water Development Report, high-income countries are already treating around 70% of industrial and municipal wastewater. Hence, the use of new technologies and methods are being developed to treat wastewater and make it useful for various applications.
Extensive studies in industrial fields are being carried on for the use of ion exchange membrane. New membrane formation techniques are in demand to convert polymers to ion exchange membranes. Materials, methods and, application are some of the most important aspects in the field of ion exchange membrane.
Global Ion Exchange Membrane Market: Overview
The report by Transparency Market Research provides analysis and forecast on the global Ion exchange membrane market. Ion exchange membrane helps in transporting ions that are dissolved across conductive polymeric membrane. The ion exchange membrane comprises of a polymeric material. Ion exchange membranes are finding large application in electro dialysis, desalination, and other applications.
Global Ion Exchange Membrane Market: Scope of a Study
The report provides forecasts on the global ion exchange membrane market at the regional as well as at a country level. The forecast is offered for the period from 2017 to 2024 on the basis of value in (US$ Mn) and volume in (Sq. mts) with base year 2016. The report also includes an in-depth analysis of key segments, based on which the market is divided. The report offers a overall view of the global market.
Value-based analysis done on the market provides a detailed information on the value and volume at every stage in the global market. The sheds light on the market drivers, latest trends, challenges, and opportunities for growth for manufacturers in the global market for ion exchange membrane. Key factors affecting the market growth are also provided in the report. Major factors in the market help in identifying opportunities offered for growth in the global ion exchange membrane market. Qualitative and quantitative data is provided in the report to justify key market drivers, challenges, and opportunities. All these market dynamics have been crosschecked by conducting primary research and secondary research. Moreover, the report details on substitutes of ion exchange membrane and their use in the market.
Porter's Five Forces analysis, SWOT analysis are also offered to understand the level of opportunities and challenges in the global market for ion exchange membrane. The report provides analysis on market attractiveness to offer the market attractiveness index. It also offers analysis on performance of all the segments in the key regions. Market size, growth rate, CAGR, availability of raw material, latest technological development, and factors including legal and environmental have also been provided in the report.
Global Ion Exchange Membrane Market: Segment-wise Analysis
The global ion exchange membrane market is segmented on the basis of charge, material, structure, applications and region. The market has also been further segmented into sub-segments, while regions are further segmented based on the countries. All the segments, sub-segments, regions and countries have been analyzed on the basis of historic, current, and future market trends and new developments.
Region-wise, the report offers detail on the current scenario and forecast on the ion exchange membrane market in various regions including Europe, North America, Asia Pacific, the Middle East & Africa (MEA), and Latin America. In addition, the report also includes analysis of the global ion exchange membrane at country-level including value and volume. Segmentation also includes application of the ion exchange membrane in all the regions given in the report.
Global Ion Exchange Membrane Market: Key Players
The report provides a detailed profiles of all the leading players in the global market for ion exchange membrane. This includes market share of all the major companies currently active in the global ion exchange membrane market. Details provided on the companies include business and financial overview, brand overview, key developments, and long-term and short-term strategies by companies.
The primary and secondary research was conducted to offer data on the market. Sources referred to for detail analysis include annual and financial reports, company websites, investor presentations, and report on new developments. Other sources including statistical and proprietary databases, and news reports, articles, official documents by governments of different countries, and websites of the major companies in the market were also referred.