Global Intervention Radiology Market: Snapshot
A large section of the global aged population suffers from neurological, cardiovascular, and orthopedic disorders, creating a huge demand for surgical interventions. Utilizing minimally-invasive image-guided procedures to diagnose and treat diseases is known as interventional radiology, which is a medical sub-specialty of radiology. On account of a wide range of applications and technological advancements, the field of interventional radiology has gained immense traction.
High incidence of chronic diseases and obesity is the result of absence of physical activities, busy lifestyle, and unhealthy habits such as smoking and poor diet. This is the primary factor for the high demand for interventional radiology. In addition, the development of new techniques such as optical coherence tomography (OCT) as well as fractional flow reserve (FFR) are likely to increase the global adoption of interventional radiology techniques during the forecast period. However, several developing economies have limited or no reimbursement for interventional radiology procedures or products, thereby limiting the development of the market.
According to Transparency Market Research, the global interventional radiology market is anticipated to reach US$22.9 bn by 2024, registering a CAGR of 5.8% over the period between 2016 and 2024.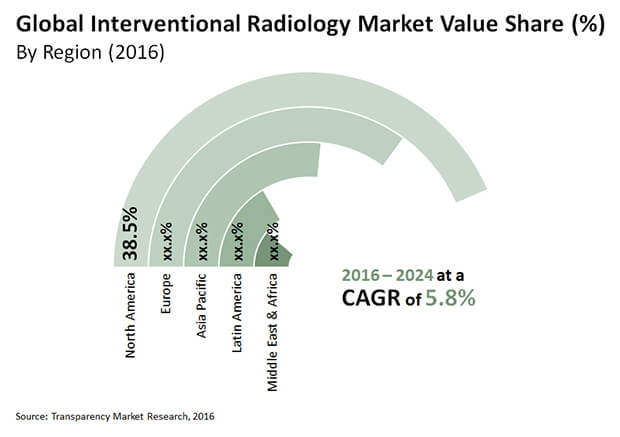 Technological Advancements to Propel Demand for Interventional Radiology
On the basis of procedure, the global interventional radiology market can be segmented into embolization, vertebroplasty angiography, biopsy, balloon angioplasty, kyphoplasty, and RF ablation. The embolization segment held a significant share in the market and is expected to grow during the said period on account of growing incidence of traumatic injuries across the globe. The high demand for minimally invasive surgeries and rising global prevalence of strokes will supplement the growth of the angiography segment over the forecast period.
In term of application, the market is categorized into oncology, urology and nephrology, cardiology, gastroenterology, and other applications such as orthopedics, neurology, and gynecology. Due to the demand for minimally invasive procedures, the cardiology segment is likely to witness the highest growth in the global market.
Based on products, the market is segmented into CT scanners, angiography systems, ultrasound-imaging systems, fluoroscopy systems, MRI system, and other devices such as C-arm, imaging catheter guide wires, and contrast media injectors. Factors such as technological advancements and product launches are fuelling the growth of the MRI system segment.
Improving Healthcare Facilities Drive Asia Pacific Market
North America held the dominant position in the global interventional radiology market. This region is expected to show a significant rise even during the forecast period owing to growing demand for minimal invasive procedures and an endless supply of technological advanced equipment and devices. In addition, rising occurrence of a variety of cancers, improvement in technology, and well-established healthcare facilities will supplemented the growth of the market in this region over the years.
Although the market in North America will continue to gain traction, it will lose prominence to the Asia Pacific market in terms of growth over the years. The development of this regional market is attributed to factors such as rising geriatric population, growing prevalence of a variety of cancers, increase in disposable incomes subsequently leading to rise in healthcare spending, and improving healthcare facilities.
Some of the leading players in the global interventional radiology market are Fujifilm Holdings Corporation, Samsung Medison, Agfa-Gevaert N.V., GE Healthcare, Hologic, Inc., Hitachi Medical Corporation, Philips Healthcare, Carestream Health, Inc., Shimadzu Corporation, and Medtronic plc.
Global Interventional Radiology Market: Scope and Methodology
This report on the global interventional radiology market analyzes the current and future prospects of the market. The report comprises an elaborate executive summary, including a market snapshot that provides overall information of various segments and sub-segments.
The research is a combination of primary and secondary research. Primary research formed the bulk of our research efforts along with information collected from telephonic interviews and interactions via e-mails. Secondary research involved study of company websites, annual reports, press releases, stock analysis presentations, and various international and national databases. The report provides market size in terms of US$ Mn for each segment for the period from 2014 to 2024, considering the macro and micro environmental factors. Growth rates for each segment within the global interventional radiology market have been determined after a thorough analysis of past trends, demographics, future trends, technological developments, and regulatory requirements.
A detailed qualitative analysis of factors responsible for driving and restraining market growth and future opportunities has been provided in the market overview section. This section of the report also includes market attractiveness analysis that provides a thorough analysis of the overall competitive scenario in the global Interventional Radiology market.
Market revenue in terms of US$ Mn for the period between 2014 and 2024 along with the compound annual growth rate (CAGR %) from 2016 to 2024 are provided for all the segments, considering 2015 as the base year. Market size estimations involved in-depth study of services and product features of different types of services. Additionally, market related factors such as increasing preference for technologically advanced services, product innovation, and increasing prevalence of cancer and other chronic diseases in various geographies and historical year-on-year growth have been taken into consideration while estimating the market size.
Interventional Radiology Market: Segmentation
Based on product type, the global interventional radiology market has been segmented into x-ray, computed tomography, magnetic resonance imaging, and ultrasound. The market has been further studied from the point of view of major application. Based on application, the market has been categorized into angiography, balloon angioplasty, embolization, biopsy, vertebroplasty-Kyphoplasty, RF ablation and others. On the basis of end user, the market has been segmented hospitals, catheterization labs, ambulatory surgical centers and others.
Interventional Radiology Market: Geographical and Competitive Dynamics
Geographically, the global interventional radiology market has been segmented into five regions: North America, Europe, Asia Pacific, Latin America, and Middle East & Africa. In addition, the regions have been further segmented by major countries from each region. These include the U.S., Canada, the U.K., Germany, France, Italy, Spain, China, Japan, India, Saudi Arabia, UAE, Brazil, and Mexico.
The report also profiles major players in the Interventional Radiology market based on various attributes such as company overview, financial overview, SWOT analysis, key business strategies, product portfolio, and recent developments. Key companies profiled in the report include Agfa-Gevaert N.V., Fujifilm Holdings Corporation, GE Healthcare, Hitachi Medical Corporation, Hologic, Inc., Medtronic plc., Philips Healthcare, Siemens Healthineers, Teleflex Incorporated, and Toshiba Medical Systems Corporation.
The global Interventional Radiology market has been segmented as follows:
Global Interventional Radiology Market, by Product Type
X-ray
Computed Tomography
Magnetic Resonance Imaging
Ultrasound
Global Interventional Radiology Market, by Application
Angiography
Balloon Angioplasty
Embolization
Biopsy
Vertebroplasty-Kyphoplasty
RF Ablation
Others
Global Interventional Radiology Market, by End User
Hospitals
Catheterization labs
Ambulatory Surgical centers
Others
Global Interventional Radiology Market, by Geography
North America
Europe

U.K.
Germany
France
Italy
Spain
Rest of Europe

Asia Pacific

China
Japan
India
Rest of Asia Pacific

Latin America

Brazil
Mexico
Rest of Latin America

Middle East & Africa

Saudi Arabia
UAE
Rest of Middle East & Africa