The hemophilia treatment drugs market is experiencing entry of a large number of new drugs in the market. Few of them have already arrived and other long lasting clotting factors and more promising drugs are on their way to get launched in this market. For instance, follow up data from phase I/II study of hemophilia medicine 'Emicizumab' by Roche has demonstrated promising results regarding safety and prophylactic efficiency in people with severe hemophilia A. Another example is of 'Eloctate' for type A and 'Aprolix' for type B hemophilia, respectively. These two newly arrived biogen products are opposed to commonly prescribe course of three infusions per week as they are longer-acting than traditional treatments and require only one to two infusions per week, due to their new mechanism of action.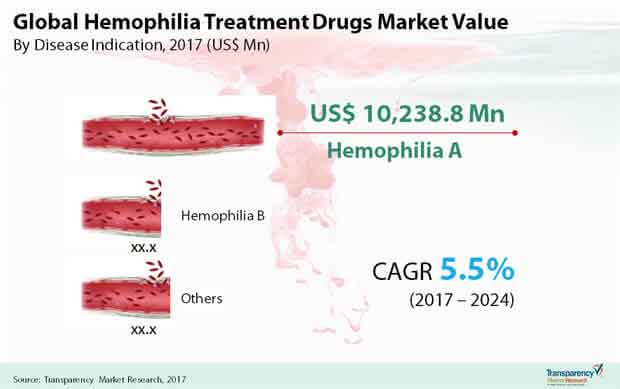 Focus on prophylactic treatment is boosting the hemophilia treatment drugs market
Prophylaxis is the management of bleeding episodes by regular infusion of clotting factor concentrates in order to prevent bleeding. This treatment helps the blood to clot and minimize the likelihood of long-term joint damage. The prophylaxis treatment can be episodic, continuous, and intermittent. Regular infusion of clotting factor can effectively convert severe hemophilia to moderate hemophilia. According to World Federation of Hemophilia, more than three decades of research has shown that patients who receive prophylactic treatment have fewer bleeds and healthier joints; therefore, it has become a goal of treatment for people with severe hemophilia. But inadequate trough levels are the biggest single cause of morbidity and mortality in prophylactic treatment which needs to be overcome. Hence, the focus toward prophylactic treatment is increasing and this is boosting the hemophilia treatment drugs market.
Expanding plasma proteins therapeutics in emerging markets
Plasma derivatives are isolated fractions of donated human blood with three principal molecular product categories such as immunoglobulin for the treatment of immune disorders, albumin for patients who cannot synthesis it or lose it from their blood, and clotting factors (primarily VIII and IX) for patients with inherited hemophilia. A number of countries have attempted to implement local collection and fractionation programmers. As demand grows, countries such as China, Japan, and South Korea could opt to relax their prohibition of foreign plasma product import. The opening-up of these markets is expected to offer significant new opportunities for existing international players, similar to the liberalization of import controls in the Middle East. This is likely to offer significant opportunities in the plasma derived albumin market in the emerging nations such as India and Brazil. Relaxed regulation in the developing nations are anticipated to attract market players in such countries.
Emergence of new and more convenient drugs for hemophilia treatment
The market for hemophilia drugs is growing significantly. Many drugs have entered in the market while many better and efficient drugs are on their way. Major players such as Shire, Novo Nordisk, Bayer, Pfizer, and others are competing with each other in the development of new drugs in the hemophilia treatment drugs market. Bayer has introduced 'Kovaltry' with completion of its phase III clinical trial on children and adults. Kovaltry is expected to gradually replace Bayer's Kogenate FS as it is a 3rd generation full-length rFVIII manufactured without exposure to human and animal proteins. From early 2017, Biotest AG is likely to be adding a recombinant factor VIII preparation which is expected to be produced by using a human cell line to its hemophilia portfolio. Keeping in mind these developments, the market is set for a strong growth due to expected launch of novel and long-lasting drugs during the forecast period.
Global Hemophilia Treatment Drugs Market: Overview
Hemophilia is a rare blood disorder. Hemophilia is a combination of two Greek words that is haima (blood) and philia (affection). Hemophilia is a hereditary disorder, passed from parents to the child. Hemophilia is a bleeding disorder which causes excess bleeding and poor blood clotting. The people with hemophilia are generally known as hemophiliacs. There are two main type of hemophilia, hemophilia A and hemophilia B. Hemophilia A or classical hemophilia is the most common type of hemophilia, caused by lack of factor VIII in blood. Hemophilia B also known as Christmas disease, as it was firstly diagnosed in person named Steven Christmas. Hemophilia B is caused by lack of factor IX in blood. Other hemophilia are hemophilia C, Acquired Hemophilia etc. Hemophilia A & B is passed from mother to child, but hemophilia C is passed from both mother and father to child. This report analyzes the current and future prospects of the hemophilia treatment drugs market based on type of product, disease indication, distribution channel and geography.
Global Hemophilia Treatment Drugs Market: Research Methodology
The research is a combination of primary and secondary research, conducted for understanding and arriving at trends, used to forecast the expected revenue of the major radiography techniques in the near future. Primary research formed the bulk of our research efforts with information collected from in-depth interviews and discussions with a number of key industry experts and opinion leaders. Secondary research involved study of company websites, annual reports, press releases, investor presentations, analyst presentation and various international and national databases. The report provides estimated market size in terms of US$ Mn for each Product type, disease indication, distribution channel, and geography for the period 2017 to 2024, considering the macro and micro environmental factors. The revenue generated from each product was calculated by considering number of products used in the procedures and their market demand as per their use, number of product launched, average cost of products of each sub segment, trends in industry, end user trend, and adoption rate across all the geographies. The revenue generated for disease indication was calculated on the basis of prevalence of diseases in humans.
Global Hemophilia Treatment Drugs Market: Scope
The market report comprises an elaborated executive summary, which includes market snapshot that provides information about various segments of the market. It also provides information and data analysis of the market with respect to market segments based on type of product, disease indication, distribution channel and geography. The market overview section of the report analyzes market dynamics such as drivers, restraints and opportunities that influence the hemophilia treatment drugs market in the current and future scenario. The report also provides value chain analysis of the market that describes the sequence of activities involved from manufacturing to their final reach to the end users.
Global Hemophilia Treatment Drugs Market: Regional Outlook
Market share analysis among the market players is analyzed to signify percentage share of the major players operating in the market. All these factors will help the market players to decide about the business strategies and plans to strengthen their positions in the global market. Based on geography, the market has been analyzed for countries of North America, Europe, Asia Pacific, Latin America, and Middle East & Africa.
Market Taxonomy
Global Hemophilia Treatment Drugs Market Revenue, by Product type
Recombinant coagulation factor concentrates

Factor VIII
Factor IX
Combination

Plasma derived coagulation factor concentrates

Factor VIII
Factor IX
Combination

Desmopressin
Antifibrinolytic agents
Global Hemophilia Treatment Drugs Market Revenue, by Disease Indication
Hemophilia A
Hemophilia B
Others
Global Hemophilia Treatment Drugs Market Revenue, by Distribution Channel
Hospital Pharmacies
Retail Pharmacies
E-commerce
Global Hemophilia Treatment Drugs Market Revenue, by Geography
North America
Europe
Asia Pacific
Latin America
Middle East and Africa