HDPE Pipes Market
HDPE Pipes Market (Product: PE 80 [Natural Grade and Black Grade], PE 100 [Natural Grade and Black Grade], and Others [including PE 63]; and Application: Agriculture, Water Network, Oil & Gas Pipeline, Sewage/Drainage, Ducting, Chemical Processing, and Others [Mining and Paper & Pulp]) - Global Industry Analysis, Size, Share, Growth, Trends, and Forecast, 2021-2031
Chemicals & Materials
TMRGL77481
2021-08-27
232

Pages
Stagnation of Chinese Manufacturing Results in Long Lead Times amid COVID-19 Pandemic
With the growing uncertainty of the COVID-19 pandemic, non-essential industries such as the manufacturing of plastic pipes has been affected. This is affecting the growth of the HDPE pipes market. Though the pandemic has significantly abated in China, stakeholders are reconsidering high reliance on China for goods and services.
The effects of coronavirus have taken a toll on buyers seeking to purchase pipe extrusion machinery. Despite all challenges, stakeholders in the HDPE pipes market are focusing on mission-critical projects in agriculture, water networks, and oil & gas sectors. Stakeholders are witnessing a staggered growth in the market landscape due to stagnation of Chinese manufacturing, resulting in long lead times. Stakeholders in the sector of drip irrigation are seeking reliable manufacturers who can consistently supply pipes and other product components.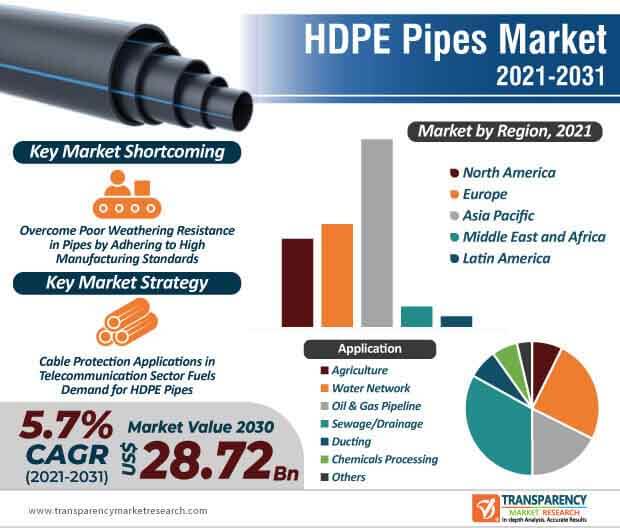 To gauge the scope of customization in our reports Ask for a Sample
Poor Weathering Resistance, Stress Cracking of HDPE Pipes Affect Sales
The HDPE pipes market is estimated to grow at a modest CAGR of 5.4% in terms of volume. However, disadvantages of HDPE (High Density Polyethylene) pipe fittings include poor weathering resistance, subject to stress cracking and high thermal expansion amongst other reasons. To overcome these issues, Tubi Soluzioni FZC - a UAE based provider of high quality MEP (Mechanical, Electrical and Plumbing) solutions, is broadening its portfolio in state-of-the-art HDPE pipes that adhere to the highest industry standards.
Manufacturers are increasing R&D activities to produce HDPE pipes that are freeze-break resistant and cater to the safety of potable water.
Get an idea about the offerings of our report from Report Brochure
Sewage, Water, Gas Applications Generate Stable Revenue Streams
The revenue share of sewage and drainage is projected to dominate all application types in the HDPE pipes market. Manufacturers are boosting their output capacities to increase the availability of pipes in this domain. Water and gas pipeline applications are creating stable revenue streams for manufacturers.
There is a growing demand for big diameter spiral HDPE pipes for discharge collectors in the sewage industry. This explains why the HDPE pipes market is expected to reach US$ 28.72 Bn by 2031. Accumulation, hydraulic treatment, and water treatment applications are triggering the demand for polyethylene pipes. The telecommunication sector is fueling the demand for pipes in optic fiber and cable protection applications.
Cost-efficient HDPE Pipes Resist Hydrocarbon Permeation in Oil & Gas Applications
The HDPE pipes market is projected to expand and reach an output of 11,990.9 kilo tons by 2031. WL Plastics - a premiere North American manufacturer of high performance HDPE pipes is establishing steady income sources via oil & gas gathering applications. Manufacturers are taking cues from such companies to increase the availability for pipes with leak-free joints, lightweight properties, and durability.
Manufacturers in the HDPE pipes market are providing cost efficient pipes that are resistant to hydrocarbon permeation. They are boosting R&D capabilities to manufacture pipes that last longer than alternative metallic pipe materials without the need for coatings.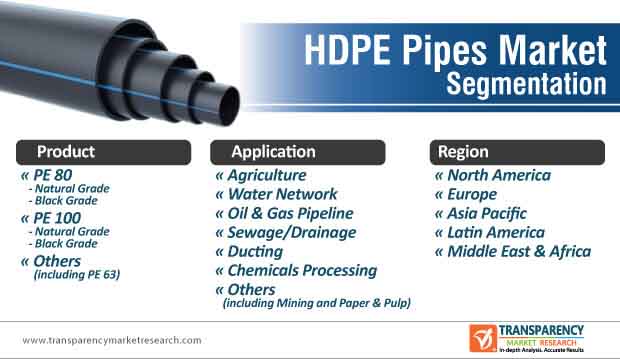 Looking for Regional Analysis or Competitive Landscape in HDPE Pipes Market for Performance OEM , ask for a customized report
Analysts' Viewpoint

In order to accelerate business activities, plastic pipe extrusion machine providers are increasing efforts to assemble and ship machinery on a short notice during the ongoing COVID-19 outbreak. Even though HDPE pipes are resistant to most chemicals solvents, in many cases, these pipes can be flammable and sensitive to stress cracking. Hence, manufacturers in the HDPE pipes market should boost their production capabilities in state-of-the-art pipes that meet high rigorous quality and manufacturing standards. There is a demand for HDPE pipes that are smooth and reduce the oil & gas ability to build up on the pipe surface over time. Pipe tracer systems are gaining popularity to allow the detection, localization, and identification of underground networks.
HDPE Pipes Market: Overview
HDPE pipes are increasingly being used in residential, industrial, as well as commercial sectors worldwide. As a result, outlook for the HDPE pipes market appears positive. Agriculture, fishing, and chemical products industries are among the prominent end users of HDPE pipes. The oil & gas sector is another industrial domain that is likely to provide a plethora of opportunities to players operating in the HDPE pipes market landscape.
HDPE pipes are electrical conduits made from graded raw materials such as PE 63, PE 80, and PE 100. These pipes are premier mediums of conveying and transporting chemicals, water, and gases. One of the major advantages of utilizing HDPE pipes is that they are six to eight times lighter than conventional cast iron and galvanized iron pipes. Additionally, HDPE pipes are non-corrosive. This makes them suitable for water transportation.
Advantageous properties of HDPE pipes make them appropriate for numerous applications, including flood irrigation, drip irrigation, portable water supply & distribution, sewage & industrial effluent disposal, air-conditioning & refrigeration ducting, electrical installations, and drainage pipes
Key Growth Drivers of HDPE Pipes Market
Benefits of HDPE pipes are expected to fuel the overall demand for pipes in the near future, as HDPE pipes are low-cost alternatives for other pipes. HDPE pipes are affordable for usage in agriculture and various other end-use sectors.
Deterioration of water pipelines caused by corrosion of old iron pipes hampers their capability to provide safe drinking water. It is a complicated issue faced by several regions across the world. HDPE pipes are resistant to underground external corrosion as well as internal pipe corrosion. Plastics have a wide range of favorable attributes that enable their usage in designing of various electronic and electric appliances.
HDPE pipes exhibit excellent resistance to a wide range of chemical reagents and disinfectant chemicals. HDPE pipes are highly suitable for usage in water infrastructure projects, as they can carry a majority of strong acids, alkalis, and aqueous solutions; aliphatic hydrocarbons; fluorides; photographic and plating solutions; brine; mineral oils; fats; and alcohols.
Pipe blockage is a major concern associated with any pipeline system. It can cause substantial damage and incur high cost of repairs. Water flowing slowly through a pipeline increases the risk of blockages and failures in a system with several connections. The extremely smooth lining of HDPE pipes, as compared to copper, clay, or concrete pipes, reduces resistance to water flow and ensures that the water reaches its intended destination at a proper pressure. PE piping enables water to flow freely and maximizes water pressure.
HDPE pipes offer significant cost savings for projects in terms of quick installation, low breakage rates, and low lifecycle costs. The longevity of HDPE pipes also implies that pipes function more efficiently, thus reducing maintenance of pipes, and making them more affordable over time.
Restraints of HDPE Pipes Market
Manufacturers of plastic products usually add several additives, pigments, modifiers, and fillers to induce properties such as high density, elasticity, rigidity, and color into products. However, these fillers, additives, and pigments face issues while recycling. This, in turn, results in poor quality of recycled plastics.
Certain plastics are more difficult to recycle compared to others. For instance, LDPE is difficult to collect, sort, and recycle. LDPE bales are relatively expensive to transport due to low density. Recycling of flexible plastics is highly difficult. They cannot be utilized for the same application again. Hence, down-cycling is the only option available.
Lucrative Opportunities for HDPE Pipes Market
Deployment of HDPE pipes or piping systems for usage in industrial water and municipal water applications has increased significantly worldwide. This is expected to create lucrative opportunities for the HDPE pipes market during the forecast period. HDPE pipes are being increasingly used in ground source geothermal applications. This is projected to boost the global HDPE pipes market. Rise in emphasis on HDPE pipes by municipal corporations around the world, particularly in developing regions, has augmented the demand for HDPE pipes for usage in a range of applications, including sewage systems, potable water systems, and reclaimed water. The oil & gas sector is likely to remain one of the prominent end-use sectors of the HDPE pipes market during the forecast period, due to the consistent rise in demand for HDPE pipes in oilrigs across the globe.
Leading Players of HDPE Pipes Market
Key players operating in the global HDPE pipes market include

Supreme Pipes
JM EAGLE, INC
WL Plastics
Prinsco, Inc.
Lane Enterprises, Inc. (US)
Polyplastic Group
Apollo Pipes
Wavin
Nan Ya Plastics Corp

These players are focusing on expanding their global footprint through strategic capital allocation and production capacity.
Players operating in the global HDPE pipes market are adopting various organic and inorganic growth strategies such as mergers & acquisitions, new product launches, strategic collaborations, expansion, and joint ventures to expand their product portfolio and business operations
HDPE Pipes Market – Scope of Report
The latest study collated and published by Transparency Market Research (TMR) analyzes the historical and present-day scenario of the global HDPE pipes market to gauge its growth potential. The study presents detailed information about important growth factors, restraints, and key trends that are creating a landscape for the growth of the global HDPE pipes market. The study also identifies growth avenues for stakeholders. The report provides insightful information about how the global HDPE pipes market is likely to expand during the forecast period of 2021 to 2031.
The report offers intricate dynamics about different aspects of the global HDPE pipes market that aid companies operating in the market in making strategic decisions. TMR's study also elaborates on significant changes that are highly anticipated to configure the growth of various industries with respect to the global HDPE pipes market during the forecast period. It also includes a key indicator assessment to highlight growth prospects of the global HDPE pipes market and estimates statistics related to growth of the market in terms of volume (kilo tons) and value (US$ Mn).
This study covers a detailed segmentation of the global HDPE pipes market, along with key information and a competition landscape. The report mentions company profiles of key players operating in the global HDPE pipes market, wherein various development, expansion, and winning strategies practiced and executed by leading players have been presented in detail.
Key Questions Answered in TMR's Report on HDPE Pipes Market
The report provides detailed information about the global HDPE pipes market on the basis of comprehensive research on various factors that are playing a key role in accelerating the growth of the market. Information mentioned in the report answers path-breaking questions for companies that are currently operating in the market and are looking for innovative methods to create a unique benchmark in the global HDPE pipes market that would help them design successful strategies and make target-driven decisions.
Which product segment is expected to generate maximum revenue in the global HDPE pipes market during the forecast period?
Which application segment is expected to generate maximum revenue in the global HDPE pipes market during the forecast period?
What would be the Y-o-Y growth rate of the global HDPE pipes market between 2021 and 2031?
What are winning imperatives of frontrunners in the global HDPE pipes market?
Research Methodology – HDPE Pipes Market
The research methodology adopted by analysts for compiling the report on the global HDPE pipes market is based on detailed primary as well as secondary research. With the help of in-depth insights of the market-affiliated information that is obtained and legitimated by market-admissible sources, analysts have offered riveting observations and authentic forecasts of the global HDPE pipes market.
For primary research, analysts have interviewed market stakeholders, investors, brand managers, vice presidents, and sales and marketing managers. Based on data obtained through interviews of genuine sources, analysts have emphasized the changing scenario of the global HDPE pipes market.
For secondary research, analysts have scrutinized numerous annual report publications, white papers, market association publications, and company websites to obtain the necessary understanding of the global HDPE pipes market.
HDPE Pipes Market – Segmentation
TMR's research study segments the global HDPE pipes market in terms of product, application, and region. This report presents extensive market dynamics and growth trends associated with different segments and explains how they are influencing the growth of the global HDPE pipes market.
Product

PE 80

Natural Grade
Black Grade

PE 100

Natural Grade
Black Grade

Others (including PE 63)

Application

Agriculture
Water Network
Oil & Gas Pipeline
Sewage/Drainage
Ducting
Chemical Processing
Others (including Mining and Paper & Pulp)

Region

North America
Europe

Germany
France
U.K.
Italy
Spain
Russia and CIS
Rest of Europe

Asia Pacific

China
Japan
India
ASEAN
Rest of Asia Pacific

Latin America

Brazil
Mexico
Rest of Latin America

Middle East & Africa

GCC Countries
South Africa
Rest of Middle East Asia & Africa
Custom Market Research Services
TMR offers custom market research services that help clients to get information on their business scenario required where syndicated solutions are not enough.
REQUEST CUSTOMIZATION