Global Pigments Market: Report Analyst's Estimations
Pigments, also loosely called as colorants, have been an integral part of our day-to-day life for several decades. And in the near future too, according to the findings of this business intelligence study, the demand in the pigments market will continue to expand profitably, feeding-off the prosperity of its numerous end-use industries such as paints and coatings, printing inks, construction materials, and plastics.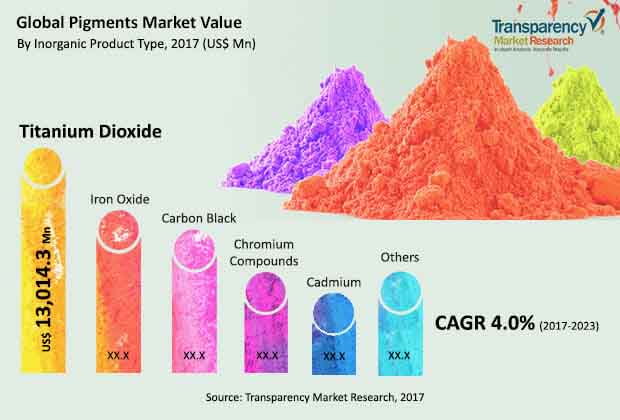 While pigments were derived from plants, animals, and naturally occurring minerals in the older days, recent technological advancements have paved way to synthesize them from petrochemical sources. Pigments manufacturers are now offering products that are exceptional in coloring strength, stable against heat, chemical, weather, and light, offer opacity, and are durable. This pigments market report has projected the global demand to multiply at a notable CAGR of 4.0% during the forecast period of 2017 to 2023. In terms of revenue, the global pigments market is estimated to attain a value of US$31.9 billion by 2023, considerably more than the market's evaluated worth of US$25.4 billion as of 2017.
Titanium Dioxide Identified as Key Inorganic Product Segment
Based on product type, the pigments market has been segmented into inorganic, organic, and specialty, with the former continuously constituting for the most prominent bulk of the overall demand. The inorganic segment, which is further sub-segmented into titanium dioxide, carbon black, cadmium pigments, iron oxide, chromium compounds, and others including bismuth vanadium, generated a demand worth of US$18.9 billion as of 2017. Among the sub-segments, titanium dioxide is most in-demand, promising to constitute for 70.4% of the total demand of the inorganic segment of the global pigments market by the end of 2023.
Titanium dioxide is used extensively as white pigments due to its high refractive index, excellent light scattering properties, and ability to reflect light. Titanium dioxide is employed as white pigments in different types of paints & coatings owing to its opacity and whiteness. Rise in automotive production and increase in construction activities in Asia Pacific are projected to propel the demand for titanium dioxide pigments in the near future
The report bifurcates the organic segment into Phthalocyanine, Azo, Quinacridone, and others such as quinophthalone, whereas specialty segment has been divides into classic organic, metallic, high performance organic, fluorescent, complex inorganic, light interference, thermochromic, and luminescent or phosphorescent.
Paints and Coatings Industry Leading End-user of Pigments
On the basis of end-users, the potential demand for pigments has been evaluated from the industries pertaining to printing inks, paints and coatings, construction materials, plastics, and others. By the end of 2023, paints and coatings are foreseen to remain the leading segment of the pigments market, providing for 51% of the overall demand. Pigments play a key role as colorants in the formulation of paints & coatings. Besides providing color, pigments improve the opacity and gloss of paints & coatings. As of 2017, the global pigments market for paints and coatings had an estimated value of US$12.4 billion, which came from a volume demand of 4,310.2 kilo tons.
Asia Pacific Constituting for Nearly Half of Total Demand
Region-wise, this report examines the demand for pigments that can be expected out of North America, Asia Pacific (APAC), Europe, Latin America, and the Middle East and Africa (MEA) over the course of 2017 to 2023. As of 2017, APAC was the most lucrative region for the vendors operating in the pigments market, and is expected to remain so while generating 46.9% of the global demand by the end of 2023. Developing economies such as China, India, Malaysia, Thailand, Indonesia, Australia, and South Korea have contributed to the growth of the Asia Pacific pigments market in the recent past. Rapid industrial expansion, rising infrastructural activities, and economic progress are propelling the demand for inorganic pigments from the region.
The report also contains a featured section of the competitive landscape of the global pigments market, wherein a number of companies have been profiled for their business profile, products and services, key brands, and industries they are catering to. Key raw material providers for inorganic pigments include Tronox Inc., Sierra Rutile, Waupaca Foundry, Inc., LANXESS Chrome Mining (Pty) Ltd., and Tharisa plc. BASF SE and BioAmber Inc. produce raw materials for organic pigments. Key producers of raw materials for specialty pigments include Nuplex Industries, Plastics Engineering Company (Plenco), The Chemours Company, and Lanxess AG. The value chain of inorganic pigments depicts medium degree of backward integration.
Global Pigments Market: Overview
Pigments are compounds that impart colors by transmitting or reflecting absorbed light of selected wavelengths. Besides coloration properties, pigments help to improve several functional features such as hiding power, opacity, transparency, light fastness, and durability. Pigments are widely employed in various end-users industries such as paints & coatings, printing inks, plastics, construction materials, personal care, and paper. Synthetic pigments are broadly classified into three major product segments: inorganic, organic, and specialty pigments. Inorganic pigments dominated the pigments market in the recent past. In terms of volume. Asia Pacific accounted for the largest share of the pigments market in 2017, followed by North America and Europe. Asia Pacific is expected to be the largest consumer of pigments during the forecast period.
The report estimates and forecasts the pigments market on the global, regional, and country level. The study provides forecast between 2017 and 2023 based on volume (kilo tons) and revenue (US$ Mn). The report comprises an exhaustive value chain analysis for each of the product segments, which provides a comprehensive view of the market. Value chain analysis also offers detailed information about value addition at each stage. The study includes drivers and restraints for the pigments market along with their impact on demand during the forecast period. The report analyzes opportunities in the pigments market on the global and regional level. Drivers, restraints, and opportunities mentioned in the report are justified through quantitative and qualitative data. These have been verified through primary and secondary resources.
Global Pigments Market: Key Research Aspects
The report includes Porter's Five Forces Model to determine the degree of competition in the pigments market. The report comprises a qualitative write-up on market attractiveness analysis, wherein end-users and countries have been analyzed based on attractiveness. Growth rate, market size, raw material availability, profit margin, impact strength, technology, competition, and other factors (such as environmental and legal) have been evaluated in order to derive the general attractiveness of the market. The report includes price trend analysis for inorganic, organic, and specialty pigments between 2017 and 2023.
The study provides a comprehensive view of the pigments market by dividing it into product segments such as inorganic, organic, and specialty pigments. These product segments are further bifurcated into various sub-segments. In terms of end-users, the pigments market has been segmented into paints & coatings, printing inks, plastics, construction materials, and others. Product segments and end-user segments have been analyzed based on historic, present, and future trends, and the market has been estimated between 2017 and 2023 in terms of volume (kilo tons) and revenue (US$ Mn).
Secondary research sources that were typically referred to include, but were not limited to company websites, financial reports, annual reports, investor presentations, broker reports, and SEC filings. Other sources such as internal and external proprietary databases, statistical databases and market reports, news articles, national government documents, and webcasts specific to companies operating in the market have also been referred for the report.
In-depth interviews and discussions with a wide range of key opinion leaders and industry participants were conducted to compile this research report. Primary research represents the bulk of research efforts, supplemented by extensive secondary research. Key players' product literature, annual reports, press releases, and relevant documents were reviewed for competitive analysis and market understanding. This helped in validating and strengthening secondary research findings. Primary research further helped in developing the analysis team's expertise and market understanding.
Global Pigments Market: Regional Analysis
Regional segmentation includes the current and forecast demand for pigments in North America, Europe, Asia Pacific, Latin America, and Middle East & Africa (MEA). Additionally, the report comprises country-level analysis in terms of volume and revenue for application segments. Key countries such as the U.S., Germany, Italy, the U.K., France, Spain, China, India, Brazil, and South Africa have been included in the study. Market segmentation includes demand for individual applications in all the regions and countries.
Global Pigments Market: Competition Matrix
The report covers detailed competitive outlook that includes market share and profiles of key players operating in the global market. Key players profiled in the report include The Chemours Company, Huntsman Corporation, BASF SE, Lanxess AG, Clariant AG, Altana AG, and DIC Corporation. Company profiles include attributes such as company overview, number of employees, brand overview, key competitors, business overview, business strategies, recent/key developments, acquisitions, and financial overview.
Segmentations of Pigments Market
By Product:
Inorganic Pigments

Titanium Dioxide
Iron Oxide
Cadmium
Carbon Black
Chromium Compounds

Organic Pigments

Azo
Phthalocyanine
Quinacridone

Specialty Pigments

Classic Organic
Metallic
High Performance Inorganic
Light Interference
Complex Inorganic
Fluorescent
Luminescent or Phosphorescent
Thermochromic
By End User:
Paints & Coatings
Printing Inks
Plastics
Construction Materials
Other
By Geography:
North America
Europe
AsiaPacific
Latin America
Middle East & Africa