Pultrusion Market
Pultrusion Market (Fiber Type: Glass Fiber, Carbon Fiber, and Others; End Use: Residential Construction, Civil Infrastructure, Industrial [Oil & Gas, Chemical, Electronics & Telecommunication, and Automotive & Transportation], Consumer Goods, and Others; Form: Roving Strands and Mat & Fabrics; and Resin Type: Unsaturated Polyester Resin, Vinyl Ester, Polyurethane, Epoxy Resin, and Others) - Global & Europe Industry Analysis, Size, Share, Growth, Trends, and Forecast, 2019 - 2027
Category :

Chemicals & Materials

Format :
Space-efficient and Ultra-portable Production Solutions Met with Compact Pultrusion Machines
One of the most breakthrough innovations in the pultrusion market is the introduction of compact pultrusion machines. For instance, Thomas Technik & Innovation (TTI)— a specialist in design and production of customized fiber reinforced profiles, announced the launch of pullCUBE, a first-of-its-kind compact pultrusion system designed to shorten lead time. Such innovations are bolstering growth for the pultrusion market, which is estimated to progress at a striking CAGR of ~11% during the forecast period. The demand for shorter pultrusion machines is surging in the market landscape.
Compact pultrusion machines are meeting space-efficient and ultra-portable production solutions for manufacturers. Leading innovators and technology experts are increasing their R&D activities to make pultrusion more accessible to composite manufacturers. Such efforts are giving rise to more flexible and rapidly installed production capabilities in order to develop advanced pultruded composites profiles. Thus, novel machines are being installed within existing production environments without the need to build dedicated production halls.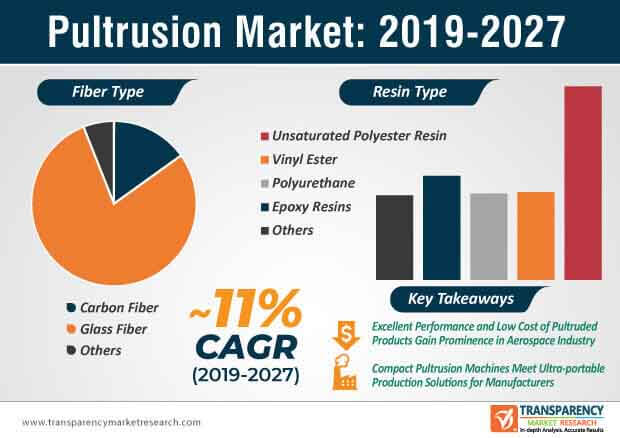 Structurally Sound FRPs Acquire Prominence in Aerospace Industry
Though pultruded products have high applicability in industrial environments, manufacturers are increasing their scope in new revenue streams by tapping opportunities in the aerospace industry. Excellent performance and low cost attributes of pultruded FRP (Fibre-reinforced Plastic) composites are acquiring prominence in the aerospace industry. The aerospace industry is being revolutionized by use of improved FRP composites. As such, FRP composites play a pivotal role in achieving structural stability and durability. This explains why the pultrusion market is anticipated to reach an output of ~874,100 units by the end of 2027.
Get an idea about the offerings of our report from Report Brochure
The demand for lightweight materials has become high in the aerospace industry and has encouraged companies in the pultrusion market to boost their production capabilities to manufacture FRPs. As such, pultruded composites are lighter than aluminum, wood, and steel. This helps in achieving lower fuel consumption and makes up for inexpensive transport when in air. FRPS are being highly publicized for their lightweight attributes that cater to the development of structurally sound components in the aerospace industry.
Fiberglass Overcomes Limitations of Conductivity and Signal Distortion in Industrial and Telecommunications Sectors
Pultruded fiberglass is gaining popularity as one of the most versatile construction materials worldwide. This is evident since the revenue of civil infrastructures and residential construction is estimated to account for the second- and third-highest revenue in the pultrusion market, respectively, by the end of the forecast period. Fiberglass is inherently designed to have non-conductive properties. However, in specialized cases, there is a demand for conductive properties in fiberglass, which poses a challenge for manufacturers. Hence, growing awareness about the integration of additional composite materials in fiberglass has helped to add conductivity. As such, aluminum fibers are being introduced with glass fibers in the process of pultruding the fiberglass.
On the other hand, the fiberglass is being highly publicized in the wireless communications technology, as concrete, steel, and aluminum inhibit the electromagnetic waves that distort wireless signals. Hence, manufacturers in the pultrusion market are increasing their production capacities to increase the availability of fiberglass. For instance, Tencom Limited— an Ohio-based supplier of custom fiberglass pultruded products is gaining efficacy in the telecommunications industry to overcome the limitations of conventional materials.
Glass Fiber-reinforced Plastic (GRP) Rebars Reduce Life Cycle Costs for Infrastructure Owners
Pultrusion has allowed rapid, cost-effective, and high volume production of composites that are durable and lightweight. Manufacturers in the pultrusion market are increasing their focus in FRPs as opposed to extruded products, since the former is easy and inexpensive to transport. The infrastructure sector is one of the major growth drivers for pultruded composites that are meeting global sustainability goals. Pultruded composites are pervasively replacing conventional steel rebars in the light of shrinking supply and surging tariffs.
Steel rebar corrosion has led to the issue of massive asset management costs. Hence, manufacturers in the pultrusion market are increasing their efficacy in the development of glass fiber-reinforced plastic (GRP) rebar that helps to maintain structural integrity and other mechanical properties for prolonged years. Such production practices have led to significant reduction in life cycle costs for infrastructure owners.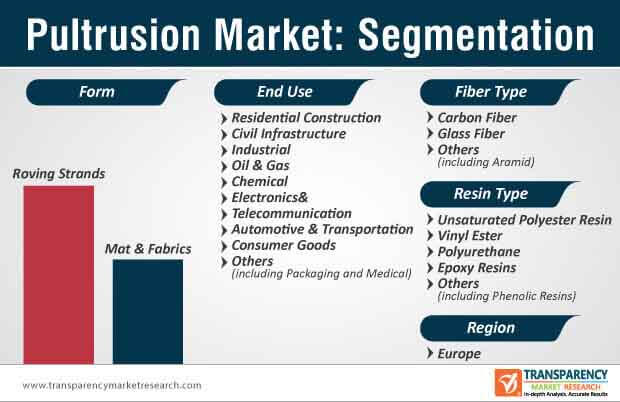 Looking for Regional Analysis or Competitive Landscape in Pultrusion Market, ask for a customized report
Analysts' Viewpoint
The pultrusion market is witnessing a change with the introduction of pultruded fiberglass tunes and pipes. As such, pultruded fiberglass tubes are being extensively used in tool manufacturing as well as in recreational, sporting, and outdoor equipment. On the other hand, pultruded glass fiber laminates are acquiring prominence in 5G infrastructures of the telecommunications sector.

Standardization initiatives in the U.S. and Europe are shaping the future for easy, quick, and efficient adoption of pultruded composites. However, several OEMs, suppliers, and engineers are not using pultrusion to its full extent. Hence, companies should educate and increase awareness about the advantages of pultrusion as opposed to extrusion.
Global and Europe Pultrusion Market - Scope of the Report
The latest study collated and published by Transparency Market Research (TMR) analyzes the historical and present-day scenario of the global and Europe pultrusion market to accurately gauge its potential future development. The study presents detailed information about the important growth factors, restraints, and key trends that are creating the landscape for the future growth of the pultrusion market, to identify the opportunistic avenues of the business potential for stakeholders. The report also provides insightful information about how the pultrusion market will progress during the forecast period of 2019-2027.

The report offers intricate dynamics about the different aspects of the pultrusion market that aid companies operating in the market in making strategic development decisions. TMR's study also elaborates on the significant changes that are highly anticipated to configure the growth of the pultrusion market during the forecast period. It also includes a key indicator assessment to highlight the growth prospects of the pultrusion market, and estimate statistics related to the market progress in terms of volume (tons) and value (US$ Mn).

This study covers a detailed segmentation of the pultrusion market, along with key information and a competitive outlook. The report mentions the company profiles of key players that are currently dominating the pultrusion market, wherein various development, expansion, and winning strategies practiced and executed by leading players have been presented in detail.
Key Questions Answered in TMR's Report on Global and Europe Pultrusion Market
The report provides detailed information about the pultrusion market on the basis of comprehensive research on various factors that are playing a key role in accelerating the growth potential of the market. Information mentioned in the report answers path-breaking questions for companies that are currently functioning in the market and are looking for innovative ways to create a unique benchmark in the wind turbine control systems, so as to help them make successful strategies and take target-driven decisions.
Which fiber type of pultrusion market will emerge as a major revenue generator for the market during the forecast period?
How are key market players successfully earning revenue in the pultrusion market?
What will be the Y-o-Y growth of the pultrusion market between 2019 and 2027?
What are the winning imperatives of market frontrunners in the pultrusion market?
Which form is expected to have maximum potential for pultrusion market during the foreseeing period?
Research Methodology – Global and Europe Pultrusion Market
The research methodology adopted by analysts for combining the pultrusion market report is based on detailed primary as well as secondary research. With the help of in-depth insights of the industry-affiliated information that is obtained and legitimated by market-admissible resources, analysts have offered riveting observations and authentic forecasts of the pultrusion market.
During the primary research phase, analysts interviewed industry stakeholders, investors, brand managers, vice presidents, and sales and marketing managers. On the basis of data obtained through the interviews of genuine resources, analysts have emphasized the changing scenario of the pultrusion market.

For secondary research, analysts scrutinized numerous annual report publications, white papers, industry association publications, and company websites to obtain the necessary understanding of the pultrusion market
Global and Europe Pultrusion Market - Segmentation
TMR's research study assesses the global and Europe pultrusion market based on fiber type, end use, form, resin type, and region. This report presents extensive market dynamics and progressive trends associated with different segments, and how they are influencing the growth prospects of the pultrusion market.
Fiber Type

Carbon Fiber

Glass Fiber

Others (including Aramid)

End Use

Residential Construction

Civil Infrastructure

Industrial

Oil & Gas

Chemical

Electronics&

Telecommunication

Automotive & Transportation

Consumer Goods

Others (including Packaging and Medical)

Form

Roving Strands

Mat & Fabrics

Resin Type

Unsaturated Polyester Resin

Vinyl Ester

Polyurethane

Epoxy Resins

Others (including Phenolic Resins)

Region

Europe
Custom Market Research Services
TMR offers custom market research services that help clients to get information on their business scenario required where syndicated solutions are not enough.
REQUEST CUSTOMIZATION