Fiberglass Market
Fiberglass Market (By Glass Type - S-Glass, C-Glass, E-Glass, ECR-Glass, Others; Fiber Type - Rovings, Mats, Strands, Fabrics; Technology - Layup, Resin Infusion Molding, Injection Molding, Compression Molding, Filament Winding, Pultrusion, Others; Application - Automotive & Transportation, Aerospace & Defense, Wind Energy, Construction, Marine, Sports & Leisure, Pipe & Tank, Others; Region - North America, Europe, Asia Pacific, Latin America, and Middle East & Africa) - Global Industry Analysis, Size, Share, Growth, Trends and Forecast 2017 - 2025
Category :

Chemicals & Materials

Format :
Global Fiberglass Market: Snapshot
The significant rise in the automotive industry has influenced the global market for fiberglass substantially. With the increasing number of passenger cars, on account of the rise in touring and traveling, and the augmenting interest of people in owing a car, thanks to the surge in their purchasing power, the demand for fiberglass, which is an important part of a vehicle's body, is rocketing across the world. In 2016, the total opportunity in the worldwide market for fiberglass was US$7.21 bn in 2016. According to the estimation of analysts at Transparency Market Research (TMR), the market will expand at a CAGR of 4.7% from 2017 to 2025 and reach US$10.8 bn by the end of 2025.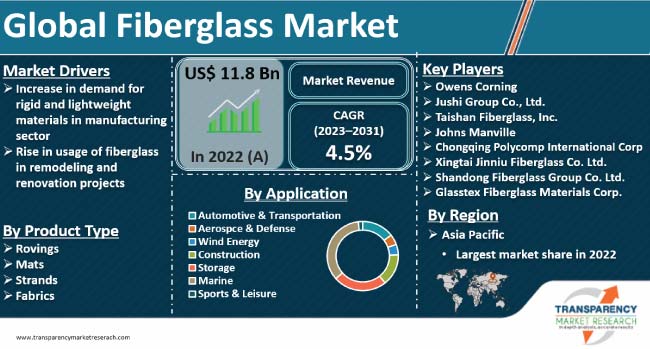 E-glass and S-glass to Remain Most Valued in Global Fiberglass Market
The global market for fiberglass is broadly assessed on the basis of the type of glass, type of fiber used to produce fiberglass, technology, and application. Based on the type of glass, the market is categorized into S-Glass, C-Glass, E-Glass, ECR-Glass, and several other types of glass. Among these, the E-glass and the S-glass segments, collectively held over 60% of the overall market in 2016 and are expected maintain it over the next few years. By type of fiber used to produce fiberglass, the market is classified into strands, rovings, yarn, mats, and fabric. Of these, roving fiberglass is more demanded than other types of fiberglass.
In terms of technology, layup, pultrusion, compression molding, resin transfer molding, filament winding, and injection molding are the prominent segments of this market, among which, the layup technology is enjoying a comparatively higher demand. The construction, wind energy, aerospace and defense, sports and leisure, automotive, marine, and the pipes and tanks industries have surfaced as the key application areas of fiberglass across the world. With a share of over 25%, the automotive industry occupied the position of the leading consumer of fiberglass in 2016 and is expected to remain seating in this position over the forthcoming years.

North America to Retain Dominance
The worldwide fiberglass market is also analyzed on the basis of the geography. Asia Pacific, the Middle East and Africa, Latin America, North America, and Europe have been considered as the prime geographical categories of this market. With a share of more than 30%, North America led the global market in 2016. Researchers expect the scenario to remain more or less same in the years to come. The U.S. has emerged as the key domestic market for fiberglass in North America, in terms of both, demand and supply, thanks to the presence of many established players, such as Johns Manville and Owens Corning.
Among other regional markets, Asia Pacific has surfaced as the most promising one. It is primarily driven by the continued rise in the automotive, construction, and wind energy industries, leading to increased consumption of fiberglass in this region. Over the coming years, the expansion in the wind energy sector is expected to offer lucrative opportunities to Asia Pacific market for fiberglass, driven by the significant rise in the installed wind mill capacities in China.
At the forefront of the global market for fiberglass are Owens Corning, Jushi Group Co. Ltd., Taishan Fiberglass Inc., Johns Manville, Chongqing Polycomp International Corp., Xingtai Jinniu Fiberglass Co. Ltd., Shandong Fiberglass Group Co. Ltd., Glasstex Fiberglass Materials Corp., Zibo Zhuoyi Fiberglass Material Co. Ltd., and CPIC Abahsain Fiberglass M.E., W.L.L.
Global Fiberglass Market: Overview
Fiberglass is produced by drawing fibers from molten glass. Different types of glasses include E-glass S-glass, ECR glass, C-glass and others. E-glass provides electrical insulation, S-glass provides high strength, ECR stands for electrical and chemical resistance, C-glass provides resistance to corrosion. Out of these, E-glass and S-glass is majorly used due to their properties. Several forms of fiber include strands, rovings, yarn, mats, and fabric. Rovings accounted for the major share with more than 40% in the global fiberglass market in terms of fiber type.
Wind energy is the major driving factor for fiberglass market as it is used wind turbine blades. Carbon fiber is the major threat as it is a substitute for fiberglass as it is lighter in weight compared to fiberglass, however, it is far more expensive. North America accounts for major share with more than 30% in the global fiberglass market in terms of sales. This region is followed by Asia Pacific and Europe.
Global Fiberglass Market: Scope of Study
This report analyzes and forecasts the market for fiberglass at the global and regional level. The market has been forecast based on volume (Kilo Tons) and revenue (US$ Mn) from 2017 to 2025, considering 2016 as the base year. The study includes drivers and restraints of the global fiberglass market. It also covers impact of these drivers and restraints on demand for fiberglass during the forecast period. The report also highlights opportunities in the fiberglass market at the global and regional level.
The report includes detailed value chain analysis, which provides a comprehensive view of the global fiberglass market. Porter's Five Forces model for the fiberglass market has also been included to help understand the competitive landscape in the market. The study encompasses market attractiveness analysis, wherein end-users are benchmarked based on their market size, growth rate, and general attractiveness. Asia Pacific is anticipated to grow the fastest CAGR.
Global Fiberglass Market: Market Segmentation
The study provides a decisive view of the global fiberglass market by segmenting it in terms of form of glass type - S-glass, C-glass, E-glass, ECR-glass, others; fiber type – rovings, mats, strands, fabrics; technology – layup, resin infusion molding, injection molding, compression molding, filament winding, pultrusion, others. These segments have been analyzed based on present and future trends. The study also provides segmentation of fiberglass market based on the applications such as automotive & transportation, aerospace & defense, wind energy, construction, marine, sports & leisure, pipe & tank, others. Regional segmentation includes current and forecast demand for fiberglass in Asia Pacific, Europe, North America, Latin America, and Middle East & Africa.
The report provides the actual market size of fiberglass for 2016 and estimated market size for 2017 with forecast for the next eight years. The global market size of fiberglass has been provided in terms of volume and revenue. Market volume has been defined in tons, while market revenue is in US$ Mn. Market numbers have been estimated based on key applications of fiberglass. Market size and forecast for numerous end-users have been provided in terms of global, regional, and country level markets.
Global Fiberglass Market: Research Methodology
In order to compile the research report, we conducted in-depth interviews and discussions with a number of key industry participants and opinion leaders. Primary research represented the bulk of research efforts, supplemented by extensive secondary research. We reviewed key players' product literature, annual reports, press releases, and relevant documents for competitive analysis and market understanding. Secondary research includes a search of recent trade, technical writing, Internet sources, and statistical data from government websites, trade associations, and agencies. This has proven to be the most reliable, effective, and successful approach for obtaining precise market data, capturing industry participants' insights, and recognizing business opportunities.
Secondary research sources that are typically referred to include, but are not limited to company websites, annual reports, financial reports, investor presentations, ICIS, Factiva, European Cosmetics Council, The European Chemical Industry Council (CEFIC), Association for Soaps, Detergents and Maintenance Products (AISE), Journal of Surfactants and Detergents (JSD), American Chemical Society (ACS), Chemical Watch, statistical databases, trade journals, market reports, news articles, press releases, webcasts specific to companies operating in the market.
We conduct primary interviews on an ongoing basis with industry participants and commentators to validate data and analysis. These help validate and strengthen secondary research findings. These also help develop the analysis team's expertise and market understanding.
Global Fiberglass Market: Competitive Landscape
The report comprises profiles of major companies operating in the global fiberglass market. Key players include Owens Corning, Jushi Group Co., Ltd., Taishan Fiberglass Inc., Johns Manville, Chongqing Polycomp International Corp., Xingtai Jinniu Fiberglass Co., Ltd., among the others. Market players have been profiled in terms of attributes such as company overview, financial overview, business strategies, and recent developments.
The global fiberglass market is segmented into:
Glass

S-Glass
C-Glass
E-Glass
ECR-Glass
Others

Fiber

Rovings
Mats
Strands
Fabrics

Technology

Layup
Resin Infusion Molding
Injection Molding
Compression Molding
Filament Winding
Pultrusion
Others

Application

Automotive & Transportation
Aerospace & Defense
Wind Energy
Construction
Marine
Sports & Leisure
Pipe & Tank
Others

Regional

North America
Europe

Germany
U.K.
France
Italy
Spain
Rest Of Europe

Asia Pacific

China
India
Japan
ASEAN
Rest Of Asia Pacific

Latin America

Brazil
Mexico
Rest of Latin America

Middle East & Africa (MEA)

GCC
South Africa
Rest of MEA
Custom Market Research Services
TMR offers custom market research services that help clients to get information on their business scenario required where syndicated solutions are not enough.
REQUEST CUSTOMIZATION