Composites Market
Composites Market (Product - Polymer Matrix Composite (Carbon Fiber Reinforced Plastic, Glass Fiber Reinforced Plastic, and Aramid Fiber Composites), Metal Matrix Composites, and Ceramic Matrix Composites; Technology – Pultrusion Process, Layup process, Filament Winding, Compression Molding, Injection Molding, Resin Transfer Molding, Automated Fiber Placement, and Automated Tape Laying; Application – Automotive & Transportation (Interior, Exterior, Power Train Components, Brake Pads, Chassis), Construction, Aerospace & Defense, Electrical & Electronics, Marine & Oil & Gas (Pipes and Top Side Application), Wind Energy, and Consumer Goods) - Global Industry Analysis, Size, Share, Growth, Trends and Forecast 2017 - 2025
Category :

Chemicals & Materials

Format :
Composites Market: Rising Demand for Light Weight Materials in Aerospace Industry
The demand for light-weight and strong composite materials has grown exponentially in automobiles, aerospace, and defense industries. As a result, the players of these industries are looking forward to invest substantially in research and development to acquire materials helps them to reduce the weight of their product without hampering the productivity of the equipment.
For instance, BMW's i3 is the first mass produced car made from composite material. With this, the company has opened doors for various players of composites market to manufacture cost-efficient, light-weight, and fuel-efficient automobile components. As a result, the production of composite material has risen exponentially over the period of time.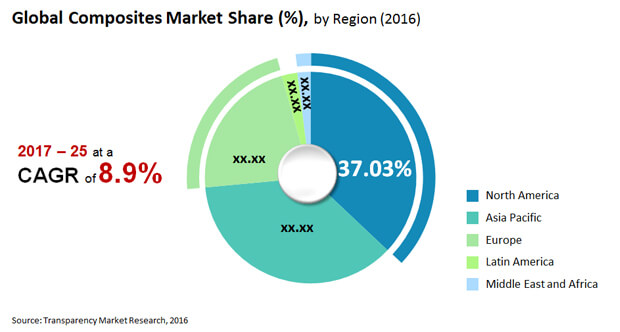 Looking at the rising demand and potential that these composite materials offer to the players, Transparency Market Research did an in-depth study of the composite market and has prepared a report. The report offers a 360-degree analysis of the report that can help the players sustain in the global composites market.
From Plastic to Carbon Fiber Composites Market has come a Long Way
Dating back to 1500 B.C. when Egyptian and Mesopotamians used mixtures of mud and straw to build durable infrastructures, composites materials have a long history of application. Today, there are various products in the global composites market revolutionizing the world as we see it.
For example, Carbon fiber is the most common composite that is extensively used in various business verticals. Studies suggest that the material is 10 times stronger than steel and at least 20 times lighter. Be it sports equipment, or a sports car, all them are made from carbon fiber.
This displays the popularity of the composite materials. Moreover, techniques developed to combine two or more materials have also evolved. For instance, to manufacture a car body from carbon fiber, the sheets of the materials are placed in the mold and heated in an inert (Oxygen-free) atmosphere at temperature as high as 1800 degree Fahrenheit. So the furnaces have evolved with the development of technologies such as IoT and AI. With these technologies the temperature and pressure are carefully monitored to get the desired strength from the material.
These developments in various industries has also ignited the growth of global composites market with opportunities such as production of specialized equipment, molds, and sensors along with solutions based on IoT and machine learning.
In terms of revenue, the global composites market is expected to generate US$ 101877.3 Mn by the end of 2025. According to the analysis by the experts at Transparency Market Research, the market valued US$ 47315.6 Mn in 2016. This means that the market has an incremental opportunity of US$ 54561.7 Mn during the forecast period. Moreover, in terms of volume, the consumption of composite materials is expected to grow from 8198.6 kilo tons in 2016 to 17061.1 kilo tons by the end of 2025. This implies that more customers are getting aware of the advantages of the composite materials and are opting them as replacement of traditional materials.
Key Trends Propelling the Global Composites Market
Airplanes to Fly with Strength of Carbon Fiber
Owing to the benefits such as exceptional tensile strength, fatigue resistance, better modulus, carbon fiber reinforced plastics (CFRPs) are one of the most trending products of global composites market. Due to its superior performance under extreme conditions, the CFRP has extensive application in aircraft and its component manufacturing. The industry is adopting these composites materials to cater to the demand for light weight and reduced fuel consumption of the aircraft.
Owing to the high demand in aircraft manufacturing sector the CFRPs are the top revenue generators for the players of global composites market. Figuratively, the segment is expected to generate revenue of US$ 10276.2 Mn by the end of 2025 providing evident growth opportunities to the players.
Automotive & Transportation to Make Hefty Use of Composite Materials
Owing to the factors such as weight to strength advantage and reusability, the composites materials have extensive applications in automotive and transportation segment. Due to the vast use of composite materials, the segment is expected to lead all the other categories of global composites market. The dominance of the segment is also the result of application of innovative composite materials in automobile production owing to the fact that they can improve the fuel economy of a vehicle.
In several studies it was found that by reducing the weight of the vehicle by 10% can improve the economy by 8%. Businesses are replacing traditional cast iron and steel components with lightweight materials such as glass fiber polymer can directly improve the efficiency of the vehicle by 50%. As a result various players are adopting the composites materials in their vehicles which is further boosting the growth of segment in global composites market in the forecast period of 2017 to 2025.
Though the report showcases trends that are driving the market, there are some restraints that might hinder the growth of market to a certain extent. One of the restraints is mentioned below:
High Cost of Composites Materials to Hamper the Growth of the Market
Owing to high cycle time required to manufacture the composite materials the resources required for manufacturing get highly expensive. Moreover, high price of carbon and glass fibers which are the basic raw materials for the manufacturing of the composite materials also gets elevated. This high cost involved in the manufacturing of the materials is expected to hamper the growth of global composites market during the forecast period of 2017 to 2025. However, various automotive OEMs in coordination with composite material manufacturers are focusing on developing new techniques and technologies that can produce the composite materials in a faster method, this is eventually expected to trim down the cost involved in the production of composite materials and further support the market to maintain its growth during the forecast period.
Various Strategies Opted by Players to Gain Tactical Advantage in the Market
Teijin Limited Holds Top Spot in Advanced Carbon Fiber Reinforced Polymer Manufacturing
Teijin Limited has developed thermoplastic carbon fiber reinforced plastic (CFRP) technology, which can shorten the molding time significantly. Additionally, the company participated in a development project led by NEDO*1, helping to establish a revolutionary carbon fiber production process that increases productivity and reduces CO2 emissions to half. This allowed the company to attract more customers which in result helped it to enhance its profit margin. As a result, Teijin is currently the leading organization of advanced carbon fiber reinforced polymer in global composites market.
Collaborations allow Effective Use of Resources
In 2016, Toray signed a comprehensive long-term agreement with Boeing to supply carbon fiber TORAYCA prepare for the manufacture of the new aircraft, Boeing 777X. The company has also extended the existing supply agreement for the Boeing 787 Dreamliner. The long-term supply agreements signify the first phase of a planned investment of ¥ 100 Bn, as Toray aims to expand its business of carbon fiber composite materials in the U.S
Strategic Agreements Supports Businesses to Acquire Major Share in Market
In October 2016, Hexagon Composites announced an agreement with AVANCO GmbH to acquire its subsidiary, Xperion Energy & Environment. The acquisition is projected to facilitate Hexagon Composites to strengthen its presence in the global market and broaden its product and technology portfolios. The acquired technology allowed the company to develop innovative composite materials that has multiple applications in industries such as building and construction. As a result, the company is expected to generate US$ 58.9 Mn in 2017 itself.
Technological Developments to Offer Competitive Edge To the Players
In 2015, Creative Composites Ltd. commissioned a new compression molding press at its manufacturing facility in Northern Ireland. This compression molding press is expected to generate 1,500 tons of molding pressure. This equipment is helping the business to speed-up the production of composite materials to cater to the rising demand. This in turn allowed the company to acquire a substantial share in global composites market.
Tough Competition for New Players
The global composites market is highly competitive as there are various players currently operating. However, there are only a handful of businesses that dominates the dynamics of the global composites market. Out of these prominent players, Teijin Limited is the leader that holds 30% of overall growth share of the global composites market. The company operates through four business segments: Advanced Fibers and Composites, Electronics Materials and Performance Polymer Products, Healthcare, and Trading and Retail. This makes the company as one major leader that dominates the composites market.
Also, the company focuses on research and development to meet the rising demand from various application industries. This allows the company to maximize its revenue through the delivery of innovative products to the end users. As of 2016, the organization generated the revenue of US$ 6531.5 Mn and is looking strong in coming years of the forecast period from 2017 to 2025.
The market is further dominated by Faurecia, which deals in designing and manufacturing of various automotive components such as vehicle seats, interiors, and emission control technologies. The company operates through three business segments: Faurecia seating, interiors, and Faurecia clean mobility systems. Faurecia interior systems develop and produce instrument panels and center consoles, cockpits, door panels and modules, acoustic products and modules, and decorative components.
Global Composites Market: Overview
Composite is a multiphase material exhibiting a significant properties of both constituent phases. It consists of a continuous phase called matrix and a dispersed phase reinforcement. It is commercially available in different product types such as polymer matrix composite, metal matrix composite, and ceramic matrix composite. In terms of application, automotive & transportation and aerospace & defense held majority share in the global composites market in 2016. Rising demand from these end user industries is anticipated to fuel the composites market during the forecast period.
This study analyzes, estimates, and forecasts the global composites market in terms of volume (Kilo tons) and revenue (US$ Mn) from 2016 to 2025. The report also analyzes several driving and restraining factors and their impact on the market during the forecast period.
Global Composites Market: Applications
The report provides a detailed view of the composites market based on applications. Key applications included in the report are automotive & transportation, construction, aerospace & defense, electrical & electronics, marine & oil & gas, wind energy, and other (consumer goods, etc.). In terms of technology, the market is segmented into: pultrusion process, layup process, filament winding, compression molding, injection molding, resin transfer molding, and others. In terms of product type, the market is segmented into: polymer matrix composite, metal matrix composite, and ceramic matrix composite. Furthermore, the report segments the market based on key geographies such as North America, Europe, Asia Pacific, Latin America, and Middle East and Africa. It also provides market volume and revenue for each application, technology and product type under every regional segment. The composites market is further analyzed into major countries of each region.
Based on applications, technologies, product types and countries, the report analyzes the attractiveness of each segment with the help of an attractiveness tool. The study includes value chain analysis, which provides a better understanding of key players in the supply chain (from raw material manufacturers to end-users). Additionally, the study analyzes market competition and industry players using Porter's five forces analysis.
Global Composites Market: Research Methodologies
Primary research represents the bulk of our research efforts, supplemented by an extensive secondary research. We reviewed key players' product literature, annual reports, press releases, and relevant documents for competitive analysis and market understanding. Secondary research includes a search of recent trade, technical writing, internet sources, and statistical data from government websites, trade associations, and agencies. This has proven to be the most reliable, effective, and successful approach for obtaining precise market data, capturing industry participants' insights, and recognizing business opportunities.
Secondary research sources that are typically referred to include company websites, annual reports, financial reports, broker reports, investor presentations, and SEC filings, internal and external proprietary databases, and relevant patent and regulatory databases. Other sources include national government documents, statistical databases, and market reports, news articles, and press releases and webcasts specific to the companies operating in the market. Secondary sources referred for the study of the composites market include Reinforced Plastics Magazine, European Plastics Council, Compositesone, Composites World Magazine, etc. and company presentations.
Key Players Mentioned in this Report are:
The report includes an overview of the market share of key companies in the global composites market. Key players profiled in the composites study include Hexcel Corporation, TPI Composites, Inc, Owens Corning, Teijin Limited, Faurecia, Performance Composites Inc., Enduro Composites, Inc., Toray Industries, APPLIED POLERAMIC INC., Hexagon Composites, KINECO, Creative Composites Ltd., HITCO Carbon Composites, Inc., The Quadrant Group of Companies, Kangde Xin Composite Material Group Co., Ltd., BGF Industries, Inc., FACC AG, Premium Aerotec, Fokker Aerostructures, COTESA GmbH, PLASAN CARBON COMPOSITES, Wethje Carbon Composites, VELLO NORDIC AS, Fiberdur GmbH & Co. KG, Akiet B.V., and FILL GESELLSCHAFT M.B.H.
The report segments the global composites market into:?
By Product Type

Polymer Matrix Composites

Carbon Fiber Reinforced Plastic
Glass Fiber Reinforced Plastic
Others (Aramid fiber composites, etc.)

Metal Matrix Composites
Ceramic Matrix Composites

By Technology

Pultrusion Process
Layup Process
Filament Winding
Compression Molding
Injection Molding
Resin Transfer Molding
Others (Automated fiber placement, automated tape laying, etc.)

By Application

Automotive & Transportation

Interior
Exterior
Power Train Components
Others (Chassis, brake pads, etc.)

Construction
Aerospace & Defense
Electrical & Electronics
Marine & Oil & Gas

Pipes
Others (Top side applications, etc.)

Wind Energy
Others (consumer goods, etc.)

Regional Analysis

North America
Europe

France
U.K.
Germany
Italy
Spain
Rest of Europe

Asia Pacific

China
Japan
ASEAN
India
Rest of Asia Pacific

Latin America

Brazil
Mexico
Rest of Latin America

Middle East and Africa

GCC
South Africa
Rest of Middle East and Africa
Custom Market Research Services
TMR offers custom market research services that help clients to get information on their business scenario required where syndicated solutions are not enough.
REQUEST CUSTOMIZATION