Glaucoma Treatment Market
Glaucoma Treatment Market (Product Type - Prostaglandin Analogs (PGAs), Alpha Agonist, Beta Blockers, Cholinergic, Carbonic Anhydrase Inhibitors, and Combined Medications; Indication - Angle Closure Glaucoma (ACG), Open Angle Glaucoma (OAG), Secondary Glaucoma, Congenital Glaucoma, and Other Indications; Sales Channel - Hospital Pharmacies, Retail Pharmacies, and Online Sales) - Global Industry Analysis, Size, Share, Growth, Trends and Forecast 2017 - 2026
Category :

Pharmaceutical

Format :
Glaucoma is considered to be the second most cause for blindness around the world, according to WHO. This leading reason for preventable blindness is associated with chronic progressive optic neuropathy, which leads to irreversible vision loss via damage to optic nerve. No treatments currently exist for directly preventing glaucoma, however several commercially available therapies concentrate on curtailing elevated intraocular pressure, which is a known risk factor responsible for the development and progression of glaucoma.
Glaucoma Treatment Market to Enter a New Phase of Expansion
Demand for glaucoma treatment is expected to be significantly driven by the advent of fixed-dose combination products that combine drugs from various classes. The market for glaucoma treatment will enter a new phase of expansion, with the introduction of first-in-class, innovative drugs such as trabodenoson, Vesneo, and Roclatan/Rhopressa. Prevalence of glaucoma is increasing in parallel with the rise in geriatric population worldwide, as older individuals are relatively more prone to developing glaucoma. In addition, mounting number of people with diabetes and those with family history of glaucoma also contribute to this disease prevalence significantly. Governments and healthcare institutions are increasingly taking initiatives to spread the awareness about treatment options available for patients with glaucoma.
Product development strategies in the recent past have been impressive with surgery options, with several effective additions such as photodynamic therapy and laser therapy. However, excellent efficiency and efficacy of currently available drugs, particularly carbonic anhydrase inhibitors and prostaglandin analogs, have set barriers to the development of new therapy options.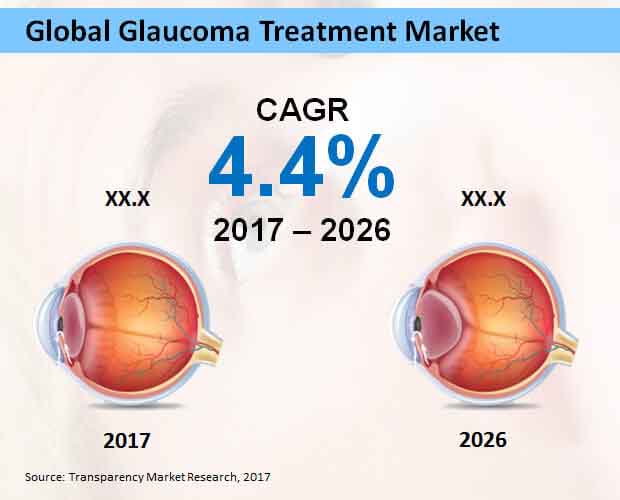 A new exhaustive report collated by Transparency Market Research envisages an average growth for the global glaucoma treatment market in the period between 2017 and 2026.More than US$ 3,300 revenues are expected to be gained from treatment of glaucoma across the globe by 2026-end.
North America to Remain Leading Revenue Contributor to Global Glaucoma Treatment Market
Incidences of glaucoma in North American countries are rising significantly, with the surge in older population in the region, thereby creating high demand for glaucoma drugs. Demand for glaucoma drugs in the region is fulfilled owing to the presence of several pharmaceutical giants and heavy investments in pharmaceutical sector. In addition, the economic vigour and enormous investments in healthcare sector in North America have meant that the region will remain the leading revenue contributor to the global glaucoma treatment market. Europe and Asia-Pacific excluding Japan (APEJ) are also expected to be major revenue contributors to the market during the forecast period.
Prostaglandin analogs (PGAs) seek extensive adoption for treating OAG, owing to their relatively higher effectiveness. Among several types of prostaglandin analogs introduced in the market, administration of latanoprost, travoprost, and tafluprost has represented a comparatively more significant IOP-lowering ability in clinical trials. All these factors have made prostaglandin analogs to be highly sought-after among products available for glaucoma treatment. Alpha agonist will also prevail as a remunerative product in the glaucoma treatment market.
Key Research Findings from the Report
Hospital pharmacies will remain dominant among sales channels in the glaucoma treatment market
Angle closure glaucoma (ACG) are expected to be the most prevalent indication of glaucoma in the market during 2017 to 2026
Competition Tracking
The global market for glaucoma treatment is crowded with branded drugs coupled with surging number of generics, which in turn is creating significant competition in the market. This has further set limits to introduction of novel therapies, along with several products being due to lose exclusivity. Late-stage pipeline for glaucoma, however, holds promise for treatments imparting novel mechanisms of action, thereby creating lucrative growth opportunities for the market players. Key players underpinning growth of the global glaucoma treatment market include Novartis AG, Allergan, Merck & Co., Inc., Akorn, Inc., Bausch & Lomb Incorporated, Teva Pharmaceuticals, Pfizer, Santen, Aerie Pharmaceuticals, and Inotek Pharmaceuticals.
Increasing Demand for Efficient Prescription Eye Drops Drive Glaucoma Treatment Market
Manufacturers and players in the glaucoma treatment market are focused on developing newer drug combinations and prescription eye drops to control glaucoma at a primary stage. Multiple bio-medical and pharmaceutical companies are investing in product development to develop effective drugs that can relieve the burden on healthcare facilities. Some of the drugs used for treatment of glaucoma include prostaglandin analogs or PGAs, beta blockers, carbonic anhydrase inhibitors, alpha agonists, and cholinergic, as well as certain types of combination medicines. These drugs help in lowering the intraocular pressure by increasing the drainage of fluid from the patient's eye. However, instances of drug recall by major industry players can hamper the growth of global glaucoma treatment market in coming years. Failure to meet the regulatory standards and noticeable impurities in various drug combinations are key factors behind these product recalls. Failure to meet regulatory standards is noticed to generate fear and skepticism in both patients and healthcare professionals.
Alternative techniques that require little medication and offer prolonged relief can promise potential growth in glaucoma treatment market in coming years. Some of the alternative techniques used for treatment of glaucoma include laser treatment known as selective laser trabeculoplasty and minimally invasive glaucoma surgeries, also known as MIGs. Both of these techniques also aim at reducing the intraocular pressure by stimulating an increased fluid outflow from the patient's eye. However, the global pandemic caused by the outbreak of novel coronavirus has caused a slowdown in patients opting for SLTs and MIGs. As many countries have categorized glaucoma as 'elective', patients are preferring using medications and prescription eye drops to slow down the progression of glaucoma. Many patients are postponing their elective glaucoma surgeries for the time being and in turn, looking for newer and advanced medication solutions for the treatment of glaucoma. This trend is anticipated to boost the glaucoma treatment market in near future.
World Health Organization (WHO) has stated glaucoma to be the second largest cause of blindness across the globe, trailing cataract. Among the types, closed angle glaucoma (CAG) and open angle glaucoma (OAG) account for over half cases of glaucoma worldwide. With the surge in geriatric population across the globe, which has a relatively higher risk of developing the disease, demand for glaucoma treatment is likely to witness a surge. Transparency Market Research has composed a new all-inclusive research report on the global glaucoma treatment market. The report engulfs present market scenario, and imparts future prospects of the global glaucoma treatment market for the forecast period - 2017 to 2026. This comprehensive research report also encompasses key drivers, obstacles, trends and opportunities affecting rise of the global glaucoma treatment market. An overall picture of global glaucoma treatment market has been delivered by the report, in order to aid businesses that seek opportunities to make investments in the market.
Structure of the Report
The report delivers an exhaustive synopsis of global glaucoma treatment market, with its first chapter titled "executive summary" that elucidates key nodes influencing the market growth. This chapter also illuminates influences that the market dynamics are likely to have on its growth in the forecast period. The report also submits figures related to CAGRs from historical as well as forecast point of view. A chapter titled "overview" in the report follows the executive summary, providing a clear picture of glaucoma treatment market's scope to readers of the report. The overview imparts a concise market introduction trailed by the definition of "glaucoma treatment". Chapters succeeding the overview elaborate imperative dynamics such as growth drivers, limitations and prospects observed in the market throughout the forecast period. These chapters also inundate in-depth insights associated with the global economy, bottom line of enterprises, and fiscal stimulus.
Competition Landscape
This analytical research study on the global market for glaucoma treatment is a complete package, including intelligence on active players underpinning the market growth. In this last chapter, which elucidates the market's current and future competitive scenario, strategies being implemented by the players, along with information on their product overview, company overview, key developments, key financials, and SWOT analysis is rendered exhaustively by the report. Additionally, region-wide reach of these market players, future expansion plans, revenues, mergers & acquisition activities, and market shares have been elaborated in detail in this chapter. An intensity map employed in the report profiles the market players that are located across geographies.
Research Methodology
Credibility of researched statistics & data has been backed by a unique research methodology utilized by TMR's analysts, for ensuring higher accuracy. This research report on global glaucoma treatment market will assist its readers to gain detailed insights about many different aspects guiding the market across the regional segments comprised in the report. Readers of this report can further slate effective strategies for foraying the vital revenue pockets as well as gaining benefits over intensifying market competition. Information issued in the report is scrutinized as well as monitored by TMR's industry experts. The figures and numbers that are offered in this report have been validated by analysts for facilitating the report readers in making strategic decisions.
Market Taxonomy
A segmentation analysis delivered in the report submits insights on the global market for glaucoma treatment. The market is characterized based on sales channel, indication, product type, and region. Analyses on the Y-o-Y growth comparison, market share comparison, and the revenue comparison in accordance with relevant market numbers has been delivered in this chapter. The global market for glaucoma treatment has been divided regionally into Asia-Pacific excluding Japan, Europe, Middle East & Africa, Japan, Latin America, and North America.
Region

North America
Latin America
Europe
Japan
APEJ
MEA

Product Type

Prostaglandin Analogs (PGAs)
Alpha Agonist
Beta Blockers
Cholinergic
Carbonic Anhydrase Inhibitors
Combined Medications

Indication

Angle Closure Glaucoma (ACG)
Open Angle Glaucoma (OAG)
Secondary Glaucoma
Congenital Glaucoma
Other Indications

Sales Channel

Hospital Pharmacies
Retail Pharmacies
Online Sales
Custom Market Research Services
TMR offers custom market research services that help clients to get information on their business scenario required where syndicated solutions are not enough.
REQUEST CUSTOMIZATION

Glaucoma Treatment Market