Footwear Market
Footwear Market (Product - Athletic Footwear (Running and Cross Training/Tennis Shoe, Soccer/football Shoe, Golf Shoe, Hiking Shoe, Baseball Shoe) and Non-Athletic Footwear (Casual Footwear, Dress Evening Footwear, Military Boots, Lite Hiking Outdoor Sandal; End Use - Men's Footwear, Women's Footwear, and Kid's Footwear; Material - Rubber and Plastic; Distribution Channel - Online Channel, Shoe Stores, Supermarkets and Hypermarkets, Independent Retail Stores, Textile Retailers, Departmental Stores) - Global Industry Analysis, Size, Share, Growth, Trends and Forecast 2017 - 2025
Category :

Consumer Goods & Services

Format :
Global Footwear Market: Snapshot
The global footwear market is rising expeditiously as footwear is increasingly becoming a fashion accessory. Not only this, the increasing demand for trendy, yet comfortable footwear among all age groups a key factor driving the global footwear market. With increasing participation in sporting activities and changing lifestyle, there is a massive demand for athletic footwear among non-sportspersons as well. Manufacturers are continuously focused on expanding their product portfolio in order to gain competitive advantage in this market.
The availability of footwear through various retail channels and the gaining prominence of online retailers is triggering the impulse buying behavior of consumers, thereby benefitting the footwear market. On the other hand, the availabity of counterfeit products that are developed by local manufacturers is anticipated to hinder the growth of the global footwear market during the forecast period.
Footwear comprises men's shoes, women's shoes, and children's shoes. These include all kinds of outdoor and indoor shoes made of materials such as leather, plastic, and rubber.
The global footwear market stood at a valuation of US$215709.0 mn in 2016 and is expected to be worth US$278860.7 mn by 2025 in terms of revenue rising at a CAGR of 3.0% between 2017 and 2025.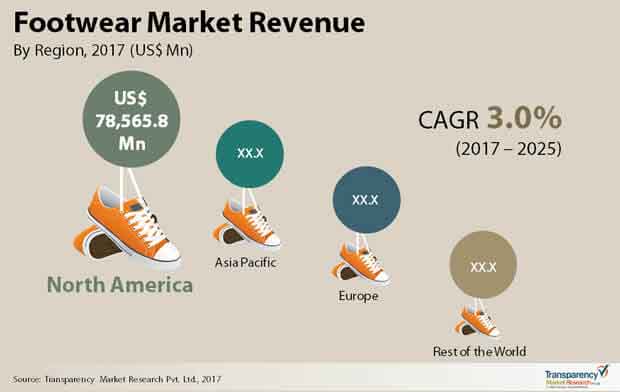 Non-athletic Product Segment to Continue Witness Robust Demand
By product type, the global footwear market is segmented into non-athletic footwear and athletic. Athletic footwear is further divided into soccer/football shoe, running and cross training/tennis shoe, golf shoe, hiking shoe, basketball shoe, baseball shoe, and others. On the other hand, non-athletic is sub-segmented into casual footwear, military boots, dress evening footwear, lite hiking outdoor sandal, and others. Non-athletic segment led the market in terms of both revenue and volume accounting a market share of approximately 52.9% and 64.0% respectively in 2016.
The market has been classified on the basis of material into rubber, plastic, and others. Rubber held the dominant 24.2% revenue share and 25.6% volume share in the footwear market in 2016. This is because rubber is the most material that is used in every type of shoe ranging from athletic to non-athletic.
Based on distribution channel, the market has been classified into online channels, supermarkets and hypermarkets, independent retail stores, shoe stores, independent retail stores, textile retailers, and departmental stores. In 2016, online channels, independent retail stores, and supermarkets and hypermarkets collectively held more than 70% of the market in terms of revenue. The high preference among consumers to make purchases through these channels accounts for their high revenue share to the overall market.
On the basis of end-use, the footwear market is classified into men's footwear, women's footwear, and kid's footwear. Among these, women's footwear accounts for the leading contribution in terms of both revenue and volume. Women's footwear remains a dynamic category with the presence of several brands, huge increase in points of sale, and significant budgets for marketing and advertising campaigns.
Asia Pacific to Emerge Significant Market in Near Future
On the basis of geography, the footwear market is divided in this report into North America, Europe, Asia Pacific, South America, and the Middle East and Africa. In terms of revenue, North America led the market in 2016 holding 35.6% of the overall market. However, Asia Pacific led in terms of volume accounting for 40.5% of the market in the same year.
Key players in the global footwear market include Adidas AG, Nike Inc., New Balance Inc., Puma SE, Asics Corp. Bata Limited, Deichmann SE, Skechers USA Inc., VF Corp., W.L. Gore & Associates Inc., Sympatex Technologies GmbH, Kathmandu Holdings Limited, Columbia Sportswear Company, New Balance Inc., The Aldo Group Inc., VF Corp., and Jack Wolfskin,
Global Footwear Market: Overview
Footwear products have been high on quotient of fashion agenda for men as well as women. Footwear manufacturers are banking on improving the troika of comfort, styles, and accessibility for attracting consumers in the footwear market. The market has witnessed several trends shaping its contours. Growing steam of athletic footwear among non-athletes is a case in point. Manufacturers and retailers are trying to appeal to consumers by exploring the potential of e-commerce channels where low-price points are easy to maintain and promote. Moreover, retailers online can modify and align their product portfolio faster than offline stores. Changing fashion trends has stimulated the demand for footwear made of sustainable raw materials. The advent of products with new designs have made them easy-to-fit and lightweight. However, the growth of the market is constrained by the sales of counterfeit products, especially for consumers in cost-sensitive markets.
The report offers a deep-dive assessment of key growth dynamics, promising avenues for investments, strategies by top players, and trends that can shape growth of key regional markets in next few years. The insights are aimed at expanding the understanding of interested participants in the market and give them a clear and easy-to-devour quantitative and qualitative analysis.
Global Footwear Market: Key Dynamics
A large, consistent drive for the footwear market has come from the strides made by apparel fashion around the world. Another key trend has been the rise of footwear for sports-related activities, notably among health-conscious populations. A few powerhouse brands in the market are expanding their product portfolio. To this end, they are also working collaboratively to unveil limited edition line of footwear in emerging and developed markets. Prominent athletic footwear manufacturers are entering into alliance with regional players to expand their footprints.
Meanwhile, manufacturers for footwear for sports are aiming at developing products that merge comfort, aesthetics, and functionality, especially those targeted for women consumers. Furthermore, materials that are versatile show rapid uptake among small- and mid-sized manufacturers in the footwear market. The global footwear market has benefitted from the growing trend of engaging in sports activities among kids and adults in developing nations.
The proliferation of retail outlets by brands in urban spaces of emerging economies has helped them tap new streams of revenues. Brands have been also been realigning their strategies such as investing sizably on online commerce channels. Moreover, a growing number of retailers have also been keen on bolstering their warehouse capabilities.
Global Footwear Market: Regional Landscape
The key regions where sales of footwear earn revenue are North America, Europe, Asia Pacific, the Middle East and Africa, and South America. Of these North America led the market vis-à-vis revenue in 2016. On the other hand, Asia Pacific held the dominating share in the same year in terms of volume. Rapid uptake of latest fads and fashion trends on accessories has spurred demands for various styles of footwear. Moreover, the huge strides that e-commerce has made has given the regional populations, especially in emerging economies, to benefit from the low pricing points of their favorite footwear brands. In recent years, they have put bets on aggressive marketing of their products, such as adopting competitive pricing and going for celebrity endorsements.
Global Footwear Market: Companies Profiled in the Report
Some of the well-entrenched players in the global footwear market profiled in the report are W. L. Gore & Associates, Inc., Jack Wolfskin GmbH & Co., Skechers U.S.A., Inc., Asics Corp., The Aldo Group Inc., New Balance Athletic Shoe, Inc., VF Corporation, Sympatex Technologies GmbH, Columbia Sportswear Company, and Kathmandu Holdings Limited. Some have transnational presence while a few have prominently regional presence.
Custom Market Research Services
TMR offers custom market research services that help clients to get information on their business scenario required where syndicated solutions are not enough.
REQUEST CUSTOMIZATION