Footwear Market
Footwear Market (Product - Athletic Footwear (Running and Cross Training/Tennis Shoe, Soccer/football Shoe, Golf Shoe, Hiking Shoe, Baseball Shoe) and Non-Athletic Footwear (Casual Footwear, Dress Evening Footwear, Military Boots, Lite Hiking Outdoor Sandal; End Use - Men's Footwear, Women's Footwear, and Kid's Footwear; Material - Rubber and Plastic; Distribution Channel - Online Channel, Shoe Stores, Supermarkets and Hypermarkets, Independent Retail Stores, Textile Retailers, Departmental Stores) - Global Industry Analysis, Size, Share, Growth, Trends and Forecast 2019 - 2027
Category :

Consumer Goods & Services

Format :
Footwear is considered as the one of the prominent fashion accessories especially amongst youngsters and millennial. Not only this, the increasing demand for trendy, yet comfortable footwear among all age groups a key factor driving the global footwear market. With increasing participation in sporting activities and changing lifestyle, there is a massive demand for athletic footwear among non-sportspersons as well. Major brands are likely to focus on innovation of new footwear designs and research & development activities to strengthen their foothold in the global footwear market. Companies are undertaking mergers and acquisitions, and joint ventures with local players to expand their product portfolio
Rise in sale of footwear through various mode of distribution channels and the gaining prominence of online mode of distribution is triggering the growth of footwear in the developing countries. Furthermore, the availabity of counterfeit products is anticipated to restrict the growth of the footwear market during the forecasted timeline.
The global footwear market stood at a valuation of US$ 235711.0 Mn in 2018 and is expected to be worth US$ 307549.5 Mn by 2027 in terms of revenue rising at a CAGR of 3.0% between 2017 and 2027.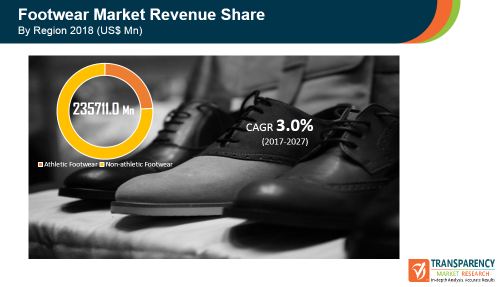 Request a sample to get extensive insights into the Footwear Market
Non-Athletic Product Segment is projected to drive the market in the forecast period
In terms of product type, the global footwear market is divided on the basis of non-athletic footwear and athletic footwear. Athletic footwear is further bifurcated into soccer/football shoe, running and cross training/tennis shoe, golf shoe, hiking shoe, basketball shoe, baseball shoe, and others. In addition, non-athletic is sub-segmented into casual footwear, military boots, dress evening footwear, lite hiking outdoor sandal, and others. Non-athletic footwear segment has dominated the market both in terms of value and volume in the year 2018. The market has been classified on the basis of material into rubber, plastic, and others. Rubber holds a majority of market in terms of value in the year 2018. Rubber is considered as the most commonly used material which has been used to manufacture footwear in the recent past.
To understand how our report can bring difference to your business strategy, Ask for a brochure
On the basis of distribution channel, the market has been classified into online channels, supermarkets and hypermarkets, independent retail stores, shoe stores, independent retail stores, textile retailers, and departmental stores. In the year 2018, online channels, independent retail stores, and supermarkets and hypermarkets collectively holds majority of the market in terms of value. On the basis of end-use, the footwear market is divided into men's footwear, women's footwear, and kid's footwear. Women's footwear has been making significant contribution in the global footwear market. Women are frequent buyers of footwear from hypermarket, supermarkets, and specialty stores and also through e-commerce websites. Manufacturing companies are also spending on innovation of new designs of footwear to rise the penetration of women footwear in the forecasted timeline.
Asia Pacific region anticipated to surge in the forecasted timeline
In terms of geography, the footwear market is divided in this report into North America, Europe, Asia Pacific, Latin America, and the Middle East and Africa. North America holds a major market of footwear in terms of value in the year 2018. The market of Asia Pacific is projected to expand at a significant growth rate in the forecasted timeline. As there is rise in sale of footwear on company-owned websites and various e-commerce websites in countries like China, India, Japan and other South-East Asian countries etc.
Stuck in a neck-to-neck competition with other brands? Request a custom report on Footwear Market
Prominent companies operating in the global footwear market are
Adidas AG
Nike Inc.
New Balance Inc.
Puma SE
Asics Corp.
Bata Limited
Deichmann SE
Skechers USA Inc.
VF Corp.
W.L. Gore & Associates Inc.
Sympatex Technologies GmbH
Kathmandu Holdings Limited
Columbia Sportswear Company
New Balance Inc.
The Aldo Group Inc.
VF Corp.
Jack Wolfskin etc.
Global Footwear Market: Overview
The design and construction of footwear is constantly evolving in order to maximize its role of providing protection for the external environment. Now footwear are considered more as a fashion purpose. The market has witnessed several trends shaping its contours. Growing steam of athletic footwear among non-athletes is a case in point. Manufacturers and retailers are trying to appeal to consumers by exploring the potential of e-commerce channels where low-price points are easy to maintain and promote. Moreover, retailers online can modify and align their product portfolio faster than offline stores. Changing fashion trends has stimulated the demand for footwear made of sustainable raw materials. The companies are making heavy investments on research & development activities to introduce new designs and shapes of footwear to expand their product portfolio and increase their sale of products in the near future.
The global footwear market report begins with an executive summary for various categories and their share in the footwear market. It is followed by the market introduction, market dynamics, and an overview of the global paper footwear market, which includes TMR analysis of the market drivers, restraints, and opportunities that are affecting the growth of the footwear market. Furthermore, to understand the Y-o-Y trends of the footwear market, a Y-o-Y analysis with elaborate insights on the same is provided.
Global Footwear Market: Key Dynamics
The research study on footwear market report highlights the SWOT analysis which includes the strengths, weakness, opportunity, and threats pertaining to the market. Porter's Five Force Analysis in the report highlights threat of new entrants, bargaining power of suppliers, bargaining power of buyers, threat of substitutes, and competitive rivalry. This analysis helps in understanding a particular company's position in a particular industry as well as market entry strategies for new players. The report also includes a value chain describing raw material suppliers, footwear manufacturers, key distributors, and end-users in the market. Meanwhile, manufacturers for footwear for sports are aiming at developing products that merge comfort, aesthetics, and functionality, especially those targeted for women consumers. Furthermore, materials that are versatile show rapid uptake among small- and mid-sized manufacturers in the footwear market. The global footwear market has benefitted from the growing trend of engaging in sports activities among kids and adults in developing nations.
The proliferation of retail outlets by brands in urban spaces of emerging economies has helped them tap new streams of revenues. Brands have been also been realigning their strategies such as investing sizably on online commerce channels. Companies are also focusing on selling their products on various e-commerce websites and company-owned websites to expand their product portfolio and revenue in the forecast period.
Global Footwear Market: Regional Landscape
The report also highlights the footwear market by region and provides the market outlook for 2019–2027. The study analyses the drivers that influence the regional footwear market. The main regions assessed in this report include North America, Europe, Asia Pacific (APAC), Middle East & Africa (MEA) and Latin America. The report evaluates the present scenario and growth prospects of the footwear market for 2019–2027. Rapid uptake of latest fads and fashion trends on accessories has spurred demands for various styles of footwear. Moreover, the huge strides that e-commerce has made has given the regional populations, especially in emerging economies, to benefit from the low pricing points of their favorite footwear brands.
Global Footwear Market: Companies Profiled in the Report
Prominent players dealing in the global footwear market has been profiled in the report. W. L. Gore & Associates, Inc., Jack Wolfskin GmbH & Co., Skechers U.S.A., Inc., Asics Corp., The Aldo Group Inc., New Balance Athletic Shoe, Inc., VF Corporation, Sympatex Technologies GmbH, Columbia Sportswear Company, and Kathmandu Holdings Limited.
Custom Market Research Services
TMR offers custom market research services that help clients to get information on their business scenario required where syndicated solutions are not enough.
REQUEST CUSTOMIZATION