Footwear Market
Footwear Market (Type: Sports Shoes & Bellies Shoes, Boots, Sandals, and Others; Usage Type: Athletic and Non-athletic; Material Type: Leather, Textiles, and Other Synthetics; Price: Mass and Premium; End User: Men, Women, and Kids; and Distribution Channel: Online and Offline) – Global Industry Analysis, Size, Share, Growth, Trends, and Forecast, 2020-2030
Category :

Consumer Goods & Services

Format :
Reopening of Gyms and Recreational Facilities Boosts Market Growth during COVID-19 Pandemic
The risk of transmission of the pathogenic coronavirus has sparked innovations in shoe sole sanitizers. A research team from the Industrial Training Institute (ITI) Berhampur, Odisha, India, has developed an affordable ultraviolet-C (UVC) shoe sole sanitizer that was launched during a video conference. As such, COVID-19 has laid great emphasis on the importance of maintaining optimum health. Hence, companies in the footwear market are tapping into business opportunities in eCommerce to meet demands of health conscious individuals.
In addition, the reopening of gyms and other recreational facilities has given an impetus to the growth of the global footwear market during the COVID-19 pandemic. However, this growth is being witnessed gradually, since the global economic crisis has directly affected the spending capacities of individuals.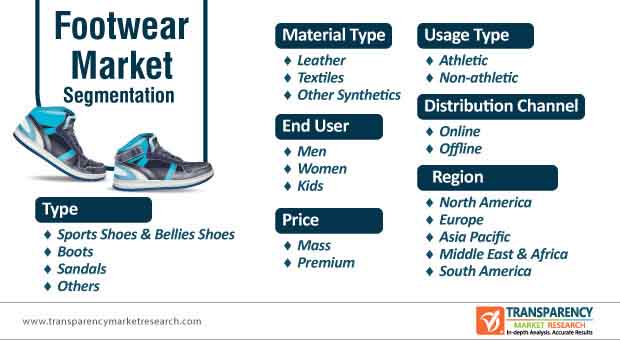 Request a sample to get extensive insights into the Footwear Market
Upgrade in Technology, Marketing Strategies, and Designs Offsets High Prices of Footwear
The footwear market in India is witnessing an upsurge due to the growing demand for trendy, fancy, and comfortable footwear, especially from the millennial and Gen Z population. However, manufacturers are challenged with high taxes and shortage of skilled labor, which is affecting the overall business cycle. High taxes are difficult to be adjusted in business cycles and ultimately result in additional cost of retail price of footwear paid by the end customer. Hence, Indian manufacturers in the footwear market need to constantly upgrade in terms of technology, changing consumer trends, and marketing styles to stay ahead in the competition and offset the high retail prices of footwear.
Internet First Footwear Brands Pose Stiff Competition to Big Market Players
Apart from the big names in the athletic shoes category such as Nike, Adidas, and Puma, startups in the footwear market are leveraging value-grab opportunities. This is evident since the market is expected to surpass an astonishing revenue of US$ 1.7 Trn by 2030. The trend of Internet first footwear brands is a fast growing phenomena in the footwear market. Startups such as the U.S.-based Allbirds, New York-based Koio, and Tamara Mellon are gaining increased popularity.
Several private label brands are scaling business opportunities through social media and eCommerce sales. The trend of vegan shoes and bags is catering to the niche requirements of buyers.
Sustainable Footwear Manufacturing Lowers Environmental Footprint
The trend of fast fashion has brought manufacturers in the footwear market under the scrutiny of regulatory authorities to lower their environmental footprint. Many individuals are becoming conscious about sustainable and renewable materials used in footwear. Several billion pairs of sneakers are made every year and several million of them end up in landfills. Hence, startups in the footwear market, such as Nothing New, are designing sneakers only made from recycled materials including post-consumer recycled plastic, rubber, fishing nets, and cotton to lower the environmental footprint. As such, the global footwear market is anticipated to surpass the production of ~44,620 million units by the end of 2030.
To understand how our report can bring difference to your business strategy, Ask for a brochure
Global Innovation Centers Give Way to New Generation Footwear Designs
The footwear market is expected to advance at a robust CAGR of ~8% during the assessment period. This signals that manufacturers are upgrading their production and design capabilities. For instance, in August 2020, Germany-based multinational chemical company BASF announced the launch of its first global innovation center in Taiwan to include interactive footwear exhibits, biomechanics lab, and manufacturing facilities to capitalize on business opportunities.
It has been found that companies in the footwear market are collaborating with chemical companies to innovate in material chemistries to include sustainable production materials. The idea of global innovation centers is grabbing the attention of brands that are bringing footwear professionals, manufacturers, and designers under one roof to co-create new generation footwear. Innovation centers are giving rise to immersive environments that help brands to drive footwear transformations.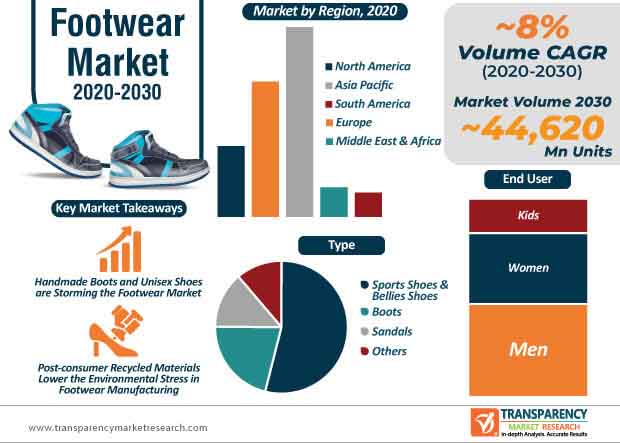 Stuck in a neck-to-neck competition with other brands? Request a custom report on Footwear Market
Analysts' Viewpoint
The declining demand for non-essential products such as footwear and clothing is being met with business opportunities in eCommerce during the ongoing COVID-19 crisis. Handmade boots and unisex shoes are inundating the footwear market. However, Indian manufacturers are facing tough competition from imports from China, Taiwan, and international brands. Hence, Indian manufacturers should upgrade their marketing, design, and technological capabilities to gain a competitive edge over other market players. They should invest in establishing innovation centers to collaborate with footwear professionals, designers, and researchers under one roof to produce new generation footwear.
Sustainable and recycled materials are being increasingly used by manufacturers to meet niche requirements of buyers.
Footwear Market: Overview
According to Transparency Market Research's latest research report on the global footwear market for the historical period 2018–2019 and the forecast period 2020–2030, footwear has gained immense popularity in sportswear due to increasing sports activity and advancements in technology. These factors are expected to boost the global footwear market during the forecast period.
Footwear protects the user from adverse environments, especially ground texture and temperature. Boots, sneakers, sports shoes, jogging shoes, sandals, and indoor footwear among others, are the different types of footwear available in the market. Footwear is considered a prominent fashion accessory, especially among youngsters and the millennial. Moreover, the increasing demand for trendy, yet comfortable footwear among all age groups is a key factor driving the global footwear market.
In terms of revenue, the global footwear market is expected to exceed value of US$ 1.7 Trn by 2030, expanding at a CAGR of ~8% during the forecast period
Increasing Focus on Sportswear: A Key Driver
Factors such as rising demand for comfortable footwear and increasing sports activity have significantly increased the focus on sportswear globally. Different international brands are merging sportswear with fashion wear nowadays due to advancements in technology.
Massive demand for athletic footwear is seen among non-sportspersons as well due to the increasing participation in sporting activities and changing lifestyles. Major brands are likely to focus on innovation of new footwear design and research & development activities to strengthen their foothold in the global footwear market. Companies are undertaking mergers and acquisitions, and joint ventures with local players to expand their product portfolio.
Considering all these factors, the impact of this driver is moderate currently and it is expected to rise due to increasing innovation in sports footwear during the forecast period from 2020-2030
Footwear: Market Trends
Sustainability has become an important new driver in consumer purchasing decisions. Consumers are expecting more and more transparency across the entire value chain; they want to have more information about both the customization of goods and the quality of materials used.
During the last few years, consumers have become more particular and demanding, and always have high expectations in terms of quality products, customization experiences, and instant assistance at low prices. Consumers choose fashion items according to their values and their personal style.
The global footwear market is growing on the back of rising demand for new and trendy footwear from all across the world. Customers today are more vigilant, while selecting their footwear. They are inclined toward products that are more comfortable.
Footwear Market: Competition Landscape
Detailed profiles of manufacturers of footwear have been provided in the report to evaluate their financials, key product offerings, recent developments, and strategies
Key players operating in the global footwear market are

Adidas AG
Bata Corporation
BOSS GLOVES
Converse, Crocs Inc.
FILA Luxembourg
S.a.r.l
New Balance, Inc.
Nike, Inc.
PUMA SE
Sketchers USA Inc.
Footwear Market: Key Developments
Key providers of footwear, such as Adidas AG, Crocs Inc., Nike, Inc., and PUMA SE are focusing on making cost-effective footwear to attract more customers. Some other key developments in the global footwear market are highlighted below:
Adidas is aiming toward using recycled polyester in every product and application. The company has developed its first fully recyclable running shoe - Futurecraft Loop, which has been in the testing phase since last year (2019) and the company is planning to launch the product in the market in 2021.
On December 2, 2020, New Balance announced a partnership with FC Tokyo, a Japanese professional football club. With this partnership, companies are aiming to provide innovative & high performance products, which will enhance their competitive advantage and increase their market share globally.
In October 2020, FILA Luxembourg, S.a.r.l announced that it is splitting into two companies and will be named as FILA Holdings and FILA Korea. FILA is expecting that the split will help to enhance its efficiency, and its vision is to become a prominent global player.
In the global footwear market report, we have discussed individual strategies, followed by company profiles of providers of footwear. The 'Competition Landscape' section has been included in the report to provide readers with a dashboard view and company market share analysis of key players operating in the global footwear market.
Footwear Market – Scope of the Report
Transparency Market Research's recent report on the footwear market, with the help of a comprehensive outlook, provides readers with an assessment of the global market landscape. This study on the footwear market analyzes the scenario for the period 2020 - 2030, wherein 2019 is the base year and 2018 is historical data. The report enables readers to make important decisions with regard to their business, through a wealth of information enclosed in the study.
This TMR study on the footwear market provides data on the developments undertaken by important players and stakeholders in the market, along with a competitive analysis. The report also provides an understanding of strengths, weaknesses, threats, and opportunities, along with trends and restraints in the landscape. Presented in a clear sanctioned manner, the report on the global footwear market gives readers an individual understanding of the market.
The study discusses the underlying trends and impact of various factors that drive the global footwear market, along with their influence on the evolution of the market.
The study also offers Porter's Five Force Analysis, value chain analysis, key trends analysis, SWOT analysis, technology overview, regulatory framework, COVID-19 impact analysis, brand analysis, consumer buying behavior analysis, and price trends at the regional level of the footwear market in order to highlight the crucial growth tactics and opportunities for market players.
Key Questions Answered in This Report on Footwear Market
How much revenue will the footwear market generate by the end of the forecast period?
What application of footwear is likely to gain the maximum market share by 2030?
What regions currently contribute the maximum share to the overall footwear market?
What are the indicators expected to drive the global footwear market?
Which region is likely to be a lucrative market during the forecast period?
What are the essential strategies incorporated by key stakeholders in the global footwear market to expand their geographical presence?
What are the major advancements witnessed in the global footwear market?
The report answers these questions and more about the global footwear market, aiding major stakeholders and key players in making the right decisions and strategizing for the advancement of their business.
Footwear Market – Research Methodology
TMR's report on the global footwear market is based on a complete and comprehensive evaluation of the market backed by secondary and primary sources. The competitive scenario of the global footwear market is supported by an assessment of different factors that influence the market on a minute and granular level. By thoroughly analyzing the historical data and current trends, researchers of the global footwear market arrive at predictions and estimations, and calculate the forecast for the market.
The report uses an analytical triangulation method to estimate the numbers and figures of the global footwear market with both bottom-up and top-down approaches.
The detailed assessment of the global footwear market, along with an overview of the landscape is provided based on a careful examination of the avenues related to this market. Analysts' conclusions on how the global footwear market is set to grow are based on carefully vetted primary and secondary sources.
Footwear Market – Segmentation
The report on the global footwear market provides information on the basis of type, usage type, material type, price, end user, distribution channel, and region.
Type

Sports Shoes & Bellies Shoes
Boots
Sandals
Others

Usage Type

Material Type

Leather
Textiles
Other Synthetics

Price

End User

Distribution Channel

Region

North America
Europe
Asia Pacific
Middle East & Africa
South America
Custom Market Research Services
TMR offers custom market research services that help clients to get information on their business scenario required where syndicated solutions are not enough.
REQUEST CUSTOMIZATION