Global Flooring Market: Snapshot
The global flooring market is highly dynamic and versatile. Equipped with a wide-ranging portfolio of products, this market is among the most important building material markets. The substantial rise in the construction industry and the increasing trend of home improvement and renovation project activities is likely to boost this market substantially over the forthcoming years.
The rising number of residential constructions in various emerging nations and the reconstruction activities in mature economies, especially those in North America and Europe, are also expected to accelerate the growth rate of this market in the near future. On the other hand, the market may face severe challenges from the surging concerns over the harmful effect of certain chemicals used in the manufacturing of flooring products in the years to come. In 2016, the market was valued at US$247.56 bn. Expanding at a CAGR of 6.40% between 2017 and 2025, the opportunity in this market is anticipated to rise to US$429.25 bn by the end of 2025.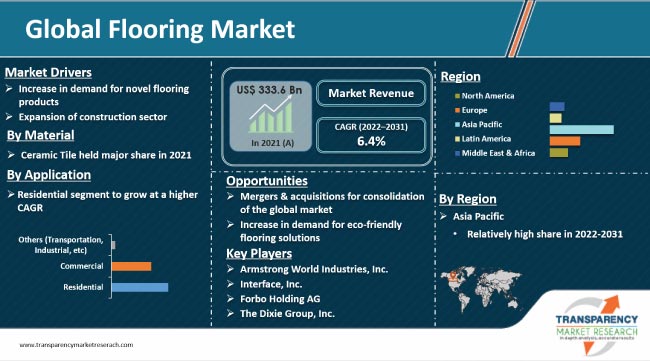 Asia Pacific to Report Continued Dominance
Asia Pacific, North America, the Middle East and Africa, Europe, and Latin America have emerged as the main regional markets for flooring components across the world. Compared to other regional markets, Asia Pacific has been reporting a higher demand for these components and accounted for more than 42% of the overall market in 2016. With a significant expansion in the construction industry in various Asian nations, thanks to the high economic growth, the Asia Pacific flooring market is anticipated to continue on the top over the next few years.
In Asia Pacific, China has surfaced as the key consumer of flooring products and is expected to remain so over the forthcoming years. Japan, South Korea, and Australia are other important consumers of flooring products in this region. India also demonstrates a significant potential for the growth in its flooring market as a considerable portion of flooring is currently constructed from non-standard materials here.
Europe is another prominent regional market for flooring components. Although the flooring market in Europe is comparatively mature, innovation and new technological developments in flooring products, such as tiles, woods, and carpets and rugs, are expected to boost this market considerably in the years to come.
Demand for Tiles to Remain Strong
Carpets and rugs, wood, resilient, tiles, laminate, and stone are the key products available in the global flooring market. Tiles, among these, have been witnessing a greater demand than other products. With the rise in building and construction activities and increasing interest of people in interior decoration, this trend is likely to remain so over the forthcoming years. Carpets and rugs are also expected to register a healthy rise in their demand in the near future due to their extensive usage in households.
The demand for resilient flooring is likely to expand at a higher pace than other products, with luxury vinyl tile (LVT) and wood-polymer composites (WPC) exhibiting double digit growth rates. Stone flooring, such as marble and granite flooring, will witness a moderate demand due to their high costs and complex installation.
Gerflor Group, Shaw Industries group Inc., Tarkett Group, Mannington Mills Inc., Mohawk Industries Inc., Avant Holding GmbH, Armstrong World Industries Inc., and Boral Ltd. are the key players operating in the global flooring market.
Global Flooring Market: Overview
Flooring products are building materials used to cover the floor area of buildings throughout the world. A variety of materials are used to manufacture flooring products such as carpets and rugs, wood, resilient, tile, stone and laminate flooring. These products are utilized for residential, commercial and industrial building applications. Flooring products are available in a wide variety of price ranges and design options. Growing urbanization and industrialization in emerging countries and remodeling activities in developed countries is likely to provide lucrative opportunities to the flooring market during the next decade.
This report analyzes and forecasts the market for flooring at the global and regional level. The market has been forecast based on volume (million square meters) and revenue (US$ Mn) from 2017 to 2025, considering 2016 as the base year. The study includes drivers and restraints of the global flooring market. It also covers impact of these drivers and restraints on demand for flooring during the forecast period. The report also highlights opportunities in the flooring market at the global and regional level.
The report includes detailed value chain analysis, which provides a comprehensive view of the global flooring market. Porter's Five Forces model for the flooring market has also been included to help understand the competitive landscape in the market. The study encompasses market attractiveness analysis, wherein end-users are benchmarked based on their market size, growth rate, and general attractiveness.
Global Flooring Market: Segmentation
The study provides a decisive view of the global flooring market by segmenting it in terms of products such as carpets & rugs, wood, resilient, tile and others (including laminate, stone) & applications such as residential, commercial & others (including industrial). These segments have been analyzed based on present and future trends. Regional segmentation includes current and forecast demand for flooring in North America, Europe, Asia Pacific, Latin America, and Middle East & Africa.
The report provides the actual market size of flooring for 2016 and estimated market size for 2017 with forecast for the next eight years. The global market size of flooring has been provided in terms of volume and revenue. Market revenue is given in US$ Mn. Market numbers have been estimated based on key end-users of flooring. Market size and forecast for numerous end-users have been provided in terms of global, regional, and country level markets.
Global Flooring Market: Research Methodology
In order to compile the research report, we conducted in-depth interviews and discussions with a number of key industry participants and opinion leaders. Primary research represented the bulk of research efforts, supplemented by extensive secondary research. We reviewed key players' product literature, annual reports, press releases, and relevant documents for competitive analysis and market understanding. Secondary research includes a search of recent trade, technical writing, Internet sources, and statistical data from government websites, trade associations, and agencies. This has proven to be the most reliable, effective, and successful approach for obtaining precise market data, capturing industry participants' insights, and recognizing business opportunities.
Secondary research sources that are typically referred to include, but are not limited to company websites, annual reports, financial reports, broker reports, investor presentations, SEC filings, Plastemart magazine, TPE magazine, internal and external proprietary databases, and relevant patent and regulatory databases such as ICIS, Hoover's, OneSource, Factiva and Bloomberg, national government documents, statistical databases, trade journals, market reports, news articles, press releases, and webcasts specific to companies operating in the market. We conduct primary interviews on an ongoing basis with industry participants and commentators to validate data and analysis. These help validate and strengthen secondary research findings. These also help develop the analysis team's expertise and market understanding.
Companies Mentioned in the Report
The report comprises profiles of major companies operating in the global flooring market. Key players in the flooring market are Mohawk Industries, Inc., Shaw Industries Group, Inc., Tarkett Group, Mannington Mills, Inc., Avant Holding GmbH and Armstrong World Industries, Inc. Market players have been profiled in terms of attributes such as company overview, financial overview, business strategies, and recent developments.
The global flooring market has been segmented as follows:
By Product
Carpets & Rugs
Wood
Resilient
Tiles
Others (Laminate, Stone etc.)
By Application
Residential
Commercial
Others (Industrial etc.)
By Region
North America
Europe

Germany
Italy
France
U.K.
Spain
Rest of Europe

Asia Pacific

China
India
Japan
ASEAN
Rest of APAC

Latin America

Brazil
Mexico
Rest of LATAM

Middle East & Africa

GCC
South Africa
Rest of MEA