Global Ceramic Tiles Market: Snapshot
The global ceramic tiles market is prophesied to be privileged with a heightened demand across several regions of the world on account of a noteworthy upturn in construction activities due to rising urbanization. Gulf Cooperation Council (GCC) countries and various other economies such as Brazil and Turkey are anticipated to testify an extensive propulsion in the sale of ceramic tiles. In the next few years, the demand for ceramic tiles could escalate tellingly as a result of consumers gaining more aesthetical consciousness and witnessing an upward thrust in the increase of their disposable income.
Improving at a CAGR of 9.80% between 2016 and 2024, the market is well poised to attain a revenue valuation of US$178.1 bn by the end of 2024. In 2015, a revenue valuation of US$76.81 bn was recorded.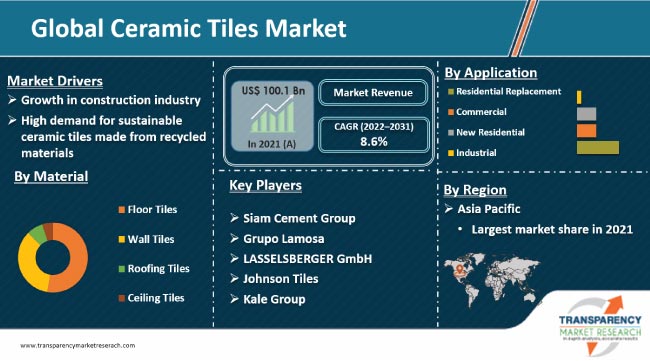 Floor Tiles Make Cut with Myriad of Residential, Commercial, Industrial Applications
According to an expert analysis of the world ceramic tiles market, vendors could cash in on the lucrative business of various products such as roofing tiles, ceiling tiles, wall tiles, and floor tiles. However, amongst these, floor tiles are predicted to receive a strong impetus in their demand throughout the forecast period. Out of the overall consumption volume of ceramic tiles in 2015, floor tiles had secured a dominating share.
A broad range of flooring applications from residential to commercial and industrial is prognosticated to set the tone for a reliable growth in the world ceramic tiles market. Airports, railway stations, and other transport infrastructures besides educational institutes and hospitals require floor tiles at a consistent rate. As a result, the demand for floor tiles could stay higher in the foreseeable future.
Asia Pacific Clings to Overriding Consumption Rate to Top Market
In the present scenario, Asia Pacific is reported to secure a significant consumption rate for ceramic tiles. In 2015, the region had accounted for a colossal share of 65.6% in the overall ceramic tiles market. Bankable markets such as India, China, and South Korea are expected to draw an enormous demand for ceramic tiles owing to a rapid rise in urbanization leading to increased construction activities. Furthermore, this trend could continue until the next few years.
The construction sector in Asia Pacific could paint a lucrative outlook for the regional ceramic tiles market. A host of market opportunities are projected to take shape in the region as the demand continues to see a rise. Industry players operating in Asia Pacific could leverage the boost in consumption because of the shift in preference from metal slabs, marble floors, and other decorative offerings to ceramic tiles.
Apart from Asia Pacific, the international ceramic tiles market is forecasted to find North America, Europe, Latin America, and the Middle East and Africa as key geographies to count on. In 2015, Europe had followed Asia Pacific in terms of consumption around the globe. The region is envisaged to benefit from a sudden increase in residential replacement activities. The demand for ceramic tiles in the region could be augmented further as the trend continues to prevail over the course of the forecast period.
The worldwide ceramic tiles market is envisioned to demonstrate a highly fragmented nature in the near future. In 2015, five leading companies, i.e. Lamosa Grupo, Siam Cement Group, Ras Al Khaimah Ceramics, Mohawk Industries Inc., and Kajaria Ceramics, had raised a paltry share of 7.7% in the overall market. Some of the other top manufacturers operating in the market are Saloni Ceramics, China Ceramics Co. Ltd., Ceramiche Atlas Concorde S.P.A, Florida Tile, Inc., and Crossville Inc.
Ceramic tiles are manufactured by using substances derived from mining operations such as minerals and clays. Floor tiles, wall tiles, and others are the major product segments of the global ceramic tiles market. Ceramic tiles are solely used in the building & construction industry. Residential replacement, commercial, and new residential are the major application segments of the ceramic tiles market. The residential replacement segment constituted the largest demand for ceramic tiles in 2015. However, new residential segment is expected to build substantial growth opportunities for the ceramic tiles market during the forecast period. GCC countries, Turkey, and Brazil are expected to offer lucrative opportunities in the ceramic tiles market during the forecast period, owing to rise in construction activities in these countries.
The report estimates and forecasts the ceramic tiles market on the global, regional, and country level. The study provides forecast from 2016 to 2024 based on volume (Million Square Meters) and revenue (US$ Mn).
The study offers a comprehensive view of the ceramic tiles market by dividing it into product segments such as floor tiles, wall tiles, and others. In terms of application, the global ceramic tiles market has been segmented into residential replacement, new residential, commercial, and others. Application segments have been analyzed based on historic, present, and future trends, and the market has been estimated from 2016 to 2024 in terms of volume (Million Square Meters) and revenue (US$ Mn). Regional segmentation includes current and forecast demand for ceramic tiles in North America, Europe, Asia Pacific, Latin America, and Middle East & Africa (MEA). Additionally, the report includes country-level analysis in terms of volume and revenue for product and application segments. Key countries such as the U.S., the U.K., France, Germany, Italy, Spain, Turkey, China, Japan, Brazil, South Africa, as well as ASEAN and GCC have been included in the study. Market segmentation includes demand for individual products and applications in all regions and countries.
The report comprises an all-inclusive value chain analysis that provides an extensive view of the market. Value chain analysis also provides detailed information about value addition at each stage of the value chain. The report covers drivers and restraints of the ceramic tiles market along with their impact on demand during the forecast period. Additionally, it includes the study of opportunities in the ceramic tiles market at the global level.
The report includes Porter's Five Forces Model to gauge the degree of competition in the ceramic tiles market. The report encompasses a qualitative write-up on market attractiveness analysis, wherein applications have been analyzed based on their attractiveness, growth rate, market size, raw material availability, profit margin, impact strength, technology, competition, and other factors (such as environmental and legal) have been evaluated to derive general attractiveness of the market. The report also includes price trend analysis of ceramic tiles as well as their raw materials derived from the mining industry such as feldspar, bentonite clay, kaolin, and silica sand from 2015 to 2024.
Secondary research sources that were typically referred to include, but were not limited to company websites, financial reports, annual reports, investor presentations, broker reports, and SEC filings. Other sources such as internal and external proprietary databases, statistical databases and market reports, news articles, national government documents, and webcasts specific to companies operating in the market have also been referred for the report.
In-depth interviews and discussions with a wide range of key opinion leaders and industry participants were conducted to compile this research report. Primary research represents the bulk of the research efforts, supplemented by extensive secondary research. Key players' product literature, annual reports, press releases, and relevant documents were reviewed for competitive analysis and market understanding. This helped in validating and reinforcing our secondary research findings. Primary research further helped in developing the analysis team's expertise and market understanding.
The report covers a detailed competitive outlook that includes market share and profiles of key players operating in the global market. Ras Al Khaimah Ceramics, Siam Cement Group, Grupo Lamosa SAB de CV, Kajaria Ceramics, Mohawk Industries Inc., China Ceramics Co., Ltd., and Ceramiche Atlas Concorde S.P.A, Crossville Inc., Florida Tile Inc., Porcelanosa Grupo, Saloni Ceramica, and Gruppo Ceramiche Ricchetti S.p.A. are the key players profiled in the report. Company profiles include attributes such as company overview, number of employees, brand overview, key competitors, business overview, business strategies, recent/key developments, acquisitions, and financial overview.
This report segments the global ceramic tiles market as follows:
Ceramic Tiles Market – Product Analysis

Floor Tiles
Wall Tiles
Others (Including Ceiling Tiles, Roofing Tiles, etc.)

Ceramic Tiles Market – Application Analysis

Residential Replacement
Commercial
New Residential
Others (Including Industrial, etc.)

Ceramic Tiles Market – Regional Analysis

North America

U.S.
Rest of North America

Europe

Germany
France
U.K.
Italy
Spain
Turkey
Rest of Europe

Asia Pacific

China
Japan
ASEAN
Rest of Asia Pacific

Latin America

Brazil
Rest of Latin America

Middle East & Africa (MEA)

GCC
South Africa
Rest of Middle East & Africa