Ceiling Tiles Market
Ceiling Tiles Market (Product - Mineral Wool, Metal, and Gypsum; Application - Residential, Non-residential, Industrial, Hospitality, Commercial, and Institutional) - Global Industry Analysis, Size, Share, Growth, Trends, and Forecast 2016 - 2024
Category :

Chemicals & Materials

Format :
Global Ceiling Tiles Market – Overview
Ceiling tiles or ceiling boards are among the most commonly used construction components. They are generally used for improving the aesthetic look of a building or construction. It is also used for changing the general style and providing acoustic protection. These ceiling tiles have become integral part in molding market for affordable and reasonable homes. These tiles are widely used in drywell network frameworks, building borders, suspensions, retail spaces, transport terminals, and workplaces among others.
Considerable applications which are helping towards the development of the global market for ceiling tiles are commercial spaces, governance, healthcare, banking, and tourism among others. Apart from this, ceiling tiles are additionally helping to enhance the acoustics of enclosed spaces and can even be used as heat insulators. Because of these additional features, there has been a growing demand for these ceiling tiles, and thus have helped in the driving the overall growth of the global market in recent years.
Transparency Market Research has published a research about the global ceiling market, providing detailed insights about the key market segments, geographical segments, drivers and restraints, and competitive landscape. As per the research report, the global market for ceiling tiles is expected to clock a massive CAGR of 10.10% over the course of the forecast period ranging from 2016 to 2024. In the year 2015, the valuation of the global market was around US$21.6 bn. With the given rate of growth, the global market is expected to reach a valuation worth US$51.3 Bn by the fall 2024.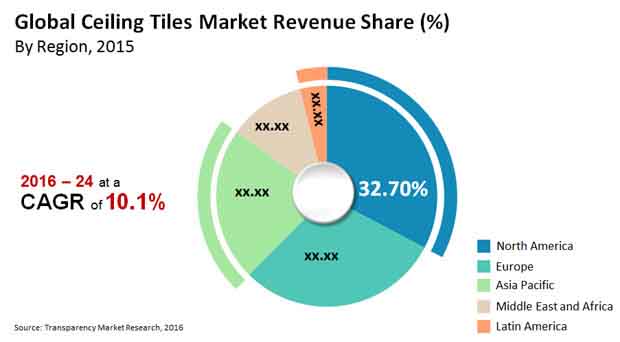 Increasing Demand from Commercial as Well as Residential Sectors
Mineral wool integrates strands derived from glass wool, rocks, and slag. This particular segment uses wet felt and provides mineral strand and fiberglass as well. These materials have notable qualities of noise reduction and are being growingly used in commercial and business spaces that generally have a quite boisterous environment.
There has been a growing demand for mineral wood segment of the global ceiling tiles market. This demand is expected to continue rising in the coming years of the forecast period because of their superior recyclability and execution properties. Metal based items account for the second largest industry in recent years. Tin, aluminum, and steel are the considerable materials used for the manufacturing of metal ceiling tiles. Their eco-friendly and supporting nature have also helped in the overall development of the global market for ceiling tiles. Moreover, the companies in the global market are projected to generate more profits with the emergence of additional lucrative business opportunities in coming years.
There are several business sub-applications of ceiling tiles. These sub-applications generally include instructive foundations, supermarkets, retail spaces, healthcare centers, corporate workspaces, and others. Ceiling frameworks are used by airplane terminals, recreation centers, utility rooms, restrooms, eateries, and cafeterias among others. In recent years, there has been a growing demand for development of residential areas, which too has played a considerable role in the overall development of the global ceiling tiles market.
Emerging Economies to Help Asia Pacific Market to Grow
In terms of regional segmentation, the global market for ceiling tiles is being dominated by the regional segment of North America. The regional segment of Europe is projected to be next in line after North America. The regional segment of Asia Pacific is expected to witness a highly promising growth in the coming years of the forecast period due to the growing demand from emerging economies such as India and China.
Vendors operating in the global ceiling tiles market are USG Corporation, SAS International, Techno Ceiling Products, Armstrong World Industries, and Saint-Gobain S.A., among several others.
Ability to Impart Enhanced Aesthetic Appeal to Building Structures to Boost Ceiling Tiles Market
The construction industry's rising demand for ceiling tiles, as well as the rising demand for reduction of carbon footprints in the production of raw materials for the making of ceiling tile, are the two main factors likely to drive growth of the global ceiling tiles market. On the other hand, the challenge of replacements such as mortar and asphalt is expected to stifle the market's expansion.
Ceiling tiles are increasingly being used in the non-residential sector. These tiles are used in a variety of non-residential settings, like auditoriums, offices, libraries, institutions, gymnasiums, movie theatres, and hospitals. The demand for ceiling tiles in non-residential applications has been steadily growing due to sound blocking and sound absorbing properties, their aesthetic appeal, and hassle-free installation. Ceiling tiles are often long-lasting and come with many advantages, which is likely to work in favor of the global ceiling tiles market in near future. Benefits of ceiling tiles comprise resistance to fire and moisture absorption, which are likely to increase its uptake in the market. Ceiling tiles are becoming more common as building designers and architects incorporate them into their designs. Furthermore, manufacturers' increased emphasis on developing, producing, and selling ceiling tiles for a variety of uses in the non-residential sector is expected to propel the ceiling tiles market towards growth in the near future.
High Demand from the Residential Constructions to Boost Demand in the Market
Residential structures are those that are utilized for living purposes. Ceiling tiles are used in living rooms, basements, dining areas, kitchens, and bedrooms, and amongst other places in the home. Ceiling tiles are used in residential installations because of their decorative, sanitary, and acoustic qualities. Kitchen ceiling tiles have an elegant, stylish appearance and are resistant to sagging, mould, and mildew. Ceiling tiles come in a variety of colors and sizes. Such a wide range of color and size choices adds to the appeal of the house.
Green construction activities are expected to spread through developed countries in Europe and North America, as well as rapidly growing areas in Asia Pacific. This is due to the fact that people have become more informed about the benefits of using environmentally sustainable building materials. In addition to that, leading players' acceptance of recycling and reuse of construction materials is projected to drive demand in the market in the forthcoming years.
Global Ceiling Tiles Market: Snapshot
Ceiling tiles, also known as ceiling panels, are sound absorbing and lightweight construction materials which are used to cover a ceiling area. These lightweight tiles are used in the interior of buildings, placed in an aluminum grid for the primary purpose of enhancing the acoustics of a room, besides providing thermal insulation. Different types of ceiling tiles are manufactured in the industry such as mineral wool ceiling tiles, metal ceiling tiles and gypsum ceiling tiles. Based on application ceiling tiles are employed in residential, non-residential and industrial application.
The report estimates and forecasts the ceiling tiles market on the global, regional, and country levels. The study provides forecast between 2016 and 2024 based on volume (million square meters) and revenue (US$ Mn) with 2015 as the base year. The report comprises an exhaustive value chain analysis for each of the product segments. It provides a comprehensive view of the market. The study includes drivers and restraints for the ceiling tiles market along with their impact on demand during the forecast period. The study also provides key market indicators affecting the growth of the market. The report analyzes opportunities in the ceiling tiles market on the global and regional level. Furthermore, the report analyzes substitutes of ceiling tiles. It also provides the global average price trend analysis.
The report includes Porter's Five Forces Model to determine the degree of competition in the ceiling tiles market. The report comprises a qualitative write-up on market attractiveness analysis, wherein product, application and countries have been analyzed based on attractiveness for each region. Growth rate, market size, raw material availability, profit margin, impact strength, technology, competition, and other factors (such as environmental and legal) have been evaluated in order to derive the general attractiveness of the market.
Global Ceiling Tiles Market: Segmentation
The study provides a comprehensive view of the ceiling tiles market by dividing it into product, application and geography. In terms of product, the ceiling tiles market has been segmented into mineral wool, metal, gypsum and others. In terms of application, the ceiling tiles market has been segmented into residential, non-residential and industrial. The non-residential segment has been further bifurcated into hospitality, commercial and institutional. Application segments have been analyzed based on historic, present, and future trends, and the market has been estimated in terms of volume (million square meters) and revenue (US$ Mn) between 2016 and 2024.
Global Ceiling Tiles Market: Scope
In-depth interviews and discussions with wide range of key opinion leaders and industry participants were conducted to compile this research report. Primary research represents the bulk of research efforts, supplemented by extensive secondary research. Key players' product literature, annual reports, press releases, and relevant documents were reviewed for competitive analysis and market understanding. This helped in validating and strengthening secondary research findings. Primary research further helped in developing the analysis team's expertise and market understanding.
Secondary research sources that were typically referred to include, but were not limited to company websites, financial reports, annual reports, investor presentations, broker reports, and SEC filings. Other sources such as internal and external proprietary databases, statistical databases and market reports, news articles, national government documents, and webcasts specific to companies operating in the market have also been referred for the report.
Global Ceiling Tiles Market: Geographical Outlook
Regional segmentation includes the current and forecast demand for ceiling tiles in North America, Europe, Asia Pacific, Latin America, and Middle East & Africa (MEA). Additionally, the report comprises country-level analysis in terms of volume and revenue for product and application segments. Key countries such as the U.S., Canada, Mexico, Germany, France, the U.K., Spain, Italy, India, China, South Africa, and Brazil have been included in the study. Market segmentation includes demand for individual product and application in all the regions and countries.
Key Players Mentioned in this Report are:
The report covers detailed competitive outlook that includes market share and profiles of key players operating in the global market. Key players profiled in the report include Armstrong World Industries, Inc., New Ceiling Tiles, LLC, Saint-Gobain S.A., SAS International, USG Corporation, Knauf, Techno Ceiling Products, ROCKFON, MADA GYPSUM, and Odenwald Faserplattenwerk GmbH. Company profiles include attributes such as company overview, number of employees, brand overview, key competitors, business overview, business strategies, recent/key developments, acquisitions, and financial overview (wherever applicable).
The ceiling tiles market has been divided into the following segments:
Ceiling Tiles Market – Product Analysis
Mineral Wool
Metal
Gypsum
Others
Ceiling Tiles Market – Application Analysis
Residential
Non-residential
Hospitality
Commercial
Institutional
Industrial
Ceiling Tiles Market – Regional Analysis
North America
Europe
France
U.K.
Spain
Germany
Italy
Rest of Europe
Asia Pacific
China
Japan
ASEAN
Rest of Asia Pacific (APAC)
Latin America
Brazil
Rest of Latin America (LATAM)
Middle East & Africa
GCC
South Africa
Rest of Middle East & Africa (MEA)
Custom Market Research Services
TMR offers custom market research services that help clients to get information on their business scenario required where syndicated solutions are not enough.
REQUEST CUSTOMIZATION