Endosurgery Devices Market
Endosurgery Devices Market (Product: Endomechanical Devices [Trocars, Staplers, Ligation Kits, and Others] and Electrosurgical Devices [Generators and Consumables]; Application: Abdominal Surgery, Thoracic Surgery, Gynecology Surgery, Colorectal Surgery, Bariatric Surgery, Transplant Surgery, and Others; and End User: Hospitals & Ambulatory Surgical Centers and Specialty Clinics & Nursing Homes) - Global Industry Analysis, Size, Share, Growth, Trends, and Forecast, 2019 - 2027
Category :

Healthcare

Format :
Application of Endosurgery Devices in Laparoscopic Surgeries to Rise
Technological advancements have played an imperative role in transforming the modern day healthcare industry. Over the past decade, minimally invasive surgeries, also known as laparoscopy, have garnered significance, as they require smaller incisions. With additional efforts toward minimizing the size of surgical incisions, minimally invasive procedures are set to gain traction in the near future. The advent of robotic technology, significant developments in endomechanical devices, and adoption of cutting-edge optical camera and imaging technologies are projected to accelerate the growth of the endosurgery devices market during the forecast period (2019-2027).
The demand for laparoscopic procedures is witnessing a notable growth across the world, owing to a range of benefits, such as less morbidity, faster healing, swift recovery, improved outcome, and low degree of discomfort. Surge in the adoption of these procedures has directly impacted the demand for endosurgery devices. Moreover, growing awareness regarding the advantages of laparoscopic surgeries, advent of robotic assisted endosurgery devices, and evolution of modern day surgical procedures are some of the leading factors that are expected to propel the expansion of the endosurgery devices market in the near future.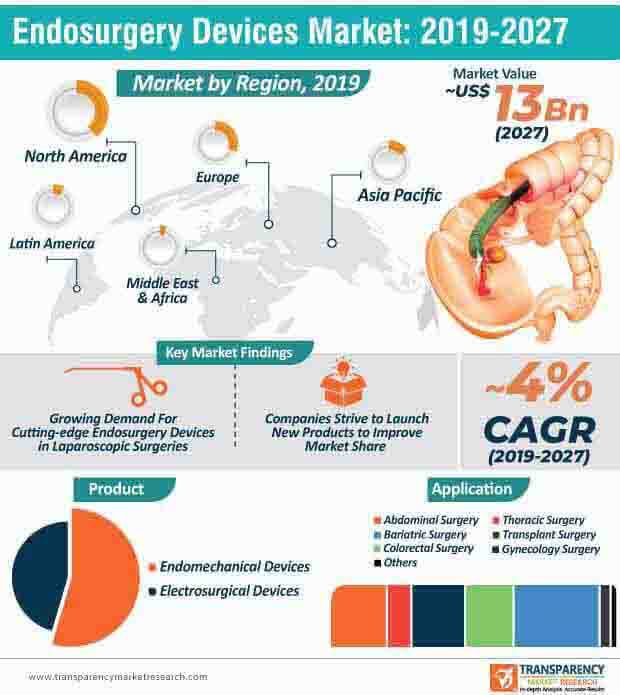 To know the scope of our report Get a Sample on Endosurgery Devices Market
Robot-assisted Endoscopy to Replace Conventional Endoscopic Procedures
Minimally invasive procedures are associated with shorter hospital stays and significantly low degree of discomfort compared to conventional surgical techniques. However, despite these advantages, alternative treatments such as technologically advanced endoscopic surgeries, which include natural orifice transluminal endoscopic surgery (NOTES), endoscopic sub mucosal dissection (ESD), and suturing that require training and a high level of expertise could slow down the growth of the endosurgery devices market.
Although a broad range of endosurgery devices, such electrosurgical knifes, hemostatic forceps, suturing devices, and distal attachment caps are available, these conventional endosurgery devices lack the capabilities of advanced endosurgery devices. For instance, there is a dearth of desired dexterity required to carry out fine surgical maneuvers such nonaxial tissue manipulation and triangulation of instruments. Due to the limitations of conventional endosurgery devices, endoscopic robotic systems have made an entry into the endosurgery devices market. The entry of robotic endosurgery devices, including dissection tools, electrocautery devices, and sutures have resulted in effective, precise, reliable, and safe endoscopic procedures. At present, manufacturers operating in the endosurgery devices market are focusing on addressing the issues pertaining to instrument control and locomotion to improve the performance and overall output of these devices.
Get a glimpse of the in-depth analysis through our Report Brochure
Participants within the endosurgery devices sphere are investing resources on the development of robotic systems with improved flexibility. For instance, the Flex Robotic System manufactured by Medrobotics was specially developed to perform neck and head surgeries. It was given the U.S. FDA approval in 2017. The adoption of these devices is expected to gain steady momentum in the coming years, as these devices continue to simplify the complexities involved with conventional procedures.
Companies Launch Advanced Endosurgery Devices to Expand Global Footprint
Sensing the growing demand for advanced endosurgery devices, stakeholders in the current endosurgery devices market landscape are leaning toward the development of new, cutting-edge endosurgery devices and are simultaneously pushing to gain approval from the FDA. For instance, in September 2019, Apollo Endosurgery was given the FDA clearance for the newly developed suture anchor device specifically designed to work in conjunction with OverStitch endoscopic suturing systems. The company revealed that obtaining the clearance from the FDA would enable it to improve the overall distribution of their suture-anchor systems and gross margins. Moreover, with better control over their supply chain, the company aims to expand its footprint in the global endosurgery devices market.
In September 2019, Ethicon launched the first powered circular stapler to address the complications related to gastric, thoracic, and colorectal surgery. The newly developed endosurgery device, ECHELON CIRCULAR Powered Stapler is a combination of two novel technologies of the company –3D Stapling Technology and Gripping Surface Technology (GST). Companies operating in the healthcare technology sphere are expected to focus on the development of cutting-edge devices that offer high degree of precision, accuracy, and end results.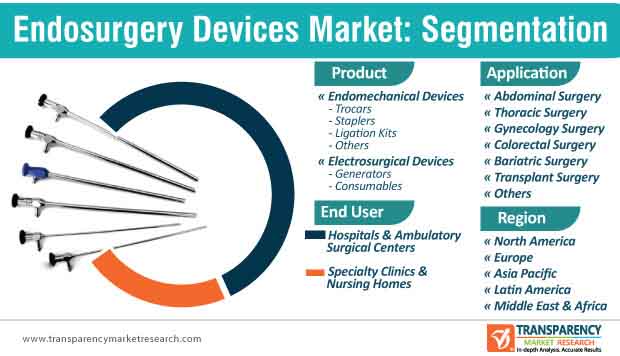 Expanding operations in future? To get the perfect launch ask for a custom report
Analysts' Viewpoint
The endosurgery devices market is expected to grow at a CAGR of ~4% during the forecast period and attain a market value of ~US$ 13 Bn by 2027. The onset of state-of-the-art technologies, developments in robotic surgical systems, and integration of advanced imaging technologies will continue to bolster the growth of the market for endosurgery devices in the near future. Companies should engage in the development of new products with improved capabilities and functionalities. The adoption of these devices for abdominal, thoracic, bariatric, and gynecology surgeries, among others, will continue to grow during the forecast period, particularly in developed regions, including North America and Europe.
Endosurgery Devices Market: Overview
According to the latest report published by Transparency Market Research on the global endosurgery devices market for the historical period 2017-2018 and forecast period from 2019 to 2027, technological advancements and increase in the number of surgeries are projected to be major drivers of the global endosurgery devices market during the forecast period
The global endosurgery devices market was valued at ~US$ 8.8 Bn in 2018 and is expected to expand at a CAGR of ~4% from 2019 to 2027
Launch of New Endosurgery Devices-based Products: Key Drivers
Technological advancements in endosurgery devices provide enhanced surgical options for bariatric and gynecology surgery applications
For instance, in 2017, Medtronic launched Signia Stapling System, which provides an ideal solution to the innovative intelligence-based minimally invasive surgery by offering real-time feedback and using adaptive firing technology to measure the firing force and adjust the stapler's speed based on tissue variability measurements
In 2018, Intuitive Surgical (da Vinci) launched SureForm 60, a robotic stapling instrument that is single-patient, and offers greater degree of ease and autonomy to surgeons. The system also offers 120 degrees of fully wristed articulation, up to 60 degrees in all directions during surgery, which helps surgeons with greater range of motion not possible manually.
Rise in Minimally Invasive Surgeries
Usage of endosurgery devices in several surgical applications is increasing due to its characteristics such as ease of use, less pain caused to patients, and lower risk of side effects after the surgery
Utilization of endosurgery devices in bariatric applications is rising due to obesity and rise in awareness about its treatments
Surge in Adoption of Advanced Robotic Endosurgery Devices
Recent developments in technology have led to a rise in the usage of advanced endosurgery devices such as the smart stapling system
Intuitive Surgical (da Vinci) offers SureForm 60, which is a robotic stapling instrument
The advent of robotic surgical systems and adoption among various specialties drive the demand for advanced surgical instruments to be used in these robotic surgical procedures. This has encouraged key surgical robot manufacturers to develop new endosurgery devices indigenously and in collaboration with key endosurgery device manufacturers.
High Demand for Endosurgery Devices in Bariatric Surgery
In terms of application, the bariatric surgery segment held a major share of the global endosurgery devices market in 2018. Rise in the global geriatric population is likely to lead to an increase in the number of people affected with various diseases that require surgery, which, in turn, is projected to boost the demand for endosurgery devices.
Endoscopic sleeve gastroplasty, sleeve gastrectomy, and biliopancreatic diversion with duodenal switch are part of the bariatric surgery
Other applications where endosurgery devices are used are gynecology, abdominal & general surgery, and cardiothoracic surgeries, among others
North America to Dominate Endosurgery Devices Market
North America accounted for a major share of the global endosurgery devices market in 2018, followed by Europe. There is a presence of major market players in North America. Moreover, the large share of the region can be attributed to the early launch and adoption of advanced endosurgery devices and a highly structured healthcare industry in the region.
Europe is likely to be a highly attractive market for endosurgery devices during the forecast period, primarily due to the increase in the number of people undergoing surgeries
The endosurgery devices market in Asia Pacific is projected to expand at a rapid rate during the forecast period due to a large patient base, increase in awareness about endosurgical treatments, and improving healthcare infrastructure
Endosurgery Devices Market: Competition Landscape
Detailed profiles of manufacturers of endosurgery devices have been provided in the report to evaluate their key product offerings, financials, business strategies, and recent developments
The global endosurgery devices marketis fragmented due to the presence of several large and small players in the market
Major players operating in the global endosurgery devices market are

Medtronic
Stryker
Ethicon, Inc.
KARL STORZ SE & Co. KG
Olympus Corporation
Erbe Elektromedizin GmbH
Meril Life Science Pvt. Ltd
Healthium Medtech
Conmed Corporation
Reach Surgical
In the global endosurgery devices market report, we have discussed individual strategies, followed by company profiles of the manufacturers of endosurgery devices. The 'competitive landscape' section has been included in the global endosurgery devices market report to provide readers with a dashboard view of the key players operating in the global endosurgery devices market.
Endosurgery Devices Market - Scope of the Report
TMR's report on the endosurgery devices market studies past as well as current growth trends and opportunities to gain valuable insights of the mentioned indicators for the market during the forecast period from 2019 to 2027. The report provides revenue of the global endosurgery devices market for the period from 2017 to 2027, considering 2018 as the base year and 2027 as the forecast year. The report also provides the compound annual growth rate (CAGR) for the global endosurgery devices market during the forecast period.
The report has been prepared after an extensive research. Primary research involved bulk of research efforts, wherein analysts carried out interviews with industry leaders and opinion makers. Extensive secondary research involved referring to key players' product literature, annual reports, press releases, and relevant documents to understand the endosurgery devices market.
Secondary research also included Internet sources, statistical data from government agencies, websites, and trade associations. Analysts employed a combination of top-down and bottom-up approaches to study various phenomenon in the global endosurgery devices market.
The report includes an elaborate executive summary, along with a snapshot of the growth behavior of various segments included in the scope of the study. Moreover, the report sheds light on changing competitive dynamics in the global endosurgery devices market. These indices serve as valuable tools for existing market players as well as for entities interested in entering the global endosurgery devices market.
The report delves into the competitive landscape of the global endosurgery devices market. Key players operating in the global endosurgery devices market have been identified, and each one of them has been profiled for distinguishing business attributes. Company overview, financial standings, recent developments, and SWOT are some of the attributes of players in the global endosurgery devices market that have been profiled in this report.
Key Questions Answered in TMR's Report on Endosurgery Devices Market
What is the scope of growth of endosurgery devices companies in the medical devices sector?
What will be the Y-o-Y growth of the endosurgery devices market between 2019 and 2027?
What is the influence of changing trends in technologies on the endosurgery devices market?
Will North America continue to be the most profitable regional market for endosurgery devices providers?
Which factors will hamper the growth of the global endosurgery devices market during the forecast period?
Which are the leading companies in the global endosurgery devices market?
Research Methodology
A unique research methodology has been utilized by TMR to conduct a comprehensive research on the growth of the global endosurgery devices market, and arrive at conclusions on the future growth prospects of the market. This research methodology is a combination of primary and secondary research, which helps analysts warrant the accuracy and reliability of the drawn conclusions.
Secondary sources referred to by analysts during the production of the global endosurgery devices market report include statistics from company annual reports, SEC filings, company websites, investor presentations, regulatory databases, government publications, and industry white papers. Analysts have also interviewed senior managers, product portfolio managers, CEOs, VPs, and market intelligence managers who contributed to the production of TMR's study on the endosurgery devices market as primary sources.
These primary and secondary sources have provided exclusive information during interviews, which serves as a validation from endosurgery devices market leaders. Access to an extensive internal repository and external proprietary databases allows this report to address specific details and questions about the global endosurgery devices market with accuracy. The study also uses the top-down approach to assess the numbers for each segment and the bottom-up approach to counter-validate them. This has helped in reaching TMR's estimates on future prospects of the global endosurgery devices market more reliably and accurately.
Endosurgery Devices Market – Segmentation
Product

Endomechanical Devices

Trocars
Staplers
Ligation Kits
Others

Electrosurgical Devices

Generators
Consumables
Monopolar
Bipolar
Vessel Sealing

Application

Abdominal Surgery
Thoracic Surgery
Gynecology Surgery
Colorectal Surgery
Bariatric Surgery
Transplant Surgery
Others

End User

Hospitals & Ambulatory Surgical Centers
Specialty Clinics & Nursing Homes

Region

North America
Europe
Asia Pacific
Latin America
Middle East & Africa
Custom Market Research Services
TMR offers custom market research services that help clients to get information on their business scenario required where syndicated solutions are not enough.
REQUEST CUSTOMIZATION

Endosurgery Devices Market