Electronic Health Records Market
Electronic Health Records Market (Installation Type - Web-based, Client Server-based, and Software as Services; End Users - Hospitals, Physicians Office, Ambulatory Surgery Centers) - Global Industry Analysis, Size, Share, Growth, Trends, and Forecast 2017 - 2025
Category :

Healthcare

Format :
Electronic Health Records Market - Snapshot
An electronic health record or EHR refers to a digital version of the paper chart of a patient. These health records are patient-centered and real-time records that make instant and secured availability of information possible for authorized users. This system of health record is built to go way beyond the standard clinical data that is gathered in the office of a provider, which is likely to work in favor of the growth of the global electronic health records market in the years to come.
This electronic record system contains the treatment and medical histories of the patients, which makes it easy for the medical practitioners to get a broader view of the patient's health condition quickly. Electronic health records are a crucial part of health IT.
The global electronic health records market is primarily influenced by numerous factors such as integration of healthcare information technology, rise in the incidences of chronic diseases, and expanding pool of geriatric population. All these factors are predicted to push for the increased adoption of electronic health records in the years to come.
Demand is Driven by the Rising Need for Accuracy and Clarity in Medical Records
The growing initiatives on part of the government to go paperless for healthcare data documentation together with the rising trend of cloud-based software for electronic health records is further expected to drive the demand for electronic health record.
This type of health records can better patient in the following ways:
Lessening the prevalence of medical error through improvement of clarity and accuracy of medical records
It ensures easy availability of health information together with diminishing number of test duplication.
It lessens delays in the treatment of patients and patients are kept well informed about their conditions so as to take better and informed decisions.
Reduction in the number of medical errors through improvement of clarity and accuracy of medical records
Furthermore, rise in the geriatric population together with growing prevalence of various chronic diseases is further expected to support developments in the global electronic health records market.
Electronic Health Records (EHR) Market: A Snapshot
Electronic health records or EHR are increasingly becoming the lease to a new life for the healthcare sector. On one hand, it promises to improve patient care significantly with improvements in accurate and available information. On the other hand, it also promises to reduce costs significantly, wherein administrative costs form the major chunk for burden for many hospitals. The process is also essential for enabling other systems such as disbursement of insurance schemes, availing care through MediCaid programs, and collaborating with other medical practitioners. The EHR market promises robust growth during 2017-2025 period, as government mandates for programs like MediCaid dictate use of digital mediums to increase patient, and doctor communication, and makes it mandatory for availing disbursement through EHR market. According to TMR experts, the EHR market will register a notable 5.7% CAGR during the forecast period to reach a valuation of US$ 38.29 bn by 2025.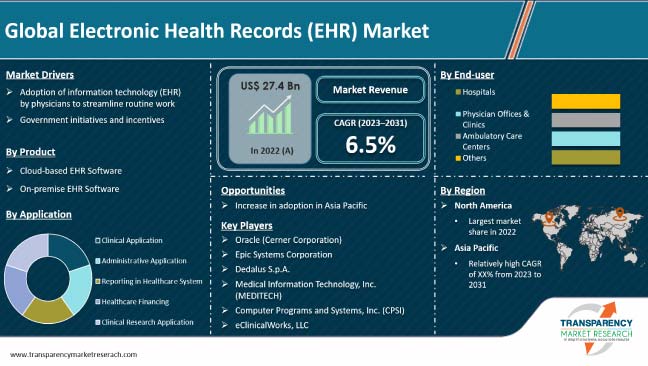 SaaS Deployment Remains the Most Promising Prospect
Web-based deployment have made their way into most many hospital, and healthcare system across the world. Their deployment promises significant advantages to players in the healthcare sector as these are often easy to deploy, and can be installed on premise without the need of exuberant costs of additional hardware. Moreover, these also promise significant improvements in productivity and cost-savings at the same time. SaaS based systems come in different varieties. Among these, the web-based systems are expected to remain most prominent across hospitals. The alternative to these systems, the client-server based EHR systems are ideal for large chains of hospitals in countries like the United States. The necessity of confidentiality, and increasing infrastructure developments like datacenters across the country are expected to drive major growth for the HER systems in United States. Moreover, rise of cloud systems like Azure, Google Cloud, and AWL are also expected to provide more choice to large players as shifting data to cloud and gain benefits like machine learning becomes viable with introduction of new systems.
North America to Exhibit Dominant Growth
The growth of several major hospital chains, and supporting infrastructure like cloud in the region are expected to make North America region a home of opportunity for global players in the EHR market. The region continues to attract new investments in cloud technologies. For example, recently IBM announced its cloud systems in league with major players in the market, which promises to provide hybrid solutions to players in the healthcare sector which are looking for a balanced approach to migration to cloud. The new technology is likely to help change conventional mind-set in the healthcare sector, with a solution that promises to make the most out of both the worlds. Asia Pacific will also exhibit tremendous growth, thanks to rising expansion of healthcare services, rising disposable income, and technological advancement in the region.
Some of the leading players operating in the global electronic health record market are Allscripts Healthcare Solutions, Inc., Athenahealth, Inc., Cerner Corporation, CPSI, Epic Systems, eClinicalWorks, GE Healthcare, Greenway Health, LLC, Medical Information Technology, Inc., McKesson Corporation, NextGen Healthcare, and 4medica.
Global Electronic Health Records Market - Overview
Electronic Health Record (EHR) is a digital version of a patient's medical history, which is maintained by the healthcare provider over time, and may include all of the key executives clinical data relevant to that individual care under a particular provider, including demographics, problems, progress notes, vital signs, medications, past medical history, immunizations, radiology reports and laboratory data. Dramatic improvement in the electronic health record system will increase demand globally.
The report analyzes each of the segments and its sub-categories in detail for market trends, recent developments, outlook, and opportunities. The market overview section of the report explores market dynamics such as drivers, restraints, and opportunities that currently have strong impact on the global EHR market and could influence the market in the future as well. Market attractiveness analysis has been provided in the market overview section in order to explain the intensity of competition between leading market players operating across the globe. The report also mentioned about leading players for each of the product segment/technology that dominates the market or expected to emerge in forthcoming years.
Global Electronic Health Records Market – Research Methodology
The research methodology is a combination of primary and secondary research. Primary research includes information collected via e-mails, and telephonic interviews of Key Opinion Leaders (KOL), and forms the bulk of our research. Secondary research includes information collected from various sources, by study of company websites, annual reports, stock analysis presentations, press releases, and various national and international databases.
All these factors would help market players to take strategic decisions in order to strengthen their positions and expand their respective market shares. The recommendations section included in the report would assist existing market players in targeting all major stake holders of this industry such as companies, hospitals, emergency, assisted living facilities, home care providers government agencies and also to those aiming to seek an entry. The report also profiles major players in the global EHR market based on various attributes such as company details, business overview, details of EHR business, financial details, business strategies and recent developments.
Additional information such as vital components of EHR, hosting platforms, application areas of EHR, and legal requirements are covered in the market overview chapter which provide every minute details to assist new and existing players to venture and explore latent market opportunities in forthcoming years. The report also featured a detailed list of major revenue contributing EHR products, their certification, and manufacturer details to depict competition in the market.
Global Electronic Health Records Market - Segmentation
Based on installation type, global electronic health records market are segmented into web based, client server based and software-as-a-service. Based on end user, the electronic health records market are segmented into hospital, physician office, ambulatory surgical centers and others.
Based on geography, the electronic health records market is segmented into North America, Europe, Asia Pacific, Latin America, and rest of world. The regions are further segmented into major countries which include, U.S., Canada, Germany, U.K., France, Spain, Italy, Russia, rest of Europe, India, China, Japan, Australia and New Zealand, Rest of Asia Pacific, Brazil, Mexico, Rest of Latin America, Russia, Saudi Arabia, South Africa and rest of world
Companies Mention in Report
Key players profiled in the electronic health record market study encompasses Allscripts Healthcare Solutions, Inc., Athenahealth, Inc., Cerner Corporation, CPSI, Epic Systems, eClinicalWorks, GE Healthcare, Greenway Health, LLC, Medical Information Technology, Inc., McKesson Corporation, NextGen Healthcare and 4medica.
The electronic health records market has been segmented as follows:
by Installation

Web Based
Client Server Based
Software as Services

by End User

Hospital
Physician Office
Ambulatory surgery centers
Others

by Geography

North America
Europe

United Kingdom
Germany
France
Rest of Europe

Asia Pacific

India
China
Australia
Malaysia
Japan
Rest of Asia Pacific

Latin America

Brazil
Mexico
Argentina
Rest of Latin America

Rest of the World

Israel
Russia
South Africa
Saudi Arabia
Rest of the World
Custom Market Research Services
TMR offers custom market research services that help clients to get information on their business scenario required where syndicated solutions are not enough.
REQUEST CUSTOMIZATION

Electronic Health Records Market