Digital Health Market
Digital Health Market (Product - Health Care Information Systems and Wearable Devices; Component - Hardware, Software, and Services; End User - B2C and B2B) - Global Industry Analysis, Size, Share, Growth, Trends and Forecast, 2017 - 2025
Category :

Healthcare

Format :
Digital Health Market - Snapshot
Digital health refers to the utilization of electronic communication or information technology-based processes, tools, and services to facilitate better healthcare services. The utilization and scaling up of digital health solutions could lead to revolutionize ways to attain higher standards of access and health services. Such an effort is also likely to protect and promote well-being and health of the people, which is likely to bolster expansion of the global digital health market in the years to come.
A rise in the demand for remote monitoring services is driven by the augmented prevalence of chronic diseases and recent outbreak of global pandemic, COVID-19. At present, the future course of the global digital health market is influenced by the COVID-19 considerably, which is spreading at an exponential rate. People are avoiding public places such as parks, hospitals, clinics in a bid to avoid contacting the disease. In addition to that, phenomenal penetration of smartphones and various mobile apps, including the ones designed for providing health-related services are likely to drive the demand for digital health services.
Rapid Development in Technology to Bolster Demand for Digital Health Services
Improved connectivity of internet together with a rise in the adoption of mHealth technologies by patients and physicians alike are likely to drive the mHealth segment of the global digital health market.
Some of the well-known benefits of digital health system are mentioned as below
Access to affordable healthcare technologies in clinics
Prevention before treatment
Sustainable and responsive healthcare
Expanding the reach of medical professionals
North America is one of the prominent regions in the global digital health market owing to the presence of large base of geriatric population, rapid adoption of latest technologies, and increased prevalence of various chronic diseases.
In addition to that, collaborations and government aid are encouraging the developers of apps and healthcare professionals to develop improved digital solutions, which is likely to bolster growth of the global digital health market.
Digital Health Market: Snapshot
With the changing face of the healthcare sector, focused on patient-centric services, digital health is aiding to attain such goals. Owing to the use of technology in the healthcare domain, the mortality rate has reduced significantly. This has also facilitated quick diagnosis of diseases. Apart from improving the quality of healthcare, digital health care has also reduced the time and cost of diagnosis and therapeutics.
Governments are striving for digitization of services and processes across industry sectors, including healthcare. For that, several schemes have been introduced and initiatives have been undertaken. This is one big push-up towards the expansion of digital health market in the coming future.
Increase in number of diabetes cases and different types of chronic diseases among people are a few factors leading to surge in demand for digital heath market.
Registering all the technological advancements going on in medical and healthcare industry, digital health market is likely to chart at a lucrative CAGR of 13.40% in between 2017 and 2025. As per Transparency Market Research (TMR), the market value is projected to reach US$536.6 bn by the end of 2025.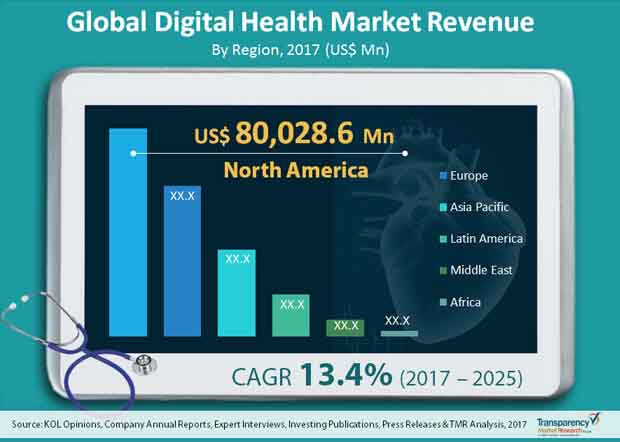 Significant Use of Smartphone is Fuelling Digital Healthcare Market
The digital health market is divided on the basis of product into healthcare information systems and wearable devices. Out of the two, the former one is dominating the global digital health market. Healthcare centers such as hospitals and clinics are making use of EHR/EMR to keep the record of medical information of patients. Healthcare domain is witnessing adoption of technology such as population health management and telehealth on large scale. This trend is propelling the growth of digital health market globally.
Rise in the use of smartphone has reduced the time and cost gap between doctors and patients. mHealth allows quick and easy consultation with the medical professionals. Further, the technology is also helping people to stay updated and aware about their health by augmenting the level of awareness. This is one key segment of digital health market. This is likely to drive the digital health market in wide scale.
Instant Health-Tracking and Access to Doctor is Key Factor
Technological advancement in the healthcare infrastructure is pushing the demand for wearable devices in the market. Registering surge in demand, the companies are trying to upgrade products, which includes hardware suitable for the healthcare domain. This is likely to contribute in the expansion of digital health market.
At the same time, software segment of healthcare domain is witnessing significant growth owing to the access of doctors via app. Software platform eases the overall treatment cycle, starting from booking an appointment to the discharge process. Also, electronic health record (EHR) is facilitating quick access of patient's medical history. These factors are cumulatively driving the digital health market globally.
The digital health market is also bifurcated on the basis of end user into B2B and B2C. B2B comprises of various entities such as employers, pharmaceutical companies, providers, and payers. This segment is a key contributor to the digital health market. B2C involves only patient and medical professionals.
Owing to the increasing population and rising incidence of chronic diseases, Asia Pacific and Europe are likely to contribute significantly to the digital health market. North America is likely to dominate in the digital health market because of presence of advanced medical healthcare infrastructure in the region.
Some of the key players in the market are Epic Systems Corp., GE Healthcare, Cerner Corp., Truven Health Analytics, and Allscripts Healthcare Solutions Inc.,
Global Digital Health Market: Overview
This report on the global digital health market analyzes the current and future prospects of the market. The report comprises an elaborate executive summary, including a market snapshot that provides overall information of various segments and sub-segments. This research is a combination of primary and secondary research. Primary research formed the bulk of our research efforts along with information collected from telephonic interviews and interactions via e-mails. Secondary research involved study of company websites, annual reports, press releases, stock analysis presentations, and various international and national databases.
The report provides market size in terms of US$ Mn for each segment for the period from 2015 to 2025, considering the macro and micro environmental factors. Growth rates for each segment within the global digital health market have been determined after a thorough analysis of past trends, demographics, future trends, technological developments, and regulatory requirements. A detailed qualitative analysis of factors responsible for driving and restraining market growth and future opportunities has been provided in the market overview section. This section of the report also includes market attractiveness analysis that provides a thorough analysis of the overall competitive scenario in the global digital health market.
Market revenue in terms of US$ Mn for the period between 2015 and 2025 along with the compound annual growth rate (CAGR %) from 2017 to 2025 are provided for all the segments, considering 2016 as the base year. Market size estimations involved in-depth study of services and product features of different types of services. Additionally, market related factors such as increasing preference for technologically advanced services, product innovation, and increasing prevalence of diabetes and other chronic diseases in various geographies and historical year-on-year growth have been taken into consideration while estimating the market size.
Global Digital Health Market: Segmentation
Based on product, the global digital health market has been segmented into health care information systems and wearable devices. Health care information system is further categorized into clinical solutions and non-clinical solutions. Clinical solutions is segmented into EHR/EMR, clinical decision support system (CDSS), computerized physician order entry (CPOE), mHealth, telehealth, population health management and others. mHealth is further segmented into connected medical devices, mHealth applications and mHealth services. mHealth application is categorized into fitness apps, medical reference, wellness, medical condition management, nutrition, remote consultation, reminders and alerts, diagnostics and others.
Wearable devices is segmented into diagnostic and monitoring devices and digital therapeutic devices. Digital therapeutic devices is further classified into pain management devices, rehabilitation devices, respiratory therapy devices and insulin pumps. Based on component, the digital health market is segmented into hardware, software and services. Based on end user, the digital health market is segmented into B2C and B2B. B2C end user is further segmented into patients and caregivers and B2B is further classified into providers, payers, employers, pharmaceutical companies and others.
Geographically, the global Digital Health market has been segmented into six regions: North America, Europe, Asia Pacific, Latin America, Middle East and Africa. In addition, the regions have been further segmented by major countries from each region. These include the U.S., Canada, the U.K., Germany, France, Italy, Spain, China, and Japan.
Companies Mentioned in the Report
The report also profiles major players in the Digital Health market based on various attributes such as company overview, financial overview, SWOT analysis, key business strategies, product portfolio, and recent developments. Key companies profiled in the report include Agfa-Gevaert N.V., Cerner Corporation, Allscripts Healthcare Solutions, Inc., McKesson Corporation, Philips Healthcare, GE Healthcare, Siemens Healthineers, Epic Systems Corporation, Truven Health Analytics (an IBM Company), Alphabet Inc. and Qualcomm Inc.
The global Digital Health market has been segmented as follows:
By Product Type

Healthcare Information Systems

Clinical Solutions

EHR/EMR
Clinical Decision Support System (CDSS)
Computerized Physician Order Entry (CPOE)
mHealth

Connected Medical Devices
mHealth Applications

Fitness Apps
Medical reference
Wellness
Medical Condition Management
Nutrition
Remote Consultation
Reminders and alerts
Diagnostics
Others

mHealth Services

Telehealth
Population Health Management
Others

Non-Clinical Solutions

Wearable Devices

Diagnostic and monitoring devices
Digital Therapeutic Devices

Pain management devices
Rehabilitation devices
Respiratory therapy devices
Insulin Pumps

By Component

Hardware
Software
Services

By End User

B2C
B2B

Providers
Payers
Employers
Pharmaceutical Companies
Others

By Geography

North America
Europe

U.K.
Germany
France
Italy
Spain
Rest of Europe

Asia Pacific

China
Japan
Rest of Asia Pacific

Latin America
Middle East
Africa
Custom Market Research Services
TMR offers custom market research services that help clients to get information on their business scenario required where syndicated solutions are not enough.
REQUEST CUSTOMIZATION