Commercial Drones Market
Commercial Drones Market (Types - Multi-rotor, Single Rotor, Fixed Winged, and Hybrid; Application - Precision Agriculture, Aerial Photography, Surveillance, Survey Mapping, and Energy) - Global Industry Analysis, Size, Share, Growth, Trends and Forecast 2017 - 2025
Category :

Consumer Goods & Services

Format :
Global Commercial Drones Market: Snapshot
Introduction of commercial drones are expected to change our day-to-day working. Drones help in analyzing agriculture fields, provide better and enhanced images and videos, helps us to reach areas and terrains that are not possible to reach, and help in tracking every minute detail from time to time. Therefore, the use of drones have grown largely across the globe, as it can be used in surveillance, aerial photography, and precision agriculture. Moreover, growing popularity of commercial drones and rising awareness of its benefits are also expected to drive the global commercial drones market.
The global commercial drones market is expected to rise at healthy 13.8% of CAGR during the forecast period between 2017 and 2025. The market is projected to reach a valuation of US$8.8 bn by the end of 2025 progressing from US$2.8 bn earned in 2016.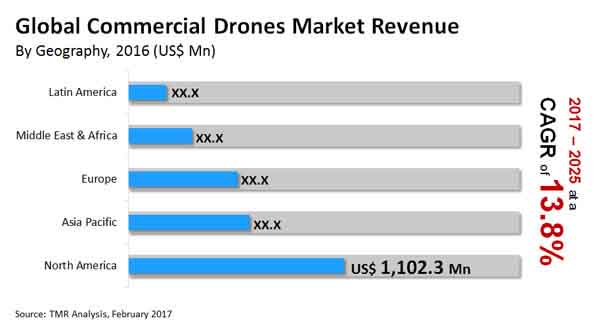 Rising Demand for High Resolution Images in Entertainment Industry to Fuel Demand for Aerial Photography
The global commercial drones market is categorized on the basis of types and application. In terms of type, the market is classified into fixed winged drones, multi-rotor drones, hybrid drones, and single rotor drones. Out of these, the demand for multi-rotor drones is high as compared to the other types of drones. Over the forecast period, the demand for this type of drone is likely to increase and could the overall market.
The application of commercial drones is seen in aerial photography, precision agriculture, survey mapping, surveillance, and energy. Among these, aerial photography holds 25% share in the overall market and is likely to dominate the global market during the forecast period. The aerial photography drones are integrated with cameras of high resolutions, their demand is expected to increase in the media and entertainment industry. Moreover, growing demand for high quality images and videos and advantage of recording 4K videos are also expected to drive the demand for aerial drones.
Precision Agriculture to Drive Demand for Commercial Drones in North America
On the basis of geography, the global commercial drones market covers Asia Pacific, Europe, Latin America, the Middle East and Africa, and North America. Out of the regions, North America held maximum share in the global market in 2016. Over the forecast period, this region is likely to dominate the market due to increasing use of commercial drones that are being widely used for precision agriculture mainly in countries like the U.S. In United States commercial drones, helps in monitoring cattle, irrigation equipment, and analyzing harvest that will further augment the demand in the global commercial drones market. Furthermore, increasing crime rate in this region has also boosted the demand for commercial drones that help in surveillance and help in monitoring crime rate in the region.
The report also provides details about the key players operating in the global commercial drones market. Some of the leading players in the market are Elbit Systems Ltd., Draganfly, Parrot S.A., Aurora Flight, and Lockheed Martin Corporation. Leading players are using different strategies to strengthen their position in the global market.
Favorable Regulatory Outlook Expands the Sky for Commercial Drones Market
Services that employ commercial drones have proliferated in recent years on back of cementing support of regulatory agencies. Profit making companies dot the landscape of commercial drones market. A number of industries in modern businesses are upping the stakes in commercial drone operations. Industries strive to capture higher customer value from utilizing drones in agriculture, construction, chemicals, mining, and public safety. Use cases in agriculture for improving yield has broadened, albeit in relative slow pace. Some of the use cases have been the automated surveillance of vast swathes of fields for identifying potential pests, gathering data and analytics for improving yield, and notably precision farming. The continuum of applications in the commercial drones market continues to touch higher skies.
Covid-19 pandemic has caused unprecedented disruptions on economic activities on one hand and is spurring the emergence of new markets on the other side of the spectrum. The uptick in demand for commercial drone delivery services has caught on attractive impetus in the commercial drones market. Interestingly, the use of commercial drones in making contactless deliveries of essential groceries, food items, toilet paper, and medicine supplies is an emerging arena is attracting industry investments. Drones are redefining the prevalent norm of 'social distancing' in the wake of Covid-19. Contactless deliveries at homes during Covid-19 has become the new normal during the pandemic era, and retail brands are quick to bite the bait.
Particularly, in developed and emerging economies, regulatory push for contactless deliveries and surveillance expanded the horizon. Notably numerous drone startups and pioneers of drone service providers such as a subsidiary of Alphabet have been finding new avenues in commercial drones market. In the post Covid-era, drone-delivery partnerships will reach new heights, as new demands for serving institutions and commercial establishments through drone deliveries pick up pace. Currently, government agencies have leveraged the drone technology for surveillance for ensuring the public adheres to health norms specific to Covid-19. They have been successful in mitigating health risk. Commercial drone programs in coming months will likely attract large-scale funding, new players slated to enter the fray in the commercial drones market.
Global Commercial Drones Market: Overview
Commercial drones are gaining popularity with their increasing demand in several application areas such as search and rescue operations, product delivery and high altitude mapping among others. There are several advantages of using commercial drones. The drones require less energy compared to large delivery vehicles. In addition, these drones can be easily controlled through a wireless remote controller. Furthermore, these drones can access hard to reach place and are being increasingly implemented in search and rescue missions and media coverage among other applications.
The global report on commercial drones also discusses the market trends related to the commercial drones which can drive the market in future. Furthermore, the study includes the market attractiveness analysis to get a better understanding of the most attractive application segment in future. This market research study analyzes the commercial drones market on a global level, and provides estimates in terms of revenue (USD million) from 2017 to 2025 wherein 2016 has been taken as the base year for the study.
Global Commercial Drones Market: Drivers and Restraints
The global commercial drones market includes the drivers and restraints which are driving or hindering the demand in the global market. Few of the drivers pushing the demand for commercial drones include their adoption by law enforcement agencies due to their enhanced capabilities of transmitting high resolution videos and images. In addition, these drones are also capable of providing real time surveillance data to their base stations.
The global rise in criminal activities such as terrorism, drug trafficking and others are driving the demand for commercial drones in surveillance application. These factors are further aiding to the growing demand for commercial drones during the forecast period. However, there are few factors hindering the growth of the market. The use of commercial drones has led to the rising concern for privacy. This in return has led to reforms in government regulation for using commercial drones which is expected to hinder the growth of the market. Moreover, the increasing trend for better video and image resolution capabilities of commercial drones is expected to drive the market in future. Furthermore, the increasing technological innovation has resulted into the development of 4K video capable smartphones and televisions. This is in return is increasing the demand and expectation of consumers for drones with similar abilities.
Global Commercial Drones Market: Regional Outlook
The developing economies like China, Japan and South Korea are increasingly adopting the commercial drones for various applications such as surveillance, precision agriculture and aerial photography. Furthermore, the drones are also being used in media and entertainment industry for capturing aerial videos and images in high resolutions. These factors are expected to drive the market for commercial drones in Asia Pacific region significantly during the forecast period.
Global Commercial Drones Market: Key Segments
The global market for commercial drones has been segmented by types, application and geography. In terms of types the commercial drones can be categorized into single rotor, multi-rotor, fixed winged and hybrid drones among others. By application, the market has been segregated into precision agriculture, aerial photography, surveillance, survey mapping and energy among other applications. In terms of geography, the global market has been segmented into five strategic locations: North America, Europe, Asia Pacific, Middle East & Africa and Latin America.
The commercial drones market is facing intense competition from major players. These players are undergoing frequent mergers and acquisition from major players in order to sustain in the competitive environment. This report also studies the competitive environment of the major players in the form of market share of the key players. The key players have been profiled in terms of their business overview, financial overview, SWOT analysis and strategies adopted by them. The leading players included in the study are Parrot S.A., Aurora Flight, Denel SOC Ltd., DJI Innovations, Draganfly, Northrop Grumman Corporation, Lockheed Martin Corporation, Elbit Systems Ltd. and General Dynamics Corporation.
The global Commercial Drones market can be segmented as follows;-
By Types

Multi-rotor drones
Single rotor drones
Fixed winged drones
Hybrid drones
Others

By Application

Precision Agriculture
Aerial Photography
Surveillance
Survey Mapping
Energy
Others

By Geography

North America
Europe

U.K.
Germany
France
Italy
Rest of Europe

Asia-Pacific

China
Japan
India
South Korea
Rest of Asia Pacific

Middle East and Africa

United Arab Emirates
Saudi Arabia
South Africa
Rest of Middle East & Africa

Latin America

Brazil
Rest of Latin America
Custom Market Research Services
TMR offers custom market research services that help clients to get information on their business scenario required where syndicated solutions are not enough.
REQUEST CUSTOMIZATION