Aerial Imaging Market
Aerial Imaging Market (Camera Orientation: Vertical and Oblique; Platform: Manned Aircraft and Unmanned Aircraft Systems; and End-use Industry: Government, Defense, Sports & Entertainment, Agriculture & Forestry, Energy, Research, Construction & Real Estate, Insurance, and Others) - Global Industry Analysis, Size, Share, Growth, Trends, and Forecast, 2021-2031
Electronics & Semiconductors
TMRGL49734
2021-03-11
199

Pages
Construction, Roofing, Solar Industries Pump Revenue Flow During Coronavirus Crisis
Aerial imaging has benefitted the construction industry during the coronavirus pandemic. Construction, roofing, and solar industries have been augmenting the advantages of aerial imaging for contracted surveying, onsite inspections, and design planning applications. This signals that the aerial imaging market is one of the few markets, which has not been severely affected by the COVID-19 crisis.
Detailed 3D (3 Dimensional) geographic mapping and automation have facilitated roofing, solar, and government contractors to conduct business reliably with fewer personnel onsite. Companies in the aerial imaging market are taking advantage of the need for detailed prospecting from a distance for roofers and solar installers in order to obtain accurate measurement down to a pixel. An increase in surveying speed has been achieved with aerial imaging, whilst maintaining the safety of workers and employees.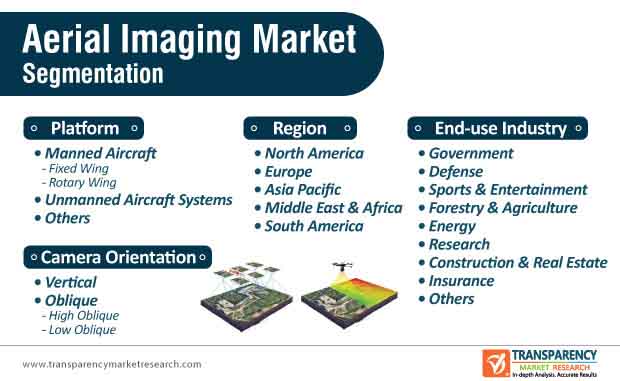 Request a sample to get extensive insights into the Aerial Imaging Market
Privacy Concerns of Citizens about Data Collection by Drones Causes Stir
Recently, Amazon Prime Air, a drone delivery system was in talks for a future of package deliveries in 30 minutes or less. However, numerous consumers, states, and regulators believe that sanctioned UAVs (Unmanned Aerial Vehicle) can be potentially detrimental. This is anticipated to hamper the growth of the aerial imaging market.
Several countries have passed their own laws on drone usage for commercial, recreational, and public use. The widespread use of drones is raising privacy concerns among citizens who are nervous about corporate and government data collection. Hence, companies in the aerial imaging market are increasing awareness about testing and research of UAVs in order to comply with drone regulations.
To understand how our report can bring difference to your business strategy, Ask for a brochure
Drone Technology Combined with AR Creates Lucrative Opportunities for Indian Sports
The need for audience engagement has led to drone-based augmented reality (AR) production to enliven sports. Companies in the aerial imaging market such as Quidich Innovation Labs is gaining recognition for its drone-based AR production solution for transforming the Indian Premiere League (IPL) and Men's Hockey World Cup, among others.
Since the drone technology is still in its nascent stage in India, stakeholders in the aerial imaging market are tapping into lucrative opportunities in this country. Sports being an integral part of entertainment in India is estimated to witness the rise of the drone technology to make live production from the sky in an affordable and efficient way. Moreover, the AR technology is adding a new dimension to live stream and broadcast sports matches.
UAV Tech with Image Data Analytics Helps Achieve Precision Farming
Climate change has introduced significant challenges that are affecting the agriculture sector. Adoption ad utilization of Information and Communications Technology (ICT) services such as the use of Internet of Things (IoT), UAVs, and Wireless Sensor Networks (WSNs) is predicted to solve the challenges in the agriculture industry. Such trends are giving rise to the concept of precision agriculture, and is translating into incremental opportunities for companies in the aerial imaging market.
Aerial crop monitoring and smart spraying tasks for pesticides and fertilizers are bringing about significant changes in the global agricultural industry. Companies in the aerial imaging market are increasing the availability of the UAV technology with image data analytics to help achieve precision agriculture and meet the global demand for food supply.
High Resolution Aerial Images, Data of Damaged Structures Assist Insurance Companies
High-resolution imagery has become the need of the hour for insurance companies. Geospatial Insurance Consortium (GIC) is capitalizing on this opportunity to provide high-resolution aerial images and maps for property insurance claims and has been helpful when wildfires raged in Oregon, California, Washington, and Montana in September 2020.
The increasing number of wildfire disasters and natural calamities is acting as key driver of the aerial imagery market. Such mishaps have fueled the demand for high-resolution aerial images and data of damaged structures. Service providers are taking efforts to deliver property-by-property view of disaster devastations to insurance companies.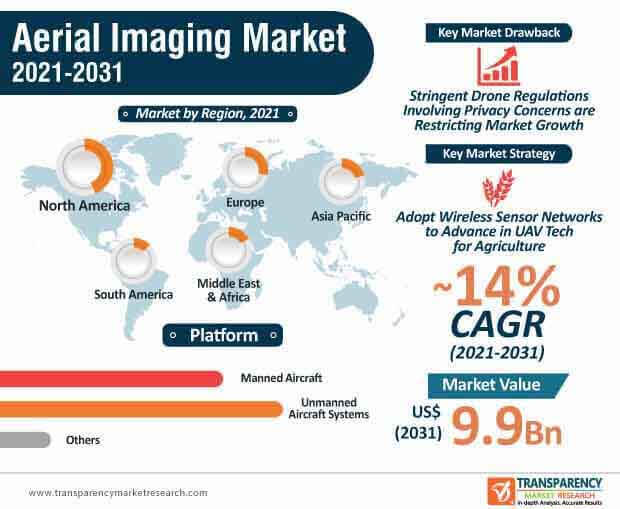 Stuck in a neck-to-neck competition with other brands? Request a custom report on Aerial Imaging Market
Analysts' Viewpoint

Drone startups in India are working alongside government authorities to enable disinfection of contaminated areas, manage crowds, and ensure safe delivery of medical supplies during the COVID-19 pandemic. The aerial imaging market is expected to expand at a robust CAGR of ~14% during the assessment period. However, the future use of drones integrated with cameras and GPS (Global Positioning System) to navigate delivery destinations is considered to be potentially intrusive for many citizens. Hence, companies should increase awareness about drone tech converting into a billion dollar industry for eCommerce and delivery of medical products in order to spark reforms in drone regulations.
Aerial Imaging Market: Overview
According to Transparency Market Research's latest research report on the global aerial imaging market for the historical period 2018–2019 and the forecast period 2021–2031, increasing application area of aerial imaging such as government, defense, agriculture, forestry, energy, and construction, besides increasing advancements in the UAV technology are the major factors expected to boost the global aerial imaging market during the forecast period
The aerial imaging market has been divided based on camera orientation, platform, and end-use industry. In terms of camera orientation, oblique orientation has greater use in aerial imaging, and this segment is expected to grow at the rate of 14.93%. Oblique aerial photographs provide the viewer with a clear image and has a wide range of applications.
In terms of platform, the unmanned aircraft system segment is likely to expand at a CAGR of 15.15% from 2018 to 2031, due to low cost as compared to manned aircraft systems. Aerial imaging is widely used in the insurance sector with the highest CAGR of 14.64% for the period from 2018 to 2031. Adoption of aerial imaging in the insurance sector is meant for damage assessment and claim settlement.
In terms of revenue, the global aerial imaging market is estimated to reach the value of US$ 9.9 Bn by 2031, expanding at a CAGR of ~14% during the forecast period
Rise in Popularity of Location-based Services: A Key Driver
A large number of companies identify location of customers and offer relevant services. Currently, aerial imaging is widely used to support location-based services. These services find application in navigation, mapping, emergency services, remote monitoring, and location-based mobile monitoring.
Aerial imaging creates accurate and realistic maps, images, and cartograms, which are used with location-based services. This allows better understand of locations and surroundings. For instance, Google Earth application, which has made aerial and satellite imagery available to everyone through the Internet.
According to the study, the location-based services segment has increased consistently over the past few years. This is due to increasing applications of Google Maps etc. by enterprises, retailers, and advertising agencies to draw attention from customers. These factors are fueling the growth of the aerial imaging market.
Increase in Application Area of Aerial Imaging
Applications of aerial imaging are increasing in various sectors such as defense & security, construction & development, intelligence surveillance, and tourism besides other sectors. Additionally, aerial imaging has ground-based commercial applications such as in crop monitoring, which is helpful for farmers.
Insurance companies also use aerial imaging to verify the claims and damage caused due to disasters such as hurricanes, floods, and earthquakes. Other applications include environmental monitoring, asset tracking, mapping, and situational awareness.
Aerial Imaging Market: Competition Landscape
Detailed profiles of providers of aerial imaging have been provided in the report to evaluate their financials, key product offerings, recent developments, and strategies
Key players operating in the global aerial imaging market are

Cooper Aerial Surveys Co.
Digital Aerial Solutions, LLC
EagleView Technologies, Inc.
Fugro N.V.
GeoVantage, Inc.
Google, Inc.
Keystone Aerial Surveys, Inc.
Kucera International Inc.
Landiscor Real Estate Mapping
Nearmap Ltd.
NRC Group ASA
Quantum Spatial
Sanborn Map Company, Inc.
Verisk Analytics, Inc.
Aerial Imaging Market: Key Developments
Key providers of aerial imaging such as Google, Inc., Keystone Aerial Surveys, Inc., Kucera International Inc., and EagleView Technologies, Inc. are focusing on the construction of cost-effective aerial imaging to attract more customers. Some other key developments in the global aerial imaging market are highlighted below:

In December 2020, Aevum Inc. launched RAVN-X, which is a rocket launching drone. It is designed to send small satellites into the orbit without a pilot or launch pad. The company believes that RAVN-X is useful for aerial imaging and remote sensing. This system is autonomous and requires costly infrastructure.
In August 2019, Seaborn launched the next generation of the HD map technology for level 4 as well as level 5 autonomous vehicles. This technology provides precision datasets with accuracy, safety, and operational capability for clients and enables them to bring autonomous vehicles to reality.
In February 2019, ATMOS UAV included additional camera options to satisfy its customers with increased accuracy. It offers ultra-high definition of 42.4 MP. The new RedEdge-MX and its 5 narrow bands can generate plant health indexes and RGB images in a single flight.

In the global aerial imaging market report, we have discussed individual strategies, followed by company profiles of providers of aerial imaging. The 'Competition Landscape' section has been included in the report to provide readers with a dashboard view and company market share analysis of key players operating in the global aerial imaging market.
Aerial Imaging Market – Scope of the Report
A new study on the global aerial imaging market is published by Transparency Market Research (TMR). It presents detailed information on key market dynamics, including drivers, trends, and challenges for the global aerial imaging market as well as its structure. TMR's study offers valuable information on the global aerial imaging market in order to illustrate how the market is expected to expand during the forecast period i.e. 2021–2031.
Key indicators of market growth, which include value chain analysis and compound annual growth rate (CAGR), have been elucidated in TMR's study in a comprehensive manner. This data can help readers interpret the quantitative growth aspects of the global aerial imaging market.
An extensive analysis of business strategies adopted by leading market players has also been featured in TMR's study on the global aerial imaging market. This can help readers understand key factors responsible for growth of the global aerial imaging market. In this study, readers can also find specific data on avenues for qualitative and quantitative growth of the global aerial imaging market. This data would guide market players in making apt decisions in the near future.
Key Questions Answered in TMR's Study of Aerial Imaging Market
What would be the Y-o-Y growth trend of the global aerial imaging market between 2021 and 2031?
What is the influence of changing trends in the camera orientation segment on the global aerial imaging market?
Would Asia Pacific continue to be the most dominant regional market for providers of aerial imaging over the next few years?
Which factors would hinder the global aerial imaging market during the forecast period?
Which are the leading companies operating in the global aerial imaging market?
Research Methodology
A unique research methodology has been utilized by TMR to conduct comprehensive research on the global aerial imaging market and arrive at conclusions on future growth prospects for the market. This research methodology is a combination of primary and secondary research, which helps analysts warrant the accuracy and reliability of the conclusions drawn.
Secondary research sources referred to by analysts during production of the report on the global aerial imaging market include statistics from company annual reports, SEC filings, company websites, World Bank database, investor presentations, regulatory databases, government publications, and market white papers. Analysts have also interviewed senior managers, product portfolio managers, CEOs, VPs, and market intelligence managers, who have contributed to the production of TMR's study on the global aerial imaging market as a primary research source.
These primary and secondary sources provided exclusive information during interviews, which served as a validation from leading players operating in the global aerial imaging market. Access to an extensive internal repository as well as external proprietary databases allowed this report to address specific details and questions about the global aerial imaging market with accuracy. The study also uses a top-down approach to assess the numbers for each segment and a bottom-up approach to counter-validate them. This has helped in making TMR's estimates on future prospects for the global aerial imaging market more reliable and accurate.
Aerial Imaging Market – Segmentation
TMR's study of the global aerial imaging market segments the market based on camera orientation, platform, end-use industry, and region. Changing market trends and other crucial market dynamics associated with segments of the global aerial imaging market have been discussed in detail in TMR's study.
Camera Orientation

Vertical
Oblique (High Oblique and Low Oblique)

Platform

Manned Aircraft (Fixed Wing and Rotary Wing)
Unmanned Aircraft Systems

End-use Industry

Government
Defense
Sports & Entertainment
Agriculture & Forestry
Energy
Research
Construction & Real Estate
Insurance
Others

Region

North America
Europe
Asia Pacific
Middle East & Africa
South America
Custom Market Research Services
TMR offers custom market research services that help clients to get information on their business scenario required where syndicated solutions are not enough.
REQUEST CUSTOMIZATION