Commercial Refrigerators Market
Commercial Refrigerators Market (Capacity - 0.5 Cu. Ft. to 3.0 Cu. Ft., 3.1 Cu. Ft. to 6.0 Cu. Ft., 6.1 Cu. Ft. to 9.0 Cu. Ft.; Beverage Refrigerators, Wine Refrigerators; Refrigerated Display Cases - Plug-in, Remote; Freezers - Chest Freezers, Vertical Freezers, Ice-cream Freezers; Fridge Freezers - Single-door Freezers, Multi-door Freezers) - Asia Pacific Industry Analysis, Size, Share, Growth, Trends and Forecast 2016 - 2024
Category :

Electronics & Semiconductors

Format :
Asia Pacific Commercial Refrigerators Market: Key Trends
The commercial refrigerators market in Asia Pacific will continue to rise, with China leading the market from the front, Transparency Market Research says. As the region faces the mushrooming of convenience stores, hypermarkets, super markets, grocery shops, and restaurants, the installation of commercial refrigerators is expected to rise considerably in the forthcoming years. Along with this, the conspicuous demand for energy-efficient solutions will pave the way for research and development activities in the market.
With opportunities for foreign direct investment widening in the food retail sector, Transparency Market Research (TMR) expects the commercial refrigerators market in Asia Pacific to surge at a 9.8% CAGR between 2016 and 2024. Around this time, technologies such as magnetocaloric refrigeration, which offer 20% to 30% reduced energy consumption, will witness wider commercialization.
The booming hospitality sector and the food retail industry will enable the commercial refrigerators market in Asia Pacific to reach US$38.83 bn by 2024, rising steadily from nearly US$16.99 bn in 2015.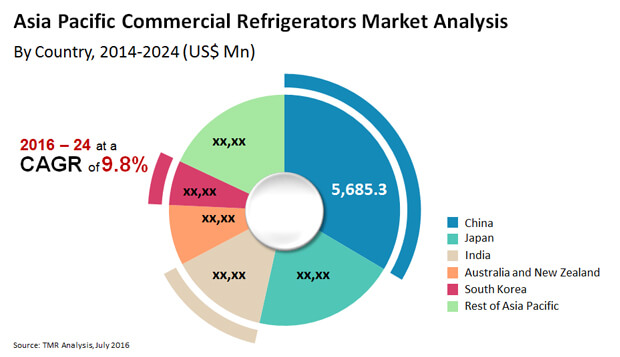 Considerable Presence of Local and Multinational Players Helps Keep Prices of Commercial Refrigerators in China in Check
The commercial refrigerators market is gaining considerable traction across China, India, Thailand, and Indonesia. The rapid proliferation of quick service restaurants and the increasing penetration of multinational retailers in these countries have fuelled the demand for energy-efficient commercial refrigerators.
China reports the highest demand for commercial refrigerators in Asia Pacific. It held over 33.5% of the Asia Pacific commercial refrigerators market in 2015. The country boasts a considerable presence of both local and multinational manufacturers; hence, commercial refrigerators are available at a comparatively lower purchasing cost in China. This will in turn propel the China commercial refrigerators market at a CAGR of 7.3% by revenue, from 2016 to 2024.
Demand for commercial refrigerators is also likely to increase considerably in India, Australia, New Zealand, South Korea, and Rest of Asia Pacific.
Demand for Beverage Refrigerators to Surge, Fuelled by Rising Tourism
The market for commercial refrigerators has been segmented based on beverage refrigerators, freezers, refrigerated display cases, glass door refrigerators, retail channels, and fridge freezers. Based on beverage refrigerator type, the market has been bifurcated into beverage refrigerator and wine refrigerator. In terms of revenue, the beverage refrigerator segment emerged dominant in the market, accounting for a share of over 57.2% in 2015. The growth witnessed in the tourism sector is expected to positively influence the sales prospects of beverage refrigerators during the forecast period. However, the segment is expected to lose its market share to the wine refrigerators as alcohol consumption increases in the Philippines.
The refrigerated display segment is further categorized into plug-in and remote refrigerated display. By freezer type, the market has been classified into vertical freezers, chest freezers, and ice-cream freezers. In terms of glass door refrigerators, the market comprises glass door refrigerators with storage capacities of 6.1 Cu. Ft. to 9.0 Cu. Ft., 3.1 Cu. Ft. to 6.0 Cu. Ft., 0.5 Cu. Ft to 3.0 Cu. Ft., and others with a storage capacity of more than 9.0 Cu. Ft. Likewise, the fridge freezer segment includes single-door and multi-door fridge freezers.
By retail channel, hypermarkets in Asia Pacific are likely to demonstrate the highest demand for commercial refrigerators in 2015. As per TMR, the segment held approximately 30.6% of the market in 2015. Favorable policies encouraging the setting-up of hypermarkets across Asia Pacific will seal the dominance of this segment through the forecast period.
Apart from this, the demand for commercial refrigerators is also expected to rise significantly across supermarkets, restaurants, and convenience stores in Asia Pacific.
Some of the most prominent companies operating in the market include Haier Electronics Group Co. Ltd., Liebherr Group, Hitachi, Ltd., Panasonic Corporation, LG Electronics, Samsung Electronics Co. Ltd., GE Appliances, Fukushima Industries Corporation, and others.
Commercial refrigerators are developed to meet the demands of commercial applications. Unlike to domestic applications, commercial refrigerators are high-performing and rugged in design. These refrigerators and freezers are designed such as that they can store large quantity of goods for long period of time as compared to domestic refrigerators. These refrigerators and freezers are available in wide range of storage temperature and capacity, to meet multiple end-use need.
This research report on the commercial refrigerators market provides detailed analysis of the commercial refrigerators and helps understanding the driving forces behind the popularity of commercial refrigerators. It also provides analysis of major sub-segments of the Asia Pacific commercial refrigerators market for the next eight years. This report includes extensive analysis of industry drivers, restraints and market trends. The market study provides comprehensive assessment of stakeholder strategies and imperatives for succeeding in the business. The report includes the segmentation of the market based on glass door refrigerator (by capacity), beverage refrigerators (by type), refrigerated display cases (by type), freezers market (by type), fridge freezers (by type), retail channel and country.
Other important points covered in the research study include:
Definitions, estimates, volume units and forecast of the commercial refrigerators market for the period from 2016 to 2024
Analysis of the Asia Pacific market and respective sub-segments
Recent developments of major players and strategies adopted by them
Profiles of major market participants to help better understand their contribution in the market
The research report includes competitive analysis of various market segments (as mentioned above) for commercial refrigerators, and their in-depth cross-sectional analysis. Additionally, this report include cross segment analysis for Philippines commercial refrigerators market. In order to aid in strategic decision-making, the report also includes the winning strategies adopted by key players.
For detailed understanding of the commercial refrigerators market, all these segments have also been estimated in terms of revenue (US$ Mn) and volume (# units) for the geographies mentioned above. The market research study analyzes the commercial refrigerators market in Asia Pacific, and provides historical revenue in terms of US$ Mn for the years 2015 and 2014, along with the market forecast for the period 2016 to 2024. Market forecasts have been analyzed considering the impact of various economic, political, social, legal, operational and technological factors influencing market growth.
The commercial refrigerators market is segmented as follows.
Glass Door Refrigerators, by Capacity
0.5 Cu. Ft. to 3.0 Cu. Ft.
3.1 Cu. Ft. to 6.0 Cu. Ft.
6.1 Cu. Ft. to 9.0 Cu. Ft.
Others
Beverage Refrigerators, by Type
Beverage Refrigerators
Wine Refrigerators
Refrigerated Display Cases, by Type
Freezers, by Type
Chest Freezers
Vertical Freezers
Ice-cream Freezers
Fridge Freezers, by Type
Single-door Freezers
Multi-door Freezers
Commercial Refrigerators, by Retail Channel
Hypermarkets
Supermarkets
Convenience Stores
Restaurants
Others (Pharmaceutical Shops and Retail Stores)
Commercial Refrigerators Market, by Country
China
Japan
India
Australia and New Zealand
South Korea
Custom Market Research Services
TMR offers custom market research services that help clients to get information on their business scenario required where syndicated solutions are not enough.
REQUEST CUSTOMIZATION

Asia Pacific Commercial Refrigerators Market