Airport Kiosk Market
Airport Kiosk Market (Type - Check-in Kiosk, Automated Passport Control Kiosks, Baggage Check-in, Information Kiosks, Ticketing Kiosks, Internet Kiosks, and Others) - Global Industry Analysis, Size, Share, Growth, Trends, and Forecast 2017 - 2026
Category :

IT & Telecom

Format :
Demand for efficient management of airport activities has led toward a considerable rise in installation of airport kiosks worldwide. Increasing inclination toward self-service solutions for helping passengers in avoiding delays has resulted into a conspicuous rise in installations of airport kiosks. Airport kiosks are equipped with high-tech features for performing critical tasks for airline passengers, thereby enabling them in avoiding long waiting hours in queues.
Growing Investments by Airlines for Personalizing Passengers' Journey will Augment Demand for Airport Kiosks
Airlines have been increasingly focusing on adoption of self-service solutions, in a bid to offer convenience to passengers, thereby making airport kiosks to gain a paramount importance over the years. Growing airport kiosk installations has helped passengers in avoiding standing in long queues as well as delays at airports. The airport kiosks have enabled airport authorities to scrupulously manage increasing airline passenger traffic, mainly because they are equipped with in-built features, which enable effective expedition and control over check-in, passenger clearance, and the baggage clearance. The proliferating IT spending across airports has further underpinned adoption of airport kiosks. The advent of privatization has promoted several companies in revamping airport facilities with the modern infrastructure. Additionally, airlines are making enormous investments in personalizing passengers' journey, consequently augmenting demand for highly advanced airport kiosks. With the emergence of innovative mobile technologies, passengers have been provided with services that are similar to those offered by airport kiosks. Smartphones and tablets-compatible mobile technologies deliver tasks performed by airport kiosks at reduced cost, which in turn is expected to prevail as a factor curbing airport kiosk adoption to a certain extent.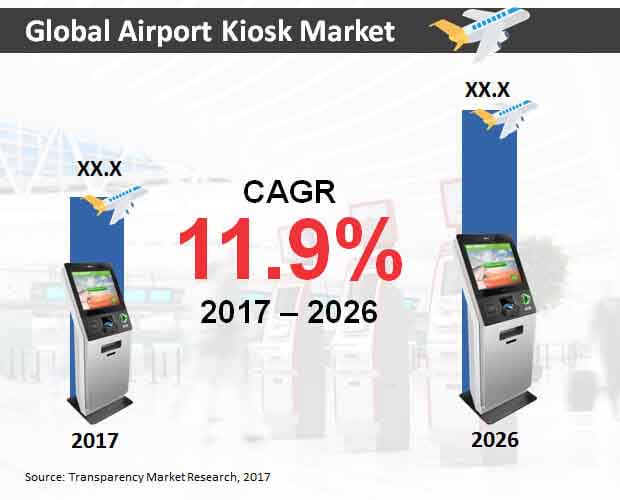 Transparency Market Research has projected the global airport kiosk market to register a splendid 11.5% CAGR during the forecast period (2017-2026), in terms of volume. Revenues from worldwide sales of airport kiosks will reach approximately US$ 3,500 Mn by 2026-end.
Europe will Remain Leading Revenue Contributor to Global Airport Kiosk Market
Robust investment by airlines in advancing facilities is expected to bolster demand for airport kiosks in Europe. The market in Europe will further gain an impetus from increasing spending on airport construction throughout the region. Europe will therefore remain the leading revenue contributor to the global airport kiosk market. North America will retain its position of being the second largest market for airport kiosk during the forecast period. According to TMR's report, sales of airport kiosks in North America will register a CAGR of 11.4% in terms of volume through 2026.
Based on type, baggage check-in kiosks will continue to lead the global airport kiosk market, in terms of value. However, revenues from automated passport control kiosks are slated to reflect a relatively faster expansion, to become the second most sought-after type of airport kiosk across the globe by 2026-end.
Competition Tracking
By nature, global airport kiosk market is moderately fragmented, on account of the occupancy of few players positioned at different parts of the globe, as observed by TMR's recent report. Since the recent past, installations of airport kiosks have significantly spurred for offering air passengers with higher flexibility and convenience. Leading companies concentrating on innovations and new product development, while capitalizing on rising demand, will have good future expansion prospects in the global airport kiosk market. Key companies tracked by the report, which support the market expansion include Bolloré SA, Fujitsu Limited, Diebold Nixdorf AG, Embross Group, Toshiba Corporation, NCR Corporation, Rockwell Collins, Inc., and SITA SA.
Cited for ever more adoption at airports, kiosks are on the rise. Among the recent trends is successful and accelerating demand at the border, the move that is driving itself underpinned by faster & smoother passenger flow, and higher efficiencies. The evolution of airport kiosks is the endorsement of the air travellers' embrace of self-service. Airport kiosks are specifically designed for improving the passengers' journey through reduction of queuing time. A new report has been developed by Transparency Market Research on the global airport kiosk market.
While exploring the market for airport kiosk around the world, the report encompasses the market dynamics extensively, and imparts key trends guiding the market expansion. The report on the global market for airport kiosk offers a perfect knowledge base for the market players seeking expansion of their market reach. Analysis offered by the report is key for players and investors for gauging their future growth potential in the airport kiosk market.
Report Structure
Commencing with an executive summary of the global airport kiosk market, imperative research findings regarding the market segments are offered by the report. Crucial market numbers that include historical CAGR (2012-2016) & forecast CAGR (2017-2026) associated with these segments are offered in the executive summary. Intelligence on revenue shares of the market, along with sales expansion rate of airport kiosks regarding regional segments included in the report is also given in this chapter. A chapter on overview, which trails the executive summary, gives a quick introduction of the global airport kiosk market coupled with a formal definition of "airport kiosk". Insights offered in overview convey the market's wide scope to the report readers. Key market dynamics including trends, opportunities, restrains and drivers are offered by the report, and their degree of influence on the market expansion has been explained in detail.
Market Taxonomy
The global market for airport kiosks is studied based on a segmentation analysis in the following chapters of the report. Branching the market on the basis of type, and region, the report imparts imperative market numbers such as the revenue comparison, the year-on-year growth comparison, and the market share comparison. Regionally, the report categorizes the global airport kiosk market into North America, Europe, Latin America, Asia-Pacific excluding Japan (APEJ), Middle East & Africa (MEA), and Japan.
| Region | Type |
| --- | --- |
| | |
| | Automated Passport Control Kiosks |
| | |
| | |
| | |
| | |
| | |
Competitive Landscape
The report has offered an intensity map that plots the presence of key players in the global airport kiosk market. In its concluding chapter, the report delivers insights on these market players, along with information on the market's competitive landscape. Tracking key market players, the report offers intelligence based on key financials, SWOT analysis, company overview, key developments and product overview apropos to that particular company. This chapter is invaluable for report readers, as it contains all necessary insights to study contribution of active players to market growth. This chapter also helps in studying ways of strategy implementation of market players, and their aims for spearheading in this highly competitive market.
Research Methodology
This extensive research report on the global airport kiosks market issues valuable insights along with weighted analysis. As every organization possesses its own integral research team that strives gathering sufficient data of the market, Transparency Market Research aims at performing all the heavy lifting through the provision of unbiased insights. This can be actioned by integral research team, and successfully supports in the achievement of their research milestones.
Custom Market Research Services
TMR offers custom market research services that help clients to get information on their business scenario required where syndicated solutions are not enough.
REQUEST CUSTOMIZATION