Global Air Purification Systems Market: HEPA Purifier to Witness Lucrative Growth through 2024
The global air purification systems market is treading a growth path as quality of air continues to deteriorate amid rising infrastructural development, urbanization, and industrialization especially in developing countries. Alarming rate of deterioration of indoor air quality (IAQ) in large cities in Asia Pacific such as Beijing and Delhi is necessitating the use of air purification solutions. In additional, increasing vehicular pollution due to burning of conventional fuels calls for air purification solution. Air pollution poses high risk of health hazards to the human race; almost six million deaths each year globally are related to poor air quality.
At present, health awareness is generally increasing among consumers. Approximately 90% of the global population breathes air that is below the standard acceptable by World Health Organization. Air pollution is considerably related to health hazards such as severe asthma, burning sensation in eyes, throat irritation, and allergic respiratory diseases. The need to maintain air quality in commercial and residential spaces is stoking the demand for air purification systems. Considering the importance of air purification solutions for environmental and health considerations, the global market for air purification systems is likely to clock a CAGR of 8.39% between 2017 and 2024.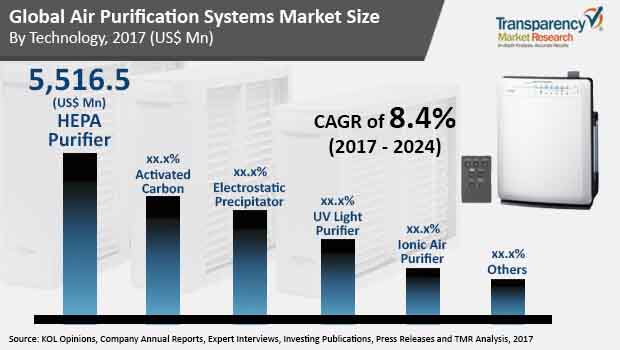 Concerns of Serious Health Hazards Drives Adoption in Industrial Settings
Apart from this, stringent industrial emission statutes in both developed and developing countries to curb industrial pollution hazardous to the health of workers is mandating air purification solutions. High air polluting industries such as locomotive and chemicals need to be equipped with monitoring system for emissions to be within limit. The introduction of green eco-friendly air purifiers has stepped up air purification activities. These purifiers do not emit harmful gases that can be hazardous to health.
However, on the downside, generation of harmful by-products is slowing the adoption of air purification systems. Ionic air purifiers generate ozone as a by-product. Ozone is associated with lung irritation, throat irritation, and discomfort in chest. High prices of air purifiers is also acting as a restraint to the growth of air purification systems market.
Nevertheless, rising air pollution in emerging economies due to rampant industrialization and urbanization will provide ample growth opportunities for vendors of air purification systems in the years ahead. Emerging economies such as China and India in Asia Pacific are expected to be major market for air purification systems. This is to address the rising concerns of serious health hazards associated with industrial emissions and vehicular pollution. In addition, residential air purification which is currently at nascent stage is also pacing up.
Expansion of Retail and Distribution Channels Fuels Growth in Emerging Economies
Technological advances and efforts of product manufacturers for a diverse product portfolio are also aiding the growth of air purification systems market. Apart from this, expansion of distribution channels and retailers especially in emerging economies is stoking the adoption of air purification systems. Several leading players that operate globally are penetrating into regional markets by means of tie-ups with local and regional distributors and retailers.
Among the key technology segments, HEPA purifier holds prominence owing to efficiency of HEPA filter and its compatibility with other air purifiers. Dust collector, among various impurity segments hold leading market share due to a host of factors accounting for accumulation of dust contaminants in the air. Industrial stands as the leading end-use segment mainly because of expanding industrial activities in emerging economies.
Global Air Purification Systems Market: Overview
The report studies the global air purification system market globally as well as regionally. The report includes provides value projections (in US$ Mn) and volume projections (in Kilo tons) for the forecast period between 2017 and 2024, considering 2016 as the base year. The study covers vital market dynamics such as demand drivers, challenges, growth trends, and opportunities. The report also analyzes influence of these drivers and challenges on the growth of the air purification systems market over the aforementioned forecast period. In addition, the report also provides details about growth avenues in the air purification systems market at global as well as regional level.
Included in the report is detailed value chain analysis to throw light on demand supply logistics in the air purification systems market. Standard analytical tools such as Porter's Five Forces model and SWOT analysis have been employed to comprehend the competitive landscape of the market. In addition, the study includes market attractiveness analysis, wherein impurity, technology, end users, and geography are benchmarked based on their growth rate, market size, and general attractiveness.
The report analyzes key segments under different categories and their growth behavior over the 2017-2024 forecast period. These segments have been examined on the basis of past and current growth trends.
Comprehensive Research Methodologies Lead to Valuable Market Insights
The report has been compiled after in-depth interviews and opinions obtained from industry experts and opinion makers. Primary research account for the bulk of research efforts along with a secondary research phase. Review of key players' product literature, press releases, annual reports, and relevant documents were essential components of primary research. Secondary research involved reaching out to trade journals, government websites, technical writings, Internet sources, trade associations, and online paid databases. Employing this approach, the information presented in the report is reliable to the highest degree. As a result, the information in the report has caught the attention of industry participants to gauge future growth opportunities.
Secondary research sources typically include but are not limited to company websites, financial reports, investor presentations, annual reports, broker reports, SEC filings, American Society of Heating, Refrigeration, and Air-Conditioning Engineers, National Air Filtration Association, and external proprietary databases. Analysts conduct primary interviews with industry experts and opinion leaders on a regular basis to validate data and analysis. This helps validate and corroborate research findings.
In-depth Competitive Analysis help Gauge Vendors' Strengths and Weaknesses
The report discusses the competitive landscape of the air purification systems market at length. It identifies and profiles leading companies operating in the market for their distinguished business attributes. This is provided in the report to offer clients with a dashboard view of various points such as key developments, revenue, and presence in the global market. The competitive hierarchy presented in the report helps gauge competition in the market over a timeframe.